The Newcomers
Why I moved to NYC from Michigan: To continue my psychiatric training and have a 'big city' experience
He pays $1,600 in rent for a two-bedroom apartment in employer-subsidized housing
That's about twice what he paid for his market-rate two bedroom in Michigan
Everything else—restaurants, cocktails, car insurance—also costs more here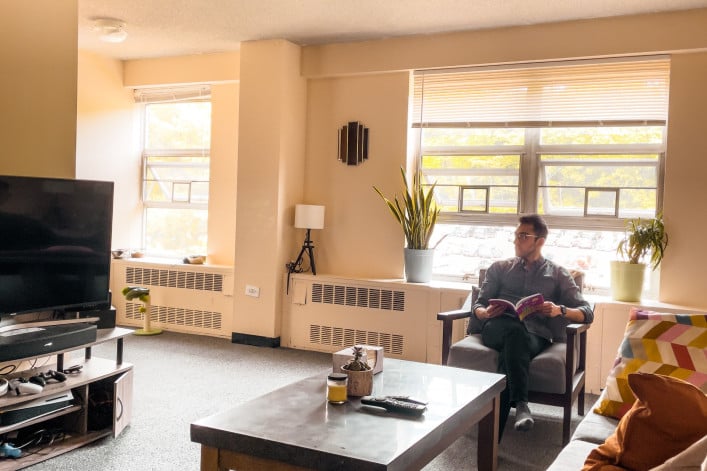 Psychiatrist Agam Dhawan decided to leave Michigan for a work opportunity and lucked out by getting employer-subsidized housing in Queens. He finds the energy in New York City alluring, though not so much the hefty fines for driving violations. Here's his story. 
I was born in India and raised in Canada. I moved to the U.S. in 2011 because my father lost his job during a recession. I attended undergrad at the University of Alabama in Birmingham and received a medical degree from the University of South Alabama. I eventually moved to Michigan in 2019 for my psychiatric residency. 
Most recently I lived in a two-bedroom apartment—with vinyl flooring (!)—and paid $850 a month. I had no amenities. A commercial laundromat was across the street.
I liked the apartment because of the price, but that cheap floor was an eyesore. I also loved having so much space for just me and my cat, Nami. She's a Covid kitty I adopted from a shelter.
I didn't like that the building was in a high-crime area, although luckily nothing negative happened to me. And because public transportation was very limited, a car was essential. 
For social activity I would head to the breweries in downtown Kalamazoo—Bell's is the most well-known. Fortunately, food shopping was about five minutes away, as was my gym and work. 
---
[Editor's Note: Brick Underground's series The Newcomers features first-person accounts about why a renter or buyer decided to take a chance on NYC and live here now. Have a story to share? Drop us an email. We respect all requests for anonymity.]
---
Lucking into a two-bedroom apartment for $1,600
In 2023 I decided to move to NYC to complete a child/adolescent fellowship. I wanted a "big city experience" while I am still young. I sold my furniture and any large items I couldn't transport by car, packed the rest of my belongings in my vehicle, and drove the distance.
Apartment hunting is much more chaotic in NYC. I discovered that many realtors expect a hefty broker's fee and landlords can require up to 40 times the rent in income plus a sizable deposit.
I got lucky—right when I began my search, my employer had one of its residential buildings open up. So, I moved into my new place near Glen Oaks in Queens last July. It's a 700-square-foot, two-bedroom apartment subsidized by my employer. I pay $1,600 per month in rent. 
My new neighborhood is calm and filled with medical professionals. I have no issues living here and absolutely no safety concerns. My gym and work are a 10- to 15-minute drive away. I like being away from Manhattan as I have peace and quiet and can drive. That said, I do dislike how it takes one hour to get to the city by car in traffic and longer by taking the Long Island Rail Road.
I spend most of my social time in Manhattan. I particularly love rooftop lounges and hotel dining. My favorite sushi spot is Sushi Lab. My favorite rooftop is Darling at Park Lane New York. My favorite hotel is 1 Hotel Brooklyn Bridge.
Dealing with sticker shock and traffic violations
Things are much more expensive in NYC than in Michigan. Cocktails are $20 each. A sandwich from Chick-fil-A is $8 here ($4 in Michigan). I pay about $25 a basket to get my laundry delivered. The cost of groceries is similar. 
The traffic enforcement is a lot stricter here, too; I've gotten two speeding tickets for going 35 in a 25-mph section and a $150 ticket for turning right at a red light (for some reason this is explicitly forbidden in NYC)—all caught on surveillance cameras. I've had to pay $300 after my car was towed away. And I spend over $200 a month in car insurance, more than in MI. Incidental expenses like this will add up.
One time when I was driving into the city I got stuck in Times Square traffic for over an hour just trying to reach my parking spot. Now I take the train or Uber/Lyft when going to the city. But one excursion can easily end up costing over $200, so you must be mindful.
Making easy friends but dating is a challenge
Family and friends suddenly love visiting now that I'm in NYC with a two-bedroom apartment. They feel because I have the space, I am always available for guests. 
Making new friends has been easy. There are lots of people my age around—and with so much energy. Dating, though, is surprisingly harder. People here are much more casual so one can make lots of quick connections that never go anywhere. To really take advantage of dating, I believe you need to be invested in your local area's social scene or heavily online on dating apps 
I plan on staying. I love the energy and hustle culture. I am planning on moving to Manhattan next summer and will sell my car then. 
Brick Underground articles occasionally include the expertise of, or information about, advertising partners when relevant to the story. We will never promote an advertiser's product without making the relationship clear to our readers.