The Newcomers
Why I moved to NYC from Florida: My partner lives here—and I was sick of driving and the lack of diversity
She moved without a job or housing and crashed at her girlfriend's place while seeking both
After searching online, she viewed 10 apartments—all in Flushing—and landed in a private home
Her flex two bedroom is about 700 square feet and costs $1,850 per month including utilities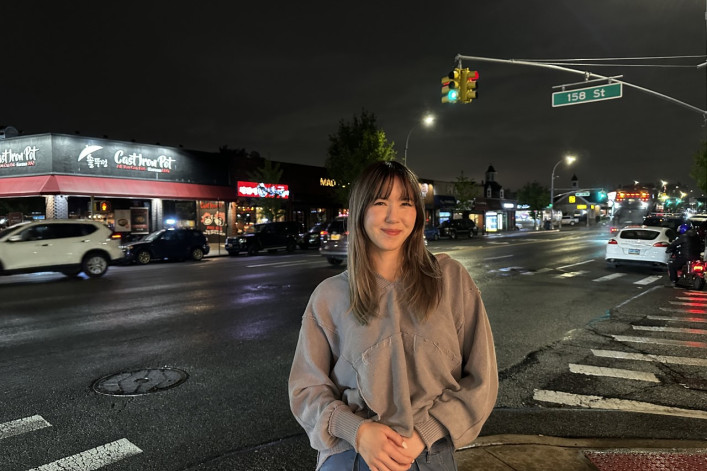 Right after graduation, Ashlynn decided to move to New York City to be close to her long-time partner. She ended up in Flushing, Queens, and is happy it is so quiet, safe, and culturally diverse. While making friends has been hard, her health —both emotional and physical—has improved drastically. Here's her story.
I was born in St. Louis, Missouri, and raised in Orlando, Florida. Most recently, I was living in Jacksonville, where I attended college. I rented a 700-square-foot one-bedroom for $1,100 per month. It was considered a "luxury" apartment because of the cost and amenities, which included a gym, mailroom, and pool. It's crazy to think about, considering how you can't even find a studio apartment in NYC for that price. I also had a washer and dryer in my apartment, which is super common in Florida. 
I liked that the building had a lot of amenities. I didn't like the annoyingly narrow parking garage—I saw so many people get into accidents or near-accidents in there. 
I loved how the area was filled with nature. Even my college was on a nature preserve with hiking trails. The one thing I hated was how far apart everything is. There's no reliable public transportation so I had to drive everywhere. and it would take 40 minutes just to go get coffee. I was right across the street from great food and shopping, but I still had to drive because it was a pretty inaccessible walk.
In college, everyone knew me as the person to ask for café recommendations. I would get a coffee at a different spot every morning. My favorite was Lucky Goat Coffee (now closed). My friends and I loved eating at Modu Ramen, too. Best ramen in Jacksonville! 
---
[Editor's Note: Brick Underground's series The Newcomers features first-person accounts about why a renter or buyer decided to take a chance on NYC and live here now. Have a story to share? Drop us an email. We respect all requests for anonymity.]
---
Besides being a full-time student and sorority member, I worked part-time jobs throughout college. Just before moving, I was a campus tour guide. It was a five-minute drive to campus, but since parking was always a struggle, sometimes it would take 25 minutes in total. The university had buses, though they were very limited.
There wasn't much to do in Jacksonville besides eat good food or drink boba (bubble tea), so that's mostly what my friends and I did. The beach bars are fun but that wasn't our scene. House parties are more common than going out to clubs.
Acting on her lifelong dream of big-city living
I've always wanted to live in a big city. I just didn't have the funds to do it when I was choosing my college, despite having fallen in love with someone who lives in New York. So after being together for four years long distance and graduating, I felt like it was time for me to move there. I talked to my partner in late December to finalize my plan. I didn't have housing or a job (no one would interview me remotely), making this move was a huge leap of faith. We agreed I could crash at her place in Flushing until I got situated.
I moved in early May 2022—a day after my college graduation. I got rid of about half of my clothes, and packed the other half into my car along with my TV, PlayStation, and one IKEA TV stand I was able to take apart. I drove 18 hours straight. 
I stayed with my partner for six months while trying to find work. After taking a few part-time jobs, I eventually got a full-time position as an account coordinator at a public relations firm in Tribeca. Once I secured a job, I began hunting for an apartment.
Wanted: A rental for $1,850 max near transit in Flushing
I saw about 10 properties in Flushing—I wanted to be close to my partner. I looked daily on Zillow and StreetEasy for new rental listings. My maximum budget was $1,850—anything higher would be hard for me to manage with my salary. I wasn't very picky with size; I would've been happy with a studio. My top priority was being close to either a subway station or bus stop since my office is in Downtown Manhattan.
When I found the place I wanted, the renting process was fast and easy. The broker asked me to sign the lease the next night and pay the security deposit, saying otherwise it would go to the next person in line. From viewing the apartment to moving in the process was only about a week, which is unheard of in Jacksonville—it would've been at least a month or longer.
I ended up in a private home rental where I live on one floor of the house and pay $1,850 including utilities (plus $40 for wifi). It's a flex two-bedroom unit and 600 to 700 square feet. It doesn't have a washer/dryer, but a laundromat is just a couple minutes away. I would have liked to be on the main strip, but the bus station is only one block over. 
Being off the commercial strip also means the area is super quiet. I love going on walks every day when I have some time. It's refreshing and always peaceful. I genuinely feel safe walking at night alone (although I don't go out of my way to do that), which is rare as a young woman in a big city. Even my house is quiet even though people are renting other floors. 
Most of all, I'm glad I am just five minutes from my partner! 
How renting compares between NYC and Florida
The rental process in NYC is very different from in Jacksonville, where you meet directly with the building manager when looking to rent and can get a sense of whether they are reputable. That doesn't happen when you work with an agent. I had also never heard of broker fees. And in Jacksonville, you could look a month or even two months before you plan to move. Here, you can only look a week in advance.
Another thing I had to worry about here was the scams. One agent asked me to pay $150 for the credit check and I told her I would think about it because another agent informed me that $20 is the legal maximum application fee. I was very thankful I didn't just go with that other apartment even though I liked that space the best. 
Loving the food, shopping, and diversity
Flushing is an amazing hub of food and shops. Although there aren't many chain stores/restaurants (other than Target, Macy's, Nike, and KFC), all the local places are even better. My favorite restaurants include Joe's Steam Rice Roll, Nan Xiang Xiao Long Bao, and Spring Shabu-Shabu. There are also stalls with Asian street food like BBQ skewers and tanghulu (fruits covered in hard sugar). There's also a café that opened recently called Gong Gan that's become so popular people travel over an hour to try their eclectic drinks and food.
For shopping, there's Fashion City (for inexpensive earrings and moderately priced clothing that's super cute), Nature Republic (for Korean makeup/skincare, and they're always having a sale), and Tesolife, where I get a lot of home goods, makeup, and cleaning supplies. 
The grocery store I frequent here is HMart, a chain from Asia with some pretty good items for cheap. I honestly probably spend about $30 each week there on groceries. Meanwhile, in Florida I would spend more like $50 weekly shopping at Publix for vegetables and meat. I also really love Asian food since I grew up with my Japanese mother's cooking, so I prefer HMart for all the Asian ingredients and snacks.
I still have my car but don't use it. My sister used to live in New York and it turned out her building had an available space, and her former neighbors agreed to let me park there for free! 
My commute to work takes about an hour and involves taking the bus to one train and then another. I don't mind it too much though since I only have to be in person two days a week. Plus the 7 train is mostly above ground with wifi, so I usually just watch TikTok or Netflix or scroll social media during that time. I find it a little frustrating when I can't get a seat on the train but sometimes I'll let a crowded train go by and get on the next one to secure a seat.
Struggling to have a social life but feeling better than ever
Making friends has been super hard. Even now, a year after moving, I normally only hangout with my girlfriend and her friends. I'm trying to become more social and make my own friends. I've joined different apps for making friends like Geneva where you can join groups with specific interests.—including Cinema Sorority, which is for people who love movies and live in NYC. I was able to make some connections in that group and hope to make even more as time goes on! Thankfully, since I have my partner of five years, I don't have to navigate the dating scene here. 
I know people on social media say you shouldn't move to New York hoping that it will solve all your problems, but New York has definitely solved all of mine. In Jacksonville, despite having a great support system of amazing friends, I was really miserable. I hated driving, the heat, and the lack of diversity in Jacksonville overall. As someone from the LGBTQ+ community and having a mother of color, I felt like I had to be careful who I surrounded myself with to avoid people who were secretly hateful toward my identity or my family's identities. Here in NYC, I don't feel like I have to be as careful when telling people about my life. My mental health has been a lot better here. 
My skin has also improved a lot. I don't know if it's the water or the difference in humidity, but I used to have so much acne in Florida. I also feel a lot more confident physically. And I think seeing everyone pay attention to what they wear here has motivated me to put a lot more effort into my looks too.
I definitely plan on staying, I don't think it's truly sunk in that I'm living in New York, but I love this city.
Brick Underground articles occasionally include the expertise of, or information about, advertising partners when relevant to the story. We will never promote an advertiser's product without making the relationship clear to our readers.