The Newcomers
Why I moved to NYC from Florida: To explore big-city life with my daughter and grow my travel blog
After searching StreetEasy, she spent a week in NYC viewing 15 units in person
Park Slope offered the winning combo of good schools, public transit access, and parks
She now pays $2,800 for a 1,000-square-foot two bedroom in a four-story walkup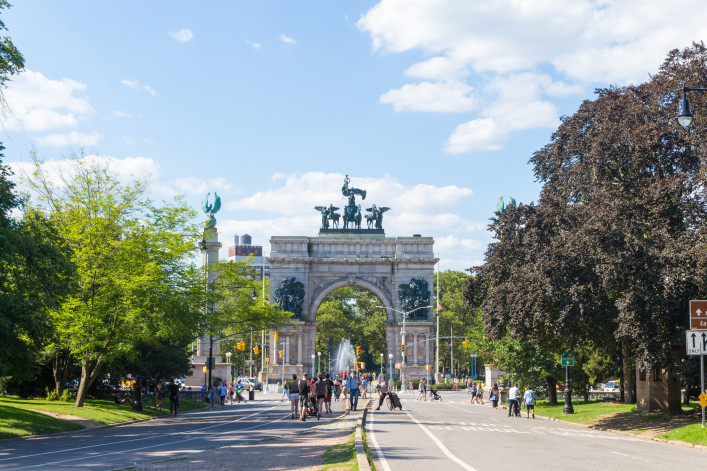 Auden Johnson via Getty Images
Anne Grant and her nine-year-old daughter enjoyed life in Jacksonville Beach, but Anne desired a big-city experience and to broaden her child's horizons. She also wanted to expand her travel blog, so she took the plunge and moved to Brooklyn, where her daughter is thriving. Here's their story.  
I was born and raised in Jacksonville, Florida. Most recently, I was living in a two-bedroom apartment in Jacksonville Beach with my nine-year-old daughter. Our apartment was 1,200 square feet, had an in-unit washer and dryer and balcony with an ocean view, and cost $1,500 per month. It was in a three-story, walk-up building that had no doorman or garage for my car, though street parking was available in the area. I loved the ocean view and proximity to the beach. 
Then and now, I work from home as a freelance ghostwriter, travel blogger, and content creator, so I didn't have a commute. 
Jacksonville Beach is a laid-back beach community with friendly people, but it lacks cultural diversity and urban amenities as well as public transportation options. I enjoyed going to the beach with my daughter, eating at The Blind Rabbit (now shuttered), and visiting the Jacksonville Beach Pier.
I shopped for food at the closest Publix, which was about a 12-minute drive, and ordered in from Domino's Pizza often.
---
[Editor's Note: Brick Underground's series The Newcomers features first-person accounts about why a renter or buyer decided to take a chance on NYC and live here now. Have a story to share? Drop us an email. We respect all requests for anonymity.]
---
Wanted: A two bedroom in Brooklyn for less than $2,900
In September 2022, I decided to move to NYC because I wanted us both to experience big-city life and expand my travel blog audience. 
I decided to find a two-bedroom apartment that was close to public transportation for $2,900 per month max. I started by perusing StreetEasy for apartments, checking out photos and video tours. But then, I thought, why not jet off to NYC for a quick trip? So, that's what I did and ended up working with an agent from Douglas Elliman and got to see my top picks up close and personal. I was in the city for about a week, and it really gave me a better feel for the flats and their neighborhoods.
Park Slope was my main focus because it's known for being super kid friendly and it's got great schools, parks, and public transportation. I did think about a couple other spots in Brooklyn, like Williamsburg and Carroll Gardens, but at the end of the day, Park Slope seemed like the perfect spot for my kiddo and me.
After viewing about 15 apartments, I ended up scoring a 1,000-square-foot two bedroom in a four-story walk-up for $2,800 per month. It is located in Park Slope and close to the subway (the F and G lines), just like I wanted. 
In NYC, the apartment-hunting process is more competitive and costly than in Florida. I had to provide more paperwork than I ever did there, submit to a credit check, and pay a broker fee.
I sold most of my belongings and my car prior to moving to NYC in January 2023 with only the essentials and then bought all new furnishings once I arrived.
The verdict: NYC is more fast-paced but offers more variety
It has been challenging getting acclimated. NYC is so fast-paced and competitive compared to Jacksonville—but it is very rewarding living here. Park Slope is a charming, family-friendly neighborhood with lots of restaurants, shops, and green spaces. I appreciate being able to take the subway and occasionally use rideshares. 
I love the variety of everything but dislike the noise level. 
My favorite things to do are visiting Prospect Park, eating at Al Di Là Trattoria, and shopping at the Park Slope Farmers Market. I also shop at Whole Foods and order in from local restaurants, especially Chela for Mexican and Pizza Secret for Neapolitan-style pie.
My daughter attends a public school that's a 20-minute walk away. Before deciding on that one, I researched schools in the area and also asked for recommendations from local parents. 
I've joined Meetup groups and attended various events to make new friends. My friends and family from Florida have also loved to visit and explore NYC with us. 
Bonus: Ranking ice cream and playgrounds with her daughter
One of the coolest things about moving to NYC has been exploring the city with my daughter. She really enjoys city life and wants to check out everything it has to offer. For example, when we first got here, she decided to try every single ice cream flavor from Ample Hills Creamery (now permanently closed, alas) in just a month. She kept a journal with her thoughts and ratings for each flavor. It became our weekend thing to swing by the creamery and grab a new scoop. To this day, she says "The Munchies" is the best ice cream she's ever had.
She also made it her goal to find the best playground in each of Brooklyn's neighborhoods and talked me into making a "Park Passport" for her, where we write down every playground we go to, along with her opinions on the slides, swings, and other play stuff. This has been an awesome way for us to bond and discover the city together, making great memories and enjoying the best of what NYC has to offer. 
In fact, in addition to still being a freelance travel blogger, I also started ParkNerds (which has a focus on theme parks) after moving here to share these experiences with others. This project has been an extension of my previous work in Florida, and I still work from home.
As for what's down the road, I'm totally up for checking out other cities with my little sidekick. We're all about exploring and soaking up new experiences. But we're going to hang tight in NYC for a bit longer, probably for many more years. I want to give my daughter a stable school journey, and I've got a travel blog to grow. We haven't picked our next city yet—for now, it's a pipe dream, and we are in love with NYC!
Brick Underground articles occasionally include the expertise of, or information about, advertising partners when relevant to the story. We will never promote an advertiser's product without making the relationship clear to our readers.