The Newcomers
Why I moved to NYC from California: We traded boredom and car culture for excitement, walkability, and good schools
They toured 10 apartments found online—but spotted their current building on the way to an appointment
They used to pay $3,500 for a Bay Area one bedroom. Now they pay $4,000 for a smaller space in Clinton Hill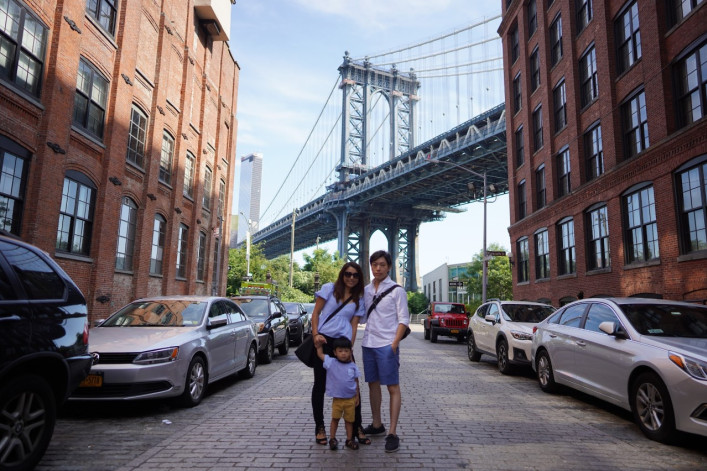 Tired of feeling bored in the Bay Area, Yuki Wen-Shimura looked to the East Coast for diversity, culture, and good schools for her young son. She and her family landed in Clinton Hill, and feel their lives are much richer for it. Here's her story. 
I was born and raised near Tokyo, Japan. My actual hometown is Saitama—which is next to Tokyo in the way New Jersey is by New York City. Everyone in Saitama commutes to school in Tokyo, myself included. Still, I say I'm from Tokyo. I recently saw someone's blog called "My New York life," but they live in NJ and just go to NYC all the time. This is how I feel about my upbringing in Japan. 
I met my husband in 2010, and he decided to go to graduate school in Boston in 2012, so I went with him. Upon graduation, he got a job in California, so off we went. We eventually had a son and lived in the South Bay area, most recently in a 1,100-square-foot one-bedroom apartment with a loft. The building had a gym, pool, sauna, grill, movie room, party room with kitchen, and free indoor parking. Our rent was $2,500 and later went up to $3,000. 
---
[Editor's Note: Brick Underground's series The Newcomers features first-person accounts about why a renter or buyer decided to take a chance on NYC and live here now. Have a story to share? Drop us an email. We respect all requests for anonymity.]
---
I liked that we could use the big party room, which could fit 50 people, for my son. We used it for seasonal parties, birthday parties, and, ultimately, our farewell party. 
Driving everywhere was a drag
What I didn't like was having to drive everywhere as there was almost no public transportation in our area—and we always had to take the highway. My husband is a software engineer, and at the time I worked in a Japanese brokerage. I drove my husband to work and dropped him off and then continued to my office. It was about a half hour of driving each way. 
 
For food shopping, it was a 10-minute drive to Whole Foods. In addition, I would go to a Japanese grocery store once a week. We went to the huge Walgreen and Target every few months to stock up on paper towels and other basics. Thankfully, we had enough storage in our apartment for the big cartons of items. 
Though our neighborhood was relaxing, it was boring—there was just nothing inspirational there. The people from tech companies who lived by us were at least a bit interesting, but there wasn't much diversity. 
Sometimes I'd walk with my son to a nearby river, but I felt unsafe because it was desolate and we saw wild coyotes. We'd drive to the beach in warm weather, but the beaches were crowded. There was a big shopping mall in San Jose, but again, that was super crowded. 
I often took my son to the aquarium in Monterey or have playdates with my friends there—it's over 100 miles along Highway 101 but with little traffic, so we often planned day trips there. We'd also enjoyed winery hopping in Napa where most of the places were very family-friendly. 
Living near good schools was the tipping point
In 2017 we decided to begin house hunting in the Bay Area and searched for almost two years but couldn't find any attractive houses, and it was difficult to buy anything in a good school district. I'd see a small, single-family house with lots of damage on the roof and floor that was priced over $2 million. I just couldn't believe how expensive everything was. The Bay Area was (and still is) one of the priciest areas to live, so many of our friends have left. 
That's when we became interested in schools in NYC, where the educational options are so vast. Our son had tried soccer and piano and was learning Chinese, chess, and coding. We wanted to be able to expose him to even more new things and felt NYC offered a good learning environment. We were familiar with the East Coast from my husband's graduate school days, and it appealed to us. Plus, my husband had worked with the same tech firm for many years, making it easy to relocate to the NYC branch office. I wanted to take a break from work to tend to my son so worrying about a job in NYC initially was not an issue.  
Stumbling upon a brand-new apartment
Finally, in 2019, we decided to move ahead on relocating and flew to NYC in March to apartment hunt. We stayed at the Hilton Brooklyn for a week and saw apartments every day. We searched on StreetEasy and ended up looking at about 10 apartments in both Brooklyn and Long Island City. Our rental budget was about $4,000.
On our way to meet a listing agent at a rental in Clinton Hill, we noticed a sign for another apartment building that was in the final stages of construction and walked into the leasing office. We liked a one bedroom that had a den that I knew we could use for our son's bedroom, even though the unit was just 700 square feet and there was much less storage. The building didn't have a swimming pool either, which we were used to too. But we saw an outdoor play area with a sand pit and knew our son would love that. The biggest reason we wanted this place was because of the underground parking. And the rent was $4,000.
We applied online for the apartment, and it was relatively straightforward. We signed the lease a few days before we came back to CA with a May move-in date.
Unpleasantly surprised by new construction delays and amenity fees
However, a week before we were set to move in, they called us to let us know the parking construction was delayed. A similar thing happened to friends of ours; their building was delayed for a month so they had to stay in a hotel. This didn't happen in the Bay Area. We were also surprised to have to pay an amenity fee of $75 per person to use the gym and the children's room in our new building. This surprised me because in CA amenities were always included in the rent. 
Another big difference between renting in the Bay Area and NYC is that in NYC there are so many different types of buildings and management companies as well as neighborhoods, and we were unfamiliar with many of them. Also, I found the online pictures of many NYC apartments did not represent them well. Because of this, I found it necessary to see everything in person. In California, the pictures and online tours seemed way more accurate. 
We sold most of our furniture, keeping only one king-sized bed and one queen-sized sofa bed. We shipped those and 25 boxes of clothes and books with a moving company. Then we took two weeks to drive across the country to sightsee along Route 66. 
Once we unpacked, I had to get rid of our air fryer, food processor, and ice cream maker because there was just no place to store them—our cabinets were too full. 
Ditching the car and soaking up the restaurant scene
Now that we are in Brooklyn, we love the location—Target, Trader Joe's, and Whole Foods are within walking distance! I also love Dekalb Market Hall, which is a big food court. We are right by a library and museum and live just between Fort Greene and Prospect Park.
We are also near tons of subways and other public transportation. My husband takes the C train by our home to his Chelsea office—it takes just 20 minutes. I ended up hating driving in NY, and when our monthly parking costs went up to $450, I sold our car. Even driving to go grocery shopping in NJ took way too long because of traffic on the FDR. And in NYC you must pay for parking everywhere. 
Besides, we love being able to walk everywhere, especially along Flatbush Avenue and Vanderbilt Avenue, where a lot of our favorite cafés and restaurants are located. With so many great dining options, we cook at home much less in NYC than in CA. We love Sofreh (Persian), Locanda Vini e Olii, and Colonia Verde. Also, we are now using UberEats and Grubhub more often and started ordering from Amazon Fresh and Target Online since we sold the car. Plus I feel like grocery stores are very expensive in NYC, so cooking at home won't save much money.
We love all the seasonal events and cultural activities in NYC. Our son enjoys sledding when it snows, and we enjoy the flowers in the Brooklyn Botanical Garden and parks. 
 
That being said, I do hate the dirty streets littered with garbage. I have lived in the U.S. for over 10 years, and after moving to NYC. I saw cockroaches for the first time in this country—and they are much bigger than Japanese ones! 
I volunteered to do garbage pickup in a local park, and in just two hours four huge bags were totally full. I have done the same volunteer work in Tokyo, but I couldn't fill up over one-third of the bag. I don't understand why people leave trash everywhere. 
Searching for the right school—and staying put
When it was time for my son to go to school, I checked Niche and Schooldigger. Also, my friend lent me a guide to NYC public schools. I attended open houses and events and talked with teachers and parents. But I think the most informative approach was speaking with parents of older kids at the playground—we got great info that way. Ultimately, we chose a school in our neighborhood that we could walk to. He's in first grade now. 
Most of our new friends are parents of our son's friends—little kids are geniuses at making new friends, no matter their culture and customs, so our son really expands our world. In the Bay Area, most of our friends were tech people, but here we've met dancers, singers, actors, artists, lawyers, and financial people. I have never seen so many people from different backgrounds.
Our friends and family who have visited don't talk much about the apartment—I guess they think it is too small. However, everyone has complimented Clinton Hill. They love walking around the area and like seeing Manhattan from our rooftop, especially seeing fireworks on July 4th. We also often take a drink after dinner and go up there and enjoy sunsets and night views.
Because we like the elementary school our son is in, we will definitely stay in NYC through his time there. We enjoy that there are always new things to try in NYC as well. However, we definitely intend to buy instead of continuing to rent.
Brick Underground articles occasionally include the expertise of, or information about, advertising partners when relevant to the story. We will never promote an advertiser's product without making the relationship clear to our readers.