The Newcomers
Why I moved to NYC from Arizona: To work at a church in Chinatown and bond with other gamers
After a month of searching he lucked into a rental owned by one of his church parishioners
He is only paying $500 more for a one bedroom in NYC than his former studio in Tucson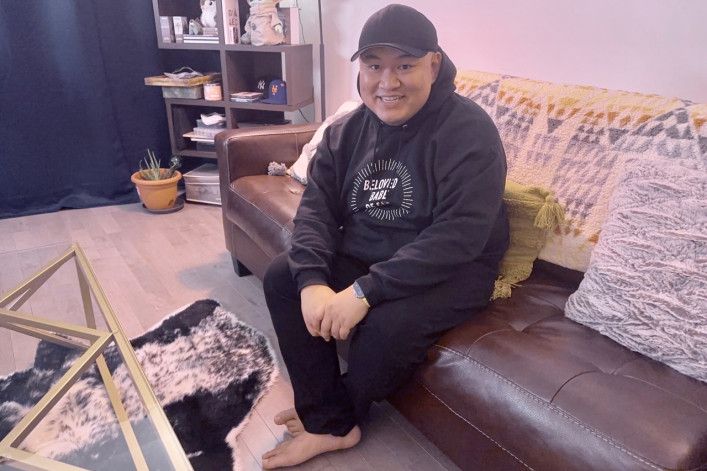 Wanting to live in a big city and be closer to family, Reverend Nelson "Sonny" Mendoza decided to move from Tucson to New York City. He was priced out of Manhattan but landed an affordable apartment in Queens—and quickly became part of the community. Here's his story.
I was born in the Philippines and raised in southern Virginia. Most recently I was living alone in Tucson, Arizona. My place was a nice, 600-square-foot studio apartment in the downtown area. It was in an old bank building that had been converted into residences, so it had a very industrial look. In fact, the bank was Tucson's first skyscraper. The elevator building had laundry on each floor, parking, and a mail room for Amazon deliveries. My monthly rent was $2,000.
The location was convenient to the highway—I drove 30 minutes to work as an Episcopal priest—although I wasn't thrilled with having to walk to reach my car at a detached parking garage. I was also right next to the light rail system but public transportation in the area wasn't very expansive.
---
[Editor's Note: Brick Underground's series The Newcomers features first-person accounts about why a renter or buyer decided to take a chance on NYC and live here now. Have a story to share? Drop us an email. We respect all requests for anonymity.]
---
Food shopping was ok but I needed to use a wagon or cart to transport a big haul between buildings. For socializing, there were mostly bars and an arcade. I didn't really go out much because I was new to my profession.
Why he headed east to NYC
In the spring of 2022, I decided to move to the East Coast because I wanted to be a little closer to my family, who still live in Virginia. I also wanted to be in a big city after living in Tucson. I had considered employment opportunities in Washington, DC, but didn't really like the vibes there. It felt stuffier and seemed like everyone's first question was, "What do you do?" As if your worth was related to your job and usefulness to others.
So I settled on NYC, found a job at a church in Chinatown, and began researching neighborhoods. 
My requirements were: a one bedroom (no more studios for me!), modern amenities, in-unit laundry or on the same floor, proximity to public transit, and being in a nice neighborhood. My maximum budget was $3,000.
I was hoping to be in Manhattan near my work but it was not affordable on my salary. I'm not sure how people afford housing in NYC unless they are very well-resourced. It was almost impossible to find something in the timeline I was under, plus I was unable to provide all the documents many rental companies require.
Luckily, after about a month of searching online, I was able to bypass a lot of the usual red tape when one of the parishioners offered to rent me a unit he owned in Astoria—and it had everything I wanted!
By June, I had moved into my new place, which is a 700-square-foot one-bedroom apartment. The building has an elevator, community rooftop, and bike room. I even have a private backyard! (Caveat: There's currently scaffolding due to construction next door.) I pay $2,500 per month. The laundry room is right outside my door, but I miss doing it without the use of quarters.
Before moving across the country, I had the option of shipping everything, but the cost of gas and labor was outrageously pricey. Turned out it was cheaper for my job to reimburse me, so I flew with minimal bags of clothes and belongings and eventually purchased all new furniture in NYC.
How he likes his new neighborhood
At first, I didn't know much about Astoria, but the more I learned about it and Queens, the more excited I became to move there.
And living here has been amazing. In a short period of time, I've been able to connect with new friends over shared hobbies like video games or Dungeons & Dragons.
The area has a lot of great offerings, including parks and restaurants. Food shopping is not as easy as in Tucson, but it's not bad. There are several grocery stores including Costco. I have recently signed up for a meal delivery service since I was dining out too much.
I sold my car and now rely on public transportation. For commuting to work I either take the ferry from Astoria to Wall Street or the N or W subway and buses. I will say, it feels like the buses don't run as smoothly as I would like out here. Sometimes they are five to 10 minutes early or 15 to 20 minutes late, despite tracking them on the MTA app.
One thing I really dislike is that people seriously don't know how to pick up after their dogs. Then again, as a recent transplant, I've noticed this is a problem in every neighborhood, not just mine.
How his social life is going
Before relocating here, I joined a Discord group specifically for people that played tabletop RPGs (role-playing games) and video games. I moved here on a Wednesday and by Friday I was already going out to happy hour with new acquaintances. In the months since then, I have enjoyed getting to know them and having them over to my place to play D&D or for Friendsgiving.
Moving to NYC was a great decision. My mother says my new apartment is very clean and modern and my friends who come over say it's pretty neat. 
I would love to stay in NYC as long as I can. I know it's hard for people without friends or family to move here, but I have been really fortunate because I love my job and I've learned to make great new connections in Astoria.
Brick Underground articles occasionally include the expertise of, or information about, advertising partners when relevant to the story. We will never promote an advertiser's product without making the relationship clear to our readers.