The Newcomers
Why we moved to NYC from New Jersey: We wanted to sell our NJ house at the peak and be close to parks, ballet, and theater
Wanted: A two-bedroom, two-bath apartment with a balcony on the UWS
Found (after seeing five properties): A co-op in Lincoln Towers for $1.65 million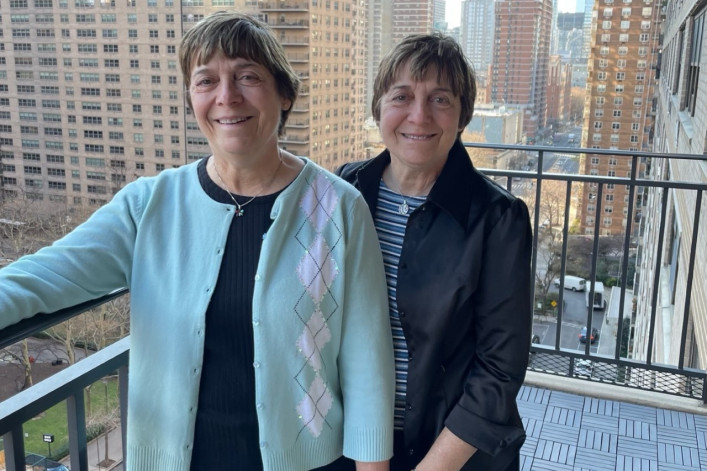 Twins Julie and Anne, former VPs at JP Morgan, sold the longtime home they co-owned in Spring Lake, New Jersey, and bought a co-op on the Upper West Side, where they love walking in local parks and enjoy going to ballet, theater, and opera performances. Here's their story.
We were born and raised in Astoria and bought our first home there together at age 23—and have been homeowners ever since. Our most recent home was in the beautiful seaside community of Spring Lake, NJ, which we owned for the last 25 years. It's a four-bedroom, two-and-a-half-bath house that dates to 1925 and was fully updated and renovated by us and included a laundry room. 
We loved everything about our home and the neighborhood. As avid walkers, we walked around the lake, along the boardwalk, or on the beach every day. We had a great private backyard and enjoyed gardening, grilling, and sipping coffee or a cool drink on our back porch.
We also fully availed ourselves of the wonderful Monmouth County Park system by hiking, canoeing, and volunteering (such as gardening, trail maintenance, and beach cleanups). We participated in many local activities, including as participants in an informal Newcomers+ club that welcomed members to the community and arranged theater outings and dinners at local restaurants. And we built an extensive network of friends who we often entertained at home.
---
[Editor's Note: Brick Underground's series The Newcomers features first-person accounts about why a renter or buyer decided to take a chance on NYC and live here now. Have a story to share? Drop us an email. We respect all requests for anonymity.]
---
For food shopping, Whole Foods and all the major supermarket chains were nearby. Local restaurants all delivered. There's a wonderful market right in town called Tom Baileys Market with fantastic meats, prepared meals, and made-to-order sandwiches. Bottle Shop is an excellent wine store, also in town.
Because we are both retired—we were vice presidents at JP Morgan—we didn't have a work commute. We own a Toyota Camry and would take it on road trips and on frequent drives into Manhattan. Our home was also by NJ Transit with service to Penn Station.
Leaving Spring Lake for the UWS
Moving to Manhattan was always in our plans. Spring Lake was one of the areas that saw a significant pandemic-fueled surge in home prices, so it seemed like the opportune time to take advantage of the market. We made the decision to sell in late spring 2022.
But first, we decided to scope out potential homes in New York City and worked with a great agent, Patrick Clark at Elegran Real Estate. He is the son of Sharon Clark of D'Amico & McConnell Realtors in Spring Lake, our NJ realtor who was helping us sell our home there.
We had told Patrick it had to be a two-bedroom, two-bath apartment with a balcony. We knew we wanted to be on the Upper West Side, preferably in Lincoln Towers, which we were already familiar with. Our price range was $1.5 to $1.8 million.
Patrick helped us navigate our options and guided us through the entire process. We saw five properties we liked, having looked at several apartments online to narrow the search. Ultimately, he showed us an apartment in Lincoln Towers that met all our criteria. We fell in love with it at first sight and made an offer. Thankfully, there was no bidding war. 
Conducting a board interview from South Africa
However, because it's in a co-op, we had to prepare a board package and undergo an interview. The interview was a bit of an adventure due to circumstances beyond anyone's control. We were vacationing in southwestern Africa when the board requested the interview, and they graciously suggested a Zoom meeting that was set for 6:30 p.m. EST, which was 1:30 a.m. for us.
We were in Cape Town that day, enjoying a tour of the penguin colony at Boulder Beach when the guide mentioned that they would be doing "load shedding" that evening. "What is 'load shedding'"? we asked. Then we learned that these were planned power outages designed to help the strained power grid—and therefore power might be spotty at night and early morning. We raced back to the hotel, where they assured us they had generators and agreed to put us on the hotel rather than the public wifi.
The good news: We were able to have the Zoom meeting. The bad news: The connection was not great. There was a significant lag time, our screens went black a couple of times, and the conversation kept breaking up. We had to resort to thumbs up or thumbs down on a couple of the questions! Four board members were on the Zoom meeting and couldn't have been nicer. All questions were pertinent and reasonable. Nothing in particular stood out or was surprising. We all persevered and the best news: We had board approval early the next day.
Finding their dream home—and lucking out with the timing
We are so excited we got our exact wish: It's in Lincoln Towers. We paid $1.625 million. And it's a two-bedroom, two-bath apartment with an office, open kitchen, pantry, an abundance of closets, and a 26-foot balcony that was recently, totally updated. Our building has a doorman, concierge, exercise room, and laundry room.
Cost-wise it is pretty much a wash. Our NJ home included expenses that we won't have in NYC, such as lawn care, gutter cleaning, sprinkler-system maintenance, pest control, tree trimming, a home security system, snow plowing etc. We do, however, have to pay for a parking garage for our car, which we brought with us.
The timing worked out nicely. We put the NJ home on the market on September 6th, had a buyer on September 14th, and closed on Oct 28th—the same day we signed the contract and put down the deposit on the purchase of the NYC co-op, which we closed on December 19th. We sold our previous home fully furnished because we knew we wouldn't need all of our furniture in an apartment. So it made sense to include it all in the sale and start fresh with new furniture to fit the new space. We put our personal belongings in storage and stayed with friends in Florida until move-in time.
Loving their new neighborhood
We have always loved the Upper West Side. The proximity to Lincoln Center, Central Park, and Riverside Park is a definite plus.
We have a subscription to the American Ballet Theatre and enjoy the occasional opera at Lincoln Center. We love Broadway shows and other live performances, too. We enjoy walking in the parks, along the High Line, and exploring all the different neighborhoods in Manhattan. We dine locally at The Grand Tier, Lincoln Ristorante, Atlantic Grill, Bar Boulud, Santa Fe, The Greek Kitchen, and The Leopard. But we have very eclectic tastes in food and there is no better place than the whole of NYC to find Asian, African, European, and South American restaurants.
We don't see much of a change in our food shopping—Whole Foods is still our go-to supermarket and there is one close to our apartment. 
Even though we have a car, we like the convenience of public transportation, with many trains and buses nearby. And taxis, Uber, and Lyft are other options.
Our friends and family are thrilled for us and look forward to visiting. Plus, we already have many friends who live in Manhattan, so we are never lonely. We know for sure we made the right decision and plan on staying put for a long time to come.
Brick Underground articles occasionally include the expertise of, or information about, advertising partners when relevant to the story. We will never promote an advertiser's product without making the relationship clear to our readers.