The Newcomers
Why I moved to NYC from Florida: So the kids could have a backyard and space to grow
They left a $7,000 apartment for a $6,000 four-bedroom house with a yard in the Bronx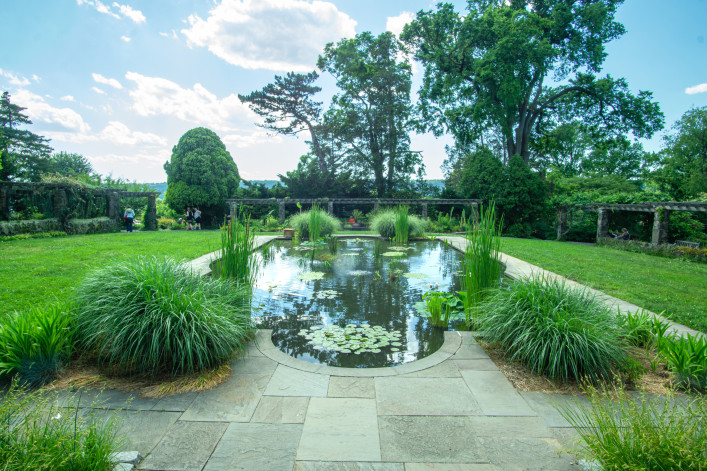 Wanting to be close to family and and have more outdoor space for their kids, Ashley Flores and her husband moved from Coral Gables to New York City, zeroing in on Riverdale in the Bronx for its parks, top-notch schools, and family-friendly community. They're now renting a four-bedroom house with a yard. Here's their story
I was born and raised in Miami, Florida. Most recently I had been living in Coral Gables for 10 years with my husband and two children, ages 8 and 5.
We rented a 1,500-square-foot, three-bedroom, three-bath apartment for $7,000 per month, which we felt was high for what we got. The building had eight floors, zero amenities, and even though there was an elevator, it was frequently out of order. On the plus side, we had in-unit laundry.
---
[Editor's Note: Brick Underground's series The Newcomers features first-person accounts about why a renter or buyer decided to take a chance on NYC and live here now. Have a story to share? Drop us an email. We respect all requests for anonymity.]
---
I liked that the apartment was spacious, but had always wanted my children to live somewhere where they could run around outside. We lived on the fifth floor and so had no direct access to a yard or other outdoor space, though there were parks nearby. It is also on a busy highway with lots of traffic.
 
In a way, the area felt very sterile with no personality despite having good schools and whatever I needed within walking distance.
As a family, we loved going to Havana Barry's, the Fairchild Tropical Botanical Garden, Merrick Park Shopping Mall, and the Coral Gables Museum. My husband and I loved going to The Miami Bachata Social on Friday nights.
I work from home—I'm a writer for tearfreetravel.com. My husband had a 40-minute commute by car. We were close to a metro station if we wanted to leave the car at home.
We could easily drive for groceries—I did most of my shopping at a Trader Joe's, about five minutes away—but it was challenging ordering groceries online because we lived on the fifth floor (and the elevator was often out of service).
Why she left sunny Florida for the Bronx
Mostly our living situation was fine, but during the pandemic, we began to think about where we'd like to raise our kids in the future. My husband's family is from New York and as an only child, he wanted to be closer to them now that they are getting older and aren't in the best health.  
At the start of 2022, we decided we would move to NYC. I spent about four months searching for places online and familiarizing myself with different NYC neighborhoods. We really took our time in deciding which area we wanted to live in and ultimately felt that Riverdale in the Bronx was for us because it's a family-friendly neighborhood with schools and parks that was not too far from Manhattan. My search parameters were for a house rather than an apartment with some outdoor space and at least three bedrooms and two baths.
After I had shortlisted about 20 properties, we made a road trip out of it and spent the week driving to New York. We then spent four days looking at listings before landing in our current home near Wave Hill in Riverdale. We pay $6,000 a month for a 2,200-square-foot, four-bedroom, two-bath house. It has a great backyard where the kids can play and came with a washer and dryer, so we were very lucky on both counts. We shipped our furniture from Florida and never looked back!
I noticed straight away how competitive it is in NYC to secure a rental. We had to supply a lot more documentation to be approved than we were used to. We also got rejected by five places. In Miami, it is very rare to be rejected—you can often lock in your first pick without much hassle. 
Another big difference I noticed is that in NYC we had to rent through a broker firm, so we had to pay a fee. In Miami, we had always been able to rent directly from the landlord.
What she likes about the new neighborhood
There are so many families living in our area—no doubt because of all the great outdoor spaces and parks nearby. I love the leafy streets and historic buildings, which lend the area so much character. The whole community is very warm and welcoming, and the neighborhood feels very safe. I definitely don't miss living on a busy highway.
Probably the only thing I don't like is how big our house is. I know it's a terrible thing to say, but it's a lot more upkeep! Also, I haven't found a supermarket close by though that's not a major problem as I can order my weekly food delivery online.
We love the gardens at Wave Hill, which is right around the corner from us. We also frequent the Riverdale Sunday Market and the Bronx Zoo, which is just a 20-minute drive away.  
During the day I love to go for a walk and stop in at the cafe at Wave Hill. Our favorite local restaurants are Yukka Latin Bistro and Beccofino. 
I still work from home and luckily my husband was able to transfer his job to his firm's NYC location. He takes the train to work in Manhattan (about 30 minutes) and leaves the car in case I need to go anywhere. Honestly, I prefer the convenience of the subway.
We specifically chose this area for the kids' school, just a 15-minute walk away. We have found the curriculum to be more rigorous and the school system more centralized than in Florida.
This move was a really big change for me and my family, but we are all happier for it. I am excited for my children to experience real seasons and have space to grow. NYC has such a rich culture in terms of food and art, so I am equally excited for my kids to grow up in that type of environment.
As for our social life, my husband has kept in touch with many of his high school and college friends, who are married and have children around the same ages. So that has made the transition much easier, especially for the kids.
My husband's family is also thrilled for us to be here. They love our new house and neighborhood. My family is coming from Miami for the holidays and is excited to (hopefully!) experience a white Christmas for the first time!
Brick Underground articles occasionally include the expertise of, or information about, advertising partners when relevant to the story. We will never promote an advertiser's product without making the relationship clear to our readers.