The Newcomers
Why I moved to NYC from Australia: A concert tour and record deal meant I could finally make music with my idols
Adrian Galante's rent for a studio equals what he'd pay for a three-bedroom penthouse in Perth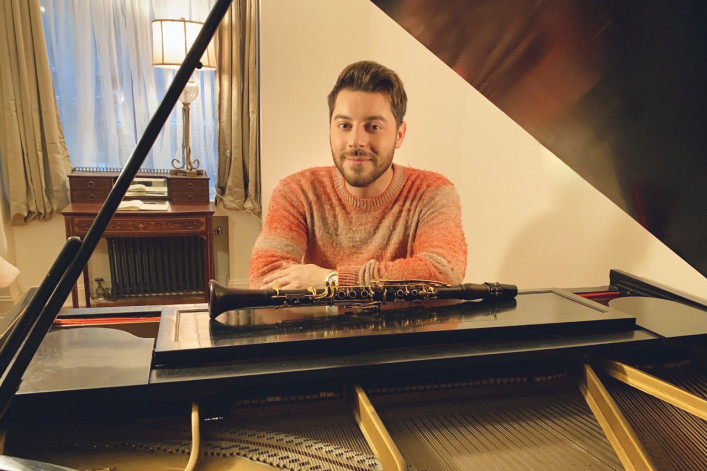 Australian jazz musician Adrian Galante always thought he'd like to move to New York City one day. So when he got the opportunity to record an album in the U.S. he jumped at the chance, landing on the Upper West Side, a neighborhood he knows and loves. Here's his story.
I was born and raised in Perth, the capital of Western Australia. Perth is a large city, and I was in the heart of it. It's picturesque and relaxing by day, vibrant and alive by night. Plus, it's very convenient for someone like myself who doesn't drive. For those who are unfamiliar, Perth lies on the coast of the Indian Ocean and has wonderful beaches and weather. It's also very spread out. I tell my American friends that it is like a small version of Los Angeles. 
---
[Editor's Note: Brick Underground's series The Newcomers features first-person accounts about why a renter or buyer decided to take a chance on NYC and live here now. Have a story to share? Drop us an email. We respect all requests for anonymity.]
---
I bought an apartment in Perth three years ago and spent the last few years renovating what was basically an empty shell. The space is large, with 4.2-meter (nearly 14-foot) ceilings and beautiful light streaming in the windows. The building was built in 1898 and converted into apartments in the early 2000s. I knew I could do a lot with it. I decorated it in the Victorian style. I was able to find so many wonderful pieces that have been in families for generations that nobody wanted anymore. That felt like a terrible shame to me, but it certainly worked out well for my apartment.
I certainly could not afford a place like this in Manhattan, which would be worth multiple millions. In Perth, the price is a fraction of that.
The train line and bus station were very close by so I had a very easy commute for work or socializing.
Falling for Manhattan as a teenager
Having spent a lot of my teenage years traveling to the States with my family, I always thought I might like to live there. I fell in love with Manhattan most of all. 
My family and I would stay at the Waldorf Astoria, which would later become an inspiration for the decorating of my Perth apartment. I had the great fortune while there to play Cole Porter's piano and hear and meet so many of the great musicians, such as Tony Bennett, Sonny Rollins, Marian McPartland, and many others.
The impetus for my recent move was a concert tour of the West Coast. I am also scheduled to record what will be my first album in December 2022 in Los Angeles. But instead of living in southern California, I dreamed of being in Manhattan, where jazz has deep roots and a thriving community.
The first concerts I played when I arrived in the U.S. were in Seattle with the wonderful vocalist Greta Matassa and pianist Tamir Hendelman. Both are musicians of the highest caliber that I have admired for years. I first heard Tamir on an album I bought at a record store on my very first trip to the States—Barbra Streisand's 2009 album "Love is the Answer." So to share the bandstand with him all these years later was quite a thrill. (Follow my journey on Instagram.)
Nabbing a studio on the Upper West Side
I started looking for places on the Upper West Side when I arrived in Manhattan in September. I have always loved the area, so I concentrated my search there. I came here with just the essentials—my clarinet and one suitcase of clothes.
I was lucky to find a great agent straight away named Jamal Syed of Living New York, who was referred to me by managing director Adrian Savino.
Amazingly, the first property I saw I loved. I walked along 87th Street from Central Park West and felt at home instantly. The block is lined with beautiful big trees and brownstones—the idealized image of New York living. I found out later that Billie Holiday lived at one time in the apartment next door to me, which is currently on the market. 
Jamal was very knowledgeable and strongly encouraged me to lease this place despite it being the first place I saw; I didn't know then just how good a deal it was. I am certainly very grateful now. In Perth, I could get a three-bedroom penthouse for the amount I am paying in rent for a studio in Manhattan. [Editor's note: The median rent for studio in Manhattan hit $2,900 in October, according to the latest edition of the Elliman Report.]
Notwithstanding my love of antique furniture, all I really need is a piano and a bed and I'm quite content—which is convenient since that's about all I can fit! My living area is about one-quarter grand piano, which I bought from a lovely man who has since become a friend of mine. The piano was built by Baldwin in the 1920s for the then-general manager of the Metropolitan Opera.
Feeling welcome and at home in his new nabe
I love the UWS. The architecture and proximity to green space are perfect and the neighborhood itself has wonderful energy.  
I enjoy walking through Central Park and along the Hudson River. Coming from Australia, it is great to be around so much nature. Getting around from here is very easy too; I'm right on the C and D subway line.
As a jazz musician, I spend most of my time Downtown. But when at home, I often stroll across the park to eat at a diner called Nectar on East 82nd street, and Smith & Wollensky is a long-time family favorite—it was the first place I dined at on my very first trip here, so it holds a special place in my heart. One of my new favorite restaurants that I've found recently is Olio e Più in Greenwich Village. 
Everyone in the city has been so welcoming and lovely to me. During my second week here, the great pianist Rossano Sportiello invited me to be a guest on his live stream. That was a great thrill for me as I used to watch all his live streams back home in Australia. 
In the short time I've lived in NYC, I have had the chance to play and spend time with so many great musicians that I have idolized virtually my entire life. I absolutely plan on staying here—I have been in love with this city for almost as long as I can remember.
Brick Underground articles occasionally include the expertise of, or information about, advertising partners when relevant to the story. We will never promote an advertiser's product without making the relationship clear to our readers.