Best of Brick
Why we moved to NYC from Seattle: To be close to family and find a Brooklyn brownstone with a pool
Wanted: a 2,300-plus-square-foot brownstone with a yard (and pool!) for $1.9 to $2.7 million
Bed-Stuy checks the must-have boxes for culture, restaurants, and nightlife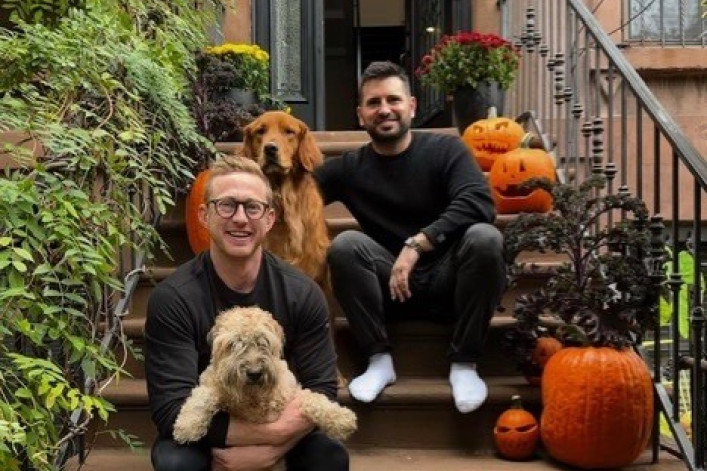 Tom Batchelor and Matt Brandt had been looking for a bigger house to renovate in Seattle for over a year. Tired of getting outbid, they decided to move to NYC, where they could be closer to friends and family. They found their dream home in just one month. Here's their story.
I was born in Auckland, New Zealand, and my partner Matt is originally from Cleveland, Ohio.
Before the pandemic hit, we had been dating long-distance for a year—I was living in Seattle, Matt was in New York City, and we would travel back and forth. When the world shut down, Matt decided to give up his apartment in Boerum Hill. So we were living together in the Capitol Hill neighborhood in Seattle with our cat and two dogs. Our Golden Retriever is named Goose, Carmen is our Wheaten Terrier, and we have a British Shorthair cat we call Catthew.  
---
[Editor's Note: Brick Underground's series The Newcomers features first-person accounts about why a renter or buyer decided to take a chance on NYC and live here now. A previous version of this post was published in November. We are presenting it again as part of our winter Best of Brick week.] 
---
I bought our 2,500-square-foot, three-bedroom, three-and-a-half-bath house with a yard and garage for $910,000 in 2017. 
It has great views of the city and is close to shops, bars, restaurants, and schools.
We loved eating breakfast at Peloton Cafe and having dinner at L'Oursin. We also enjoyed dining out at Harry's Fine Foods and Single Shot, and walking to great bars like Cannon.
There's a waterfront park called T Dock where we would swim with the dogs. We also spent many hours at dog parks—Marymoor was our favorite. Playing pickleball at Miller Park was a great social activity.
We would do our supermarket shopping at PCC in the Central District and at Amazon Fresh in Capitol Hill.
We work for Google and Amazon, respectively. We both owned cars and would drive to our jobs (on the many rainy days). Weather permitting, our commute was a 15-minute bike ride or a 30-minute walk. There is a lot of public transport close by too, including the light rail, bus, and street cars.
We had been casually looking for a new home in Seattle for over a year, preferably something with substantially more space than the current home. We were hoping for a project to renovate given the number of Seattle homes that are updated with builder-grade materials and lack character. I insisted on having space for a pool. Matt insisted on being in a neighborhood close to restaurants and nightlife. We put in multiple offers, but some houses were going for up to $1 million over asking, which would have precluded our ability to pay for renovations.
Ultimately, we decided to move to New York to be close to our friends and Matthew's family. As our employers' approach to remote working evolved, we both found ourselves able to do so entirely. 
What they were looking for—and how they landed it
In late August 2022, we started working with Mary Elizabeth Smith, a broker at Corcoran. She was looking through houses for us within the week.
In Seattle, you can do a lot of hunting on your own, but having a great agent is critical in New York. There are so many unique factors to house hunting here, including nuances in location, construction, and rules, and having an expert on your side puts you far ahead of other buyers. It takes time and effort to travel all over the city, so it pays to be really picky about the houses you will look at.
We applied the same strict Seattle criteria to our search in New York—but were cognizant that a pool was likely a pipe dream! Our price range was between $1.9 and $2.7 million (we sold our Seattle house for $1.4 million), and the ideal size was at least 2,300 square feet. We wanted something with outdoor space for the dogs and that was immediately livable so we could take our time with any renovations.
We found a lot of homes that met our criteria but ultimately bought a move-in-ready three-story brownstone for $2.2 million in Bed-Stuy, where we fell in love with the architecture and the lively neighborhood that's rich with culture, nightlife, and restaurants.
It has five bedrooms, three and a half bathrooms, a backyard, and even a pool. We got our full wish list! We love the high ceilings, and the trees surrounding the property. We are so glad to have outdoor space for the dogs. The brownstone is great, but there are some things that we're looking forward to changing when we renovate, including the black-and-silver kitchen and doors. Our laundry room is smaller than in our previous place, but that's a small price to pay for the convenience of everything else.
We had been looking for over a year in Seattle, and our New York purchase took less than a month. We weren't in a rush, but Mary Elizabeth was able to find us a property we couldn't turn down. She found us a home in record time!
What they like about their new nabe
We love our neighborhood: the local restaurants and coffee shops, the open streets, and events like TAMA Sunday. The local community and welcoming neighbors are a joy. Nearby parks for the dogs are great. We especially love being close to Herbert Von King Park (and its dog park).
Some of the other places we frequent include Oddly Enough, Chicky's General Store, Bed-Vyne Brew, Peaches HotHouse, and Le Petit Monstre.
There are plenty of places to shop for groceries, including Met-Fresh, and great takeout options too.
We're a 10-minute walk to the G, A, and C subway lines. Our door-to-desk commutes are about 30 minutes on days when we need to be in person (me in Chelsea, Matt in Hudson Yards). We sold our cars but plan on buying one soon so we can explore the state.
How they are settling into their new life
Moving across the country was challenging. Moving out of our house to stage it for sale, moving two large dogs, flying a cat, working with a moving company that lost and broke items—none of it was easy. But in the long run, it was so worth it!
Seattle has a very high cost of living across almost every category—groceries, utilities, transportation, health care. Housing is far above the national average. The flip side is that there's no income tax, so that's a small benefit. So far, the day-to-day cost of living is cheaper in NYC, but house prices are obviously higher.
While we do miss access to the lakes and water activities in Seattle, we are thrilled with our decision to move to NYC and can't wait to invest more in the house and our Brooklyn community. We have a great network of friends, but the city today is not the same one from before Covid—so we are already making many new friends. Everyone has been very welcoming.
People who come over are always impressed by the high ceilings and the pool. They love Tompkins Avenue and have been supportive of our move. And best of all, Matt's family is thrilled to have us back on the East Coast!
Brick Underground articles occasionally include the expertise of, or information about, advertising partners when relevant to the story. We will never promote an advertiser's product without making the relationship clear to our readers.