The Newcomers
Why I moved to NYC from New Jersey: To avoid a two-hour commute and be close to friends my age
When her job required her to be in the office three days a week, it was time to move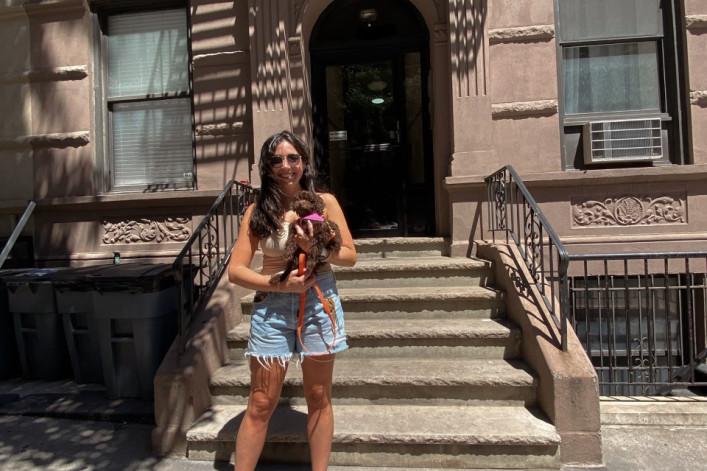 When her office job required her to be in New York City three days a week, Kayla's two-hour commute from New Jersey seemed daunting. She decided to move to be closer to her job and friends and landed in a one bedroom in Yorkville, where there's much more to do than in Hackettstown. Here's her story.
I was born and mostly raised in Hackettstown, New Jersey. Growing up in a small town, I was always itching for a change of scenery and wanted to live as far away as possible. Once I visited the campus at the University of South Carolina, I knew I had to go there despite the 10-plus-hour drive from home.
After graduating with a degree in political science, I returned to my family home, where I lived with my mom and two younger brothers. It was a townhouse with three bedrooms, two and half bathrooms. Having brothers meant more fighting over the shower than you'd think. The house always felt like a tunnel to me because the only windows were at the front and back. 
---
[Editor's Note: Brick Underground's series The Newcomers features first-person accounts about why a renter or buyer decided to take a chance on NYC and live here now. Have a story to share? Drop us an email. We respect all requests for anonymity.
---
There is a community basketball court and a playground behind our house, which was within walking distance of the town's middle and high schools.
I disliked not having a private backyard but loved how quiet the street is, making it perfect for outdoor runs and walking the dog. I also love how friendly the neighborhood is. 
There isn't much for people my age to do in Hackettstown so I would either drive to other parts of the state or take the train into NYC on weekends to hang out with friends who live there.
I loved going to the Jersey Shore in the summer and also liked going to my favorite restaurants and bars—New Jersey has a lot of great ones. Coffee Potter in Long Valley is my favorite coffee shop. It is a short and scenic drive to get there. We also ordered in pizza and Chinese as well as Thai from Pandan Room, which is a real gem.
Why she decided to move to NYC
I got a job at a nonprofit social advocacy and public relations firm. At first, I was able to work remotely from NJ, but starting this spring, we had to be in the office in Midtown one day a week. 
My commute involved driving 30 minutes to a train station in NJ to catch a train to Penn Station. The train ride was roughly an hour and a half and then I walked about five minutes from there. 
In early July, we transitioned to working in the office three days a week. That's when I decided to move to the city and began researching neighborhoods that would offer a reasonable commute.
Renting in NYC was unlike anything I'd experienced in South Carolina, where there wasn't the same urgency and you didn't have to rush to tour or sign a lease. Most apartment buildings didn't have income requirements either.
Wanted: A pet-friendly one bedroom within walking distance of work
My budget was capped at $2,800 and I had zeroed in on the Upper East Side or the Lower East Side. I knew I'd need a guarantor.
I tried to keep an open mind, but the apartment had to be dog friendly—I have a mini Goldendoodle named Bowie—and I really wanted a real one bedroom with lots of natural light.
A family friend who had recently moved to NYC connected me with Christian Poppell, an agent at Douglas Elliman. He is so knowledgeable and helped me stay sane during such an intense process. I couldn't have done it without his help and guidance!
Renting in NYC was unlike anything I'd experienced in South Carolina, where there wasn't the same urgency, and you didn't have to rush to tour or sign a lease. Most apartment buildings didn't have income requirements either.
Christian showed me at least eight places, including two in Brooklyn that I ruled out because I wanted to be able to walk to work. I saw a few studios and then realized I could get a one bedroom for about the same price point. Other spaces felt too cramped, and the bathrooms were too small. We did put a few offers on the same day we toured the apartments, but I lost out on most because other applicants could offer more money, or the listing already had too many applications in the pipeline.
I finally found a one-bedroom apartment in a walkup building in the Yorkville section of the UES for $2,800 a month. I moved in early August. It has an open kitchen and two nice closets with built-in shelving. I have a full bathroom with a window. The bedroom fits a queen bed, a desk, and a dresser. There are two windows in the bedroom and a large window in the living area, though I still wish there was more natural lighting. And I am getting used to paying to do laundry at a laundromat and carrying the loads there and back.
What she likes about the new UES nabe
On the positive side, I love how close I am to the subway and so many restaurants and food stores. I also love walking to Central Park and going to The Met.
Some of my favorite places include Birch Coffee on 88th Street, Emmy Squared on Third Avenue, and Phil Hughes Bar on First Avenue.
I go food shopping more often but buy less at one time. I also use more neighborhood markets and like going to Fairway, Whole Foods, and Trader Joes. I probably order in more than I should, but it's so hard not to when you live near such amazing restaurants!
I don't have a car anymore, so I get around by walking or subway. I live by the 4, 5, 6, and Q lines. My commute to work in Midtown East is so much easier. It takes me about 35 minutes to walk there or 15 minutes by train.
How her social life is going
In addition to the circle of friends in the city I had prior to moving here, I've made new friends at work and around my neighborhood. There's also a bigger dating pool here than in NJ.
Everyone loves my new apartment and neighborhood. My family is familiar with the city and appreciates how my location offers opportunities to be social without being in the absolute middle of the chaos.
The decision to move to NYC—and specifically to the Upper East Side—was a great one. I am so much happier here and plan on staying for the foreseeable future.
Brick Underground articles occasionally include the expertise of, or information about, advertising partners when relevant to the story. We will never promote an advertiser's product without making the relationship clear to our readers.