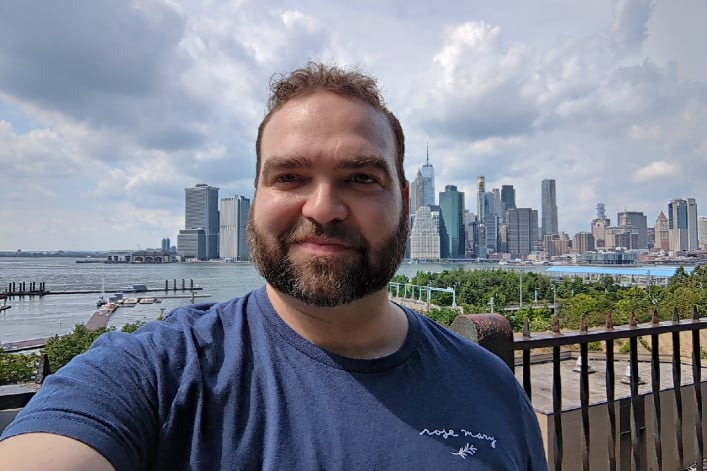 Pizza enthusiast Eric Loughlin has great apartment karma: He lived in a studio in a hot part of Chicago for just $865 per month before taking a new job in New York City—and bringing that good apartment juju with him. After seeing just two apartments, he landed a rent-stabilized unit in tony Brooklyn Heights. He's used his spare time to rate every slice of NYC pizza he's eaten and shared his findings with Brick. Here's his story.
I was born in Dunkirk, NY, just outside of Buffalo on the shores of Lake Erie. Most recently I lived in a neighborhood in Chicago called Humboldt Park, about four miles from downtown. It's a predominantly Puerto Rican/Mexican community (I'm Puerto Rican on my dad's side) where a bunch of neat bars and restaurants are opening, but the rent is still low.
My apartment was listed as a studio but there was a separate bedroom area with a door! It also had a full kitchen and a shower stall. It was smaller than a standard Chicago one bedroom though and felt like a converted garage. NYC residents are not going to believe this, but my rent was only $865 a month.
---
[Editor's Note: Brick Underground's series The Newcomers features first-person accounts about why a renter or buyer decided to take a chance on NYC and live here now. Have a story to share? Drop us an email. We respect all requests for anonymity.]
---
I loved this apartment. I'm a single guy with no pets so it was more room than I needed. I converted the spare room into a mock recording studio (I'm an aspiring actor). The only thing I didn't like was the stand-up shower, and that my hot water would run out after a few minutes. Nothing's ever perfect!
Doing laundry was easy even though my building had no facilities—I just took it to a wash-and-fold around the corner.
I also loved Humboldt Park! The food is so authentic and inexpensive. I must have eaten Puerto Rican food eight times in my first 10 days there. And the Mexican carniceria down the street made the best chorizo tacos I've ever had. Plus it had a great neighborhood feel—I knew all my neighbors and sometimes the grandmother next door would give me whole plates of food. 
I ordered take-out a lot. There's a place serving hamburgers, hot dogs, and Italian beef within a half mile of anywhere in the city, and they all deliver! When shopping for food, my life greatly improved when I started going to the supermercados instead of Mariano's. 
I worked as a concierge at a downtown hotel, so my list of great places in Chicago could be its own article. The Art Institute and Field Museums are both must-sees. A great thing to do is renting a bike and riding up the lakefront trail. I liked seeing jazz shows at Blue Chicago or the Green Mill or an improv show at iO Comedy Theater instead of Second City. I'm a huge baseball fan and Wrigley is a field like no other in America. 
Deep-dish pizza is something you can't get right anywhere else. Pequod's is still the best in the city, but Labriola is right on their heels. Milly's Pizza in the Pan is the hidden deep-dish gem of them all, or if you're downtown Lou Malnati's is the best of the big franchises. 
And don't skip the beer scene! Maplewood, Crushed by Giants, and Forbidden Root are three breweries in the city limits that are doing amazing stuff, and if you just want to hit a great tap room, Bangers and Lace is the best beer bar in the city.  
Public transit in Chicago is easy and effective but it's not New York. I lived near both 24/7 subway lines but eventually started to drive everywhere once I could afford parking. Lake Shore Drive is one of the most scenic drives in America, and I'm ready to die on this hill.  
Summertime in Chicago is incredible! There's a street festival almost every weekend, beer patios take over the neighborhoods, boats are sailing on the lake and the river, the riverwalk and lakefront trail are bustling, and crazy Chicagoans are playing softball with "clincher" balls and not using gloves.
Hitting a wall during the pandemic
My life took a few huge blows during Covid. Theaters were closing so my acting work fell off the table, and after a while the hotel decided to run short-staffed since the kinds of clients who needed concierge service weren't coming back anytime soon. I loved being a concierge, but I didn't necessarily love working in hotels, so because of that, plus my theater work evaporating, and a ton of my best friends moving away over the previous two years, I decided it was time for a change. I moved back to Dunkirk for a bit and started looking for new opportunities to restart my life.
I applied for a job with Well-Paid Maids, a living-wage home-cleaning company based in Washington, D.C. that was looking to expand to a few different markets. Ultimately, I was hesitant to move to the West Coast, so the next logical target was New York City. Atlantic over Pacific every time!
When I moved to NYC in April 2022, I stayed in an Airbnb in Astoria for three weeks before I started looking for apartments. 
Renting in NYC is very different than what I am used to. What in the holy hell is a broker's fee? This is not at all common in Chicago, nor is the "40 times the monthly rent" rule-of-thumb annual salary expectation—I think mostly because the cost of living there is so cheap. You can get a two-bedroom, two-bath unit in Chicago for under $2,000 in a great part of town. If you came to Chicago with the budget of a NYC renter, you could live anywhere. 
Wanted: A studio apartment for less than $2,000
I didn't care where I lived in NYC but originally thought I'd end up in Astoria because so many friends recommended that neighborhood.
I saw a total of two apartments. The first one was a lead for a friend of a friend who was looking to share an apartment in Harlem, but preferred to have my own space.
Purely by accident I found a rent-stabilized studio on Hotpads. I put in my budget, and a single unit popped up in a 10-block area in Brooklyn Heights—a 300-square-foot studio for $1,680 a month listed by Chris Giunta, a broker at CG Realty. Before applying, I did so many things to ensure this was not a scam. I did as much Google cross-referencing as possible. I found the website for CG Realty, then searched online to see if anyone was complaining about any scams associated with the firm. I also found some great reviews for CG Realty, so that helped eased my mind a bunch. I also asked a lot of questions, like: Why was the listing taken down so quickly? (The answer: It got over 50 hits the day it was posted!) Giunta has been in the neighborhood forever and gave me some great tips.
Ultimately, I got lucky and moved in on May 1st, and honestly, I'm still waiting for the hammer to drop. Maybe someone lives under the floorboards.
We don't have rent-stabilized units in Chicago, so this was all new to me. I was trying to be realistic but believed I would find a good, well-priced apartment in the end. It helped that I was open to living anywhere in the city and that I have pretty good apartment hunting experience, having moved eight times in 12 years in Chicago.    
The apartment and building I ended with are both very old and show it, but the floors are brand new and the appliances are in decent shape. Although the square footage is tight, the ceiling is high, so I guess I've got to "think up" if I want to maximize space. I have a radiator for heat, which will be interesting come winter. I'm easy to please, but I could see how someone who could afford to live in this area might think the unit is too run-down. 
Centrally located and super scenic, but too quiet at night
I'm right by the 2, 3, 4, 5, and R trains at Borough Hall. It takes 10 minutes and one stop on the train to get to my office in Manhattan, so talk about convenience! 
The area is beautiful too, with tons of gorgeous parks and loads of beautiful homes. When I walk around, I'm just amazed at the architecture here. Also, the view of the Manhattan skyline from the promenade is the picture I send when I'm looking to make my Chicago friends jealous.
On the downside, the cost of living here seems higher than other areas, especially for groceries because it has mostly upscale stores. I love to cook and would like more affordable options. 
Another drawback: There are tons of people walking around and active during the daytime hours and then it's a ghost town at night. One thing that takes getting used to is how early places close here. I'm a late-night eater (sorry mom!) and by the time 10 p.m. rolls around, there's precious few options still available, even for take-out.
The food options are not the best either, although I've fallen in love with the beef pho at Hanco's, and there's a new deli on my street called Olive and Garlic that I basically live at. New Yorkers should be proud of the sandwich game here—I haven't had a single bad sandwich.
To put the whole Chicago vs. NYC pizza debate to bed, I created an Excel database (see excerpt below) to log every piece of pizza I've eaten in the city—114 slices to date, for an average of 1.4 slices per day. I think what ultimately gives NYC the edge is that pizza here is served in slices and has more topping options, making it a quicker and more creative experience.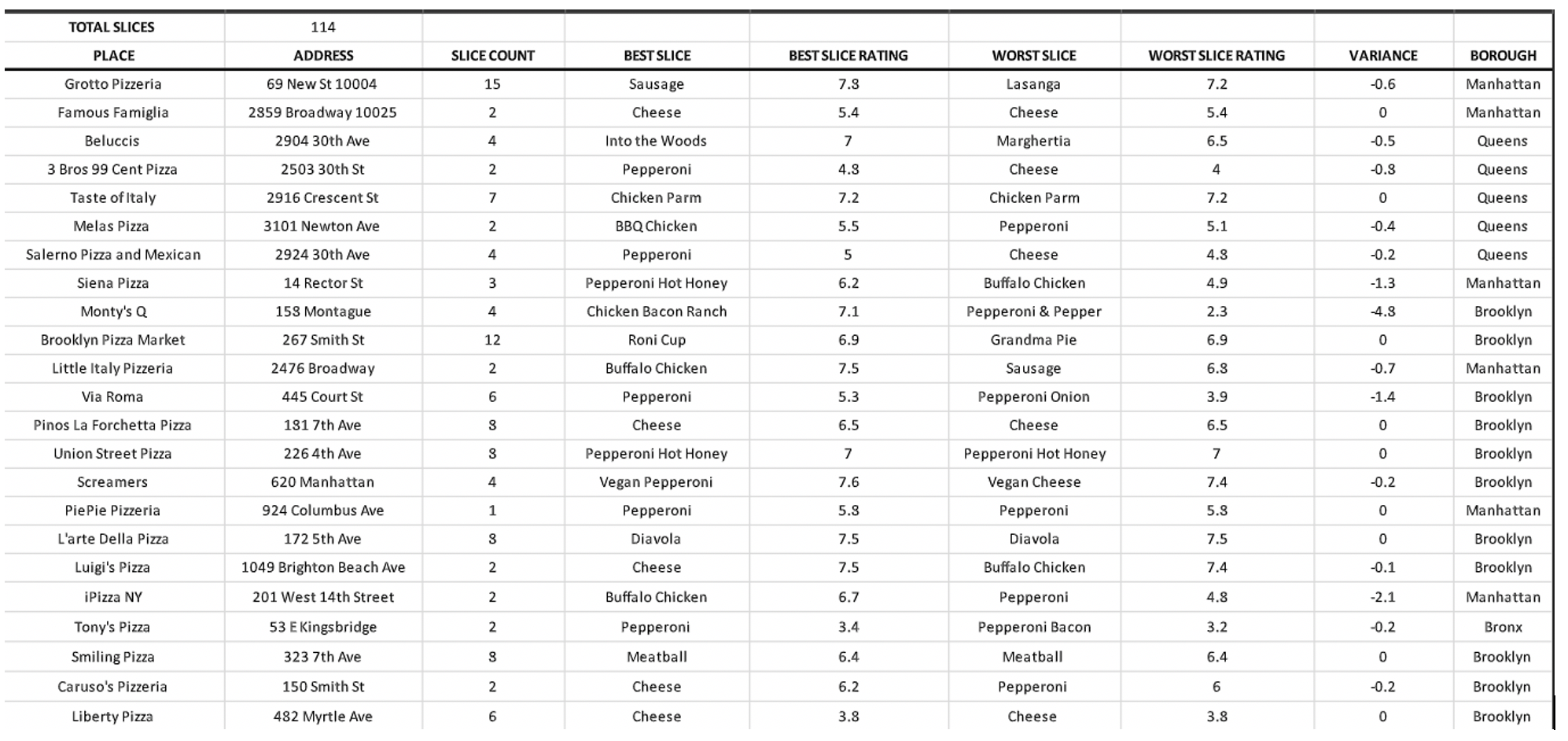 Navigating the NYC social scene
It's tough but not impossible to find friends. I think the great thing about New Yorkers is that they're ready to talk to anyone, and you get everyone's honest opinion, which is so refreshing! Midwesterners are polite to the point of being fake sometimes, so it's nice to get that unfiltered East Coast attitude. 
Dating has always been a challenge for me, and I think I'm maybe a bit intimidated by NYC women! They're all so attractive and successful and I'm this goofy newbie so I feel like I have nothing to offer except strong opinions on the Buffalo Bills and chicken wings. So if you know any women who want to talk about how Josh Allen should be the next president and dunk some drums in blue cheese (never ranch), send them my way!
Staying put for the time being
My parents and uncle are very jealous I get to live here and love the skyline view from the promenade. My dad grew up in Brooklyn and went to NYU for a year, so when he came to my apartment, he got a small chance to relive his long-lost youth. I'm nervous my dad is looking to shack up!
I am so glad I had such an easy time finding a great affordable place. I plan on staying in NYC for at least two to three years. The company I work for is still in start-up mode, so my job has commanded lots of time, and I still want to dive into the acting scene here. I have museums to go to and plays to see and people to meet, how can you possibly live in New York for just one year? I'm also a restaurant enthusiast, so I have at least a year's worth of dining out to accomplish.  
My life in Chicago felt like it hit a brick wall, so it feels very rewarding to pick it back up in an even more challenging city. 
Brick Underground articles occasionally include the expertise of, or information about, advertising partners when relevant to the story. We will never promote an advertiser's product without making the relationship clear to our readers.