The Newcomers
Why I moved to NYC from Chicago: To live where I envisioned myself, even if I wasn't 100 percent sure I could afford it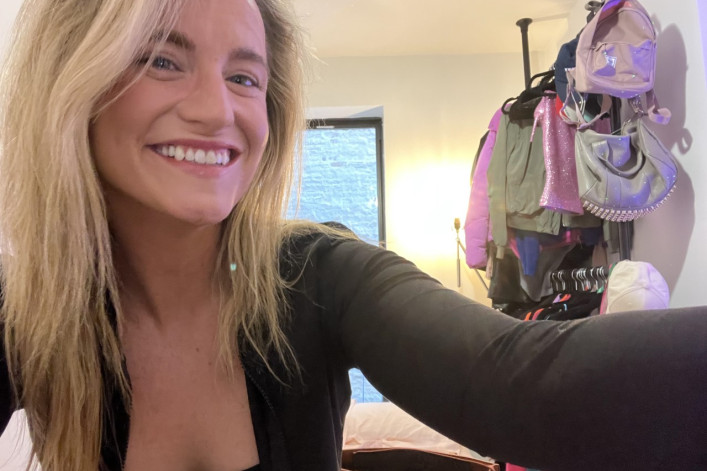 Longing to ditch her car and live in an even bigger city up north, Megan Keaveny initially moved to Chicago from Houston, thinking she couldn't afford New York City. But her desire to head to the Big Apple gnawed at her. Then one night, inspired by author Fran Lebowitz, she had an "aha!" moment, and never looked back. Here's her story.
I was born in San Francisco and raised in Dallas. I had been living in Houston for two years when I decided to pursue my goal of living in an even bigger city up north. So I initially moved to Chicago because I couldn't afford New York City, which is where I really wanted to be.
My first apartment in Chicago was a 265-square-foot micro studio that had no oven in the Streeterville neighborhood, which was perfect. I woke up to a view of the John Hancock Center every day and was always out and about—I worked in real estate—so I never minded the small size, at least until Covid hit.
Most recently I was living in a great high rise called EnV in the River North area, where I had a Covid deal (three months free) so my rent was about $1,619 for a studio with a den and an in-unit washer/dryer. Plus the building had a rooftop pool, 24/7 doorman, and gym with gorgeous views
The apartment was a great deal and had everything I wanted. It was right on the river, and I was a block away from Foxtrot Market, a cool, trendy place in Chicago. For an easy self-care routine, I would just roam around there for 10 to 15 minutes a day. I was also near Boss Bar, a dive bar with a jukebox where I worked on and off.
---
[Editor's Note: Brick Underground's series The Newcomers features first-person accounts about why a renter or buyer decided to take a chance on NYC and live here now. Have a story to share? Drop us an email. We respect all requests for anonymity.]
---
I hardly ever ordered take-out after I realized how much I was spending with UberEats. Instead, I bought about 80 percent of my food from Trader Joe's and the rest came from whatever bar I was working at.
I did however continue shopping at Zara on Michigan Ave., a mere 10-minute walk away.
Unlike in Texas, where I drove everywhere, I never owned a car in Chicago. I walked and biked everywhere, which is my favorite part of living in big cities. There is nothing better than listening to "Don't Kill My Vibe" (Gryffin remix) while cruising on two wheels down North Ave. Beach.
I was far from the subway in my first place and right on the Brown line at my second place, which was great for getting to the airports. That is one thing Chicago has over NYC—way better airport transportation.
During my first year in Chicago, I held as many as five jobs at a time to make ends meet. For example, I once worked simultaneously as a fitness instructor, nanny, and real estate agent. Three months before Covid I happened to take a corporate job and got lucky with the timing of that transition because most of my previous jobs evaporated overnight.
I worked so much that I barely had time to make friends outside of work. But I told myself 2020 would be the year I make a real friend group and my social life more of a priority. The irony of the timing was not lost on me. I developed a handful of close friendships that got me through a hard and slow time of life, and I also embraced how to spend more time by myself, mostly outside.
Going where you see yourself
I realized that the life I could build in Chicago would never compare to the ideas I had about what I could do in NYC. I knew it was time to go for it and move to the city that's been in my mind for years—at least since reading "The Andy Cohen Diaries" in 2015, which is the first time I ever pictured myself living there.
And then one night in January of 2021 I heard the author Fran Lebowitz on "Pretend It's a City" say, "No one can afford to live in New York. Yet eight million people do. How do we do this? We don't know!" and I basically never turned back from the idea of going for it from that moment on.
In addition, after overcoming a mental health battle in 2021, I came up with the idea for a podcast and clothing line brand called NWCMR that's designed around the idea of going where you see yourself, even if it means being the newcomer. I couldn't wait for NYC to be where NWCMR takes its first steps from idea to reality.
I did have one major freak-out two weeks before moving to NYC: I had no idea exactly where I was going to live, but I knew I wanted to be in Downtown Manhattan.
On the bright side, I got a job at REAL New York the day before I moved! I was chatting with a NYC broker about a potential rental apartment and when I told her about my history in real estate, she convinced me to do it in my dream city! So glad she did.
Subleasing to stay on budget
The rental market in NYC is frenetic; I work as an agent so I should know! Honestly, whenever I help a client or friend find an apartment, I congratulate them on exiting the most competitive, quick-paced market I've ever seen.
I decided to sublet because I wanted to keep my rent as low as possible while also figuring out which neighborhood was my sweet spot. Everything was so new and at times overwhelming, and I wanted to have the space to take it all in on my own time. 
I met with several people about subleases and usually had less than five minutes to convey that I'm respectful, neat, and reliable. Linking to a TikTok channel that I run (@real_ny_properties) helped validate me as a renter.
Ultimately, I landed a sublease through a website called roommates.com, though I still had to beg to be chosen for the room.
I now pay $1,500 per month in a building that has zero amenities other than the unbelievable view from the rooftop. My bedroom is tiny, there are no closets in the entire apartment, and my one window faces a brick wall. The shower pressure is laughable, but I am so in love with the location that literally none of these things matter to me.
Leaning into the location
Living on the edge of Soho and the West Village means there are many restaurants and stores close by. I feel like I am right in the heart of what I used to wonder about. For example, one recent night at around 10 p.m. I walked downstairs to meet a friend and saw a group of 20 people dancing to "Gimme Gimme" by ABBA on someone's phone, waving napkins, and singing at the top of their lungs. It's moments like that that remind me I'm really doing this.
I live one block away from Trader Joe's so that's been pretty life-changing. I'm also right by The Dutch, where I learned how quickly a polite conversation at a bar could turn into getting a $5 million listing appointment. I also just had my first Raoul's experience—that's exactly my type of scene.
Even lugging my laundry eight blocks to my boyfriend's building seems like a very cool New York-type thing to do. (I met him through friends at Ramona just three months after moving here.)
Making meaningful connections
I have an incredible support system of long-distance friends who can tell I've landed exactly where I've wanted to be for years.
However it's taken me a while to make the kind of local friends you can call to go on a walk with and take deep breaths together—those connections take time. Some of the people I now consider my closest friends are down for anything, asking zero questions about where our afternoon stroll is headed.
BTW, I still walk and bike everywhere. A newfound friend texted me the other day asking, "Did I see you biking in Soho this afternoon?" And I was like, "Yes, thanks for noticing!"
Moving to NYC is one of the best decisions I've ever made. In just six months I've found so much of what I've tried to squeeze out of every other city, and I feel like I'm just getting started.
Brick Underground articles occasionally include the expertise of, or information about, advertising partners when relevant to the story. We will never promote an advertiser's product without making the relationship clear to our readers.