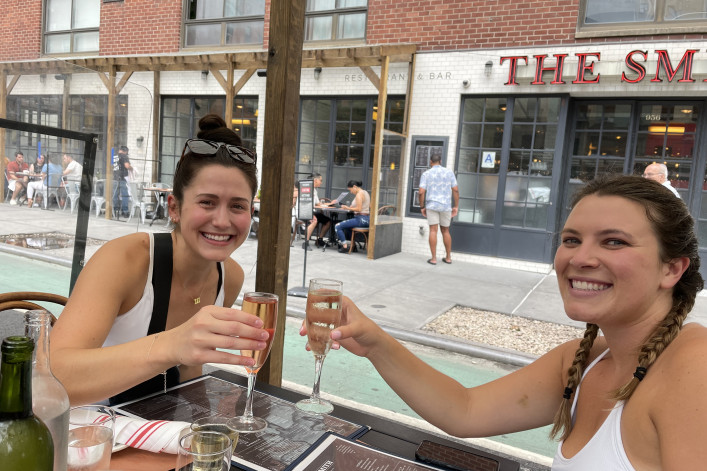 When Paige moved to New York City for a job after graduating college, she took a few risks: She found a roommate online and signed a lease without seeing the 400-square-feet apartment in person. Her new place is on the fifth floor of a walk-up and lacks laundry machines—but she is surprised to find she likes NYC living. Here's her story.
I was born in Michigan but raised in Birmingham, England for eight years. Most recently, I was living in an apartment in Ann Arbor with three roommates while I was getting my masters at the University of Michigan.
Because rents dropped during the pandemic, we were able to rent in one of the nicer apartment buildings on campus. We had a 1,296-square-foot, four-bedroom, four-bath apartment and my share of the rent was $1,000—a discount from the usual $1,400.
The complex had a bunch of amenities—a gym, pool, barbecue areas, lounge areas, a ping pong table, pool table and roof deck, but many of them had strict rules because of Covid or were closed. Parking was offered for an extra $250 a month, so I rented a parking spot for much less a couple blocks away from the building. There was a washer and dryer in the apartment, which I didn't realize was such a luxury until moving to New York City. It was also nice to have a gym right in the building, but otherwise I found I didn't use the amenities that much.
Having a bedroom and bathroom for each of us was definitely a plus. I didn't really know my roommates before moving in, so it was perfect to have my own space. While overall the apartment was great, you could tell costs were cut with cheap finishes.
---
[Editor's Note: Brick Underground's series The Newcomers features first-person accounts about why a renter or buyer decided to take a chance on NYC and live here now. Have a story to share? Drop us an email. We respect all requests for anonymity.]
---
I liked the location because it was pretty close to campus and Ann Arbor is one of the best towns to live in. It's also a real foodie's paradise, which I loved. There's a good mix of students as well as townies and always something to do. The fact that it's a college town can be both a pro and a con, because when you're on the older side of the student population, getting away from the young scene it can be tricky.
Some of my favorite restaurants in Ann Arbor were Frita Batidos, Tomukun Noodle Bar, and Yotsuba. Every Saturday and Wednesday there is a great farmer's market in the Kerrytown neighborhood of Ann Arbor. Another highlight of Ann Arbor is catching University of Michigan sporting events like football and basketball. Another great spot if you like activities is Revel and Roll, a local bowling alley, which is a fun place to bowl, watch a game or get drinks/food.
Ann Arbor is also only about 40 minutes to downtown Detroit and Windsor, Canada. Both great places to go out or catch local Detroit sports teams.
I had a car on campus and I would drive about 10-15 minutes to the local Kroger or Meijer. There was a lot of restaurants in Ann Arbor that deliver; during the pandemic they would leave it at the entrance of the apartment building and we'd have to go down and get it.
But I didn't have to drive everywhere if I didn't want to. University buses and Ann Arbor city buses both went through Ann Arbor. There was also an Amtrak stop right in Ann Arbor and a large bus station that both offered transportation to many places.
I worked part-time as a marketing assistant for the Detroit Red Wings. I was full time with the Red Wings prior to starting my masters and stayed on in a part-time role when I went back to school.
I decided to move because I graduated and was offered a job in NYC at a PR firm. I had the option to stay in Ann Arbor throughout the summer but left because the town can be kind of dead in the summer. I briefly moved back home to my parents' home in Birmingham, MI (about an hour from Ann Arbor) and started my job in June—since we were remote until September, I worked from my parents' house.
When I accepted my job, I knew we were going to go into the office three days a week starting after Labor Day, so the plan was to move to the city at the beginning of September.
I met my roommate on Diggz. I messaged her and we agreed to FaceTime. We talked for about 30 minutes and sort of bonded over our Midwesterness—she is from Minnesota. At the end of the call she was said, "I don't know if this is weird but do you want to live together?"
When I told my mom I found a roommate she asked all the mom questions like: "What does she do for a living? Where did she go to school?" and I didn't know any of the answers. My mom couldn't believe I was living with someone I didn't really know. But it just clicked when we were talking.
I was looking at apartments online all summer but heard that you shouldn't start looking for a place until about a month before you want to move in. Knowing nothing about NYC real estate, I accepted this as fact. When I started seriously looking in July, Marc Sterling a broker at Douglas Elliman who a friend recommended told me that was completely wrong and whoever told me that should be "shot in the face."
I think he was joking but I thought to myself, "Oh boy, this is New York for you!"
He told me that the Covid deals in the summer were mostly gone and apartments were being snatched up quick. We found 15 apartments online—mostly on StreetEasy—and my broker toured three for us via FaceTime.
My mom and I had a trip to NYC planned to look at places but the weekend before we were supposed to come my roommate and I ended up signing a lease sight-unseen—aside from photos and a video from our broker.
I know that's a risky move, but we were getting really anxious we wouldn't find a place. We also moved up our lease start date to August 1st from September because we were nervous places weren't going to be available. But because of this I was able to move my stuff in in mid-August, go back to Michigan to enjoy the summer and when I returned at the beginning of September, I was already moved in.
Throughout the whole process my standards kept getting lower and lower. Initially I really wanted laundry at least in the building, two rooms that were of equal size, a dishwasher and not to spend more than $1,200 and to be somewhere near the East Village. I didn't really get any of that, but we generally wanted to be in a safe area and below 60th Street, which we are.
Our walkup building in Midtown East is six stories and we're on the fifth floor. It doesn't really have any amenities. It's only about 400 square feet and there is no dishwasher or laundry in the building. My roommate and I pay $1,400 each a month, totaling $2,800.
Moving during the pandemic was stressful because I was a part of the big surge of people coming back to the city. I shipped a lot of big stuff to my mom's friend's house in Connecticut (things I didn't already own like a new bed, mattress, bar cart, couch, dresser etc.) and brought my clothes and my tv in my car. It's about a 10-hour drive from Michigan. I then hired movers to pick up the stuff from Connecticut, drive it to the city, and carry it up five flights of stairs. Then my dad and I assembled everything on an August day with no AC—brutal!
My roommate and I eventually caved and bought a portable AC in September when it was too hot to function in our tiny apartment. We walked to Home Depot, bought it, Ubered home, carried it up five flights of stairs and realized we had bought a returned item because pieces were missing and it was leaking on us. We took an Uber back to the store with it and ordered a new one to be shipped since the store was out of stock.
Overall, I actually really like Midtown East. I've heard from some people it can be kind of corporate but I find my street to be very residential and there's always a lot going on. I also like that it's relatively easy to get uptown and to Central Park as well as downtown. I sold my car before I moved, but my building is close to a lot of subway lines, I can easily hop on the 6, M, and E and that gets me most places. I only work about a mile from my building so could easily walk. I do wish it had laundry at least in the building or was a little bigger, but I've grown to get used to that. I send my wash out.
For dining out, I really enjoy The Smith and La Pecora Bianca—both are right around the corner from where I live. I also live right next to an Ess-a-bagel. There's a great bar called Cornerstone around the corner that has karaoke after midnight on the weekends and it's really fun.
Food shopping in NYC can be expensive when I go to the local Morton Williams, which is right around the corner. But a new Trader Joes recently opened on 59th Street, which has much better prices and is super nice.
A lot of my friends have already come to visit. They always joke that my apartment is so small, but say they are actually surprised by how nice it is and thought I'd have to pay way more because of the crazy horror stories they heard about living in NYC. They're always surprised by how residential the neighborhood feels and love that we're able to walk most places or catch close public transportation.
I would like to stay here as long as I can. Eventually I see myself moving out of Midtown East to somewhere even more residential, potentially Chelsea, Flatiron, or the West Village. I'm super happy with my decision to move to NYC. I never would have considered myself a city person, especially not New York, but I love that there's always something to do.
Brick Underground articles occasionally include the expertise of, or information about, advertising partners when relevant to the story. We will never promote an advertiser's product without making the relationship clear to our readers.