The Newcomers
Why I moved to NYC from Boston: To live somewhere different for the first time in my life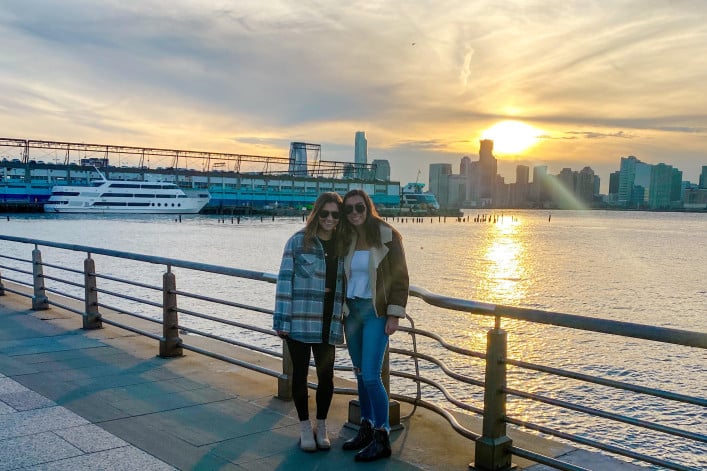 When the pandemic hit, McKenzie left the Boston apartment she was sharing with roommates to live with her parents, which enabled her to save some money. With her savings, and her new ability to work from home, she decided to take a leap and move to New York City. She loves her new apartment and West Village neighborhood; the subway system, however, is going to take a little while to learn. Here's her story.
I was born and raised in Winchester, MA. After graduating college, I lived in South Boston (Southie) in a three bedroom with my two friends from college. We had one bathroom, a living room, dining room, full kitchen, and in-unit laundry. Our apartment was on the second floor with a porch in the front and overlooked the water from the back. My portion of the $4,000 rent was $1,300—we rented out our parking spot to help cover our rent.
Southie felt like an easy transition from college because it was residential and a lot of my friends were within walking distance. I loved being close to my friends and family and having my car—I could get to exercise classes, grocery stores, and shopping with either a short walk or drive. The bars were also filled with a lot of young people my age.
My only dislike was that as I got older, I wanted to go to a nicer neighborhood. 
---
[Editor's Note: Brick Underground's series The Newcomers features first-person accounts about why a renter or buyer decided to take a chance on NYC and live here now. Have a story to share? Drop us an email. We respect all requests for anonymity.]
---
Still, I really enjoyed yoga classes at Corepower in the South End and then going over to Whole Foods to shop for my weekly groceries. I liked going out to eat at Fat Baby, Capo, Lincoln, Publico, and Playwright and getting brunch at Paramount or Tatte. I loved walking around Castle Island and outdoor dining and breweries like Cisco in the Seaport. I ordered sushi from Moko down the street and Sweetgreen in the South End a lot.
We rented in Southie for two and a half years until the pandemic hit and we all moved out, and I moved back in with my parents in Winchester. It just didn't make sense financially to have a place in Boston while everything was shut down. We were also all working from home and didn't have enough space to have separate working areas. 
At the time, I was working at Vistaprint in product marketing. Initially, I commuted to Waltham every day, which was about a 30-45 minute drive out of the city. Then I worked from home starting in March 2020.
By September 2021, I started looking for an apartment of my own. I longed to try someplace different. I had grown up, gone to school, and lived in my first apartment all in the Boston area.
A lot of my college and high school friends went to NY and have always loved visiting them. Working fully remote gave me the flexibility to work from anywhere—I decided to take the plunge and move to NYC.
Lucy Kuhn, a broker at Douglas Elliman, is a family friend of one of my college roommates and lacrosse teammate. I contacted her and told her I was interested in finding a rental in the West Village, Tribeca, SoHo, or Chelsea because that's where my friends from high school were living. The West Village was at the top of my list because I love the neighborhood so much. Amenities were negotiable.
While I was apartment hunting, I raised my $2,700 budget by $1,000. I didn't have to pay rent when living at home with my parents so I had some money saved.
Lucy viewed four apartments without me and we saw four more apartments when I came to visit.
I was browsing StreetEasy and found the apartment of my dreams while I was deciding on another place in the West Village that Lucy had viewed. Sadly I was told the apartment on Christopher Street that I loved had already been given to someone else. So I was going to put in an application on one on Bedford Street even though it lacked sunlight—it was on the ground floor, but I backed out. The next day Lucy heard back that the renters for the Christopher Street apartment did not submit their check, so I applied that day and got it two days later!
I now live in a one bedroom in the West Village for $3,750. It has gorgeous, wide-plank hardwood floors and high ceilings with crown moldings. All appliances are stainless steel and all fixtures are modern. I've got great closet space, there's storage in the building, and the building has a great super.
Moving went smoothly: I used Anton's moving company to move my things from Boston to New York. They came on a Monday afternoon and we met them in NYC on Tuesday around 9 a.m. My friend picked up my keys for me so I would have them on the day of my move.
It's a small space so it's been easy to furnish. I'm still waiting for my couch to arrive, but once that's in the place will look homier. 
My favorite thing has been the neighborhood. It feels more residential and quieter than other areas in NYC. I love being on the second floor and looking out towards the street since it has a lot of natural light. I was considering a studio but I'm glad I found a one bedroom so my bedroom can be separate from my work/living space.
I didn't bring a car to the city so I've been walking to get groceries, go to yoga, shop, and explore. Laundry is in the basement and costs $2 a load. Food shopping is a little less than a mile away so I'm going to have to start making smaller trips or order grocery delivery. Ordering in is quick and easy since I can walk and go grab the food. I ordered John's on Bleeker pizza for my family when they helped me move in and they loved it.
I still work from home so I don't have a commute right now. I've Ubered to a few places like Container Store and Home Depot to get some things for my apartment and I will take the Amtrak to and from Boston when I need to go home.
The only thing I dislike is not knowing my way around the way I did in Boston. I've never lived in NYC so it's going to take some time getting used to my usual routes. I haven't mastered the subway yet.
I do love walking up and down Bleeker Street to shop. My mom, sister, and I bought candles from Diptyque and bags from Stoney Clover. Some of my friends came to visit and we went to CorePower in West Village, got brunch at the Butcher's Daughter, had lunch at L'Artusi, and grabbed a drink at the Village Tavern. I also love walking down to the water—the piers are at the end of my block!
I'm so happy that I moved to NYC and look forward to my first winter here. It will be great being able to watch the seasons change from my window. And eventually I'll know the subway system like the back of my hand.
Brick Underground articles occasionally include the expertise of, or information about, advertising partners when relevant to the story. We will never promote an advertiser's product without making the relationship clear to our readers.