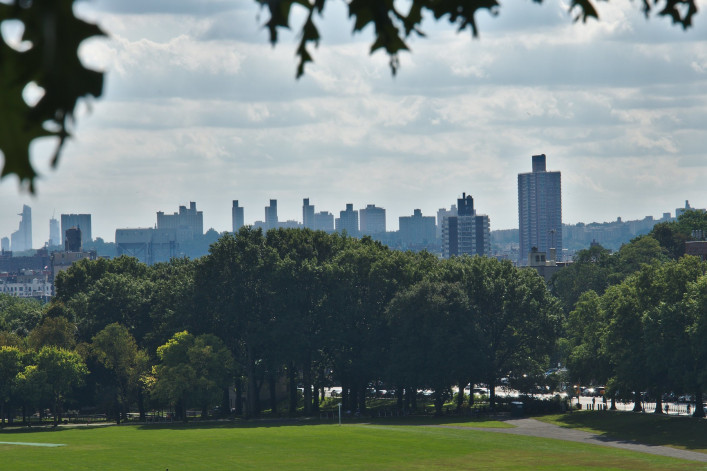 After her stint in the military was over, Gardette decided to make a big change and move to the Bronx, where her plans included buying a co-op—and becoming a dentist. She finds buying in New York City for the first time complicated, and New York more expensive than she's used to, but she's happy with her decision. Here's her story.
I was born in Toronto and raised in Florida. For the past four years, I was in the U.S. Army. I was living in Beaufort, South Carolina, right outside of Parris Island Marine Base, where I was stationed. I lived alone in a spacious, two-bedroom rental. It had two bathrooms, a large living room, and a dining room. The building had a pool, gym, computers, and a large lounge.
I loved all these amenities, and how big and modern the apartment was. The only drawback was the building didn't have an elevator and I was on the third floor.
---
[Editor's Note: Brick Underground's series The Newcomers features first-person accounts about why a renter or buyer decided to take a chance on NYC and live here now. Have a story to share? Drop us an email. We respect all requests for anonymity.]
---
My commute was a 10- to 15-minute drive to the base each day. I'm big into fitness so much of my free time was spent at my Cross Fitness Gym. I enjoyed driving 45 minutes to Savannah, GA to a restaurant called The Boiling Seafood. I cooked a lot too. While I lived in Beaufort, my social life was limited because of Covid restrictions. Pretty much all activities were halted.
When my military contract expired, I decided to move to NYC last fall. I had a job lined up as a student resident in a dentistry program near the Bronx already. 
I had rented in SC because it was very easy to find good rentals. Every neighborhood has a leasing office where you can speak with someone about available units in the neighborhood. But I decided it was a good time to buy something instead of renting. I began by looking at co-ops. Some very good friends of mine in SC referred me to the broker they used, Chris Webb of Keller Williams NYC.
I was hoping to find a large two-bedroom unit with amenities in my price range of around $300,000. It had to be close to my new job and a great neighborhood with parking. I wasn't familiar with the Bronx so Chris showed me nine properties in NYC to choose from.
As a first-time buyer, the home-buying process in NYC seemed complicated—including the application and co-op board interview. After I submitted the application, it took nearly four months to be able to move in.
My new place is a two-bedroom co-op in the Kingsbridge Heights section of the Bronx. I live on the third floor in an elevator building with a laundry room. The building has parking but there is a wait list. I wish it had more available spots so I could have kept my car.
My apartment is within walking distance of Van Cortlandt Park, great restaurants, a shopping mall, and is very centrally located. I'm near the 1 train, and the Bx9 and Bx1 buses. My commute to work is roughly 35 minutes via subway.
I rely on public transportation for a lot of things, which is not as convenient as having your own car. Being able to load groceries in your own car trunk is incomparable. And having laundry in your apartment is way more convenient than using a laundry room. Still, I've adjusted.
Overall, my mortgage in NYC is more than my rent in SC. Even without paying for parking, NY is more expensive.
Since arriving to NYC in May, I haven't had the time to really explore the nabe because I've been consumed with training at my new job. I do like the restaurant The Bronx Public, Giovanni's Restaurant and of course the local Starbucks. And I found a gym I like to frequent often called Brutal Boxx.
Friends and family have not come to visit yet because of the pandemic, however I've met people through my job and local gym.
While I feel my move had a shaky start, in the end it's all coming together and I'm really starting to enjoy my new place. I plan on staying in the Bronx, completing my residency, and building my career.
Brick Underground articles occasionally include the expertise of, or information about, advertising partners when relevant to the story. We will never promote an advertiser's product without making the relationship clear to our readers.