The Newcomers
Why I moved to NYC from rural Nevada: To be able to walk to places in minutes instead of driving an hour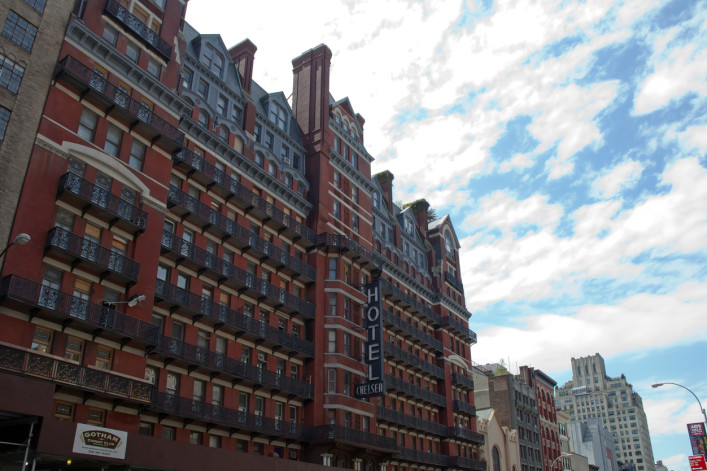 Nate Sanders found himself living alone in a five-bedroom house in rural Nevada after his siblings moved out. He decided to take the plunge and move to NYC, despite not knowing anyone here, landing a studio in a doorman building in Chelsea. He's enjoying all the convenience his new neighborhood offers and considers putting up with NYC's noise a fair trade off. Here's his story.
I was born in Orange County, California, and lived all over the state. In 2009, I left Los Angeles to move to Pahrump in rural Nevada to help take care of my family. I paid the same amount ($2,000) to rent a three-bedroom house as I did for my previous one-bedroom apartment in Hollywood.
After a few months, I was able to put a down payment on a five-bedroom, two-and-a-half-bath house. Built in 1995, the home was 2,533 square feet on just over an acre of land, with an attached garage, washer/dryer, and private well for water. It was surrounded by beautiful, mature trees including palm, pine, and pomegranate.
The neighborhood has stick-built homes on 1.1 acre lots, with a few empty lots. It is not a planned community so the homes have character. The only thing not to like there is the desert heat and having to drive into Las Vegas for things like movies, shopping, and specialty grocery items.
Most of my shopping was done at the local Walmart and curbside pick-up was a welcome new service during the pandemic. Anything else I needed I ordered from Amazon or Ebay. I ate way too often at the Jack in the Box.
I have been working from home since 2007 for a few companies that do clinical research so thankfully I had no commute, just a few business trips for meetings and training, about three a year. I drive a 2012 Chevy Traverse (which I am now selling).
Overall, I enjoyed the area. It is an affordable community filled with friendly people that treated me and my family well.
---
[Editor's Note: Brick Underground's series The Newcomers features first-person accounts about why a renter or buyer decided to take a chance on NYC and live here now. Have a story to share? Drop us an email. We respect all requests for anonymity.]
---
At first, it was just me and four siblings living there, then my mother came to stay. Over time, they started moving out and moving on with their lives, and I was left alone in the house after 12 years, like an empty nester.
This summer I started thinking about moving back to LA until I thought about the business trips I had made to NYC over the years; I always had such a great time. I decided to move here and in July started browsing listings from my home in Nevada.
For me the process was painless. I found a wonderful agent, Julian Antetomaso of Triplemint, who viewed rental listings for me and FaceTimed me from open houses. He sent me pictures and videos and shared his opinions about the location, size, and amenities.
I viewed several listings and put in applications for three apartments. I was looking to pay less than $3,400 a month and my primary criteria was that the apartment be in Chelsea because it seemed to be in the middle of all the neighborhoods that I liked and has Trader Joe's and Whole Foods, my two favorite grocery stores.
I also wanted a place large enough to live and work without feeling claustrophobic. I did not have a preference for a one bedroom versus a studio if a studio had more square footage. I hoped my new building would have a bike room.
In the end I really lucked out and got a 430-square-foot studio in a doorman building in Chelsea, with an in-unit washer/dryer. My studio is on the sixth floor and looks over the Chelsea Hotel. There is a bike room and storage lockers. The rent is $3,300 and there were no concessions.
My monthly living expenses in NYC are considerably more than in Nevada, where my monthly mortgage payment, including principal, interest, homeowner's insurance, flood insurance, and property taxes was just under $2,000 combined.
When I moved in October, I decided to drive across country, towing a U-Haul trailer. With me for company were my two dogs: JJ, a female mixed Chihuahua who is 12 years old and Coco, a three-year-old Maltipoo female.
On the first day, my car broke down in Green River, Utah. I needed a new engine and had to stay at a Motel 6 for 11 days, waiting for the engine to arrive from Texas and be installed by a mechanic.
The rest of the trip was fairly uneventful, and I drove across country with my dogs. But I knew I would need more help. I made my way to Pennsylvania, where my friend Kelly—a college friend that I have known for over 20 years—lives with her husband and daughter. I picked Kelly up and she drove with me into the city to help me get moved into my apartment. 
Not knowing anyone in the city, I hired someone via Task Rabbit to help move my stuff up to the apartment while Kelly stayed downstairs with the car, U-Haul, and my two dogs.
Now that I am settled, I am enjoying my place and how convenient my neighborhood is. Most important to me is that I feel safe and people are friendly when I walk my two dogs, and the building staff are all so helpful.
I have never lived within walking distance of so many places! I had to drive over an hour to get to a Whole Foods store before and now I can walk there in less than five minutes. I had two refrigerators and standing freezer in Pahrump and shopping was usually monthly except for milk, eggs, etc. Now I have a small pull-out drawer for a refrigerator and freezer. I have to go shopping much more often, but it is so convenient, and the variety is much better. In Pahrump, there are not enough drivers to get food delivered except for pizza or Chinese food so I would usually go pick it up. In NYC, I have already had food a delivery few times and it has been great.
My friend Kelly and I had lunch at elmo on Seventh Avenue; they even gave my dogs a bowl of water. I had the Peri-Peri chicken at Jack's Wife Freda on Eighth Avenue; it was excellent. I take the dogs for a walk three or four times a day and have been enjoying just being outside.
Also, I was able to stop taking my daily allergy pill because whatever I was allergic to in Nevada is not found in NYC.
Rural Nevada is considerably quieter than NYC but putting up with the noise here is worth it.
I don't have a commute and I have not yet taken the subway anywhere. I have taken Amtrak to visit my friends in Pennsylvania, and it was just a quick walk to the station.
This past weekend my friend Kelly and her husband, Barry, also a friend from The University of California, San Diego, visited and we went to see the Christmas Spectacular at Radio City Music Hall.
However, right after the show, my doorman called to let me know that my dogs were barking the entire time I was out. This was the first time I had left them alone, and I had to skip dinner and go back to my apartment.
In Nevada, the dogs would be outside in the backyard whenever I left the house. If I want to be able to do things on my own, I am going to have to get them some training.
Other than my two college friends, no one has had the opportunity to visit yet. Everyone in my family is happy that I'm happy but would have preferred that I stayed near to them. I am absolutely happy with my decision to move to NYC and plan on staying.
Brick Underground articles occasionally include the expertise of, or information about, advertising partners when relevant to the story. We will never promote an advertiser's product without making the relationship clear to our readers.