The Newcomers
Why I moved to NYC from Scotland: After a strict lockdown, I wanted big-city artistic inspiration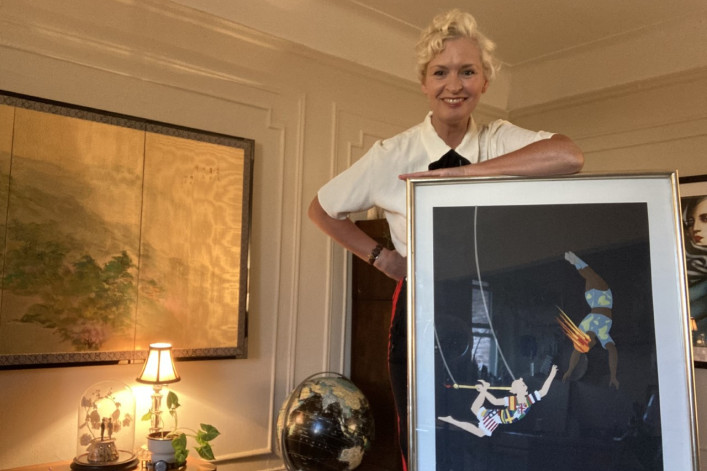 Depressed by small-village life in Scotland—particularly during the restrictive pandemic—artist Boo Paterson took a leap and headed to New York City to find her light. And find it she did: She landed in a cheap, south-facing, sun-filled one bedroom in an Art Deco building in Astoria, Queens, which she feels is near-paradise. Here's her story:
I was born in Dundee, Scotland, and we moved every three to five years around the UK. By the time I was 21, I'd lived in eight different houses and attended seven different schools. Most recently I was living in a village called Newport-on-Tay in Fife, Scotland.
As an artist, I mostly work from home. I'm a paper-cutting illustrator, book sculptor, journalist, creative director, publicist, production coordinator, music manager, talent scout, and circus ringmaster.
It was through my work as manager of a jazz singer that I first came to NYC in October 2009 to try to help her break into the business. I failed. But I did fall in love with NYC, and ultimately, that's all that matters! After returning to Scotland, I got an artist visa and had been living in NYC on and off for 13 years. During that time I found sublets all over the city through Craigslist or Facebook artist groups. I also sometimes stayed at the "secret bookshop" owned by my friend Michael Seidenberg, who sadly passed away in 2019.
---
[Editor's Note: Brick Underground's series The Newcomers features first-person accounts about why a renter or buyer decided to take a chance on NYC and live here now. Have a story to share? Drop us an email. We respect all requests for anonymity.
---
What it's like buying a place in Scotland
I'd been buying, renovating, and flipping houses since I was 25. My last home was in a converted school dating from 1850. I owned the 20-square-foot schoolrooms; the former school mistress's private residence was upstairs; the old washroom was another apartment; and the school gym was a one-bedroom flat. I bought it as a derelict dump for £115,000 (about $130,000) and did a lot of the restoration myself. I'm even writing a book on easy woodworking projects for small apartments—to encourage women to give it a go.
I owned the home outright as I'd paid off my mortgage. The UK doesn't have monthly property taxes like they do in the U.S., so once it's yours, you never pay anything again.
I loved the light and the size of the rooms. The ceilings are 12 feet high and there are a lot of original features, like wood paneling, cornices, and coal-fire stoves that I uncovered behind truckloads of hardboard. I also turned a coal cellar into a speakeasy, complete with a hidden bookcase door.
I disliked the giant spiders. It's so damp in Scotland that if you have a garden flat, they're inside all the time!
Scotland is freezing cold and damp most of the time, plus our housing stock is mostly from the 1700s and 1800s, so houses are not insulated and very drafty. Even though I had central heating, they were still never warm. I wore a lot of clothes indoors most of the time: hiking socks, thermal tights or Army pants, Ugg boots, at least two sweaters, two pairs of fingerless gloves, a scarf, a snood, a wool hat, and sometimes even my late aunt's fur coat. Indoors. Sometimes in "summer." But always from the end of August to the beginning of June.
On the plus side, I had my own washing machines, and groceries are delivered to your door. I cook from scratch, so it was not my habit to order in. Sometimes I would get fish and chips from The Silvery Tay chipper in Newport.
I used to collect classic cars—MGB GTs, Triumph TR4s, VW Beetles, Alfa Romeos—but I sold the last one in 2016 and never bothered getting one again.
Where I lived in Scotland the bus service was really patchy. I mostly cycled or walked everywhere.
Why I like cities better than village life
The people are friendly because it's a village, but they also monitor you, which I hated. An acquaintance would say, "Oh I saw you were speaking to a person in a red car yesterday, who was that?" The nosiness is off the scale. There's also not a lot to do there.
I'm really a city person—some of my favorite places to eat and drink included the University Café in Glasgow, an Italian café with an original Art Deco sign and Victorian interior; Sandy Bells bar in Edinburgh, which has folk bands playing nightly; and The Bailey, a red bar in Edinburgh with real fires. It felt like being inside a womb.
I love the Edinburgh Botanical Garden, which is stunning and has a great café. Afternoon tea at The Balmoral Hotel or the Caledonian Hotel in Edinburgh is great! Shopping for second-hand books at Armchair Books in Edinburgh's West Port is a must-see. Ripping through the rails for vintage gems at Edinburgh's Armstrong's is fun. The National Museum of Scotland, on Chambers St. in Edinburgh, is enjoyable; it takes weeks to look around properly. It has a grisly display of the implements that were used to torture "witches"…or "women" as we're calling them these days.
Moving to NYC after a pandemic depression
I felt like I was suffocating during the pandemic. The UK's lockdown was far more severe than in the U.S. We were literally only allowed out of our homes for one hour per day for exercise or food shopping.
If you didn't live with someone, you were completely alone. No one could visit you and you weren't allowed to talk to people in the street. Park benches were taped off. The police could arrest you if you were seen walking with someone who was not in your bubble.
I went into a huge depression—seven of my relatives and friends died during that year. I resolved to sell my place and move to New York permanently as soon as I was allowed out of the country. I'd been wanting to make the leap to living in NYC permanently but never had the guts.
Last September I managed to get a rare National Interest Exception visa to get into the U.S. during the travel ban. So I was one of only five passengers on a jumbo jet and burst into tears when the plane touched down and the pilot said, "Welcome to New York!" It had been so stressful selling my house, not knowing if the government would open the borders, then applying for the visa, and finally hoping that my PCR test results would return in time for the flight!
I moved into the secret bookshop and stayed there for about a month while I was trying to get a permanent rental.
Wanted: A south-facing one bedroom where I can work from home
I need the brightest light for my work so I can see the tip of my scalpel blade when I'm cutting paper. I also wanted to be on the top floor.
I searched for apartments on the StreetEasy app, then cross-checked them on OpenIgloo for code violations and complaints from residents. I saw four apartments in person.
I finally moved into a one-bedroom place on the outskirts of Astoria in Queens for $1,725 per month. The rent is the cheapest I've ever had in my 13 years in New York—let's hear it for Queens! No one seems to be in a hurry here. It's a great place to escape from the mania of Manhattan.
The StreetEasy app took me straight to the broker for my building and I just did everything through her—along with paying an enormous fee.
The apartment is Art Deco heaven. It has large rooms with plaster picture moldings on the walls and the original arsenic-green tiled bathroom with enormous bath; the elevator and trash chute on the landing are also original. The building is well maintained by the super. There's laundry in the basement and lovely flower gardens on the sidewalk.
It has terrific light! Hearing the LIRR whistle blow at night makes me smile and reminds me that I have made it to NYC.
Loving the friendly, diverse neighborhood and restaurant scene
My neighbors are very friendly, and the area is super diverse with people from every nation it seems! There are great restaurants of every type and there are fresh food carts everywhere and good supermarkets that cater to the mix of nationalities.
I love, love, love Bel-Air Diner because I'm such a fan of Americana. It has the original 1960s stainless-steel touches and booths. They do tremendous pulled-pork sliders. I get those with a Coke float.
There's also a vintage military store on Broadway that sells old Army uniforms and other antiques. I bought a pair of 1950s paratrooper boots from the Korean War, which I wore all through the winter—they are perfect for the snow—and I also got declassified military maps from the '50s, which I plan to frame.
I still walk from my bedroom to my lounge to work and otherwise use the subway, which is a lot cheaper than public transport in the UK!
Trading space for artistic inspiration
My UK friends can't believe how cheap my rent is! You really luck out here financially with the free heating and hot water. I don't know how those American hot pipes manage to maintain apartments at tropical temperatures, but they do. Even in the depth of winter, with a blizzard outside, I have to open all my windows. I have never needed to wear sweaters—or, in fact, any clothes when inside!
I had more space and a lovely view in Scotland, but I'd rather look onto an air shaft from a small apartment and be in the greatest city in the world—with life, and dynamism, and encouragement. That's way better than being in a huge house looking at persistent horizontal rain with no artistic inspiration.
I absolutely plan on staying! I never want to leave the heat, the American enthusiasm, the opportunities, the speakeasies, the diversity, or the Chrysler Building ever again! It's New York or nowhere.
Brick Underground articles occasionally include the expertise of, or information about, advertising partners when relevant to the story. We will never promote an advertiser's product without making the relationship clear to our readers.