The Newcomers
Why I moved to NYC from Atlanta: To start my law career and move in with my girlfriend
He saw 20 places virtually over two months before finding the right one
The rent for his 700-square-foot, one-bedroom apartment is $2,500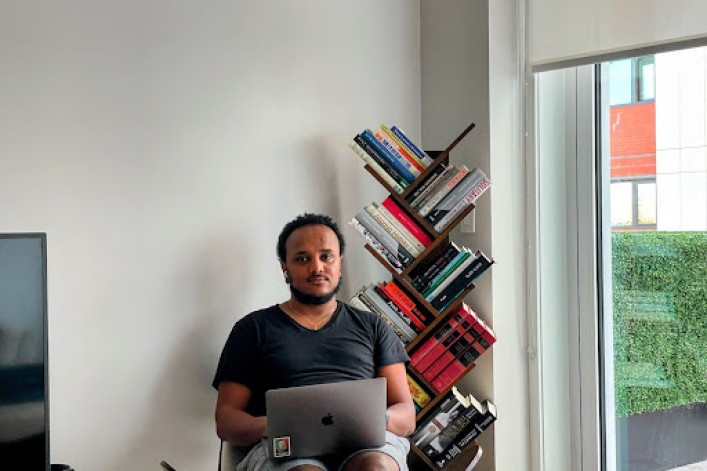 After graduating from law school, Simon Alebachew wanted to be a lawyer in New York City. Despite the challenges of finding a rental here, he was relieved to find a brand new place in Jamaica, Queens within his budget. Here's his story.
I was born and raised in Ethiopia and moved with my family to the U.S. in 2016. We lived in a three-bedroom home in Alexandria, VA, which is about eight miles from Washington D.C. It's a quiet neighborhood and the perfect amalgamation of old and new. Our house lies on the original estate of George Washington, with a pond and backyard where we grew some vegetables. We also had ample parking space—important since Alexandria is a suburb lacking local public transportation.
I attended one year of law school while living there and was working as a legal assistant and delivery driver while saving money to finish. My commute would typically be around 20 minutes by car or 30 minutes via train.  
The area is one of the best hotspots for food and I really enjoyed everything the region had to offer. I loved the Ethiopian places nearby, especially Das Ethiopian in Georgetown (D.C.) and Twist Cafe in Falls Church, VA. Also recommended: Iron Age Korean BBQ and Sushi Rock. For brunch, I was addicted to North Side Social in Arlington, VA and Founding Farmers in D.C.
Most of my social activity took place in D.C. where there are tons of festivals, political rallies of all sorts, and parades.
---
[Editor's Note: Brick Underground's series The Newcomers features first-person accounts about why a renter or buyer decided to take a chance on NYC and live here now. Have a story to share? Drop us an email. We respect all requests for anonymity.
---
Why he moved to Atlanta and then left for NYC
Most recently I was living in Atlanta, where I moved in 2020 to complete my J.D. studies at Emory University School of Law. When everything went online during the pandemic, I came back to Alexandria to be with family but finished my last year back on campus. I rented a house with other students for around $600 per month. It has a washer and dryer and is only a three-minute walk from school, plus there are ample parking spaces.
Atlanta is culturally rich and there is always something to do but I didn't explore it as much as I wanted to because of classes. One of my favorite restaurants there is Desta Ethiopian Cuisine, which offers an amazing rooftop bar experience. (It is seriously one of the best spots in the whole of Atlanta, but you will have to be patient as it can get busy and wait times are at least 30 minutes).
When I graduated in May of 2022, I decided to move to New York City because I had always wanted to live there, and it has a very big legal market. I was planning on sharing a place with my girlfriend, who is also from Ethiopia and had graduated from Columbia Law School.
In the meantime, we were spending the summer at my family's home in Arlington while I was studying for the bar exam and she was working remotely from her job in Manhattan.
How he searched for his ideal place: a modern one bedroom for $2,500
We limited our search to neighborhoods where the commute to Midtown Manhattan, where my girlfriend's office is located, would be under an hour. I found a job where I can work remotely, so commuting was not an issue for me.
We wanted a move-in-ready, modern place because we were unable to visit places in person and knew there could be maintenance issues with prewar buildings.
We came to learn about Jamaica, Queens on StreetEasy, which honestly made the whole apartment search much less painful.
Finding a place to live in NYC is different than other places I have lived. It seems to have better laws when it comes to renting and the process is more straightforward. However, finding an apartment in NYC, at least in my experience, is extremely difficult given the number of options.
In contrast, we spent two months searching remotely for a place that checked most of the boxes while my friends in D.C. found something in a two-week period. That may be because NYC is considered a city of renters. 
We ended up viewing (virtually) about 20 properties total. I eventually came across a luxury high-rise called Q-East while searching for apartments on Google, then looked it up on StreetEasy and decided to call the leasing office and apply.
We then worked with Danielle Parraud-Senisi, an agent at Bond New York, which is the exclusive leasing agent for the property. Having seen other properties in the area, we decided to rent this place in large part because of her professionalism, from showing the place via Facetime to being responsive to every question we had about the apartment. 
Our approximately 700-square-foot, one-bedroom is $2,500 per month has large windows that let in natural light, and a terrace with courtyard views. A smart thermostat makes controlling the temperature super convenient. We have ample storage space, with two gigantic (almost walk-in) closets. The kitchen includes a dishwasher, microwave, refrigerator with built-in ice maker and water filter, and five-burner cooktop.
I like that the apartments in the three-year-old building are brand new—if I'm not mistaken, no one has lived in our particular unit before. Additionally, the materials are very luxurious and definitely worth the price we pay.
The elevator building has a part-time doorman and 24/7 virtual doorman, live-in super, laundry room, package room with lockers and refrigerator, on-site storage, and parking garage.
The free gym has brand-new equipment, which makes working out convenient. (In just a week I biked over 100 miles on the Peloton so that says everything!)
Doing laundry downstairs is hit-or-miss depending on how you look at it. I'm more conscious now and organize the loads so I can have designated laundry days during the week. That was not the case in my previous addresses, which all had washer/dryers in the house, and I could wash anything anytime I wanted. On the plus side, the laundry facilities can be controlled with a smartphone (we have yet to try it) and the place is always—and I mean always—clean, just like pretty much the entire building.
One of my favorite places is the lounge that's equipped with a sofa, chairs, tables, TV and soundbar, cooking appliances, and much more. This is where I've been doing my work until I all our furniture is delivered. 
What he likes about the new neighborhood
There's a subway station right downstairs where we can take the F train (my girlfriend's commute is 50 to 60 minutes). The bus also stops in front of the building. For someone who had to rely on cars for everyday commuting, this is as luxurious as it gets. I love the subway and when I'm in a real rush I take an Uber. I sold my car when I moved here and it's the best decision ever, though I do miss it sometimes and the benefit of having one is undeniable. But there is nothing in the world that will make you want to drive a car in NYC, so it's a win-win. Plus I'm close to JFK Airport and Long Island by train.
I like pretty much everything about the area and being more physically active; I walk to get my groceries and all the rest. I also love to see the floods of people walking around. It's a truly unique NYC experience that can't be matched by any other city.
Queens is a literal food paradise. The street carts are just marvelous. I love the cream cheese and bagels with egg. (How are they so cheap?) There are also many restaurants for ordering in and the food is delivered quickly.
I'm still discovering the area, but so far have found some great Afghan food at Main Bakhtar. Sweets-wise I like Oasis Café. 
I'm also still in the process of making new friends, although my girlfriend has established friendships from when she lived here before.
My family loves the neighborhood and my apartment. They're usually surprised it's not an old prewar building. Something tells me it's going to be a magnet for my friends outside of NYC who will want to come for a visit. I definitely plan on staying here and look forward to learning even more about Queens and exploring all it has to offer.
Brick Underground articles occasionally include the expertise of, or information about, advertising partners when relevant to the story. We will never promote an advertiser's product without making the relationship clear to our readers.