The Newcomers
Why we moved to NYC from Denver: To be near our grandkids and soak up NYC culture during our retirement
The UWS location was essential, as was finding a move-in ready condo in a brand new building.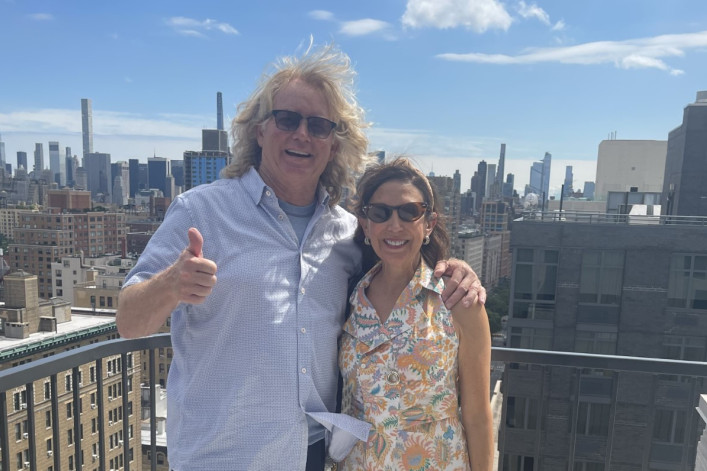 Having lived in the Denver area for 28 years, recent retirees Alma and John longed to be closer to their grandchildren in NYC. They sold their primary home and bought a condo on the UWS. Now they split their time between NYC and their mountain retreat in Colorado. Here's their story:
Alma and I lived in a western suburb of Denver, Colorado for the last 28 years. We raised our family in the 5,000-square-foot, five-bedroom home in Ken-Caryl Valley. It has a large kitchen and a beautiful patio and deck facing the foothills. We were close to good schools where Alma taught and our two daughters attended. We have wonderful neighbors and made lifetime friends. However, other than enjoying cooking and entertaining at home, we had to drive about 30 miles into Denver for dining, shopping, and other activities.
We own another house in Colorado, in the Highlands area on Breckenridge Mountain at a 10,000-foot altitude, where we gather with the entire family, including one daughter who lives in Denver. This house is 6,000 square feet and has an amazing view plus a wine room, large deck, and large patio space with hot tub. We enjoy hiking, biking, skiing, snowshoeing, and all the incredible outdoor activities. Breckenridge has many fine-dining restaurants and gorgeous fall colors as the aspen trees' leave change.
We've been splitting our time between the two Colorado locations.
---
[Editor's Note: Brick Underground's series The Newcomers features first-person accounts about why a renter or buyer decided to take a chance on NYC and live here now. Have a story to share? Drop us an email. We respect all requests for anonymity.
---
Why they wanted to move to NYC: Retired and ready for a change
Alma was a high school math teacher for 30 years and retired in 2020. I was an executive in the energy industry for 38 years and retired in 2019. While commuting for work, we both owned cars and drove almost everywhere, though there is bus service in the Denver suburbs along with Uber.
In fall 2021 we decided we wanted to be near our two granddaughters (ages one and three) and experience the urban lifestyle of New York City. Our daughter is an ER pediatric doctor at Columbia Presbyterian Children's Hospital and our son-in-law is a VP for a private equity firm. They live on the Upper West Side so we wanted to find something close by. We had been visiting NYC for the last nine years so we were familiar with that area. 
Our plan was to sell our Denver suburb home to buy something in NYC and then bounce between NYC and our Colorado mountain home.
After selling our suburban house in just one week (in February 2022) for $2 million, we stayed in our mountain retreat while searching for an appropriate NYC home to purchase.
Wanted: A brand-new two-bedroom condo—and no renovations
We found our NYC home by walking all around the UWS. The location was the most important requirement—we wanted to be close to our grandchildren. We did not use a real estate agent as we knew we wanted a move-in-ready condo in a new construction. We did not want to have to remodel. We also wanted a two bedroom so friends and family could visit. We looked at only a few places that were not new and never bid on any of those.
After searching for a few months, in November of 2021 we ultimately bought a two-bed, two-and-a-half-bath unit in a new high-rise condo at 2505 Broadway for $2.7 million. The 1,300-square-foot apartment has an in-unit washer and dryer. We love the 20-story, 41-unit building's architecture and amenities—there's a playroom, resident's lounge, pet spa, rooftop terrace with two grills, a fitness center, multi-purpose sports court, and screening room.
We paid more per square foot for this NYC place than what we would have paid in Colorado, but the houses there have skyrocketed in the last few years, so overall the cost of living is only slightly more in NYC.
That said, buying in NYC is much more complicated: Our contract for the suburb sale was only 20 pages whereas this one was more like 1,000 pages. We also had to wait until August 2022 to move in due to the drawn-out construction process.
What they love about the new neighborhood
The most important feature of our UWS neighborhood is being only four blocks away from our grandkids! And it has all the urban lifestyle features and activities that we were looking for.
We have restaurants, shopping, and nightlife right outside our front door. Some of our favorite places so far are the Children's Museum of Manhattan, Museum of Natural History, Blue Marble Ice Cream, The Mermaid Inn, Dagon, and Carmine's.
There's a grocery store around the corner from our condo that's open 24 hours a day, which is very convenient as we're still getting the hang of ordering in and food shopping here. We did buy a grocery buggy at Whole Foods, our favorite. 
We love to walk and be outside every day we can. We kept our car for our Colorado mountain home but are enjoying using public transport in NYC. The subway is literally at our front door—and it's an express stop, which is super sweet! We also take lots of taxis and Ubers.
Living in Colorado and NYC are very different and that is what makes it so exciting for us in retirement. We look forward to continuing to spend time with our family here and also to concentrate on making new friends in NYC— we've met several of our neighbors and everyone seems really nice.
It has been a great decision to buy in NYC and family members and our friends from Colorado hope to come visit us soon to experience NYC culture.
Brick Underground articles occasionally include the expertise of, or information about, advertising partners when relevant to the story. We will never promote an advertiser's product without making the relationship clear to our readers.