The Newcomers
Why we moved to NYC from New Hampshire: Our kids were grown and we wanted to return to our old neighborhood
They paid close to the $1.9 million asking price for a two-bedroom, two-bath co-op
'Our apartment is small, around 1,300 square feet, so it has been hard having to downsize'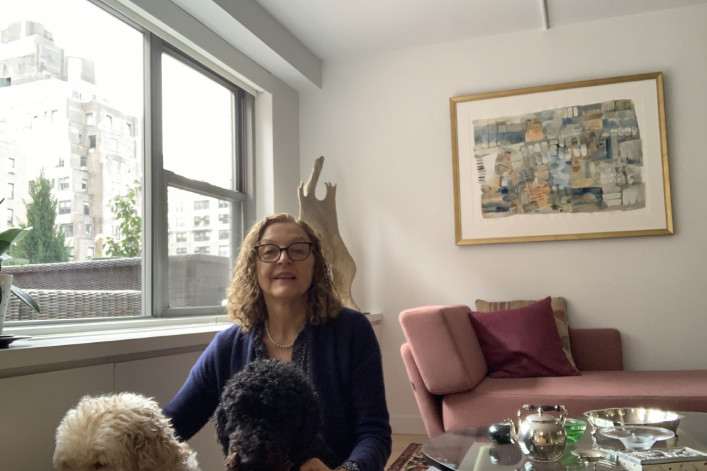 When their last child headed off to college, empty nesters Carmen and Martin, faced with a huge house and long, snowy New Hampshire winter (and steep driveway), decided to move back to New York City where they first met. Here's their story.
I was born and raised in Chile and my husband Martin was born in Germany. He originally came to the U.S. in 1993 for his medical training. We met that same year when I was in NYC for a short visit; just by chance, we were each visiting MoMA. We stayed in touch, visited each other, and got married the next year.
We lived on the Upper East Side until after our first two daughters were born, then we moved to Westchester County for a couple of years. In 2001, we relocated to Germany where our third daughter was born and decided to come back to the U.S. in 2003.
---
[Editor's Note: Brick Underground's series The Newcomers features first-person accounts about why a renter or buyer decided to take a chance on NYC and live here now. Have a story to share? Drop us an email. We respect all requests for anonymity.]
---
Raising a family in New Hampshire
We moved to Hanover, a beautiful college town in New Hampshire. My husband worked at the hospital—he's a nephrologist—and although I am an attorney by training, I taught Spanish at Dartmouth.
We lived in a contemporary 2,924-square-foot home on nearly seven acres that we bought for $750,000 and renovated almost entirely during our 16 years there. The tri-level, four-bedroom, four-bath home had a large living room with a cathedral ceiling and a formal dining room, each with an open fireplace. The house also had a big kitchen and large porch with views of the Connecticut Valley below. There were expansive windows all over. Our daughters grew up there and went to school in the area. Plus we welcomed two standard poodles to the family over the years.
The area is excellent—we lived on a dead-end road with about 20 houses that are all very different and independent from each other. It's a friendly neighborhood with regular community events. We loved it! Our road is in a mountain setting yet just six miles from downtown Hanover and the college.
The only problem is the lack of public transportation. You need a car to get around, and until the kids got their driver's licenses, we had to bring them everywhere—early morning and very late evening sports practices included. That said, we didn't have to drive far and there was very little traffic, so my husband was at his job at the hospital in about 20 minutes. It took me just 10 minutes to get to the college.
There is no mall nearby, just a few upscale stores in downtown Hanover. But there is an excellent supermarket that carried everything from local produce to international foods. We could also travel about 30 minutes to the neighboring town with all the big shops or order online.
We participated in all kinds of social activities, mostly related to school and sports, and made lots of good friends. Family life was the main focus.
Moving back to NYC as empty nesters
When our third daughter left for college in 2021, we became empty nesters. We were in a big house with a long, steep driveway that was covered in snow for about five months.
That's when we decided to move. Martin began looking for a new job and I wanted to completely dedicate myself to writing. It was always in the back of our minds to come back to New York where we first met—and we finally acted on it!
We sold our home in just three days. We agreed to a closing date in June even though my husband had been offered a job in NYC that wouldn't start until September. So he got a small rental in NH that was close to his hospital, and I moved temporarily to Cape Cod, where we have a beach house. We put our furniture in storage.
In April 2022, we started looking for a place in NYC. We found a wonderful real estate agent, Stefani Pace at Douglas Elliman (she was with Compass at the time), who was incredibly efficient and knowledgeable. Over two weekend trips we visited around 20 places, all on the Upper East Side—we had lived in hospital housing there when we started our life in the U.S. and already felt an attachment to the area.
Seeking a pet-friendly, two-bedroom apartment on the UES
We planned to buy rather than rent, as we had the money from the sale of our house in NH. We told Stefani we wanted a quiet location on a pretty street, close to my husband's workplace. We needed at least a two-bedroom apartment, as our youngest daughter is still in college, with two bathrooms, some outdoor space, a washer and dryer in the unit, and a building that would accept our dogs. 
Our original budget was $1.7 million. We thought we had sold our home for an excellent price but soon found out that NYC prices were above and beyond what we had imagined.
We liked one apartment from the beginning—a two-bedroom, two-bath unit with a large south-facing terrace and an open view in a high rise with elevators and a doorman—but it already had an accepted offer. We then chose another place, then changed our minds. Unexpectedly, the deal for the two bedroom we loved fell through. We knew we had to act right away because the area and building are in high demand. The location is wonderful—so close to Central Park and museums. There's also a small laundry room in the apartment.
We bought it for nearly the asking price of $1.9 million and closed in September.
We were anxious until all paperwork from the co-op board, banks, and seller was approved. We were very nervous about the co-op interview, especially given our dogs, but the board was extremely nice and welcoming from the beginning. The delays came mostly from the building's management company, who somehow makes the process impersonal even though your life is hanging in their hands.
Facing the challenges of apartment life
Our apartment is small, around 1,300 square feet, so it has been hard having to downsize.
In addition, it was not in great condition. We had to renovate it sooner than we expected—meaning we had to pack everything and partially move out again, Martin to a small rental in the city and me to our beach house. We redid the floors and primary bathroom, added two walk-in closets, opened and updated the kitchen area (including the electrical wiring). Then we painted it all. The renovation took about four months and we are still waiting for the oven to be delivered and installed, but we are finally back into our "new" apartment and we know we made the right choice.
The parking situation is a huge change from having a two-car attached garage. Luck is required to find a parking spot for the single car we kept. At first, we paid for a garage, but the cost went up exponentially when we came back from our renovation and we couldn't afford that anymore. Now Martin walks or takes a bus or train to work. His commute depends on which hospital he is going to, as he rotates among three different ones, but we have the 4, 5, 6, and Q lines nearby and many buses to choose from.
Buying groceries is a new experience as well. We like to see, touch, and choose our own food, especially fruits and vegetables. The nearby Whole Foods, Morton Williams (just around the corner), and Fairway are all great though carrying it the few blocks back is not easy.
On the positive side, we love that we have a terrace, which allows us and the dogs to enjoy the outdoors. We still need to walk them three times a day, so the park has been a blessing. And overall, the neighbors are friendly and we have met some incredibly kind people.
Getting reacquainted with the neighborhood
We haven't been here long enough to try many restaurants other than a great Middle Eastern place called Lashevet, a very nice Greek place on Third Avenue, and Bocado, which is like an easy brunch-lunch, go-to spot. Sometimes we order in or meet friends in other neighborhoods, though we mostly like to cook our own food.  
We love visiting museums whenever possible—strolling through the Guggenheim, sitting on the Met's roof terrace in summer, taking the ferry to the Noguchi Museum, exploring MoMA or the Whitney Museum's new building are all joys. There are so many great places to see art! We also enjoy seeing Broadway shows. Even just walking around the city is thrilling. All in all, every sacrifice we are making is totally worth it and we plan on staying here a long time.
Brick Underground articles occasionally include the expertise of, or information about, advertising partners when relevant to the story. We will never promote an advertiser's product without making the relationship clear to our readers.