The Newcomers
Why I moved to NYC from Panama: So my son could launch his film career in my native city
The move has doubled the rent and halved the size of her living space (with none of the amenities)
Her budget grew from $2,600 to her current rent of $3,700 for a three bedroom in Washington Heights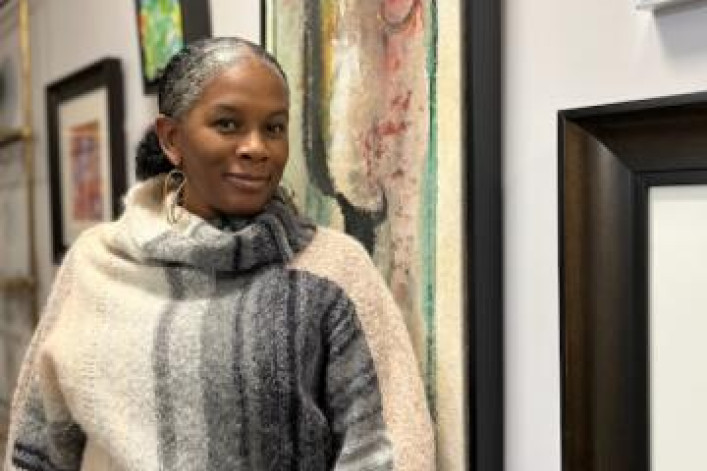 After moving from Virginia to Panama for over two years, Janel Muhammad—having split with her husband—decided to return to New York City where she could start over and help her teenage son pursue a career in the film industry. Here's her story.
I was born and raised in Queens for the most part, though my family moved us to Virginia after my 9th birthday. We moved back to Queens when I was in 11th grade but then I returned to Virginia in 2004, where I eventually started an international real estate company called Destination Own and began hosting real estate tours. The very first tour (in July 2018) was to Panama and soon after my then-husband and I decided to move there. At first, we wanted to buy a place, but I convinced him to rent instead.
We lived in the heart of Casco Viejo (aka San Felipe) with our teenage son until we had a romantic split. Then my son went to live with my sister in Virginia—school was virtual at the time and she had kids around the same age, plus Panama had a pretty strict curfew. So I stayed there alone for close to a year after my husband and son left.
---
[Editor's Note: Brick Underground's series The Newcomers features first-person accounts about why a renter or buyer decided to take a chance on NYC and live here now. Have a story to share? Drop us an email. We respect all requests for anonymity.]
---
It was a 2,600-square-foot two-bedroom, two-bath luxury loft right by the water. The amenities included a wraparound balcony, patio off the primary bedroom, and roof deck! I got it at a bargain because I upgraded from a one-bedroom unit in the middle of the pandemic. Our rent was supposed to be $3,500, but the owner offered it to us for $2,900 and I ultimately negotiated him down to $2,000!
I loved everything about this apartment. It was actually the first time it was available for rent because it was the owner's suite. He usually kept it empty or just lent it out to his friends. The only drawback was the furniture was a bit outdated. Thankfully it had a washer-dryer combo, though that didn't keep me from using a service at different times.
What she loved about her old neighborhood
The neighborhood was pretty complex with historic architecture and so many different things going on at all times—I was definitely living in a tourist attraction! However, it lost some of its luster during the pandemic and it never really recovered in my opinion.
There are too many great places in San Felipe to mention, but one of my absolute favorites is La Rana Dorada! It was here that my life was forever changed. Ceviche with pineapple! As time went on, I had eaten at almost every restaurant in my neighborhood and never had a bad meal. That said, my favorite thing to do was to sit on my roof deck with a cup of tea in the morning. 
As far as food shopping, I found myself going to the supermarket frequently, preferring to buy just what I needed rather than stocking food in my fridge like I do here in the states. I would walk a little further beyond my neighborhood for better variety, lower prices, and interesting people.
Commuting was simple as I was centrally located and didn't have a regular 9-to-5 job. I loved to walk around the city, my record being a nine-hour walk! Other than that, I would take Ubers everywhere because they were so cheap. A 20-minute drive to a friend's house usually cost me about $3.15. I also took public transportation a few times just for fun and rented a car for longer trips to the beach and to Colón (a Caribbean seaport near the Panama Canal).
Living in the center of a tourist attraction meant there was always plenty to do throughout the week. For me, the highlight was on weekends when the restaurant downstairs used the adjacent sidewalk as its outdoor eating patio and I would basically get a free concert!
Why she moved back to NYC after all those years
Unfortunately, my real estate company didn't flourish in Panama—I was attempting to list properties in the states and a couple folded. I was also co-listing properties in Panama with local brokers and agents but we worked too differently and I wasn't able to gel with anyone. I find my business works better when I take people to a new country rather than when I live there and welcome them in. 
But frankly, I never intended Panama to be my forever place. I ultimately left because my son was graduating from high school and I wanted to secure a place for him in New York where he could get his dream job in the film industry.
So I finished up some business with one of my clients, sold my car, and came back to the U.S. in November 2021 with just our clothes and my juicer.
How she found her apartment in Washington Heights
Initially, I stayed in an Airbnb in Bed Stuy for about five months while looking for my own apartment.
I started out trying to go the no-fee route, but as time went on, I found a great agent, Romer Calderon at Keller Williams NYC, by replying to one of his ads. I would say I saw upwards of 30 apartments across Queens, Brooklyn, Manhattan, and the Bronx, though my top choice was to be in Harlem. My original budget was $2,600 and I was looking for a two bedroom (minimum), preferably with an in-unit washer/dryer, some sort of private outdoor space, and a gym and package room in the building.
The main difference between renting in Panama and NYC is that there you do not need a 700-plus credit score to qualify for an apartment. Also, prices in Panama are way cheaper—I am paying twice as much in NYC for half the square footage and without any outdoor space or nice views. Also, the apartment hunting process in Panama was delightful, even fun! In NYC I felt I was on trial the whole time, having to prove I am worthy of paying so much for a shoebox.
I ended up getting a three-bedroom apartment in a mid-rise elevator building in Washington Heights for $3,700. It's about 1,200 square feet, which I learned is a good size for a NYC apartment. But even with a three bedroom, I feel cramped.  
Now looking back, I realize my requirements were kind of funny and the only one that I ended up sticking with was needing two full bathrooms because I have a teenage son. The other requirements went out the window, including the rental price.
It's similar to the apartment I had in San Felipe in that it has prewar charm, which I love, only this one has been updated just enough to feel new. Sadly, both the location and lack of amenities has me missing Panama nearly every day.
Laundry is another challenge. Even though our building has machines in the basement, my son drops off and picks up our laundry from a place right across the street. It's at least triple what I'm used to paying, but I struggle with a roach phobia and dare not go into the basement of a prewar building in NYC where the garbage collection room is located.
I had a few items in storage, but mostly I had to buy all the furniture in New York as I am starting over. In addition to my international real estate business, I am the first black female theatrical Teamster in my union, Local 817, driving talent, crew, and equipment for film and television productions. So I was able to take part in a set sale for a production I was working on.
Getting acclimated to NYC life
When it's warm, I like heading to one of the parks and hopping on a trail. Between the Spanish-speaking majority in the neighborhood and the fruit stands, food carts, and the occasional music celebration, I sometimes feel like I'm back in San Felipe—especially when the temperature climbs above 80 degrees. 
I'm taking my time here. Unlike in Panama, I haven't been eating my way through the neighborhood—it's definitely more expensive here and doesn't have a vacation vibe, which tends to lead to reckless eating behaviors. I do enjoy Geisha, an Asian fusion spot on Broadway, and Tampopo Ramen, off 181st Street.
Not too much has changed for me when it comes to food shopping. I still frequent the supermarket for as-needed items rather than stocking up.
In the beginning, I spent a small fortune on Uber, then rented a car for a few months. Now I've put my big-girl pants back on and, for the first time in about 25 years, I am regularly riding the subway! I'm close to both the A and 1 trains. Sometimes though I still have to rely on Uber to get to different productions I am working on.
How her social life is going
I have only had a few people over to my new apartment, but one thing they've all said is how "New York" it is. I have my art and style here, it's a vibe.
I am slowly making new friends here. I've joined some social groups and am trying to navigate this new single lifestyle with a grown child.
I would still rather be in Harlem. Ever since I was a child in Queens, I've always imagined living in Harlem. I've romanticized the Harlem Renaissance and longed to live in that time and place, even if it's only happening in my head (and apartment). Someday…
And I will always keep a base here in NYC, however, as my son gains stability in his own career, I will continue to travel the world working in international real estate.
Brick Underground articles occasionally include the expertise of, or information about, advertising partners when relevant to the story. We will never promote an advertiser's product without making the relationship clear to our readers.