The Newcomers
Why I moved to NYC from Georgia: I got a job transfer and I'm living my dream draped in 'labels and love'
Her new luxury apartment in FiDi is in the first building she visited and met all her search parameters
She rents out her house in Georgia and pays $6,300 a month for a one bedroom with 'amazing views'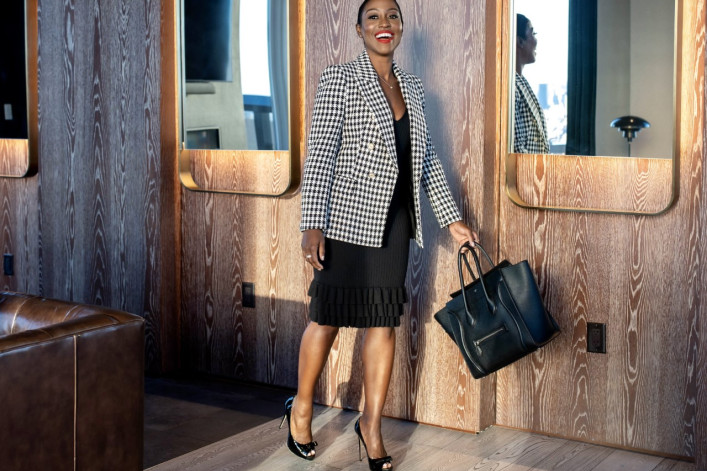 When Yunice's new job allowed her to transfer to New York, she jumped on the chance to live a "Sex and the City" lifestyle. She landed in a luxury apartment in Fidi with killer views, hobnobs with celebs, and is living her very best life. Here's her story. 
I was born in Chicago but moved to Atlanta when I was three and was raised there. Most recently I was living in a two-story bungalow-style house in Peoplestown, within walking distance from the Georgia State Capitol, Grant Park, and the old Turner Field Stadium where the Atlanta Braves play. It had three bedrooms, two and a half baths, a front porch, and a balcony off the main bedroom as well as hardwood flooring throughout, a jacuzzi tub, and double vanity. I bought it in 2013 for $154,000. 
I loved my neighborhood. It's centrally located to all major highways, and I could get anywhere I needed to inside the perimeter in 20 minutes or less depending on traffic. Some of my favorite things to do included walking, jogging, running around Grant Park, which is where Zoo Atlanta is located. I enjoyed going to restaurants at the Beacon, Memorial Drive, and Georgia Avenue corridors. A few of my faves are Kale Me Crazy, Patria Cocina, A Haute Cookie, Baker Dude, Mediterranea, and Talat Market.
Food shopping was easy because I had three major grocery stores within a five-mile radius. During Covid, I increasingly began using food delivery services and haven't looked back. Ordering in was extremely convenient and became my preference, especially when one of my absolute favorite restaurants, Poor Calvin's, began delivering its Asian-fusion food.
---
[Editor's Note: Brick Underground's series The Newcomers features first-person accounts about why a renter or buyer decided to take a chance on NYC and live here now. Have a story to share? Drop us an email. We respect all requests for anonymity.]
---
I worked at The Coca-Cola Company—aka "The Happiness Factory"—on the community relations team, where I managed corporate social responsibility/social impact, community and stakeholder engagement, volunteerism, board placement strategy, and funding for youth empowerment initiatives, as well as disaster relief for North America. 
It took me approximately 15 to 20 minutes to drive to work via the side streets or the freeway. A bus stop was also nearby and could take me to the nearest train station. 
Wanted: An address in FiDi
In 2021, I accepted an offer to be the local director of communications and experiential partnerships role at the luxury wines and spirits division of LVMH, Moët Hennessy USA, which is based in Manhattan and would allow me to easily transfer to New York. By April I had decided to relocate and began searching for apartments online. 
I focused my search on the Financial District because it was within walking distance of the office and it's literally where the money resides. Although several people suggested that I move to Brooklyn or Harlem "because that's where the culture is," my response was, "I'll be in New York, and culture is everywhere!" I wanted to be in Manhattan and have a New York, New York address. 
My goal was to get a true one bedroom with an in-unit washer and dryer, an amazing view, a fitness center, and a concierge/doorman for added security. I found five apartments that were in my preferred location and had my preferred amenities based on the listings and the photos. In May, I booked a trip to NYC to view them. 
The building I chose was actually the first I viewed. I recorded the tours so I could remember each one and send them to my mom. When I sent her the video of my current apartment, she said she felt this was the perfect place because she could hear my excitement in the background.
My best friend came the next day to view apartments with me. We started with my current building and viewed two additional apartments before deciding that the first building was the one. I proceeded with the application process and canceled the appointments for the other apartments. I was on pins and needles waiting to find out if I got the apartment because of stories that I heard about the process.
After flying back to Atlanta, I finally got an email confirming my approval, however, the leasing agent called to tell me the apartment I viewed was no longer available, but there was another one with the same layout. I asked if it was the exact same layout and she said it was and even had better views because it's on the 44th floor instead of the 40th. I was a bit trepidatious about being so high up, but a friend from NYC said that "CEOs, entertainers, etc. live on the top floor so you want to be as close to the top as possible." It was such a simple yet profound statement that resonated with me in several ways. I didn't see my actual apartment until the walk-through, which was a day before I actually moved in, The leasing agent didn't lie—it is the exact same layout with better views!
I signed my lease mid-May for $6,300 a month (including water and amenities), took a one-way flight to NYC on June 1, and moved into my apartment on June 3rd. I had sold all my furniture and my car prior to moving and shipped the remaining items like clothing and accessories. I wanted to start fresh! 
I rented out my home in Georgia. I am a licensed real estate agent with Keller Williams Intown Atlanta and learned that (at the time) New York practiced reciprocity with Georgia. I was able to get an education waiver, so I didn't have to take another real estate course, but I still had to take the test and passed it the first time. 
Now in addition to working for Moët Hennessy, I am a real estate agent and joined Keller Williams NYC because I wanted to stay within the KW family (I also work remotely for the Atlanta office). Being a homeowner and going through the relocation and apartment-hunting process in NYC definitely helps when working with clients.
Real estate is definitely different in NYC: More documentation is required— my lease was longer than my mortgage package. And the financial requirements are different, particularly having to make 40 times the monthly rent. 
On the plus side, I was never a huge fan of driving and stopping for gas—and pulling out my trash and recycling bins was the bane of my existence. Both were removed from my universe when I moved to NYC, and it's been so lovely!
Loving the walkability of her new nabe
The walkability of the city and especially my neighborhood is incredible. I am now within walking distance of my office, which was one of my requirements. The area has everything I need: Target, two Whole Foods, cleaners, markets/bodegas, Zara, and Oculus, plus I can walk to the seaport and Brookfield Place. I have access to the waterfront and entertainment and am just steps away from Fulton Center, with access to all major trains.
I love walking to and sitting by the seaport, especially on a weekend morning when people are doing tai chi and feeding the birds; it's so peaceful. I walk to Soho and Tribeca to enjoy some of my favorite spots, including Pi Bakerie (the best baklava I've had in the city) and Tamarind (amazing Indian food with a family feel). Brooklyn Chop House Downtown has become my NYC "Cheers" with fantastic music and all-around good vibes! I love being able to just walk down the street and stumble upon and stop in cute eateries and have one of the best meals of my life. 
I am addicted to The RealReal—I was literally there every week when I first moved and found some amazing classic pieces thanks to Shanice. Ask for her and tell her I sent you! 
I'm a food delivery—Instacart and Uber Eats—kind of gal, especially after Covid. There are so many more options in NYC than GA. Chip City has been my go-to for their divine vegan chocolate chip cookies, and Levain…oooh, Levain! They recently debuted a vegan and gluten-free chocolate chip cookie with walnuts that is heavenly!!
Living the absolute best life
As soon as I moved to NYC, I started noticing a few things: (1) A lot of women/people who identify as women have a pair of Jordan 1s and a designer bag; (2) all people take the subway; it humanizes and connects all worlds; (3) New Yorkers are kind and helpful; (4) you can walk down the street, pop into a restaurant along the way, and have one of the best meals of your life in an unassuming and unexpected establishment; and (5) the city is magical and will take you places you never imagined if you let it.
My friends and family say that NYC looks amazing on me and that I belong here. One of my new NYC friends says that I collect people. And several of my people have people in NYC that they've introduced me to, which has definitely expanded my circle. I've gotten really close to a few new people and it's been a blessing having them on this journey because there were a few times when I really needed them, and they were right there!
Collecting people example #1: A few months after I moved, a friend who used to live in NYC came to visit and we were planning on going to see a Dave Chapelle documentary at Radio City. Someone mentioned that he typically has an after party whenever he performs. I kept that in the back of my mind and started reaching out to people who may be able to provide intel before me and my gal pal went brunching. I told my friend, "I don't know how, but we're going to the after party!" As we were walking into the show, I hear the familiar voice of a good friend who happened to be in town for the show. That friend ended up inviting me to the after party I wanted so desperately to go to. 
Chapelle surprised everyone by bringing out hip hop legends from different boroughs to perform and we ended being introduced to several icons from the entertainment industry. I even sat next to another comedy legend who recently released a Netflix special. 
Collecting people example #2: A few weeks after moving to NYC, someone I knew from Atlanta saw that I had moved to NYC, and they reached out and asked if I wanted to meet up when they would be in town for a few weeks. When we met, he was with one of his male friends. There wasn't any initial attraction, but a group of us started hanging out and increasingly it was just the two of us (me and the guy who was with our mutual connection). Eventually, we started dating. My NYC friend (the same one who says I collect people) called me a unicorn because I got an amazing new job, moved to one of the best cities in the world, moved into an insanely fabulous "deluxe apartment in the sky," and met and started dating a man and had some incredible experiences that I am immensely grateful for. We are no longer dating, but I'm still living my absolute best life in NYC draped in "labels and love."
New York had always been on my list of places I would live, but if and when I ever lived here I wanted a "Sex and the City" meets "Girlfriends" type of vibe—luxury, no roommates, adventurous, fun, and surrounded by other amazing people. I got that and more. 
Moving to NYC was one of the best decisions of my life! I feel like and know I'm supposed to be here, and it's evidenced by all the extraordinary people, places, and I-can't-believe-this-is-my-life experiences.
Brick Underground articles occasionally include the expertise of, or information about, advertising partners when relevant to the story. We will never promote an advertiser's product without making the relationship clear to our readers.