The Newcomers
Why I moved to NYC from London: My husband and I missed sunshine, proper summers, and our family and friends
Their $4,800 two-bedroom rental is smaller than their London flat they rent out for $4,100
They scored their must-haves: large windows with lots of light, a bathtub, and an elevator
The new building has concierge service along with a gym, roof deck, and laundry room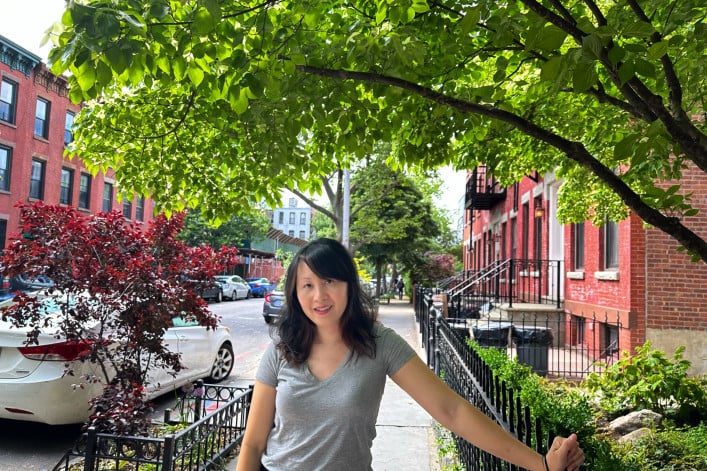 Longing to be closer to family and friends—and to have a proper summer—Christine Tse and her husband returned to New York City, where they lived before relocating to the UK. They settled on Park Slope, where they could give their young child a real NYC experience. It hasn't disappointed. Here's her story. 
I was born in Aruba and raised in Bensonhurst, Brooklyn. My husband was born and raised in Russia and came to the U.S. to get his Ph.D. at Columbia University. We lived together in NYC before moving to London in 2019 for his job in finance. [Editor's note: So they aren't exactly newcomers—this move is more of a homecoming for them.]
We bought an 800-square-foot, two-bedroom, two-bath apartment in Camden Town. It was in a new building, and we were the first to move in. We loved that the apartment was spacious and well laid out. We also had a balcony, which was a plus because we were in a strict lockdown while living there and I was pregnant at the time. We had lunch, breakfast, and dinner on the balcony.  
The building is also LEED-certified and so well insulated we hardly turned the heat on. And because the heating had underfloor radiant heat, there were no noisy pipes banging and no radiator taking away space. 
The only thing I can think of that we disliked about our place is that the building is next to a busy street and could get noisy at times, especially when the windows were open. In addition, we did not have air conditioning, which is typical in the UK because the summer is usually mild. But the last few summers the temps went up to 90 degrees, so we had to get a portable AC. 
---
[Editor's Note: Brick Underground's series The Newcomers features first-person accounts about why a renter or buyer decided to take a chance on NYC and live here now. Have a story to share? Drop us an email. We respect all requests for anonymity.]
---
We loved that Camden Town was very central and super convenient in terms of transportation. Depending on where my clients lived—I work from home as an interior designer––it was usually pretty quick and easy to get to because I lived by a train line and could transfer to other trains easily. My husband worked in Canary Wharf, and his commute was about 40 minutes on the overground train. 
Camden Town was particularly convenient after our baby was born. A small park with a playground was right around the corner. We were within walking distance of several large parks: Regents Park, Primrose Hill, and Hampstead Heath. We loved walking through the Regents Canal to Kings Cross, having breakfast at Dishoom, and letting our toddler run around Kings Cross—he loves the water feature there. 
We also enjoyed going to Camden Market, which has lots of eateries and shops. Our go-to spot for brunch was Casa Tua. The Living Room Club is a great café that I used as a workspace. For entertainment, we'd go to a nearby pub for drinks. 
In early 2022 we decided to move back to NYC to be closer to family and Aruba. We also missed the sunshine and proper summers in NYC. London is rainy and grey most of the time. Summers are hit or miss. I remember some summer months that were cold.   
Wanted: A light-filled two-bedroom apartment in Park Slope for $5,000 max
By the fall of 2022, we were ready to act. My husband's firm helped connect us to Silvana Palazzolo, a broker at Douglas Elliman. We told her our non-negotiable requirements were large windows with lots of natural light, two bedrooms and two bathrooms (one had to have a tub), and an elevator building. Our rental budget was $4,000 to $5,000. 
We decided on Park Slope because we wanted to live in a neighborhood that was family-friendly and had a community feel. We also wanted to give our three-year-old child a real NYC experience. And we have friends and family who live close by. 
While still in London, Silvano would send us listings for spots that fit our requirements (about 15 in all) and we would tell her whether we wanted to see them or not. So when we arrived in NYC, we had shortlisted a couple of apartments. 
Our new two-bedroom, two-bath unit is smaller than what we would have liked but the floor-to-ceiling windows and unobstructed view of Manhattan and Park Slope convinced us to take the apartment. We have a large open-plan kitchen with an island. Our new-construction building has wonderful amenities, including concierge service, a free gym, rooftop deck, and laundry room. Doing laundry is definitely faster! 
The renting process was super quick and stress-free. Silvana was our point person, handling the transaction for us and speaking to the management company. We moved into our new place in November 2022, just two weeks after putting in the application. 
We didn't move any furniture with us from London, so we had to buy everything new once we arrived. We were also able to rent out our flat in London for $4,100 per month. 
Happy with their new stomping grounds—but leaning toward Manhattan
Park Slope is very lovely. It feels like the suburbs but in the city with lots of parents pushing their kids in strollers. I was able to find a really caring daycare that speaks Russian for my toddler (who is half-Russian), which was a huge plus. I like the diverse culture here. 
Our fave places in the area are Prospect Park, JJ Byrne playground, and Kids Town Play Space, which is a godsend when it's hot outside.  
We love Terre for Italian food, Shelsky's for bagels, and Le French Tart for the quiche, which is handy when we are hosting brunch at home. We go to Whole Foods for food shopping. I do miss having an Asian food store nearby. Now I have to take the train to Bensonhurst to get my Chinese vegetables, noodles, and other specialty foods. 
I'm still doing interior design and am also a co-founder of the first Asian-women-led stone supplier and fabricator (J Stone Industry) here in NYC, so I don't have a commute, though my husband works in Manhattan. Fortunately, we are near the F and R trains, which take us to Manhattan in no time. My toddler loves riding the subway. 
My family from Aruba can visit us more often than when we lived in London and appreciate the chance to experience Park Slope. Our NYC friends also love our new place. 
Making new friends has been hard, but I am hoping to socialize more and meet more people and mom friends. 
Funny story: I had a real "Lost in Translation" moment when I was talking to another mom at daycare pick-up when I said my toddler hates sitting in the pram. She looked at me like I had two heads. Then I realized what I had said and corrected myself by saying that my toddler hates sitting in the stroller. British English! 
Even though we certainly love Brooklyn, we are already thinking about moving to Manhattan because my husband wants to be closer to work. Time will tell. 
Brick Underground articles occasionally include the expertise of, or information about, advertising partners when relevant to the story. We will never promote an advertiser's product without making the relationship clear to our readers.