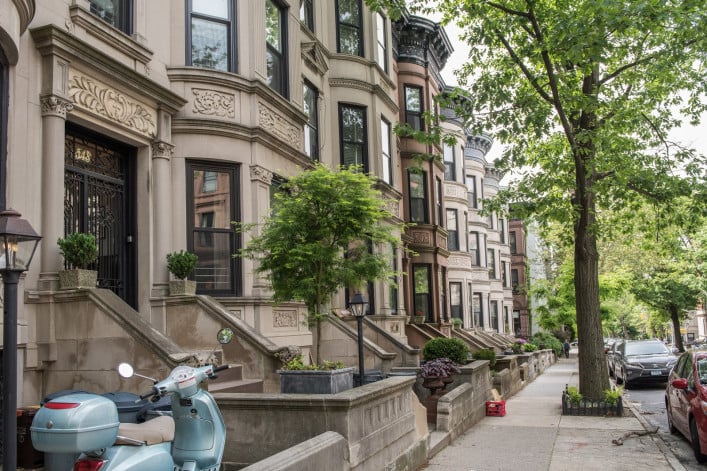 When Covid-19 hit New York City, Omar Khan, a management consultant in his late 20s, wondered if it was time to leave. His lease was almost up and the city was mostly shut down. But he loves NYC and his neighborhood, Park Slope, in particular. He decided to be proactive and research comparable rentals in order to ask for a discount at renewal time. Here's his story.
About a month before my lease was up, the city was still mostly shut down and I knew I had to make some decisions about my future. Things were starting to look up, but I wondered if it was time to move to the suburbs or a smaller city like Philadelphia or Washington, D.C. But, the truth is that I love New York City. I've lived here longer than any other place in my life, so I decided to stay. 
But I was facing some personal hardships because of Covid, and felt that there was still some uncertainty to come. It was terrifying to see how at the drop of a hat, NYC has experienced rampant unemployment, furloughs, and pay cuts. At the time, I was paying rent from when the market was much stronger. I knew committing to a 12-month lease was a risk, so I wanted my rent to reflect its new market value. Since I work in the financial sphere, I know that typically when someone takes a risk on an investment, there's some sort of benefit. That's when I started to do my research.
---
[Editor's Note: Brick Underground's Inside Stories features first-person accounts of dramatic, real-life New York City real estate experiences. We respect all requests for anonymity. An earlier version of this post was published in July 2020. We are presenting it again here as part of our holiday Best of Brick week.]
---
I logged onto StreetEasy and saw a pattern emerge: Many similar apartments in Brooklyn that were previously renting at the same rent that I paid were slowly being discounted to an average of 8 to 10 percent. Also, some were offering concessions like a month or two free. Since there were so many cheaper rentals on the market, I also considered how long some apartments were staying vacant, and calculated that loss. 
I'm a bit lazy and really like my apartment so I wanted to stay, but if a similar apartment was 8 to 10 percent cheaper, which covers the costs and inconveniences of moving, it made sense to move. I used my skills from working as a management consultant and created an Excel spreadsheet with things like annual rent at my current rate versus various discounts, so I had enough information to back up my request. My friends joked that I turned into a full-on management consultant for my small landlord. 
At first, I strongly considered asking to go month to month, but I'd still be paying the same rent and not gain anything so I decided renewing was my best bet. Once I decided to renew for a year, I concluded from my calculations that I should get a 12 percent discount on my rent, and went to my landlord.
Pro Tip:
Do you need help negotiating your lease, renegotiating it at a rent you can afford, or terminating your lease early? The experienced tenants-rights attorneys at Himmelstein, McConnell, Gribben, Donoghue & Joseph can advocate on your behalf. Call 212-349-3000 or email to schedule a consultation.
My landlord was very appreciative of the research that I did. They also said they really wanted to keep me as a tenant, and would get back to me. Within a day, they countered with a 10 percent rent reduction. I accepted because I thought it was reasonable, and it amounts to five or six weeks free based on my previous rent. It benefited both of us: I get to pay lower rent, and they get to keep me as a tenant for another year in an uncertain market.
I tend to approach all major decisions with the same type of research, it's part of my personality. I even did so when choosing my major in college; I love creative writing but knew majoring in it wouldn't help pay my hefty NYU tuition, so I decided to major in finance and minor in creative writing. And, it's not the first time I've done this approach with a landlord: I negotiated several hundred dollars off at a previous apartment because it had been on the market for so long.
My building is a small mom-and-pop-owned brownstone that only has four apartments, and the landlord lives in one. We have a great relationship, they're more like neighbors, so that's another reason why I wanted to stay. I've lived in larger rental buildings owned by some faceless LLC and they aren't as proactive at resolving issues. Once my heat went out and the landlord had someone fix it in 15 minutes—I'd never get that quick of a response in a larger building. 
I also really love Park Slope. When I studied at NYU, I lived in the East Village, but there's almost too much nightlife in the area. It was great for my early years in NYC, but as I entered my late 20s, I was ready for a quieter neighborhood and a bigger apartment. That's what I found in Park Slope—plus great bars and restaurants, Brooklyn Academy of Music, and Prospect Park. I've always loved Queen Ann-style brownstones, and there's tons of those around too. And, it's a notch slower than my previous neighborhoods, with more young professionals, who are more sorted out and mature, which was an aspiration of mine when I moved here.
Some of my friends have asked me for advice on renewing their lease right now, and I've told them that first you have to approach your landlord with kindness and empathy—everyone, including landlords, are struggling right now. Do the work, honestly explain your situation without sharing too much, and just ask—you'll never know until ask.
For now, I'm hopeful that New York City will bounce back and my risk will pay off.
Brick Underground articles occasionally include the expertise of, or information about, advertising partners when relevant to the story. We will never promote an advertiser's product without making the relationship clear to our readers.