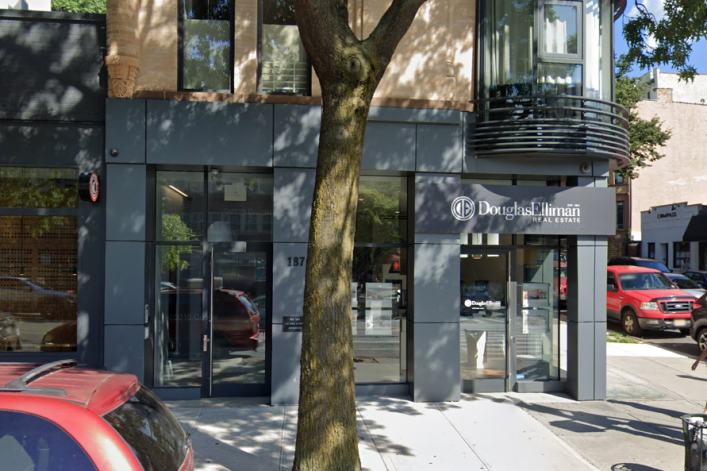 In an unexpected gift for New York City renters, tenants who find an apartment by themselves—without an agent representing them during their search—can't be asked to pay a broker fee, according to new guidance from the Department of State that clarifies a vaguely worded provision of New York's landmark rent reform laws passed last June. 
[Editor's Note: A judge granted a temporary restraining order on Feb. 10th blocking the Department of State's guidance from going into effect in response to a lawsuit filed by The Real Estate Board of New York, the New York State Association of Realtors and several residential brokerage firms. That means all broker fees are back for now.]
This interpretation of the law—which is, predictably, eliciting major pushback from the real estate industry—means that if you work directly with a landlord's agent, you can't be charged a broker fee (typically, from one month's rent up to 15 percent of the year's total rent). 
But don't break out the champagne just yet. Headlines like The New York Times's "Surprise for New York Renters: No more broker fees" are missing an important point. 
Namely, if you are working with an agent who does not represent the landlord—for example, you signed a contract agreeing to pay a broker fee and the agent is showing you multiple apartments that fit your criteria, telling you what paperwork you need, negotiating on your behalf, and is present at the lease signing—you will still be expected to pay a broker fee.
In addition, The Real Estate Board of New York is vowing to fight the change and has had success in rolling back some recent legislative initiatives.
It's difficult to know how many apartments are affected by the partial ban on renter-paid broker fees. One brokerage executive estimates that about half of New York City's rentals are "exclusive"—meaning that the landlord is being represented by an agent, and therefore the landlord would now need to pay the broker's fee.
What is certain is that broker fees have been one of the biggest upfront costs of renting in NYC, especially now that the security deposit is capped at one month's rent as part of last year's landmark changes to New York state's rent laws. 
A rent reform bombshell
The legal framework for shifting the broker fee to landlords who hire an agent to market an apartment was hidden in plain sight in last summer's rent reforms.
Much like the clarification renters received about the $20 cap in the application fee, this week's guidance about the broker fee came from a memo from the Department of State and clears up some of the confusion over the wording of the Housing Security and Tenant Protection Act, the official name of the rent reforms.  
Specifically, the DOS memo sought to clarify a passage of the rent law that said "no landlord, lessor, sub-lessor or grantor may demand any payment, fee, or charge for the processing, review or acceptance of an application, or demand any other payment, fee or charge before or at the beginning of the tenancy, except background checks and credit checks." 
Regulators have now interpreted this provision to mean that "a landlord's agent cannot be compensated by the prospective tenant for bringing about the meeting of minds." 
This development has been welcomed by tenant advocates like Robert Desir, staff attorney at The Legal Aid Society, which has been pushing for landlords to shoulder the costs that come with hiring brokers to represent their own interests.  
"This is more proof that the Housing Stability and Tenant Protection Act of 2019 is working to level the playing field, one which heavily favored landlords and the real estate industry for decades," he says.
Rents could rise as a result
Many predict that landlords who pay a broker's fee will compensate by raising the asking rent, so you may save upfront only to find you are paying more over time. 
"Depending on the rent regulation status, landlords will increase the rent to cover their added expenses and the tenant will end up paying it in the rent—which is actually exponential because they'll be paying it in the rent year after year rather than a one time fee," says Stephen Kliegerman, president of Halstead Development Marketing.
Arik Lifshitz, who heads up DSA Property Group, a company that owns and operates residential buildings in NYC and says, "no one will be helped by this law as landlords [already] can and do charge a higher rent when offering a no-fee apartment to the tenant."
Is the ban on some broker fees retroactive?
At this point, it's not clear whether restrictions on broker fees can be applied retroactively to the date when the rent reform legislation passed last June. [UPDATE: The DOS press office confirmed to Brick Underground that the guidance "is not intended to apply retroactively and future transactions should be entered into with this guidance in mind," meaning it only applies to new rental agreements.] 
What happened with the application fee cap—which took some landlords and renters by surprise—may serve as an example.
When 23-year-old NYC renter, Jo Ellen Pellman was overcharged the application fee last summer, she lobbied hard and successfully to get a rebate from the brokers in question.  
Johannes Wetzel, an attorney with Himmelstein, McConnell, Gribben, Donoghue & Joseph (and a Brick Underground sponsor), says he sees "no reason why any illegal fee would not have to be returned."
Some leverage for renters who work with an agent
When you decide to work with a rental agent to assist you in your search, you sign an agreement that stipulates the fee you'll pay. You'll want to take a closer look at that document. 
Say your broker takes you to an apartment where another broker is representing the landlord (called an "exclusive listing" in industry parlance). In the past, the two agents would normally expect to split the fee you are obligated to pay your agent (typically 15 percent of a year's rent on exclusive listings). 
Under the new broker fee law, however, the landlord's agent would need to be compensated by the landlord. Because of that, renters may be able to stipulate at the outset that in such "co-broking" situations, the broker fee will be limited to half the usual amount (7.5 percent versus 15 percent of a year's rent).
Brick Underground articles occasionally include the expertise of, or information about, advertising partners when relevant to the story. We will never promote an advertiser's product without making the relationship clear to our readers.