Brick Underground supports our readers with product recommendations specifically curated for New Yorkers. If you buy something through our links, we may earn an affiliate commission.
Upon entering this Upper West Side one bedroom, 285 Riverside Dr., #3E., you essentially hit a wall—part of a narrow hallway that seals off the kitchen from the foyer. "It isn't very welcoming," says architect S. Lindsay Klein of Lindsay Architecture Studio.
But she believes this would be a simple fix: All you'd need to do is knock part of that wall down, which would then flood the dark foyer with natural light from the window in the kitchen.
She sees lots of promise elsewhere in the $599,000 co-op, too. The fixer-upper obviously needs work, but she likes that it has "good-sized rooms," windows in each room, and more closets than one would usually find in a Manhattan one bedroom.
In this week's Reno Ready, Klein outlines her plans for making the entryway more welcoming, explains why she'd keep the kitchen (mostly) closed off from the living space (contrary to what everyone else seems to be doing these days), and describes how she'd brighten the living room and bedroom up considerably by lightening the floors.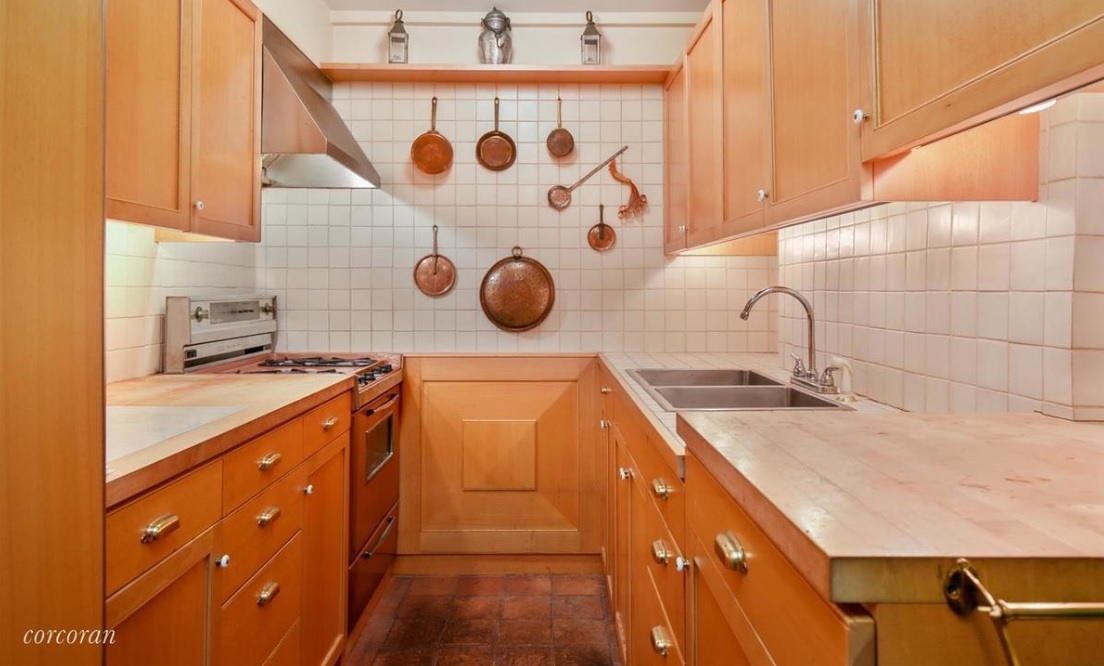 Open the kitchen to the entryway
Wall: The first thing Klein would do in here is take out a section of the wall separating the kitchen and the entry foyer so that that entryway doesn't feel so dark
"Lots of people would probably open the kitchen up completely to the living room, but I think I can get more out of the apartment if I don't do that," she says. For instance, she explains, if you knock out the wall behind the sink, you'll then lose what's probably the best wall to hang the TV on.
Knocking out the wall shouldn't cost too much. It'll be part of the contractor's overall demo work for the apartment.
Cabinets: She'd lose the monochromatic cabinets that are currently in the kitchen and replace them with two-tone cabinets—white or off-white on the top layer, and gray on the bottom—all with single-paneled doors. "These will give the kitchen a lot of character, but not impinge on the living room," she says. She'd also do away with any corner cabinets since they don't really offer lots of storage room.
She'd opt for IKEA cabinets since they do a good job for a little bit of money. She's partial to the store's Bodbyn line, which offers simple paneled doors in gray and off-white. Cabinets for this kitchen should cost under $2,000.
Countertops: Klein would extend the counters all the way to the end of the wall across from the service entrance and make a breakfast bar. She'd also add a few stools (like these Burslem swivel bar stools, $99 each at Wayfair) there so that the cook can better interact with guests in the living room.
She'd go with gray and white quartz straight-edged counters, also from IKEA, which will match the cabinets perfectly. These should cost about $5 per linear foot.
Backsplash: For a more uniform look to the space, Klein would probably run the quartz countertops up the walls about seven inches to serve as a backsplash. She'd then paint any remaining parts of the walls with "a really pretty paint color"—whatever the new owner prefers. A gallon of Benjamin Moore Aura Interior paint is $80.
Sink/faucet: She'd get a new undermount sink that'll have a clean look, like this Elkay single-bowl sink, $373. A new faucet will also be in order, like this Moen single-handle pull-down sprayer, $184 at The Home Depot.
Vent: She'd get a new vent hood that she'd love to vent out the window, but isn't sure if the building will allow it. "It'll reduce cooking smells, which will really add value to the apartment," she says. This Kitchen Bath Collection stainless steel wall-mounted range hood is $200 on Amazon.com.
Appliances: "This is an apartment for a couple," Klein says. So she doesn't think a giant fridge is necessary. As such, she'd replace the current refrigerator with a 24-inch Sub-Zero fridge/freezer, $6,835. She'd move it closer to the service entrance so that two people can more comfortably co-exist simultaneously in this kitchen.
She'd also get a new a new induction cooktop, like this Frigidaire 30-inch piece, $719 at The Home Depot, which she likes because it will "free you up from gas. She'd get a new oven, as well, such as this Bosch wall oven, $2,244 at AJMadison.com.
Lighting: To light up this space, Klein would add under-cabinet lighting under the cabinets where it's usually found, as well as on top of the cabinets. She'd hide the lights up top with a piece of trim that'll blend with the walls. This Ledberg LED light strip is $18 at IKEA. Trim to block it should be in the $30 range.
Flooring: Klein would opt for porcelain tiles that look like limestone because they'll make the kitchen look "classy." These should cost about $8 per square foot.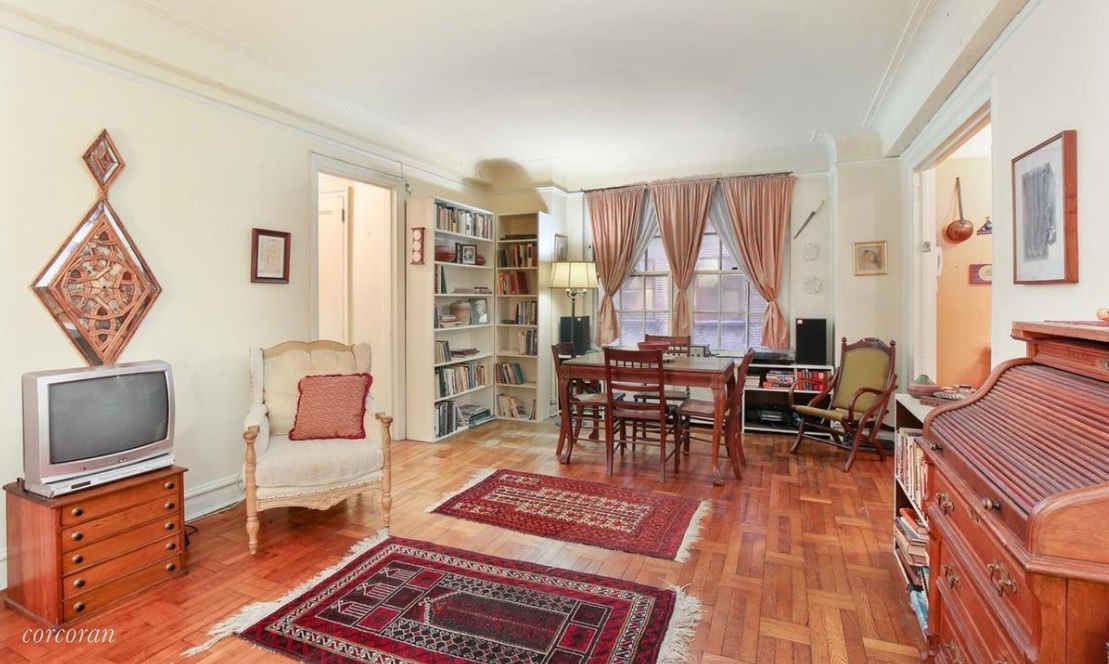 Add storage and lighten the floors in the living room
Armoire: Since she doesn't think the kitchen is quite large enough to accommodate it, she'd add an armoire to the living area. She'd have one custom-built in the corner by the window (where the bookcases are at the moment) so that the apartment's new owner can store anything from baking pans to shot glasses to cleaning supplies. This should cost about $2,000.
Flooring: The wood floor looks to be in fine condition, but Klein isn't a fan of its orangey tone. She'd therefore simply sand it down and lighten it a bit with white floor stain. "I don't want it to be white, exactly, but I do want to see the grain," she says. A quart of Minwax White Wash Pickling stain is $22 on Amazon.com.
Paint: She'd paint the walls a warm gray, like Benjamin Moore's Shoreline, $80 a gallon, to give the room a nice, homey feeling. She'd choose Benjamin Moore's Waterborne Ceiling Paint, $60 on Amazon.com, for the ceiling.
Trim: Klein would remove the picture molding, which she calls "old-fashioned and tacky," but she'd leave the crown molding intact since it adds some old-school character. She'd then paint it with Benjamin Moore's Cloud White. "It's a creamier shade of white than the ceiling, so it'll stand out more," she says. She'd use that same Cloud White on the baseboards, doors, and windows, as well.
Lighting: Since it doesn't look like you can drill anything into the ceiling, Klein says she'd recommend an assortment of lamps, like this Nina Torchiere floor lamp, $317 at YLighting, for folks who are trying to keep to a strict budget.
For someone with a little more wiggle room money-wise, she'd try cove lighting. This is a form of indirect lighting that is often built into recesses in the ceiling or a high point of a wall, and aims light up to the ceiling and down the walls. She'd install LED light strips or 3/4-inch LED bars behind the crown molding around the room to light the space up without having lamps everywhere. This cove lighting is pricey—probably around $10,000 or so with installation—but she likes it for the sophisticated look that it'll give the room.
Window treatments: The windows are pretty huge, but the view is of a building right across the way. Klein recommends installing top-down, bottom-up shades to cover them up. "You're going to want to cover up the bottom half of the windows a lot of the time for privacy, and leave the top over to get some natural light," she says. Prices for these Levolor light-filtering shades start at $46 on blindsaver.com.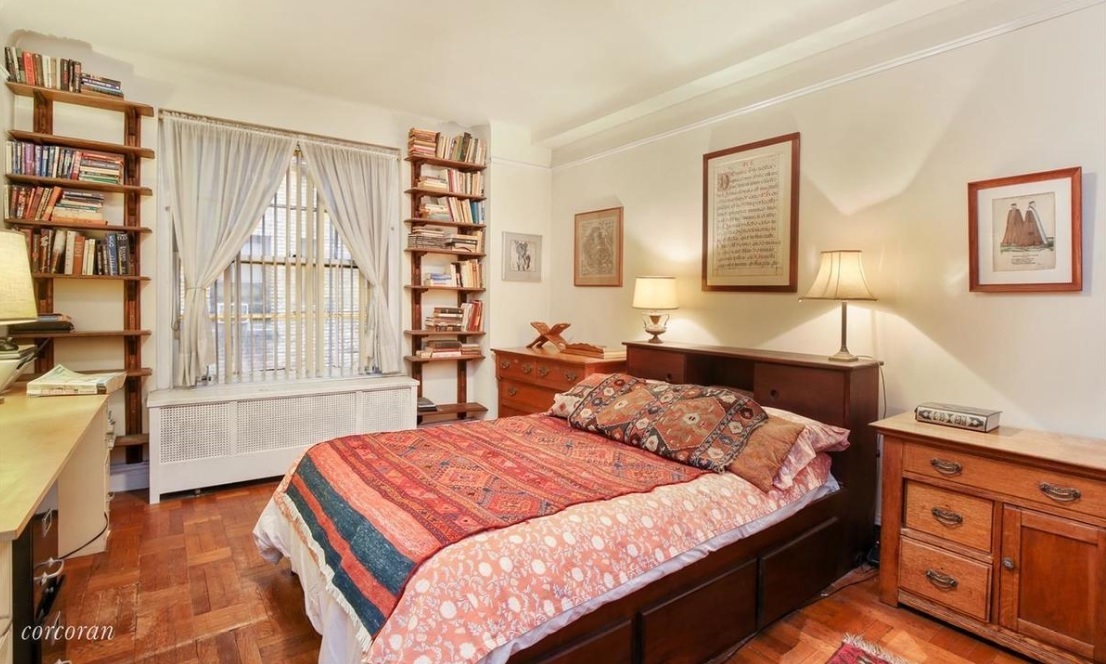 Get new shades for the bedroom
Floors: She'd lighten up the flooring in here, too, to keep a continuous flow in the apartment.
Blinds: She'd also go with top-down, bottom-up shades in here, similar to the ones in the living room.
Paint: Klein would choose a "pretty, calming color"—whatever the new owner finds soothing and sleep-inducing.
Lighting: She'd choose a simple assortment of bedside lamps with dimmers so that you can read comfortably on your bed. Prices for this Constanzina table lamp start at $245 at Lumens.   
Closets: "There are great closets in here, but the doors are horrible," Klein says. She'd get rid of the impractical single doors and replace them with double doors. Solid wood core doors with flat panels should be around $150 each.
Put a double vanity in the bathroom
There aren't any photos of the bathroom, but Klein estimates that renovating a bathroom of this size should cost around $16,000.
Tub/toilet: If the toilet and tub are salvageable, she'd hang on to them to cut costs. "Some of those old toilets with the flushometers are perfectly fine," she says.
Sink: She thinks there's enough room in here to replace the single vanity with a double one, which will make life more pleasant for any couple living here. This 48-inch Belvedere modern wall floating bathroom vanity with a double sink is $659 on houzz.com.
Tiles: For the walls and floors, she'd choose large-format porcelain tiles with a marble look because she finds them "calming." She'd have the tiles cut smaller for the floors so that they won't represent a slipping hazard. These should cost around $1,300.