Unobstructed views of New York City and the Verrazano Bridge are the best thing about this Gravesend, Brooklyn two bedroom, 2483 West 16th St., #12E, according to architect Gordon Kahn of Gordon Kahn Associates. So he wants to know, why are they hidden in this apartment, which is on the market for $289,000?
When you enter the 1,000-square-foot apartment, the first thing you encounter is a closet and an "ugly, closed-off" kitchen—both of which essentially block you from looking out the window. Kahn recommends knocking out a wall in the kitchen to make the view more accessible and gives tips on how to make the apartment feel lighter and brighter.
In this week's Reno Ready, Kahn tells you how to renovate this place on the cheap since most people buying a $289,000 unit aren't going to want to put a million dollars' worth of renovations into it.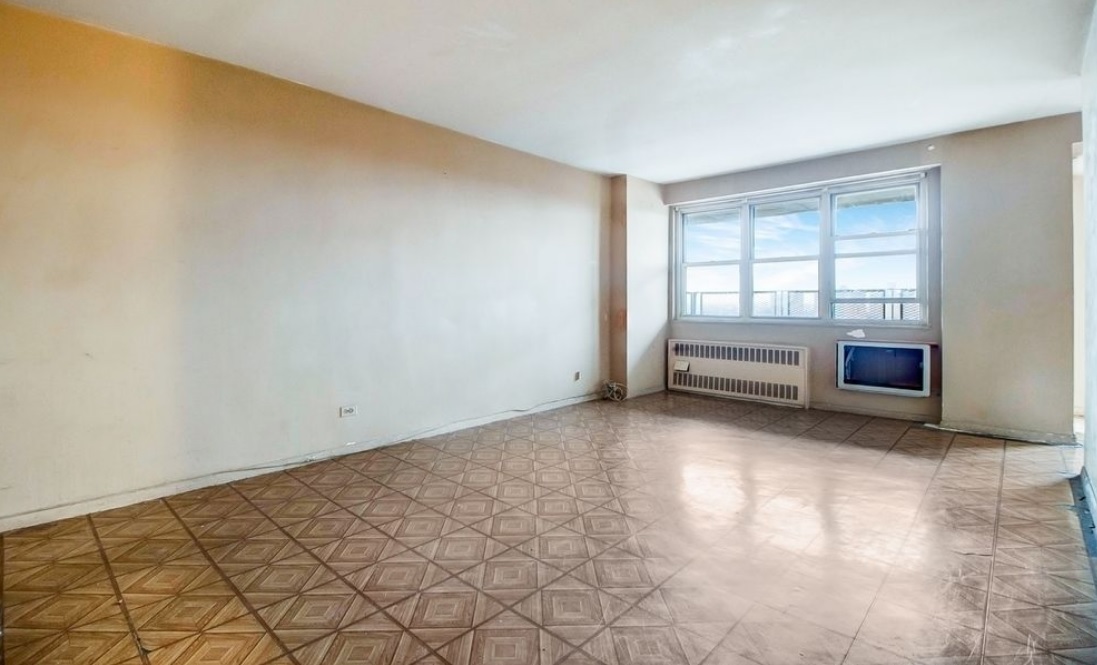 Open up the living room
Closet to the left of entryway: Kahn would remove it in order to make the window more accessible.  
Wall of closets/built-ins: Since he's taking away some storage space, he'd then add some by building a wall of closets or built-in bookshelves (or both) along the wall directly across from the window. "Taking two feet off the wall will make the proportions of the room feel more comfortable," he says. "And you can consolidate closets and built-ins into one area." These could be made from sheetrock or wood, and prices will vary between $5,000 and $40,000 depending upon quality.
Closet to the right of entryway: He'd also take out the small closet to the right of the entryway and build a structure along the wall directly across from the kitchen that's similar to the wall of closets on the other side so that everything stays symmetrical in here.
Paint: In order to keep things light in here, he'd paint the walls with Benjamin Moore's Simply White, $75 a gallon.
Exposed wires: If money isn't an issue, Kahn recommends burying all the exposed wiring on the walls by pulling off the baseboards, hiding the wires behind them, and putting the baseboards back on. But this can cost as much as $15,000, he says. If money is an issue, he suggests simply securing the wires to the walls, then painting over them so that they blend into the walls as much as possible.
Floor: Kahn isn't sure what's underneath the wrecked flooring, but it could be wood. If it is, he'd expose it, and refinish it. He recommends staining the floor a darker color to contrast with the white walls. He'd mix Minwax Special Walnut ($18 a quart on Amazon) with Ebony ($17 a quart on Amazon) to get the "nice dark tone" that he prefers. If there isn't wood underneath, he'd go with a vinyl tiles in a black-and-white checkerboard pattern.
Window treatments: Instead of installing curtains right on top of the windows, Kahn advises installing a curtain track on the ceiling and then hanging sheer drapes. "It'll make the windows feel taller," he says. It'll also cover up the unsightly radiator and air-conditioner. "All you'll see is the drapes. You won't worry about what's behind them." Prices for this ceiling track set start at $80 at RoomDividersNow. Prices for these sheer linen curtains start at $47 at Pottery Barn.
Lighting: He'd go with a mix of floor and table lamps since you can't install anything in the ceiling. This IKEA floor lamp is $70. This table lamp is $35, also at IKEA.
Sacrifice some storage in the kitchen 
Wall: Kahn would remove the top part of the wall across from the range, even though that means he'd be losing some cabinets and therefore sacrificing storage space.
Island/Countertops: He'd build an island there. He'd go with white Carrara marble, which has simple gray veining, is nice and bright, and will be relatively easy to maintain. It should cost around $10,000.
Backsplash: He'd either run that same marble up the wall to serve as a backsplash or get simple white subway tiles. He advises using raven-colored or dark gray grout between the tiles because white grout yellows over time, while the gray will just stay gray. Subway tiles should cost about $2.50 per square foot.
Cabinets: Kahn recommends removing the rickety old cabinets and replacing them with painted white cabinets. He'd also add more cabinets underneath the window to replace the ones he loses by building the island. You can buy stock cabinets for around $8,000. Custom pieces will be more.
Floor: He'd run the same flooring in here that he does in the living room for continuity's sake—either wood or black-and-white checkerboard tiles.
Appliances: Kahn thinks that the stove looks pretty new and the fridge looks decent. To save money, he'd leave both. He recommends adding a dishwasher to make life easier. This Maytag dishwasher is $527 at The Home Depot.
Sink/Faucet: The sink and faucet could stand to be updated. This Elkay under-mount sink is $446. This Kohler single-handle pull-down spray faucet is $449 at eFaucets.com.
Lighting: He'd put in under-cabinet lights and a surface-mounted elongated fixture up top that'll simultaneously provide up-light and down-light. These under-cabinet LED strip lights are $37 for four at Wayfair. Prices for this Minilux SQ from ModuLightOr vary based on size and specs.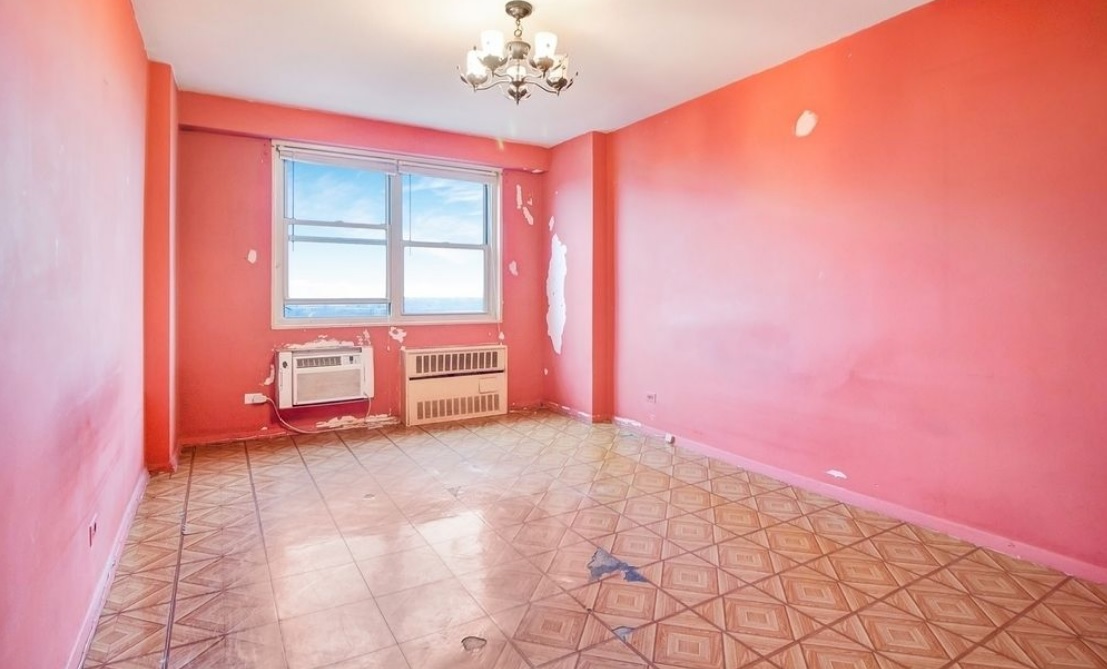 Fix the flooring in the bedrooms
Floors: He'd run the same flooring from the living room into both bedrooms for continuity's sake.
Paint: You can go with white to keep things neutral or you can use color if you'd like, Kahn says. It all depends on your preferences and what the room is going to be used for. A nursery will be a different color than an office, after all, he says.
Window treatments: He'd hang curtains from the ceiling in both bedrooms just like he did in the living room, but would opt for opaque ones instead of sheer since you want to block the light out more in a bedroom.
Air conditioner: The second bedroom doesn't have an a/c, so Kahn would have one installed. This Frigidaire Cool Connect Window Air Conditioner is $272 at The Home Depot.
Lighting: He'd go with another simple ModuLightOr fixture on the ceiling so that "you'll become more conscious of the light itself than the fixture."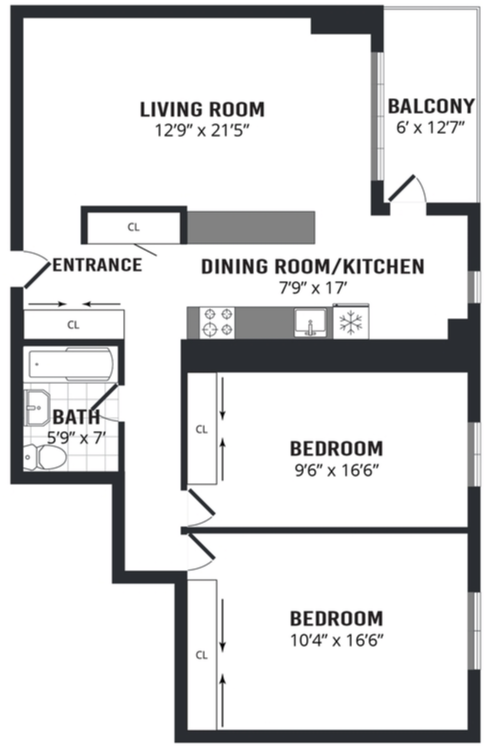 The bath is a mystery
There aren't any photos of the bath, but Kahn says it will likely need to be gutted. Replacing everything should cost between $30,000 and $40,000.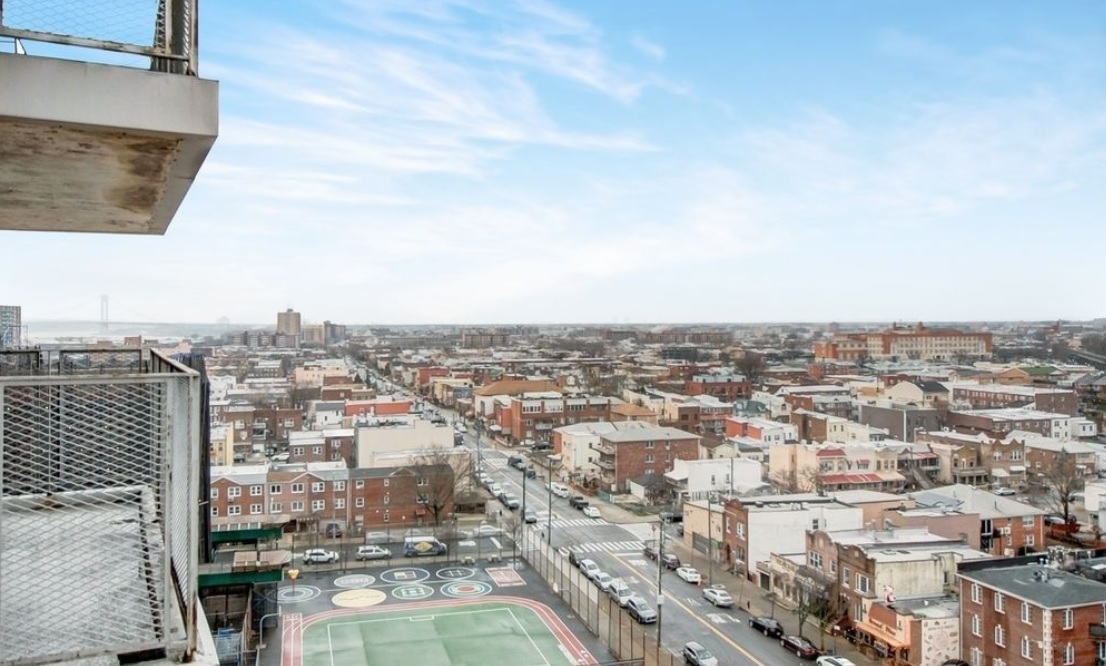 Treat the terrace like an outdoor room
"It's an extra outdoor room," Kahn says. "You should furnish it as though it's an extension of your living room," and stick to similar colors and textures.
Furniture: Kahn suggests adding a bistro table and a couple of chairs to add a nice homey feel. This three-piece French Café Bistro set has a table and two chairs for $140 at Wayfair.
Plants: "It's also always nice to have potted plants on a terrace," he says, noting that it makes a space feel more cozy. These begonia floral arrangements in black pots are $59 at Wayfair.
Brick Underground articles occasionally include the expertise of, or information about, advertising partners when relevant to the story. We will never promote an advertiser's product without making the relationship clear to our readers.