Due Diligence
Manhattan Sideways blogger Betsy Polivy spends her days exploring the city's side streets and small businesses, but is happy to call Chelsea home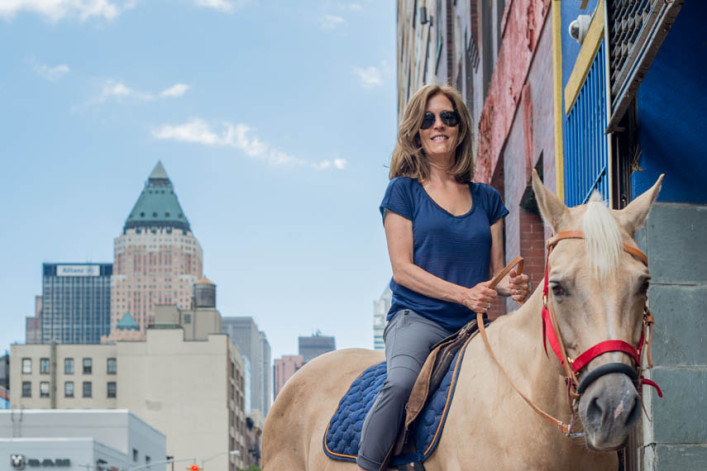 In an era where small city storefronts shutter seemingly every day, Betsy Polivy's blog, Manhattan Sideways, aims to shine a light on the borough's independent businesses, one street at a time. And she's not doing it by halves: Since starting the blog five years ago, Polivy has been working her way through every small brick-and-mortar shop on the city's side streets, starting at 1st Street and working her way up through 155th Street. (She's currently on 125th.)
As the former owner and operator of a small children's bookstore upstate, Polivy has a passion for small businesses, and makes an in-person visit to every shop featured on the site. (To browse around, the site has a "search by street" feature, the better to explore all the options offered on each and every byway.) When she's not off interviewing and exploring, Polivy is a recent transplant from the Upper West Side to Chelsea, but still buys season to the tickets to the ballet, and hopes to never move out of Manhattan. Read more about her favorite spots around the city for the latest round of Due Diligence:
1.  What neighborhood do you live in?
Chelsea
2. Is this your dream neighborhood or is there someplace else in NYC you'd prefer to settle in?
My husband and I are very happy in Chelsea, having lived here for just one year now. Previously, we were on West 72nd Street. We loved the close proximity to Central Park and the warm relationships that we had developed with people in the neighborhood—both residents and store owners. Today, we are happy being able to walk across to the east side at any hour as well as down to the Village (and East Village) and beyond. Always exploring, always walking. 
3. Do you own or rent?
Own
4. How'd you find it?
Funny story: My husband came home on a Friday evening and said that it was time for us to purchase something in Manhattan—we had been renting, at [that] point, for years. We went online, found one building that met our criteria. We went to the sales office the next day, where they had only two apartments left (we were only able to see a model of the kitchen and master bathroom), and on Monday we purchased our new home, sight unseen. We moved in one year later.
5. What's the one thing you love the most about it?
It is a boutique building with a terrific rooftop that has lounge chairs, tables, and a barbecue.
6. If there's one thing you could change about your apartment, what would it be?
My husband and I love to cook, so I guess we would appreciate additional kitchen space with more room to entertain in our apartment. In the warmer weather, however, we carry everything up to the roof where there is a beautiful view and lots of space. 
7. In three words, describe the first apartment you've ever lived in.
$262/month and tiny
8. Do you dream of old New York or prefer the 2017 version?
One hundred percent old New York. It breaks my heart everyday as I witness buildings being torn down and businesses being forced to close or relocate.
9. Tell us about the favorite apartment you've ever had.
We were quite spoiled for a short time. We had a three-bedroom, three-and-a-half-bath apartment on the 18th floor with an amazing view of the East River. It was fun—our kids loved it—but it was an interim situation and we were very happy to move to the West Side and begin our lives there. 
10. And the worst?
We have never had a bad experience living in New York. 
11. Name one NYC service you couldn't live without.
It is not a service, necessarily, but the ability to get anywhere I need at any hour of the day—because I can always walk or bike there, no matter the distance or the weather.
And, I could not live without the arts, with an emphasis on theatre and the New York City Ballet. I have had a subscription to the ballet for over 40 years.
12. What's your favorite spot in the city?
Without a doubt, the side streets—be it the East Village or up in Harlem, and anywhere in between. There is so much to discover and so many incredible people to meet. My favorite part about walking on the side streets are the conversations that I have on a daily basis. Sometimes the people have lived and worked here for some 50 to 60 years, while others have recently opened a business; either way, their stories are fascinating and heartwarming. 
13. Which would you rather: Brooklyn brownstone or a penthouse in a shiny, new condo?
I truly enjoy walking and discovering the different neighborhoods in Brooklyn (my son lives in DUMBO), but as someone who is devoted to Manhattan—and its small businesses on the side streets—I would have to choose the new condo provided it is here. But, honestly, my dream would be to live in a brownstone on a side street in Manhattan. 
14. If you could live elsewhere, where would it be?
I lived in London for a year-and-a-half as a college student, and I have traveled a great deal, both in the States and abroad, but I am always happy to come back to Manhattan. 
15. Any advice for a recent New York transplant?
I could go on forever, but as a start, here are two categories that I would absolutely want to recommend to visitors, long time residents and those who have recently moved to Manhattan:
The community gardens:
There are many in the East Village with several standouts, as well as a few more scattered throughout the higher streets. Especially in the spring and summertime, these oases allow for a quiet respite from the city, as well as some beautiful plantings. Since the 1970s, vacant lots throughout the city have been cultivated, bringing charm to some of the neighborhoods while also gathering people together. Several of the gardens are subdivided into small plots of land, allowing individuals to grow their own flowers, fruits, and vegetables. From large weeping willows to rows of tulips and daffodils, to roses, peonies, delphiniums and hydrangea, to sculptures and tree houses, each garden is a reflection of the people who are dedicated to its preservation. A few to get you started:
Kenkeleba Sculpture Garden:        212 East 2nd Street
El Jardin del Paraso:                      311 East 4th Street
6 B/C Botanical Garden:                622 East 6th Street
Sam and Sadie Koenig Garden:    237 East 7th Street
Alice's Garden:                              34th Street and Tenth Avenue
Instituto Cervantes:                       211 East 49th Street
Clinton Community Garden:         434 West 48th Street
Septuageismo Uno:                      71st Between Amsterdam and West End Avenue
West Side Community Garden:    142 West 89th Street
Museums that are not as well known:
In addition to the amazing Met, MOMA, Whitney, Guggenheim, etc.... in New York, there are several others that are true standouts for every age and interest:
Merchant's House Museum:                  29 East 4th Street
Ukrainian Museum:                              222 East 6th Street
Museum of the American Gangster:      80 East 8th Street     
Rubin Museum:                                    150 West 17th Street
Theodore Roosevelt's Birthplace:          28 East 20th Street
The Museum of Mathematics:               11 East 24th Street
Nicholas Roenich Museum:              319 West 107th Street
Brick Underground articles occasionally include the expertise of, or information about, advertising partners when relevant to the story. We will never promote an advertiser's product without making the relationship clear to our readers.