In their attempt to stand out from the crowd, developers of luxury properties are getting ever more elaborate with amenities, with new rentals and condos building lavishly designed roof decks and offering stroller valets, pet spas, golf simulators, and more.
But it seems that for many New Yorkers, their desires for apartments and buildings are pretty humble. A lot of us, after all, inhabit no-frills spaces, where perks that are more of a given in other parts of the country—like a little backyard or even a fresh coat of paint on the walls—could go a long way toward making our apartments more livable. 
Last week, we asked our readers what was at the top of their wish lists, and it turns out many are yearning for features that would add convenience, not luxury, to their homes, though plenty are also dreaming of one particular upscale perk. 
1. What do you most wish you had in your apartment? 
Not surprisingly, a lot of you wish you had more breathing room: 14 percent of respondents said their top priority is more square footage, 13 percent want another bedroom, and 11 percent say they need more storage space. Another common wish is for more light; nine percent of you said you'd like to brighten things up in your apartments. But the most in-demand addition, for 22 percent of Brick readers, is an in-unit washer and dryer. We hear you: We're tired of schlepping to the laundromat, too.
There were a few interesting write-in responses as well: Two readers said they wished for better views from their homes. And one reader seems to be yearning for some privacy: They wrote that they most want "Real doors on the bedrooms (instead of window panes)." Sounds reasonable—maybe get in touch with your landlord about that? You'll find some tips on getting your landlord to make fixes and upgrades to your apartment with our guide here.
2. What do you most wish you had in your building?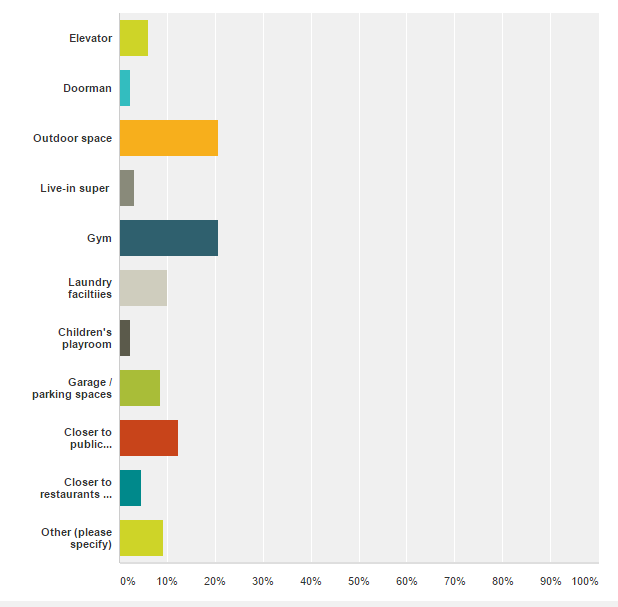 It seems that New Yorkers are dying to stretch their legs: When it comes to what amenity they most wish they had in their buildings, it's a tie between outdoor space and a gym, each of which got 20 percent of the votes. And Brick readers do allow themselves to fantasize a little—six percent of you wrote in that you would love to live in a building with a swimming pool.  
Other runner-ups had more to do with convenience. Twelve percent wish they were closer to public transportation—no surprise, given that New Yorkers suffer through some of the longest commute times in the country—and 10 percent would settle for at least having laundry facilities in the building, if not in their own apartments. Interestingly, few of our readers seem particularly concerned about security, with only two percent prioritizing having a doorman.  
Those of you longing for fitness options in your building, take heart. When we spoke to property managers about which building amenities are used most, and which are left to languish, they told us that while many New Yorkers say they really want a gym and pool, most don't end up using them when they're available. Perhaps not having to pay for the privilege of exercising means always leaving that workout or swim for another day—in which case, you're better off buying a gym membership and making sure your visits pay off.