New Development Week
Teen rooms, stroller valets, and pet spas: the future of NYC's amenity landscape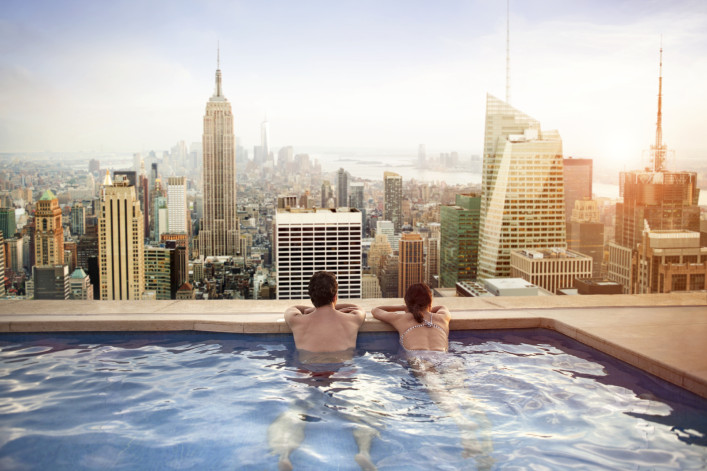 As prices keep rising and developers rabidly compete for the affections of New York City's most well-to-do residents, new construction buildings keep upping the ante with over-the-top amenities. (Remember the building in Williamsburg that offered buyers a free trip to Amsterdam as part of the deal?)
But amenities are also highly subject to fads, and as high-end extras fall in and out of style, buildings will adjust their offerings accordingly. It's what Jonathan Miller, president and CEO of appraisal firm Miller Samuel calls "amenity creep," explaining that "it can be a way for buildings to differentiate themselves, but most consumers don't really care, or change their minds overnight about their wish list of possible amenities."
Some amenities have proven themselves to be perennial favorites—gyms are always a must for well-to-do buyers and renters, and "pet spas" continue to be popular—but in other areas, new buildings are changing up their offerings, tailored to what buyers seem to want in 2016. Here's what's on the way in—and out:
OUT: THE DOORMAN
While a doorman will likely always be a must-have amenity for high-end buildings, with the rise of electronic doorman technology (and smaller, boutique developments), more high-priced listings are hitting the market sans doorman. "It all depends on the scale of the building," explains Halstead Property Development Marekting's Hunter Frick. "There's a breaking point where it's cost-prohibitive to have a full-time doorman." For a building with only a small number of apartments to share the extra cost, the extra expense starts to outweigh the upsides. 
Instead of raising prices or the cost of monthlies, then, some smaller buildings are opting for the virtual doorman, or having someone manning the lobby part-time. But again, this doesn't mean the traditional doorman is going the way of the dodo anytime soon. "It's niche, and the vast majority of higher-end buildings will want a doorman there,"  adds Douglas Elliman agent Noble Black. "But there are people who want the anonymity of not having a doorman, and don't want someone to see who's coming or going, or to have to make conversation."
IN: THE KIDS' STUFF
Children's playroms have been de rigeur for a while in newer buildings, and now, developers are looking to expand options for buildings' younger residents. "In the last wave of development, kids over the age of eight weren't really taken into account," says Frick. "Now we're working with three or four different buildings that are incorporating teen rooms." (Anecdotally, we've also seen plenty of listings pitching tween rooms.) And for the much younger set, Frick cites the much-talked-about stroller valet service now being offered in one Park Slope condo. "I noticed lines of strollers in the building's hallway when I first visited, and even huge apartments don't have room for all those strollers when there's a playdate," he explains. "So we had a big room off the lobby situated right next to the doorman, and turned it into a stroller valet." 
IN: THE SOCIAL SCENE
As the demographics in new buildings start to skew younger (and developers face competition from socially focused "co-living" spaces), you'll start to see more event programming and more lavishly designed common areas. "I remember the wave of construction 15 years ago when lounges sat vacant and unused, but now they're the hearts of some buildings," says Bond New York director Douglas Wagner. "There's a return of 'tenant experience' in newer luxury buildings, with a focus on the social aspect of life in a rental. Things like residents' lounges and roofdecks are more important than ever."
Particularly as new development apartments skew smaller (the better to fit as many units as possible into a building), common areas are being treated like an extension of the apartment. "For example, we're programming lobbies to have seating, or conversation pits," says Jodi Stasse, senior managing director of new developments for Citi Habitats. "Especially if you live alone, it's great to be able to be around other people bieng social. People sit in coffee shops because they like to be around people and have that activity, even if they're wearing headphones."
Common areas are also in demand for residents looking to host parties or functions too large for their own apartments, notes Black.
OUT: IN-BUILDING EATERIES
One social component that isn't gaining traction? Pricey in-building restaurants. "For the most part, that's kind of an older concept," says Black. "Except for buildings at the very high end, people don't want that extra expense." Particularly not in the age of Seamless. But then, if you could afford an apartment in the likes of The Beekman downtown, which includes "in-residence dining by the Tom Colicchio restaurant" as a perk, perhaps the price tag of your monthlies (or your dinner bill) isn't such a going concern.
IN: THE OFFICE
In a real estate market where companies like WeWork are experimenting with live-work spaces, it shouldn't be a surprise that more and more buildings are putting in dedicated spaces for the work-from-home set. "There are a lot of entrepreneurs, freelancers, people with flexible schedules," says Stasse. "We're seeing coworking spaces that are being incorporated in, where someone would be able to set up with a laptop and work in these communal spaces." 
"We're starting to put coworking spaces as an amenity into a lout of our new buildings," concurs Modern Spaces co-founder Eric Benaim. "In some buildings, we're even putting free wifi into every unit."
OUT: THE ULTRA-SPECIFIC FITNESS ROOM
While just about every new building will have a gym or fitness area of some kind, the details here vary. But with space at a premium, expect more multi-purpose rooms, and fewer claims of individual studios for every single type of workout fad under the sun. 
"What we've done now is combine those all into one," says Frick. "You have a padded floor, bars on the wall, mobile spin bikes you can pull out of the closet. In the past, these options took up a lot of square footage, and now they take up a lot less space."
IN: POOLS (AND GOLF!)
Pools are having a resurgence in popularity, both as a practical fitness option and a perk for ultra-high-end apartments. "Pools had fallen off a bit [after a boom that started in the 1980s], but now lap pools are being incorporated as part of health and wellness programming," says Stasse. "You're also seeing more high-end product with private pools in the penthouse," adds Miller. "In some cases, it went from a common amenity to a private one."
And one surprising fitness amenity that seems here to stay? The virtual golf simulator, often the butt of jokes about frivolous amenities, has gained an unexpectedly loyal following in some buildings. "It's certainly not something that every building has, but people are really using them," says Black. "It's probably a small percentage of residents, but the people who do use them absolutely love it."
Brick Underground articles occasionally include the expertise of, or information about, advertising partners when relevant to the story. We will never promote an advertiser's product without making the relationship clear to our readers.