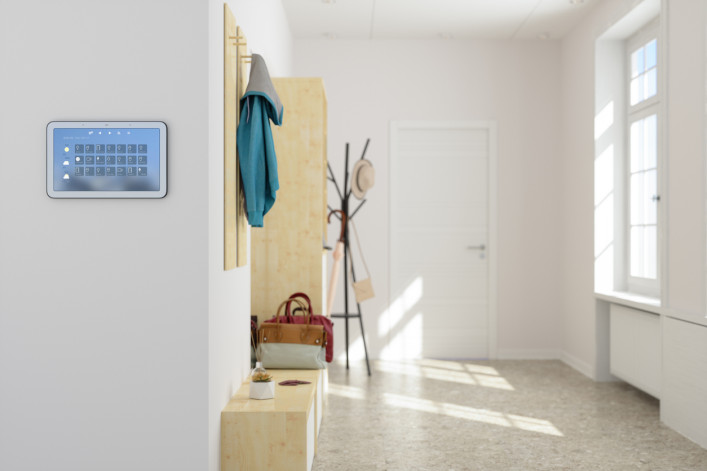 If you need to install a security system in your apartment or townhouse in New York City, there are several things to consider. You will have to determine whether you can use one of the cheaper smart-home security systems on the market or whether you're looking at a professional installation. 
Security systems are less common in New York City's apartment buildings because doormen and building security provide residents with a level of protection, but in a townhouse, insurance companies often insist on you having some kind of centrally monitored burglar alarm, smoke detector, heat or low temperature sensor, or a water sensor. This gives you peace of mind and it can also cut your insurance costs.
Custom or DIY
A DIY installation can start at a couple hundred dollars and only requires an internet connection for you to be up and running. If you move, you can take the devices with you and buy extra devices if you trade up to a larger place. For many New Yorkers, this provides enough security but if you've recently bought a townhouse or live on the ground floor, you may want a more sophisticated installation. 
Traditional hard-wired security systems are expensive but in some cases they might be mandated by an insurance company, for example if you own a very high-end art collection. Vincent Ingrisano, sales manager at Alarms R Us, says his firm often does custom installations that can include burglar alarms, surveillance cameras, video intercoms with access control, and keyless entry, as well as wifi and data cabling inside the walls.
The DIY system isn't complicated but Ingrisano says a custom installation is for someone who wants a professional company to handle it. The system runs off a separate wireless network (aka megahertz). "The point is, you don't want your wifi to go down and your alarm not to work," Ingrisano says. 
In terms of cost, it all depends on what you need. A basic installation could be $600 to $5,000, based on how many sensors you are using. A custom install, which includes hardwiring could range from $6,000 to $30,000. 
There are obviously lots of companies offering security systems and installation, both national companies and local New York City firms. Anyone who installs or maintains security or fire alarm systems needs a license—something you can check via the New York State Department of State. 
Insurance credits 
When you are considering getting home insurance it's possible you'll get a credit if you have an security system in place. You wouldn't install a security system just for the insurance credit, but Jeffrey Schneider, president of Gotham Brokerage (a Brick Underground sponsor) says, "if you have one, you want the credit."
Most insurers will give credit for a monitored fire, burglar, or low temperature alarm. Generally, the system has to be monitored by a third party. An installation company should issue you a certificate of installation that you can submit to an insurance company for a credit.
It's possible you might be given a credit with a DIY system, especially a low temperature sensor that could prevent a mid-winter broken pipe, but Schneider says you often have to pay for the extra monitoring service. "At a minimum there has to be automatic notification to your phone app," he says.
The details of the central station
Most security systems connect to a central station—a third party—that provides round-the-clock monitoring of your account and sends you alerts. Ingrisano says it's a good idea to find out where that central station is located. Alarms R Us uses a central station based in Syracuse, NY, which also has back up offices in California.
You might also want to find out if you'll end up speaking to a real person rather than an automated message when you call the central station. 
Also, if you want to make changes to your password or security questions, find out how long that will take. Ingrisano says there may be situations where you'll want to make changes to your account quickly so find out if this can be done immediately or if it takes 48 hours to process. 
Brick Underground articles occasionally include the expertise of, or information about, advertising partners when relevant to the story. We will never promote an advertiser's product without making the relationship clear to our readers.