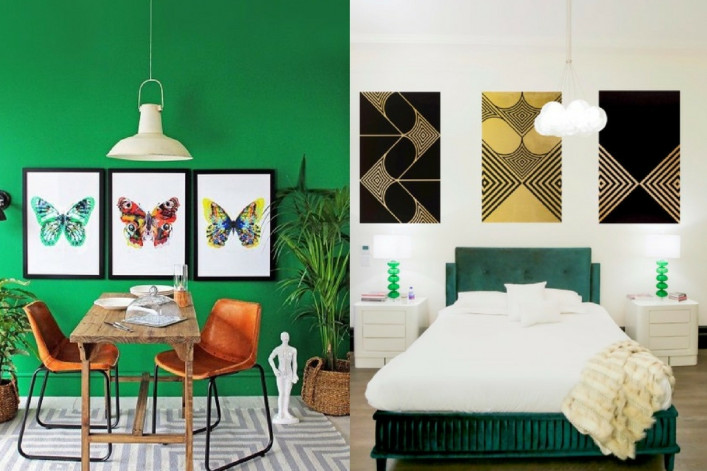 Apartment remodelers and renovators, take note: This year's Pantone color of the year is a bright green called, straightforwardly enough, "greenery." Though the Los Angeles Times reports that there were expectations that this year's pick would be a broody, angry mix, given the upheavals 2016 wrought—the Pantone Color Institute usually selects a shade that purportedly echoes "the mood of the country"—the organization this year went for a healing hue. 
Leatrice Eiseman, the Institute's executive director, explains the choice to the New York Times:  
"We know what kind of world we are living in: one that is very stressful and very tense. This is the color of hopefulness, and of our connection to nature. It speaks to what we call the 're' words: regenerate, refresh, revitalize, renew. Every spring we enter a new cycle and new shoots come from the ground. It is something life affirming to look forward to."
"The world is ready for a new start, and 'greenery' feels like the color or rebirth and a new start," said Greg Dyer of design firm Element Design Group.
"When I saw the color I immediately thought of vertical gardens, which are very fashionable in Mexico City—there's a city wide initiative to turn pillars in big freeways into green areas [there]," says Anna Karp, co-founder of Bolster, a company that connects renovators with contractors (and, FYI, is a Brick Underground sponsor).
As always, you can expect fashion and design products that use the Pantone color of the year to start popping up in stores. Expect everything from bright green toasters, blenders, pillows, and much more, especially in spring and summer. Dyer says he expects large stores like West Elm to introduce more green in their collections.
Jessica Wetters, an architect with Bolster, agrees. "I'm not so sure that we're going to see a strong showing of this color turning up in our home renovations, paint colors, [and the like]; possibly it'll make an appearance in accent furniture, pillows, outdoor cushions," she says. "It may be embraced more by the product community—iPhone cases, sustainable packaging, etc." 
Pantone's green represents the "outdoor living room" as it relates to design, she says. "The architecture community has long been in lock step with 'green and sustainable' environments, both in and outdoors, today it is no longer a fad or cool, but required by law. At a time where the fate of clean air and environmental progress is being threatened, it's more important than ever for people to embrace green living and recognize its importance in our lives," she explains. "What if NYC existed without Central Park? The High Line? All the outdoor living rooms that have been set up for New Yorkers to meet, play, interact, dance... It would be a wholly different NYC."
We asked design experts to offer their personal tips on how to incorporate greenery into apartment decor, no matter how small the space.
Consider green furniture—and (believe it or not) pair with reds
While stores will undoubtedly start selling furniture in greenery (below: the Kyra Chair from Hancock & Moore), if you have an older piece of furniture, you can consider reupholstering it green, too. Bar stools and headboards, specifically can work well in the color.
While you can risk getting to "Christmas-y," done in moderation, green complements red well, says Dyer (see photo below). "It's more art than science; it's about striking the right balance," he says. "As with any creative endeavor, you know when you've gotten it right."
Dressing up furniture completely in the color isn't necessary, either; you can choose a pattern that has green in it.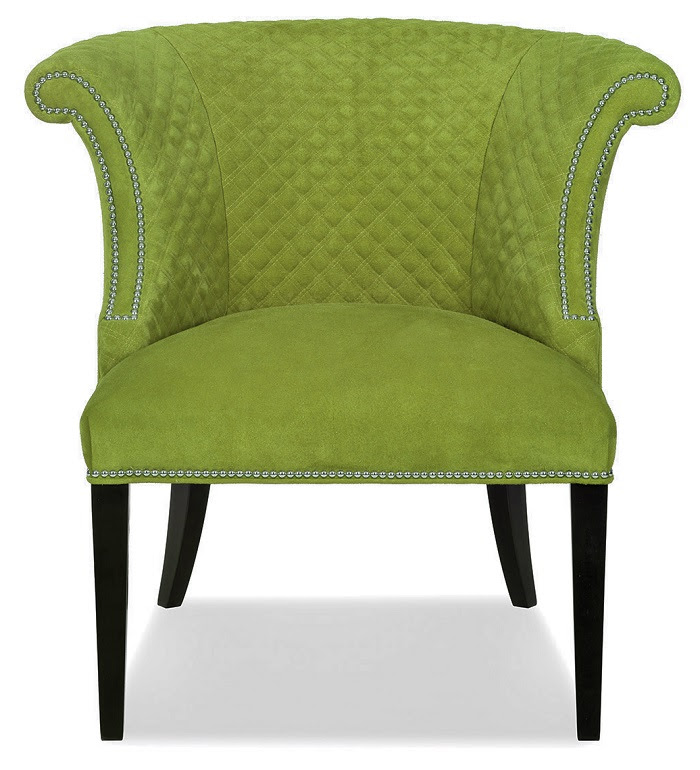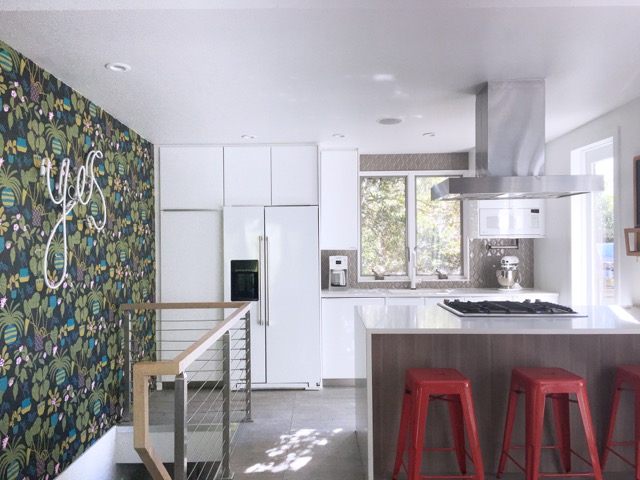 Dip your toe in with green accents
"The nice thing about this particular color is that for those who are afraid to use color, you can start off small and build with it," says Breanna Williams, a designer with Home Polish. "A little bit goes a long way, because it's vibrant." That said, Williams said she's steer clear of painting a room in the color — anything more than an accent wall might be too much, and even that is only for those really wedded to the color.
Instead, start with a small vase or a basket of some sort, she suggests. Or a potted plant, says Dyer, which would be the easiest way to get some "greenery" into your apartment. (Also: It's actual greenery—always a fine addition to any aparment.) 
If the rest of the room is neutral, you might even want to consider a bigger pop of color. "I think a green refrigerator might be nice, as long as the rest of the room isn't as bright or bold," says Williams.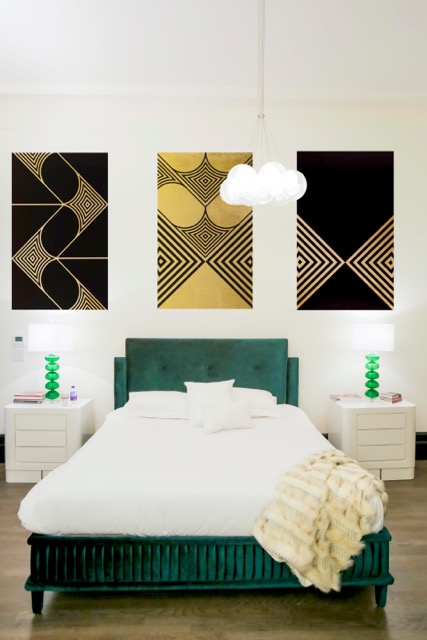 Mix green with woods for a natural look
Considering it's the color of grass and plants, "greenery" feels very natural, "and when you mix it with wood tones it pulls it all together," says Dyer. "The two complement each other very well," he says.
You can't really go wrong
"The beauty of Pantone's pick is that it works with almost any other color. In a way it acts as a neutral since in nature it is paired with everything from the blue sky to purple flowers," says Williams. "If you wanted the color to be more subtle, pair it with lighter shades like grey or beige, if you would like your space to have a more dramatic feel pair it with darker colors like black or navy blue."
Brick Underground articles occasionally include the expertise of, or information about, advertising partners when relevant to the story. We will never promote an advertiser's product without making the relationship clear to our readers.