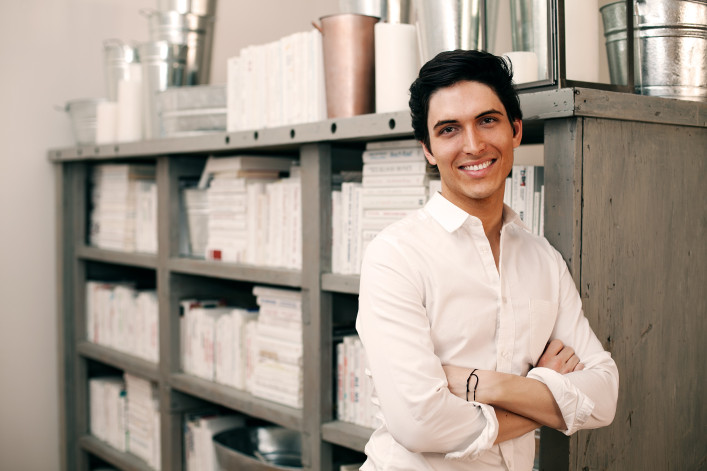 Noa Santos, 23, is the founder of 50 for Fifty, an interior design firm geared toward young New Yorkers "on a renter's budget and timeline." He charges $50 for a 50-minute consultation, which could involve  furniture rearranging, advice on what to buy, or actual shopping. 
In addition to his interior design work,  Santos has staged apartments in Hell's Kitchen condo building The 505.
We talked to him about designing and staging in New York City apartments.
What are some basic guidelines for staging an apartment?
It's all about remixing the furniture so that it tells a story and highlights the strength of the apartment. 
Look at the neighborhood you live in, the type of residents live in the building, and try to appeal to those people. Derive the story from them.
For example, if you are appealing to families, it's important to show that a dining room table can fit, but if it's an apartment that's likely to sell to a single person (a one-bedroom maybe), you don't need to worry about that kind of thing. Instead, you may want to show how it can be great apartment for entertaining, and can just stick to a small coffee table.  
And should you try to keep things as neutral as possible?
People shouldn't be afraid to show personality. Even if it's not my style, I can appreciate when I go into an apartment and the style is working. People buy apartments with the expectation that they can add personality to them, they want to know that there can be character -- they don't want something bland. 
Should all personal things -- like picture frames -- go into storage?
No, you want to show personality -- but everything should be in moderation. If you have a ton of picture frames, just keep a few out. You want to create a space that the potential buyer can relate to and picture themselves in.
Once you determine the best layout and the story you want to tell, the rest of your things can go into boxes and into storage.
What kinds of tweaks can owners do to make their apartment more appealing to potential buyers?
It's not about going out and buying new pieces. You can make your pieces work, with small fixes like adding new pillows to a couch.
It's also really worth people's while to think about layout. There can be a big difference between the layout you live in, and the best layout to sell the apartment. 
You might have moved the sofa because of a glare on the TV, but if it's not the most aesthetically appealing way look, you'll want to move it while your apartment's on the market. 
What are some of the biggest mistakes people make when designing and staging their apartments? 
One of the biggest mistakes in New York is under-design in general. When it comes to furniture, people tend to go to Ikea and buy plain pieces. West Elm and Ikea pieces might work better for staging, because they're kind of androgynous and won't offend anyone. But they can also feel cold and plain, and you don't want to give off that vibe.
I've furnished my whole apartment with vintage pieces that cost less than I would have spent at Ikea. I like Housing Works, Vintage Thrift, City Opera Thrift Shop, Angel Street Thrift Shop; Brooklyn Flea Market and the Hell's Kitchen Flea Market are great for shabby chic pieces, which are really popular right now.
The deals you get for quality furniture are amazing, and you can have them delivered to you within one or two days. 
Also, people are often afraid to use color on their walls. What you read everywhere is that if you want a space to feel open, you should paint it a light color, like a light gray or beige.
But in my apartment, I used a deep, rich teal color on the walls, and because it's a high gloss, it's shiny and preserves the light in the room. 
What are some tricks for making small NYC spaces more livable?
Definitely go with walls that are a little shiny -- using either satin or semi-gloss paint. They reflect light really well.
Make sure you have a lot of light. The majority of apartments I look at have half the number of lights that they should. Since most New York apartments don't have overhead lighting, lamps are great. They allow you highlight special parts of your apartment.
Mirrors also work -- you can place a mirror above the sofa, or have a large standing mirror.
What do you think are some of the most important tenets of interior design?
It's important to reflect your personal style. I like to look at people's style and their closets to see what they like and take inspiration from that.
What I always encourage my clients to do, who are in a rental, is to find ways to do things that are really bold. There's no big risk with a rental cause it's not long term [as long as you don't do anything the landlord will disapprove of.]
How does your $50 for 50 fee compare to other design services around the city?
For a regular interior designer, there's usually an upfront design fee (between $500-$5,000), and they charge a 25-40 percent commission on furniture. Some firms charge hourly, and charge a lower percentage commission. Normally an hourly rate is about about $200 per hour.
What makes someone a good client?
 The best clients are the ones who know what they like and don't like. Otherwise, they decide what they like once it's too late.
Related posts:
Is staging over? Welcome to the era of "volumetrics"
12 things to know before painting your apartment
10 Minutes with John Rahat, Handyman: "I try not to give stress, and I don't want to take any"
10 Minutes with NYC mover Zvi Manor: 15-20% is a good tip
10 Minutes with Professional Organizer Jeffrey Calandra: Even the rich need Bed Bath & Beyond
10 Minutes with dog walker Tanner McAuley, the guy to call if your dog needs a date to your wedding 
10 Minutes with NYC firefighter John Ceriello: Standing on your fire escape is legal but dumb
Brick Underground articles occasionally include the expertise of, or information about, advertising partners when relevant to the story. We will never promote an advertiser's product without making the relationship clear to our readers.