Improve
Got a tiny, unused space in your NYC building's basement ? Here are 8 things you can do with it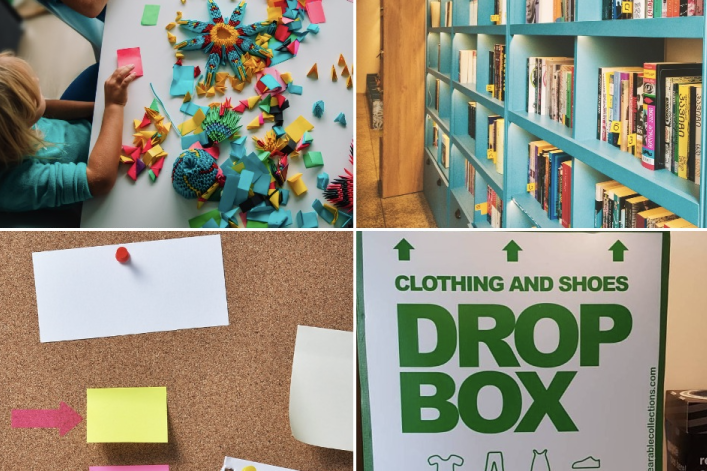 Plenty of New York City buildings have a basement level for some very nice amenities like fitness centers, bowling alleys, playrooms, screening rooms, and more.
If you live in a building with one of those fancy basements, this article is probably not for you. If your building has a basement that is used for basic functions like laundry and recycling, keep reading.
That's because even buildings with seemingly uninviting basements often have spaces—an unused corner, blank wall, or ignored nook—that can be put to more creative and communal use. Obviously there's a certain amount of trust and goodwill that must be present for these scenarios to work, but if your building has got that, why not go for it? (Of course, you'll want to bring this suggestion to your board or management company for approval, to make sure your idea doesn't violate any safety regulations or laws.) 
Below, eight ways to make your building's basement a tad more useful and community-friendly. 
Donation bin
It sounds almost too good to be true, but Wearable Collections will not only provide your building with a free collection bin for gently-used clothing, shoes, and more, they will also pick it up for no charge when full. Reduce waste and unload unwanted threads. 
If your building has 10 or more units, you can sign up for a similar donation box from the city's refashionNYC program, which has a partnership with non-profit Housing Works. 
Bike pump
When you need a bike pump, you really need one. When you don't, you'll be glad it's downstairs and not taking up space in your apartment. 
Free library/book exchange
You could go basic and just put up some shelves or a bookcase, or, if you have someone handy looking for a project, join the Little Free Library movement. 
Hanger holder/recycling station
Corral extra hangers with a handy device like this to unload them when you have a surplus, and tap when you're in need. 
Tool library
New Yorkers aren't known for being handy, and tools take up room, which is also in short supply. Create a tool sharing program and brush up on your fix-it skills. 
Free weights
If you've got some room to play with, consider a free weight area with a bench and some padded flooring. Beats going out during winter for a workout.
Old school message board
Why not have a central place to post offers, queries and general news or events? Think: awesome cleaning person available, couch for sale, mover needed, in search of dog-walker, etc. Everyone gets too much email as it is.
Kids messy craft area
Granted, this only works if people clean up after themselves, but parents in the building would rejoice knowing there's a place for slime-making or finger-painting. 
Brick Underground articles occasionally include the expertise of, or information about, advertising partners when relevant to the story. We will never promote an advertiser's product without making the relationship clear to our readers.