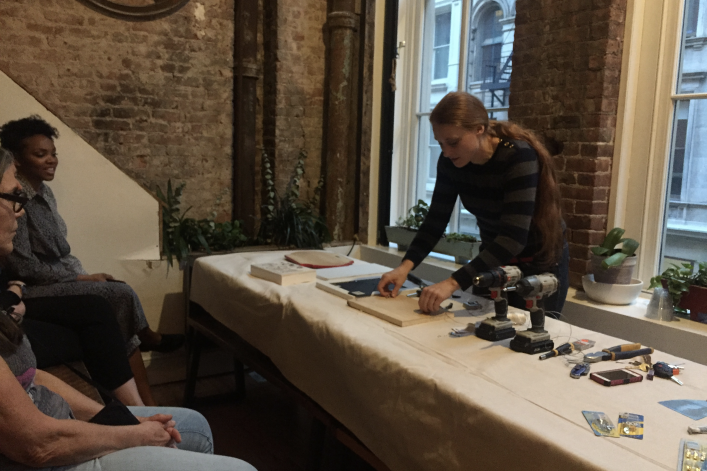 It's a common scenario: You find an apartment you love, you move in with visions of making it your personal sanctuary/cozy home base/fabulous party pad (choose one or all of the above), and then you're faced with the cold reality that creating any kind of atmosphere involves more than a succulent, some incense, and a Kilim rug.
Mundane, detail-oriented tasks like hanging art and shelves, putting up curtains, and assembling furniture are just a few jobs that decorating—and maintaining—a home entails, and those often involve tools—like hammers, drills, tape measures, and levels. 
New Yorker Allison Geller had that very revelation one day last summer when faced with a wine glass holder she'd bought at The Container Store. She went in search of a class where she could have fun learning basic DIY skills in a female-friendly environment, and when she couldn't find one, she started it.
Created with the goals of developing skills and community, Ms. Fix It offers a 10-week class on DIY fundamentals for women, by women (although of course men can attend). The sessions can be booked individually as well, and Ms. Fix It also offers one-on-one at-home assistance/tutorials tackling larger projects, and corporate workshops.
The class, taught by licensed home improvement contractor Taerra Pence (who does business under the name The Practical Diva, a nod to her training as an opera singer) covers many of the basics of being handy around the house, plus hacks to dress up your ho-hum walls and furniture.
Topics include how to safely and securely hang items, including "cute shit you find on etsy" and big, heavy mirrors and floating shelves; drilling, patching holes in walls (when you arrive or before you move out); caulking; plumbing 101; and decorating basics like hanging temporary wallpaper, installing a backsplash, or elevating your Ikea furniture with decorative trim. (Best practices for assembling Ikea pieces is also covered.)
We fall squarely into Ms. Fix It's target demo: We've got big, Pinterest-fueled aspirations, limited skills, and a tolerance for imprecision dictated by impatience and a lack of confidence and time.
Ms. Fix It Test drive
Which is why we dropped by a Ms. Fix It class on a recent Monday evening. Held at the funky co-working space The Farm in Soho, the session we attended tackled the topic of hanging lightweight pictures and decorations.
Also in attendance were Darrell, a 31-year-old Google engineer from Chelsea, who felt the need to learn from a professional to avoid breaking things in his apartment, and wanted to mount his TV to the wall; Irene, a 37-year-old finance editor from the Upper East Side irritated by her struggles to do simple handy tasks on her own, and Ashleigh, a 33-year-old urban planner from D.C. winging it with home and creative projects. "I have tons of drills. Am I using them correctly? I don't know," she says.
Rounding out the group were (another) Irene, a 68-year-old retiree from Buenos Aires eager to master Ikea assembly and know her way around drill bits and drivers, and Erica, a 33 year old from downtown Brooklyn, the most experienced among us, and a potential Ms. Fix It partner.
Naturally, Geller herself was also there, taking notes along the way.
You might think hanging stuff is pretty basic, and it is, but Pence came with different examples of things to hang, the assorted challenges they presented, and recommended methods using hooks, sawtooth hangers, tacks, and wires. In short, how to pick the right tools for each job.
Along the way, Pence offered pointers on technique. For example: hammer with your wrist for greater precision, use an awl or drill bit to start your hole, and insert your nail at an angle). Her tips included: Never drill into the grout on a brick wall, it's the weakest point. Not sure what your wall is made of? Make a hole with tiny drill bit to figure out what lies beneath. She also showed us a no-fail trick for figuring out exactly where to make holes to hang those damn floating shelves.
We all got to hammer into soft pine and sheetrock samples she'd brought along, and towards the end, Pence busted out some joint compound and a trowel and taught us how to cover up the holes we'd made.
Pence brings a winning combination of quiet confidence and vast experience, mixed with an easy-going and approachable manner. She welcomed any and all questions and when she didn't have a solution, she said so (rare).
In addition to informative and helpful, the vibe was relaxed, friendly, and yes, fun—and Geller uncorked a bottle of rosé to cap the class, which is how we prefer to end all our DIY work as well. (P.S.: If you're the type to worry you'll miss or forget something, don't; Geller follows up each session with a detailed doc—complete with helpful images—of everything covered.) 
The Ms. Fix It DIY & Decorating Fundamentals class runs through June 3rd at The Farm Soho at 447 Broadway. You can sign up for individual classes for $65.
 
Brick Underground articles occasionally include the expertise of, or information about, advertising partners when relevant to the story. We will never promote an advertiser's product without making the relationship clear to our readers.