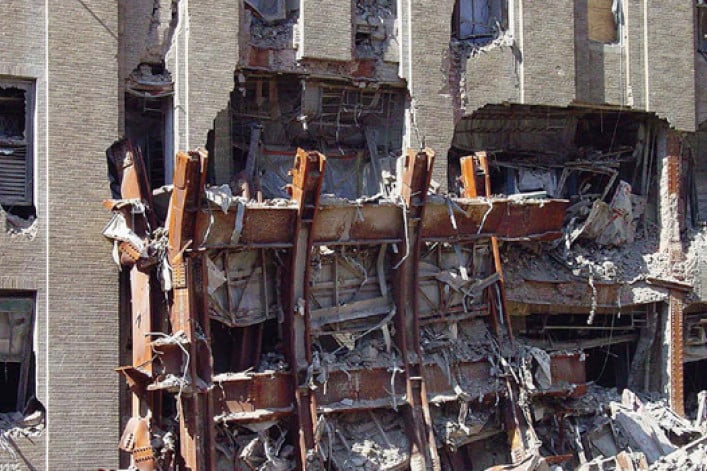 Last year, West Village co-op owner Grace got one of the most alarming emails of her life—a news report that her building facade was collapsing, with pieces of brick spiralling down from the upper floors and walls bulging. Authorities were on site for an "all-hands situation."
But a second shock came when her co-op board tallied up the bill for the repairs. "As a first-time homeowner, I really had no idea what an extensive project like this one would cost," she says. 
Like the other owners in her building, Grace was assessed a portion of the expenses based on the number of shares she owned in the co-op--an amount that turned out to be $35,000. Grace was "stunned," and since she'd spent her savings buying the one-bedroom, she dipped into her inheritance.
Grace's situation was extreme--it's not every day that your building crumbles--but in reality, major problems befall co-op owners all the time. From plumbing clogs to premature boiler deaths, read on for the most common capital repair expenses New York City apartment owners face--plus an estimate of how much they'll cost you.
Facades
Every five years, buildings that are taller than six stories must be inspected under city law, says Mark Levine, of Excel Bradshaw Management Group. But things can still go wrong.
"Deterioration due to the elements--water, ice, wind--can always have a negative impact on the facade and can lead to leaks or dangerous conditions," he says.
The price to repair facade issues is "all over the map, from $30,000 for painting and lintel work to $1 million-plus for a complete facade scope of work,"' says Levine.
For example, one landmarked 300-plus-unit co-op in the West Village is spending at least $750,000 to repair the facade--"and that number may grow as we look to replace the roof as well," he says.
Plumbing
Many plumbing problems in older buildings are the result of "constricted" plumbing, when scale, rust and build-up clog the pipes over the years, says Doug Weinstein, director of operations and compliance at property management firm AKAM Associates.
"It's like human arteries becoming clogged," he explains. 
Other issues happen with filtration systems, pumps, risers and HVAC piping, and costs can spiral because you not only have to fix the problem itself, you also often have to break through walls, tiles, floors, ceilings and other surfaces to get to pipes—and then replace most of what was broken through, experts say.
For example, repairing a broken pipe might cost $1,000, but you'd pay an additional $800 to $1,500 more to open the wall and fix it back up afterward, says Arnie Lauri, a senior property manager at Argo Management. (Replacing plaster--versus Sheetrock--in older buildings is one factor that increases the cost.)
The cost of replacing a riser (the pipes that transport water from a building's water supply) depends on the materials—copper or black pipe, for example—plus the number of risers, the height of the building, wall finishes that have to be restored, and contingency costs for unforeseen wall conditions, says property manager Alex Kalajian, the COO of Solstice Residential Group.
"Like any capital repairs, the cost depends on the magnitude of the capital project, such as the materials to be used," Kalajian says.  
Between the cost of engineering, permitting, materials and labor, the price could hit $45 to $85 per foot. Put another way, replacing riser lines for an average ten-story building would cost between $250,000 to $400,000, plus wall finishes, Kalajian estimates. 
If your building's risers are not tied to specific apartment lines and you have to shut off the whole building's water supply, keep in mind the added cost of shutting down the water tank on the roof, draining that water, and refilling it (something a super or a handyman could handle)--at a cost of about $3,000, Lauri says. 
And if you need to replace all the pipes in a building? That would start at $500,000 and go up to the millions, Lauri estimates. 
Roofs
The two most common roof problems are leaks--more specifically, water infiltrating the roof membrane--and the separation of roof components, Weinstein says. 
"Water infiltration is probably the most serious aspect of roof failure," he says, since it's difficult to figure out the cause of the problem or how to fix it. "Since water seeks its lowest point, where it enters a building quite frequently does not correlate to where the actual leak is."
Meanwhile, the cause of roof separation could simply be age, or it might be linked to physical damage caused by people or the weather, he says. 
"Typically, roofs and roof repairs are high-ticket items," with the expense varying widely based on warranty, type of roofing system and the extent of the repair, he says. "Since the roof is a common element, an expensive repair could necessitate an increase in maintenance or common charges and/or an assessment."
Elevators
Elevators--though certainly a major plus for potential homeowners--can cause a lot of headaches.
"Elevators that are running on 50-plus-year-old hardware and software are starting to see their age at this point," says Levine. "We have had a number of buildings that are now replacing the old systems with full electronic, computerized systems so that they can be running on the most up-to-date technology. By doing so, we have seen the down-time of each elevator dramatically decrease and repairs happen faster, since the old components are virtually out of stock." 
When replacing elevators, keep in mind that a big chunk of the cost has nothing to do with how tall your building is, since the cabs, motors and other costs are the same. For example, Lauri is replacing three elevators in a 20-story building—at a cost of $500,000, or $170,000 per elevator. But he recently did a similar renovation at a six-story building and it cost $138,000 an elevator, he says.
Simple elevator repairs can vary widely in price, but for something relatively straightforward like the elevator getting stuck, expect to spend about $1,600 to have a technician visit, Lauri says.
Boilers
What could make this winter more fun than a boiler dying? 
"We have had proposals in various buildings in the $80,000 range to place a new boiler in the building," says Levine.
"With that, however, the building may run more efficiently, so the cost may be offset in the long run by the better burning of fuels and more efficient systems," he notes. "There are other computerized systems that can be installed once there is a new boiler to add on to the savings each year" in terms of both montly heating costs for owners and the costs of repairs.
Hallway and lobby
Hallway and lobby issues can be some of the trickiest capital repairs to undertake—not because of construction issues but because they require input from apartment owners, Kalajian says. 
"Hallways and lobbies are focal points for any co-op or condo, and as such are very personal to the owners who live in the building," he says. 
The "most time consuming and delicate part" of repairing a hallway or lobby is the design and bidding phase, as board members, designers and other involved parties pore over carpeting samples, lighting fixtures, wallpaper and paint colors, Kalajian notes. 
For example, Lauri is working at a 20-story, 154-unit building on Fifth Avenue that hasn't been updated since the 1980s. Think peach wallpaper and plastic moldings. The cost of updating the "old and tired" decor—from the floor coverings to wallpaper, light fixtures and moldings—is running at least $600,000, Lauri says. 
But the most common hallway repair is fixing up the walls, which can get damaged when people move in and out or when residents are renovating and ding up the paint or wallpaper, experts say. (Plumbing issues can also lead to hallway repairs, as discussed above.)
Fixing up a hallway depends heavily on the materials used: for example, medium-grade carpeting costs about $45 a yard, while high-end carpeting could run up to $75 a yard, Kalajian says. To renovate an entire lobby and hallway, expect to spend $500,000 to $1.25 million in a 10-story building, he says.
"When a lobby or hallway is renovated, it's always recommended that the building superintendent receive and retain extra carpeting, wallpaper, and paint in a quantity sufficient to address small repairs," Weinstein says. "In this way, the cost of repair can be kept in check."
Another lobby issue is the concierge desk, which can get worn down and dinged over time. It's possible to sand down desks for $1,000, but new ones can run $5,000, Lauri says. 
"Some buildings, they want to look upscale—they would go the full distance," he adds. 
Insurance coverage
Wouldn't it be nice if your individual co-op or condo insurance policy protected you from budget-buster assessments?   Well, it might--but only if it has 'loss assessment coverage' and the assessment is for something that would normally covered under your individual policy--such as fire, water damage from broken pipes, or a bodily injury liability claim, says insurance expert Jeffrey Schneider of Gotham Brokerage, adding, "There would be no coverage for claims resulting from excluded perils like flooding from rising river or ocean waters."
Also note that you won't be covered for maintenance work or work on updating systems, and "there is generally no or very limited coverage for assessments to  make up a building's large deductible," he says.
Avoiding a problem
To cut down on unwanted surprises, know your building's five-year plan, Levine cautions. "All buyers should have their legal representation read the minutes of the co-op so that they can get a sense of the work that is needed or at least the projects that are on the table," he says.
"We have seen buyers come in who were unprepared for the increase in maintenance or common charges due to the lack of increases in the past by prior boards," Levine adds.
Of course, capital repairs done well can exponentially raise the value of the apartment and reduce maintaince charges in the future. Educated buyers just need to ask the right questions.
Related posts:
Ask an Expert: What is an "ongoing" assessment?
Deal or No Deal: Buying protection against future assessments
Ask an Expert: I just got an $8,800 assessment from my condo board. What happens if I can't pay?
Brick Underground articles occasionally include the expertise of, or information about, advertising partners when relevant to the story. We will never promote an advertiser's product without making the relationship clear to our readers.