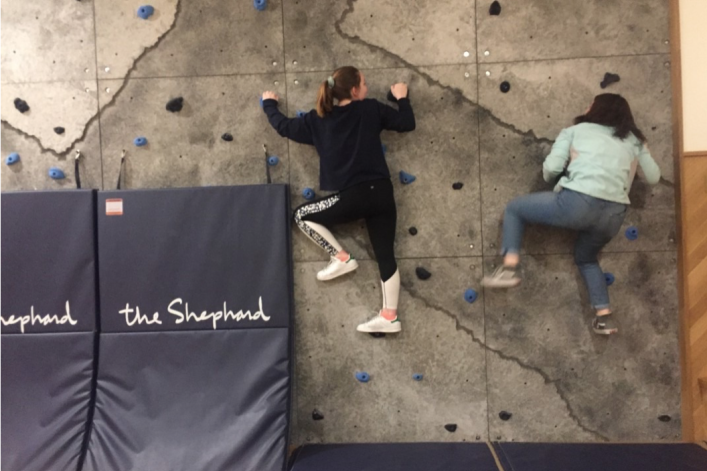 In today's saturated luxury building market, it seems a new, spectacular amenity is heralded each day. State-of-the-art gyms, once relegated to the basement, now provide sweeping city views; kids' play spaces feature custom-designed climbing structures and electric cars; sound-proof practice rooms are equipped with Steinway & Sons pianos. All that extra special doesn't come free, which is why it's important to know if an amenity is worth all the hype, or even good, before you move in. 
Brick Underground previously took a bunch of five and six year olds to a few Manhattan luxury buildings to try out several play spaces there. Next we headed out with a couple of teens, Sophia Houselog and Samara Karp, two 13 year olds from Brooklyn, to see if amenity spaces more geared toward an older set had any appeal. How would grownups' idea of fun go over with kids too cool for school? Pretty well, as it turns out.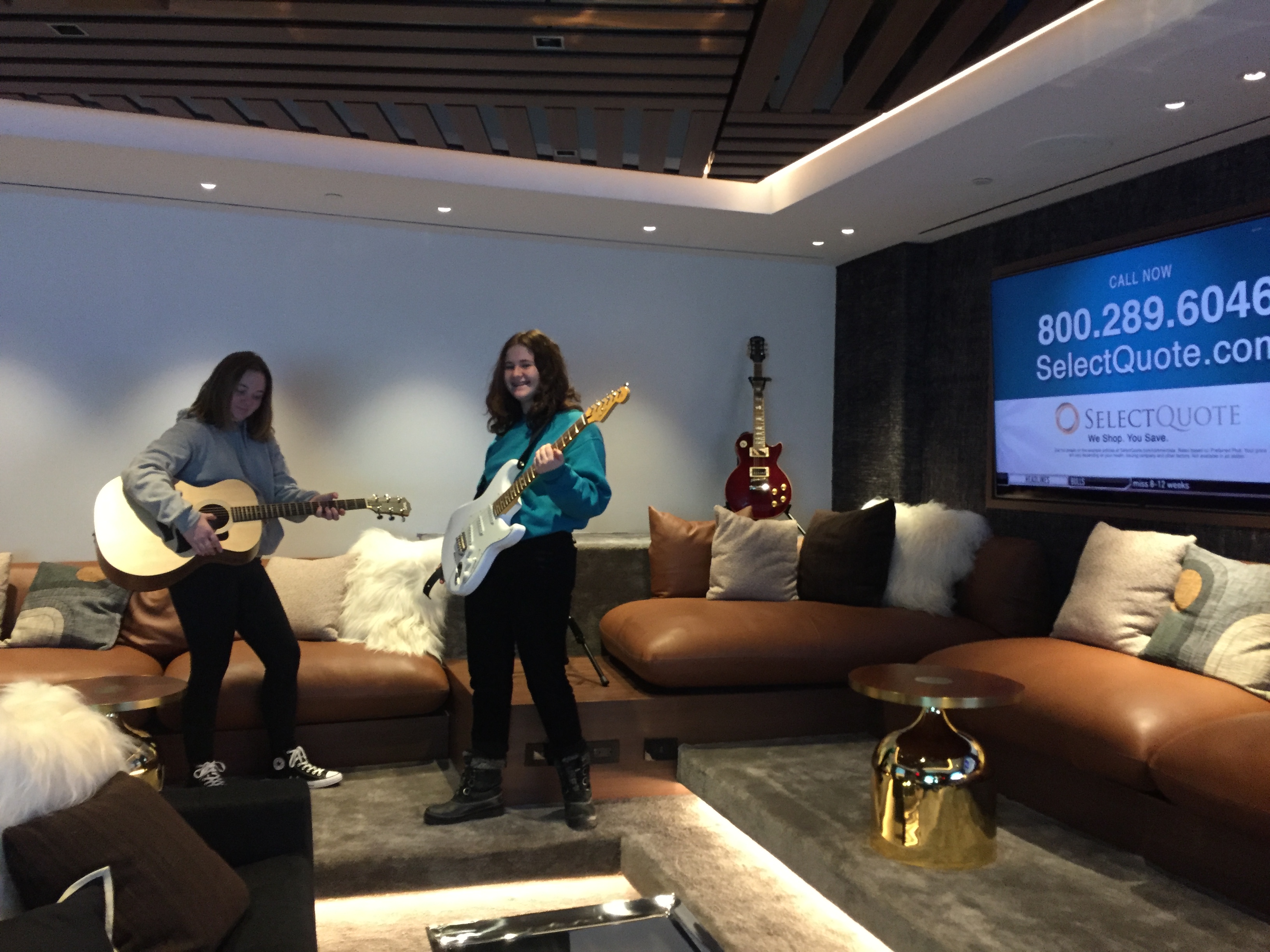 1. The Kent, 200 East 95th St. 
A Yorkville condo building from Extell Development Company, The Kent was built in 2017, with architecture by Beyer Blinder Belle and art deco interiors by Alexandra Champalimaud. The sexiest amenity at the Kent is The Sound Lounge "envisioned" by Lenny Kravitz and designed by his studio, Kravitz Design. The soundproof, subterranean, multi-level space features a very rock star aesthetic: Expansive leather chairs and couches, oversized, shaggy pillows, and side tables in gold and silver. (It felt "cozy bunker" in the very best way; you could do a lot worse for a place to ride out the zombie apocalypse.) Scattered around the space are electric and acoustic guitars, all available for the spontaneous jam; one corner has a raised platform with a keyboard, drum kit, and microphone for rocking out.
The space is equipped with numerous oversized screens, as well as one enormous screen that drops down from the ceiling. Press materials from The Kent say there are gaming consoles available, but we didn't see those in action. 
Teens' take: Sadly, neither of our teens is a musician, but they did have fun goofing around with the instruments. (Both of them, however, are serious competitive swimmers—whatup Brooklyn Stingrays!—and they were wowed by the 55-foot, heated indoor swimming pool, which they didn't even experience.)
Both gave thumbs up to the idea of movie screenings/parties in The Sound Lounge, and we had visions of some serious Super Bowl or Oscars viewing bashes. (There is a kitchenette area outside The Sound Lounge to facilitate gatherings.) Attempts to play an iTunes playlist through The Sound Lounge A/V system were unsuccessful because of some technical difficulties, and some basic cable channels like MTV or VH1 strangely weren't available, but those seemed like temporary glitches. 
Perhaps giving hope to all humanity, Sophia suggested having some old-school board games on hand would be good for "something to do."  
Live there: Two- to five-bedroom apartments are available. A 1,481-square-foot, two-bedroom, two-bath is listed for $2.9 million. (Or, you could snag the four-bedroom penthouse for $12.9 million.) The Kent does have a 20-year tax abatement.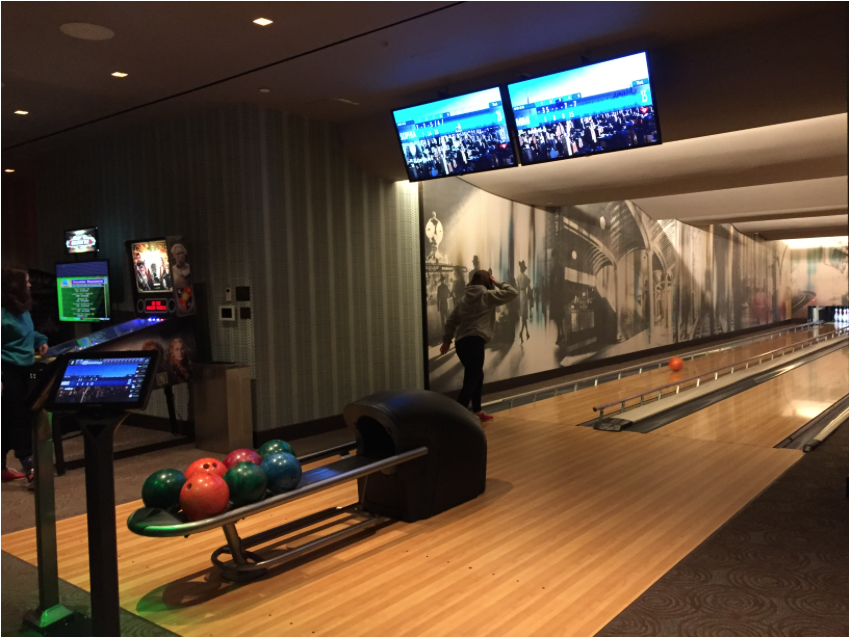 2. 555TEN, 555 10th Ave.
Another Extell project, 555TEN is a luxury rental building that opened in 2017. The most attention-grabbing, photo-friendly amenity here is a scaled-down bowling alley, complete with electronic scoring, shoes, and balls for all sizes and abilities. There's also an "arcade" (a "Game of Thrones" pinball machine—admittedly cool—a multi-game video game machine (Pac Man, Dig Dug, etc.) and a small golf simulator. The building features single sign-on wifi throughout (nice for teens and adults alike) and a "skytop pool" and lounge 56 stories up, which looks really nice but we didn't see because it was the coldest day of the year when we visited in January. 
Teens' take: It's hard to resist a personal bowling alley, and our teens played two full games. Two favorite features: The bumpers to prevent gutterballs, and the scoreboard display, which could be personalized with a photo of your face. The video games and pinball machine were utilized as well, sometimes while an opponent was taking their turn bowling.
Live there: The least expensive apartment at 555TEN is a studio for $3,246; you can get a one-bedroom for $4,436. No fee!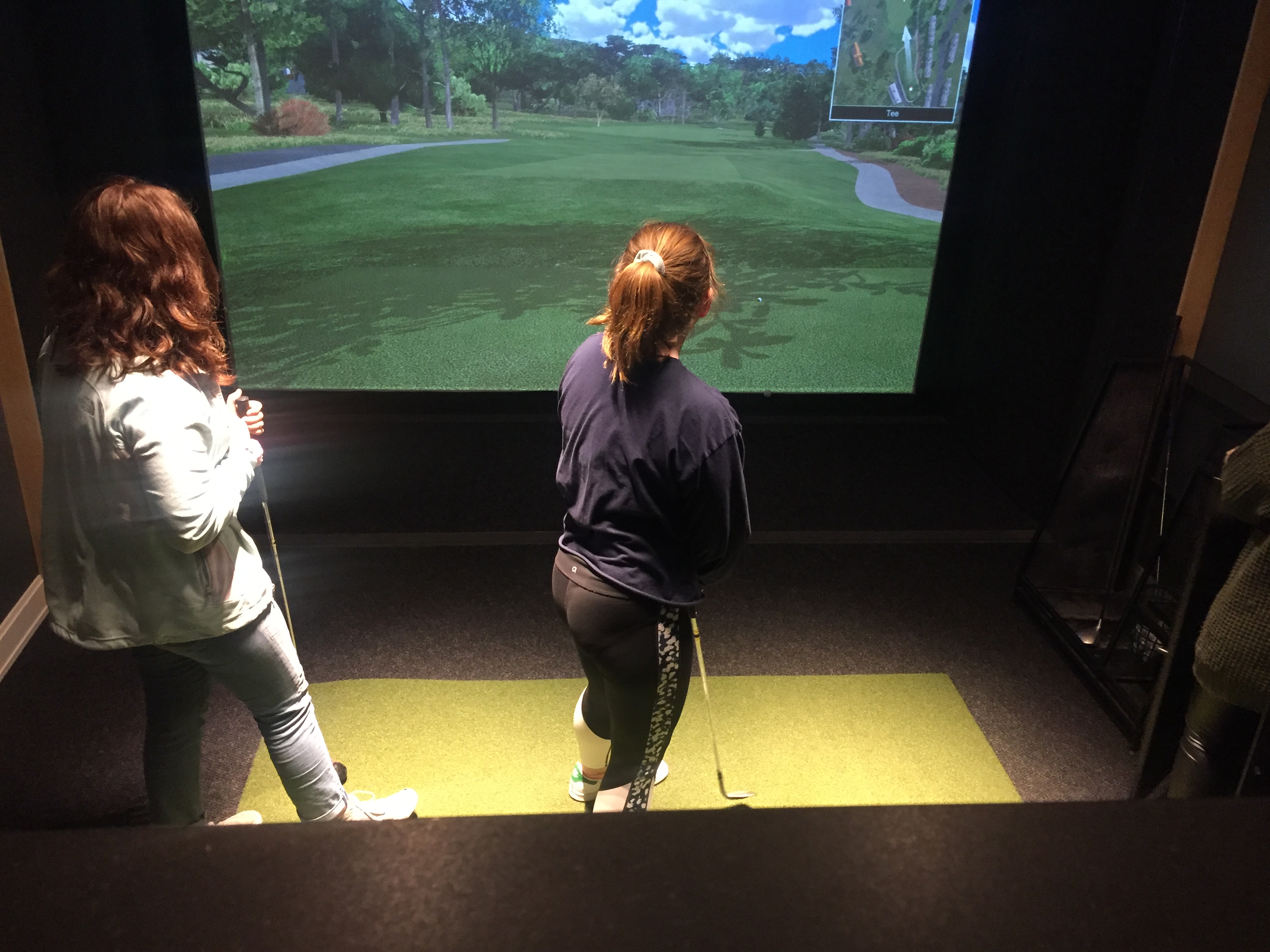 Located in the West Village, The Shephard is a boutique luxury condominium—there are just 38 apartments total—where you can buy or rent. Another Beyer Blinder Belle project, it features interior design by Gachot. The amenities our teens checked out included a loungey/game room-type space with ping pong, arcade games, Belgian darts, and a foosball table; a golf simulator/screening room, and a basketball court with a rock climbing wall. All were located on the basement level of the building.
Teens' take: Although compact, The Shephard emerged as a favorite of our teen panel, first and foremost because it provided the largest number of diversions, and the most diversity. (Belgian darts, which features a surprisingly small target, is more engrossing than you might think.) The ping pong and foosball were also enjoyed; the video games (there were two arcade-style games) were less compelling. The golf simulator was another story, despite both teen's lack of skill on the green, virtual or otherwise; they would have kept playing all day if we hadn't moved things along.
Perhaps the biggest hit was the rock-climbing wall; it was scaled many times, again, despite a lack of experience at the sport. They didn't get to shoot any hoops, due to the lack of a ball, but it was clearly a nice court for a quick one-on-one pickup game or practicing free throws. For what it's worth, our teens were also quite taken with the West Village.
Live there: There is not a lot of availability at The Shephard, but you can rent a two-bedroom, two-bath apartment for $23,000 a month here. The cheapest apartment currently for sale is a three-bedroom, three-and-a-half bath for $9,950,000.
Brick Underground articles occasionally include the expertise of, or information about, advertising partners when relevant to the story. We will never promote an advertiser's product without making the relationship clear to our readers.