The first piece of good news about this $525,000 Upper East Side one-bedroom at 325 East 77th Street is that it "looks to be a nice size," says architect Joe Eisner of Eisner Design, an architecture and design firm with offices in Manhattan and East Hampton. (That's no small feat in New York City real estate.) It also has prewar details like a large foyer, several closets, and arched ceilings (more on that later).
Still, there are downsides to contend with, too, Eisner thinks.
"There's very limited natural light in the apartment," he says, pointing to the fact that there are only two small windows in the living room and that they appear to look onto another building. "The ceilings don't look to be super-high," he adds. "And that kitchen. It looks like an old kitchen. There's just nothing very unique or special here."
As such, Eisner would suggest making a number of changes to this prewar co-op unit. His recommendations: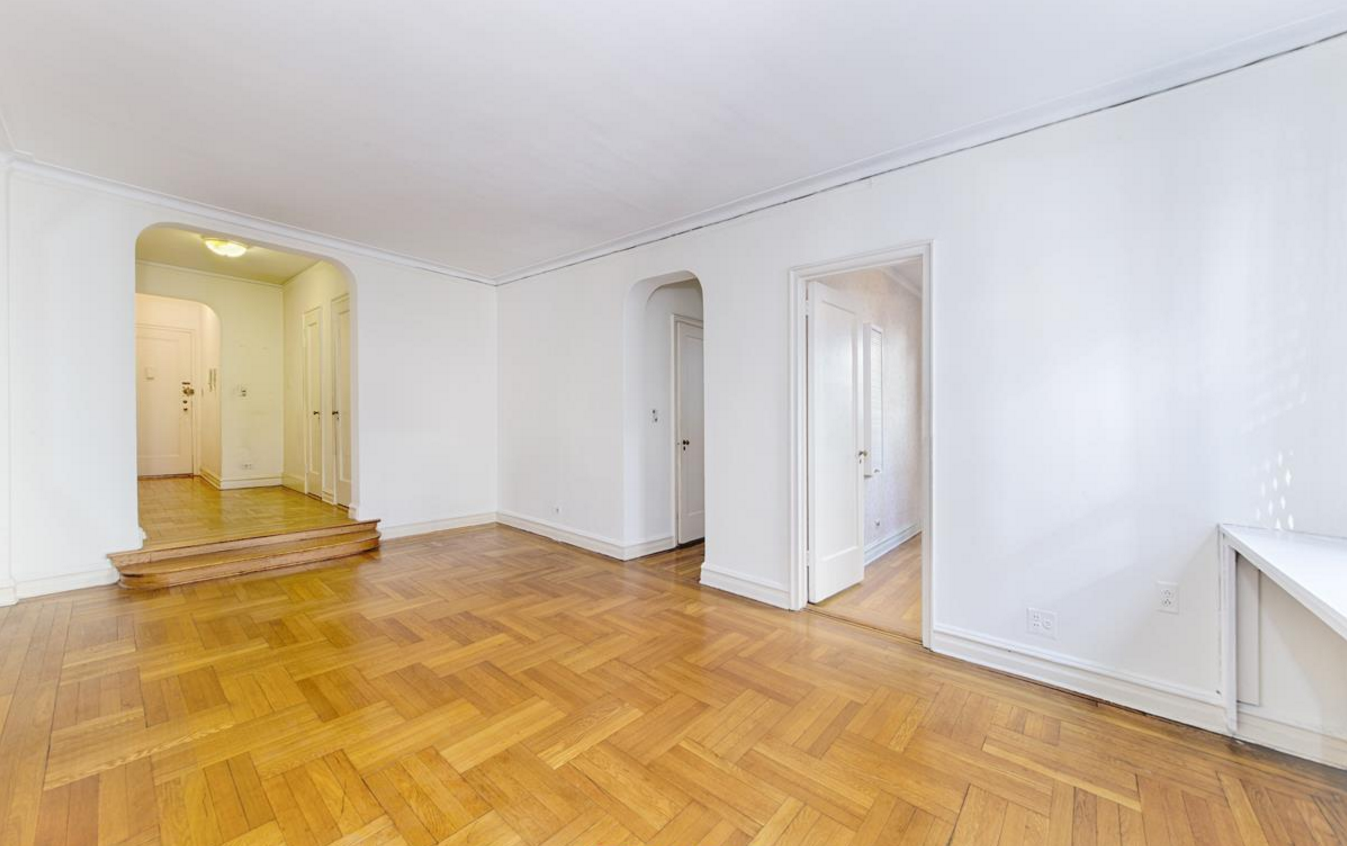 Living room 
The first thing Eisner would do in the living room (pictured here and above) is demolish the beat-up cabinets next to the windows and "do new millwork surrounding the radiator area" to add architectural interest (and storage) to the space. This would include new built-in cabinets or open shelving (depending on what the new occupant prefers), a "sleek radiator cover with a removable panel in front of the radiator" to allow for maximum ventilation, as well as a new cover for the cabinet that can be used as a place to put knickknacks or photos—"something more durable than a painted wood, which gets easily scratched," says Eisner. He proposes Corian or maybe Caesarstone as they are both easier to maintain. "I'd do a similar countertop in the kitchen," he says, noting that it'd be more cost-effective to get a single slab and use it for both areas.
Next, he'd swap out the baseboard moldings since they look like they've been painted over lots of times and are probably quite old. "I'm assuming it's a junky molding," he says. "They make a space look very tired. I'd replace them with something cleaner and more modern that can encapsulate that telephone line" that's running beneath it in the photos. He'd consider making them hollower to accommodate more wiring, if the buyer needs that. He'd also replace the crown molding up top ("if the ceiling's out of whack" and needs the molding to hide its imperfections), or remove it completely (if the ceiling is actually in decent condition). In addition, he'd replace all the electrical plates in the room with screwless ones. "They're more contemporary-looking," he says.
Moving onto the windows, Eisner recommends a simple solar shade. "That way, you can screen out what's there and get some privacy, but let in a little light, too," he says.
For the walls, "there's so little natural light coming in here that I'd like to keep things as light as possible," he explains. He suggests white or "a warm gray" for them. He'd go white for the ceiling, baseboards, and built-in cabinets around the radiator, too.
"The floors actually look okay," he says. "They're workable and probably don't need to be replaced." But, if the unit's new owner isn't a huge fan of the large herringbone pattern, Eisner suggest refinishing the floor to look more modern. "I'd stain it," he says. "Maybe a white wash or a light gray." Those might show dirt and grime a little more easily than the original honey-colored floors, but if they're washed regularly, it should be fine.
As for the stairs leading down from the entry foyer: "I would widen the bottom step so it's more expansive side to side than the upper step," he says. "So it conveys a little sense of grandeur as you step down into the living space." He'd also square it off since "the rounded corners look odd to me. They'd look cleaner if they were more squared off."
Squaring off the two rounded archways visible in the photos—the one above the steps and the one just to the right of that—could "give it a more contemporary feeling," he says. Plus, there would be more consistency with the other rectangular door openings in the room.
As for lighting, this is a typical prewar unit with a concrete slab ceiling that you won't be able to drill into, so he proposes sconces on the right-hand wall—"fixtures with up-light that bounce light off the ceiling and add to the general illumination" of the space. He also suggests adding a couple of well-positioned floor lamps near any seating area the tenant might create. Finally, he'd get a new ceiling-mounted light for the entryway to provide some light right when you enter the apartment.
Price: Eisner estimates a new cabinet by the radiator to cost between $5,000 and $7,000. He thinks that new moldings should cost "a couple of dollars per square foot." This screwless Lutron wall plate is $4.38 at The Home Depot. This solar shade is $84.99 at Bed Bath & Beyond. A gallon of Benjamin Moore Decorator's White for the walls is $69.99. A gallon of white for the ceiling, cabinetry and trim is $39.99. Eisner estimates that it'd cost $5,000 to $6,000 to refinish the floors, including stripping and staining them. These Cuma wall sconces from Artemide are $365 each at Lumens.com. This flush-mount from Artemide is $500, also at Lumens.com. Labor, including squaring off the archways and fixing up the steps, will add on to these costs.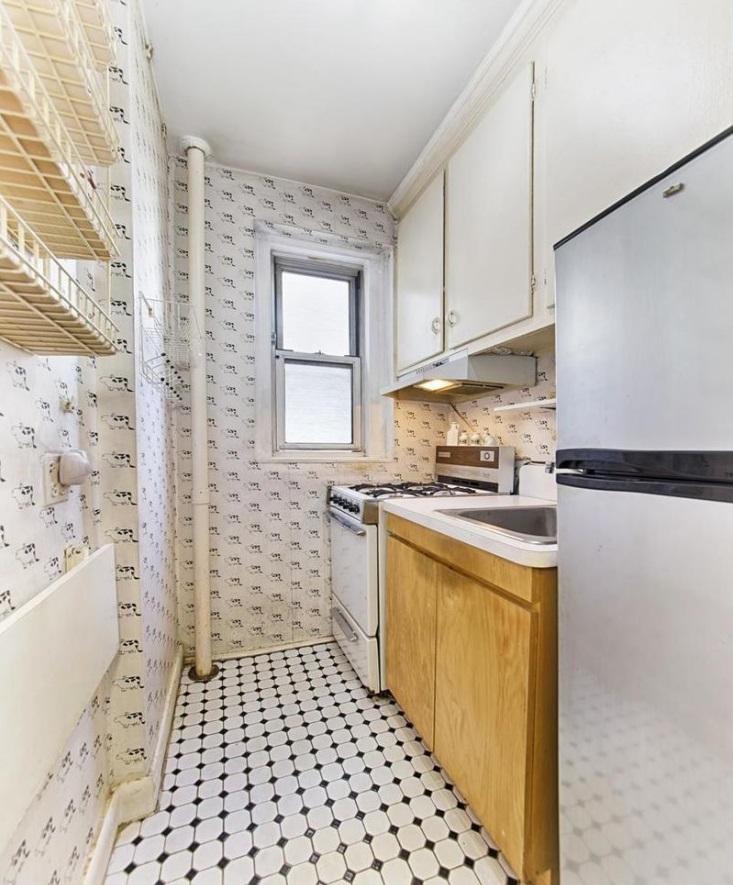 Kitchen
"This is a total gut job," says Eisner. "Right now, it's a hodgepodge. Every element is made of a completely different material. I'd rip everything out and replace all the cabinetry, appliances, tiles and wallpaper."
The galley kitchen is so small and requires so few cabinets that "the cabinetry doesn't need to make a statement," says Eisner. If the new tenant doesn't want to break the bank, Eisner proposes simple IKEA cabinets in a white lacquer finish.
He'd get a new refrigerator and range, too. "Could be stainless, but my feeling is to keep it all one color: white," he says. He'd also get a new sink, a single basin undermount since there isn't all that much room in here. As for the countertop—what little of it there is—Eisner recommends going with either Corian or Caesarstone (and match it with whatever you use for the top of the cabinetry by the windows in the living room).
He'd tear the animal wallpaper off the walls and paint them a neutral color. Perhaps a light gray that'd keep it consistent with the living area. He'd paint the ceiling white since it can add height and make the room appear larger than it actually is.
For the floor, he envisions retiling with "bigger format tiles, laying them side by side so they look like big slabs on the floor." Eisner says he'd probably go with gray here, as well, to match up with the walls. He'd go a little darker or lighter than the walls for a nice contrast. He'd also get rid of the base molding and either replace it with new molding or have the tile bend up and essentially become the molding.
To try and hide the heat riser in the corner, Eisner says he'd "box it in as tight as possible with sheetrock" and paint it white.
He'd also trash the various spice racks along the walls, as well as the strange fold-up countertop on the left side. If the owner thinks he or she still needs some extra storage, however, Eisner suggests putting up some sleek metal shelving—maybe aluminum or stainless steel—that'll stick out four or five inches from the wall. "Just make sure to put it high enough that you don't bump your head on it," he says.
He would install under-cabinet lights to illuminate the space. He'd also either add sconces on the left-hand wall or cove lighting (a technique that aims light toward the ceiling from the sides) above the cabinets.
Price: Eisner estimates that all the cabinets for the kitchen can be purchased for $1,500 or so. This white GE refrigerator is $566.97 at PC Richard & Son. This white GE range is $854.97, also at PC Richard & Son. A gallon of Benjamin Moore Decorator's White for the walls is $69.99. A gallon of white for the ceiling is $39.99. This undermount sink is $269.95 at Amazon.com. He believes that tiles for the entire kitchen can be purchased for between $3,000 and $4,000. Eisner thinks that boxing up the riser should be around $400-$500. These under-cabinet lights from The Home Depot are $59.97. This LED wall sconce from Artemide is $385 at YLighting.com. Labor will, of course, be more.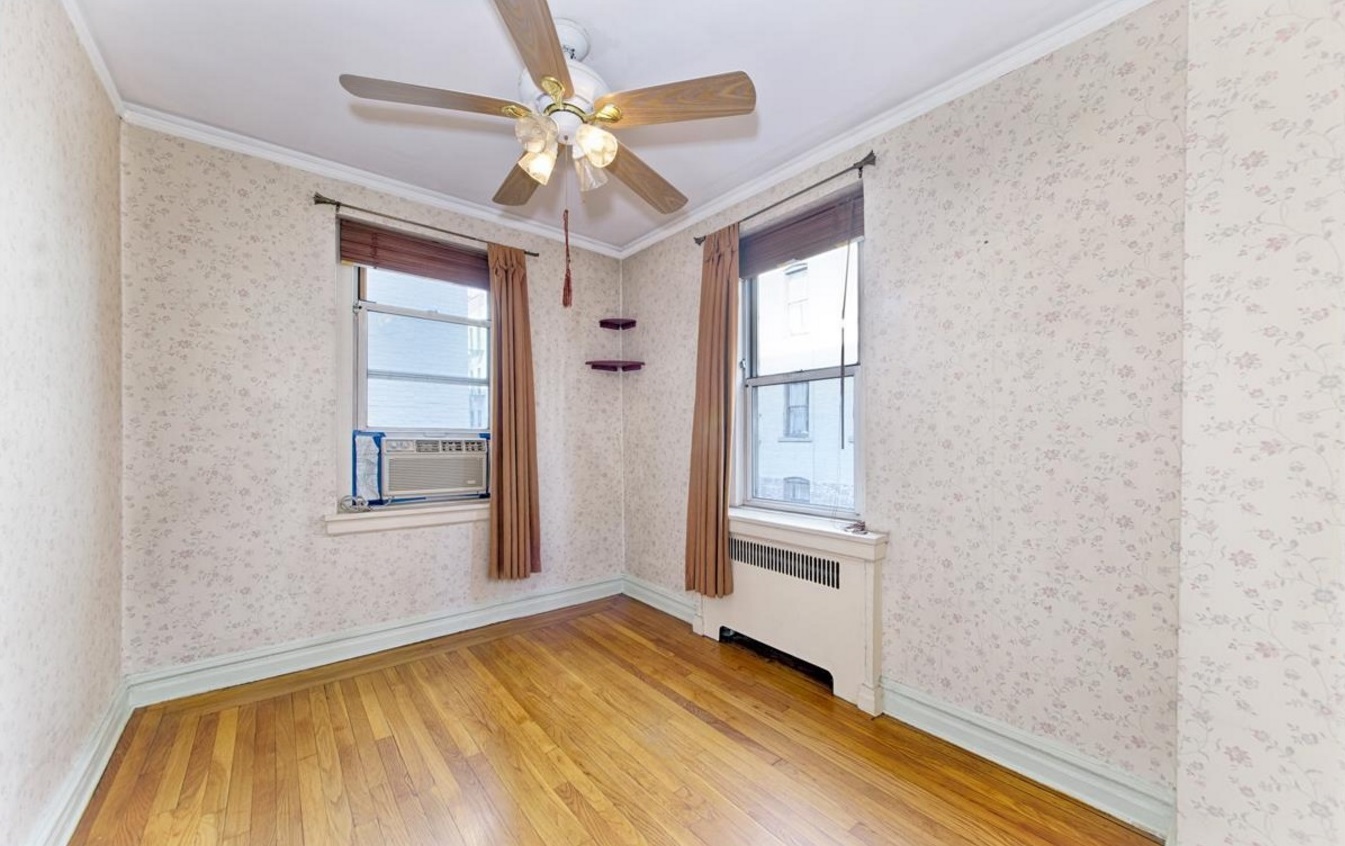 Bedroom
There's a different type of wood floor in here, but Eisner doesn't think this one looks all that bad, either. "If you're refinishing the wood floors in the rest of the apartment, I'd do it here too," he says.
The base moldings and crown moldings would be replaced with something more au courant, just as in the living room. He'd also get rid of the the ancient-looking floral-patterned wallpaper in favor of painting the walls—either white or a warm gray. Same as in the living room to keep things consistent. The ceiling will be white. (Alternatively, if the new owner is a fan of wallpaper, Eisner proposes going with a new wall covering that's "interesting or has a funky texture" and that's a little more current.)
He'd get solar shades for the windows here, too, to let in some light but keep any looky-loos from peeking in. As for the air-conditioner, Eisner urges the new buyer to try putting it into the upper part of the window "to better disguise it."
The fan needs swapping out for a more contemporary option with lighting. "Fan lighting is usually limited, but it does add something," says Eisner. He recommends throwing in a sconce or two if you want some brighter light.
Next, he'd clean up the radiator, sand it down and repaint it. "I wouldn't get a cover for this one, though, because then I'd be building into the room," he says. And the room is small enough as it is.
Price: Eisner believes that new moldings should cost "a couple of dollars per square foot." A gallon of Benjamin Moore Decorator's White for the walls is $69.99. A gallon of white for the ceiling and trim is $39.99. This solar shade is $84.99 at Bed Bath & Beyond. This ceiling fan from YLighting is $279.95. Labor will tack on to these prices.
Bathroom (not pictured)
Although there aren't any photos of the bathroom, Eisner says that he figures that judging by the condition of the rest of the apartment, that it'll probably also need to be gutted. "I assume if the kitchen is like that, that the bathroom will be the same," he says. "You'll need new fixtures, new tiles, new everything."
Price: Eisner estimates that it should cost at least $20,000 to revamp a bathroom entirely.