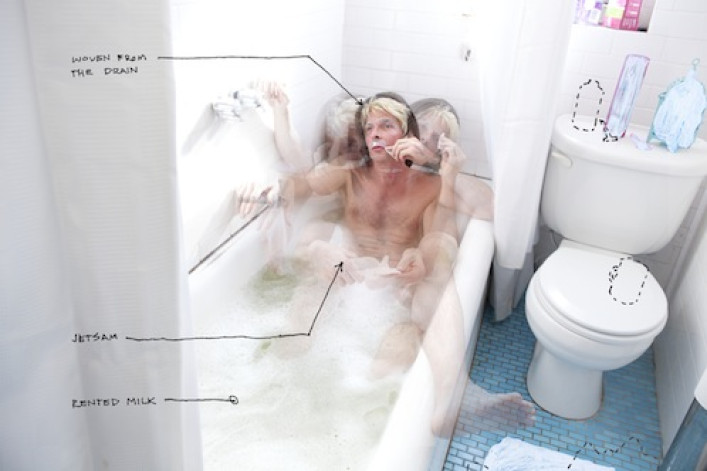 Is it possible to overhaul your apartment without using a single tool or shifting a stick of furniture? One self-described "performance architect" is scrapping the blueprints in favor of an arguably more creative approach to home improvement. 
Alex Schweder, a trained architect, uses performance art to help subjects shift the way they use and think about their apartments and, in the process, change (or "renovate") their home lives. "At the moment your perception [of your apartment] changes, that's the renovation," Schweder told us on a recent visit to his studio, a shared space on West 39th Street. "You don't necessarily have to do anything physical. ... The process is so emotional that a new marble countertop is not going to fix the issue. This is what architects do anyway, I'm just owning it in a different way."
We first heard about Schweder through his onetime residency in a Manhattan Mini Storage unit in 2013, where he worked with volunteers to come up with these types of renovations, with a focus on the objects they were storing in their units. Schweder, who also teaches sustainable design at Pratt, has performed around 120 of these "renovations" since he first began the project in 2009.
During a free hour-long appointment, Schweder focuses on the relationships surrounding your living space, like ever-popular landlord-tenant issues, or setting up your place to help you become the kind of person you want to be, like dedicating a corner to exercise if you want to work out more. "We use our spaces as kind of a mirror for who we are," he says. "There's a way that we use our stuff and our homes to become somebody."
In my case, I have a downstairs neighbor who complains often about noise, a "half-bedroom" I barely use, and a lack of dedicated workspace for my boyfriend and myself. Schweder's solution for all three? Create a writing area for my boyfriend in our bedroom or living room,  and make me practice my sadly out-of-use violin in the half-bedroom to motivate both of us to spend more time on creative projects. Then, I should mention to my neighbor that I've been playing music, ask if the noise was disturbing her, and what hours would be best, thereby creating a chance to show that we're not just out to disturb their sleep schedules. Our meeting bore a striking, not-unpleasant resemblance to a therapy session (and indeed, when Schweder first started his renovations, he says he was surprised by how much they resemble "quasi-therapy").
You can book a session through Schweder's website, SOAPNYC, and note that he plans to start charging soon, possibly $100 per session, though pricing hasn't officially been determined. But trust us: it's all much more pleasant than dealing with a contractor. 
Related: 
9 surprising ways New Yorkers use their mini storage units [sponsored]
Open season: where apartment dwellers can find bargains year-round
8 easy upgrades to make your rental your own
Brick Underground articles occasionally include the expertise of, or information about, advertising partners when relevant to the story. We will never promote an advertiser's product without making the relationship clear to our readers.