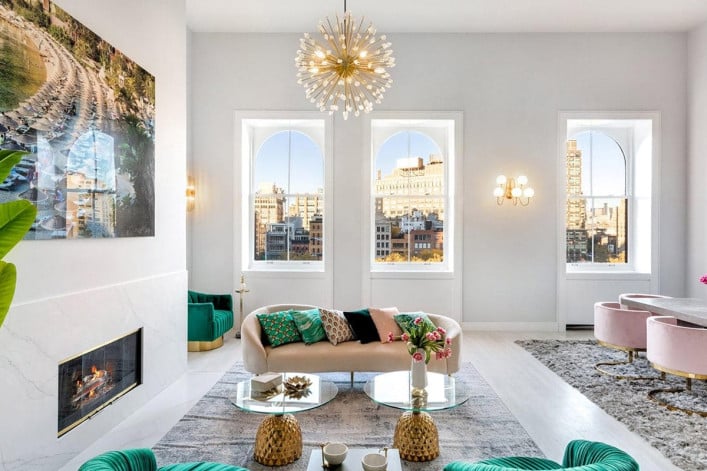 Renovating in New York City is a costly undertaking, involving countless choices and decisions. Knowing what types of projects are most in demand in NYC can help you decide where (or not) to put your hard-earned money in updating your own apartment or brownstone. The ultimate goal may be to boost your immediate enjoyment, but having your finger on the pulse is also (and perhaps especially) helpful if you are contemplating a sale in the near future. 
In that spirit, Brick canvassed architects and design-savvy brokers to glean the updates and improvements that clients are seeking right now and have locked in for 2022.
Limiting the number to only five trends was an intentional way to weed out updates that buyers expect (an open kitchen with an island) or are too specific to a particular project (those built-ins!). What's more, one designer's craze is often another's cringe. Importantly, these trends do not equate with fads. Instead they are meant to capture preferences that work with a range of budgets and property types. 
The goal was not to have an "aha" moment either—given the ongoing uncertainty of the times and with New Yorkers still clocking more time at home, designers are leaning more than ever into the intersection of style, comfort, and performance. As in softer edges and creamier whites paired with a focus on multi-functional spaces and smart technology. 
The following is Brick Underground's end-of-year renovation forecast so you, too, can stay ahead of the curve (emphasis on curve!).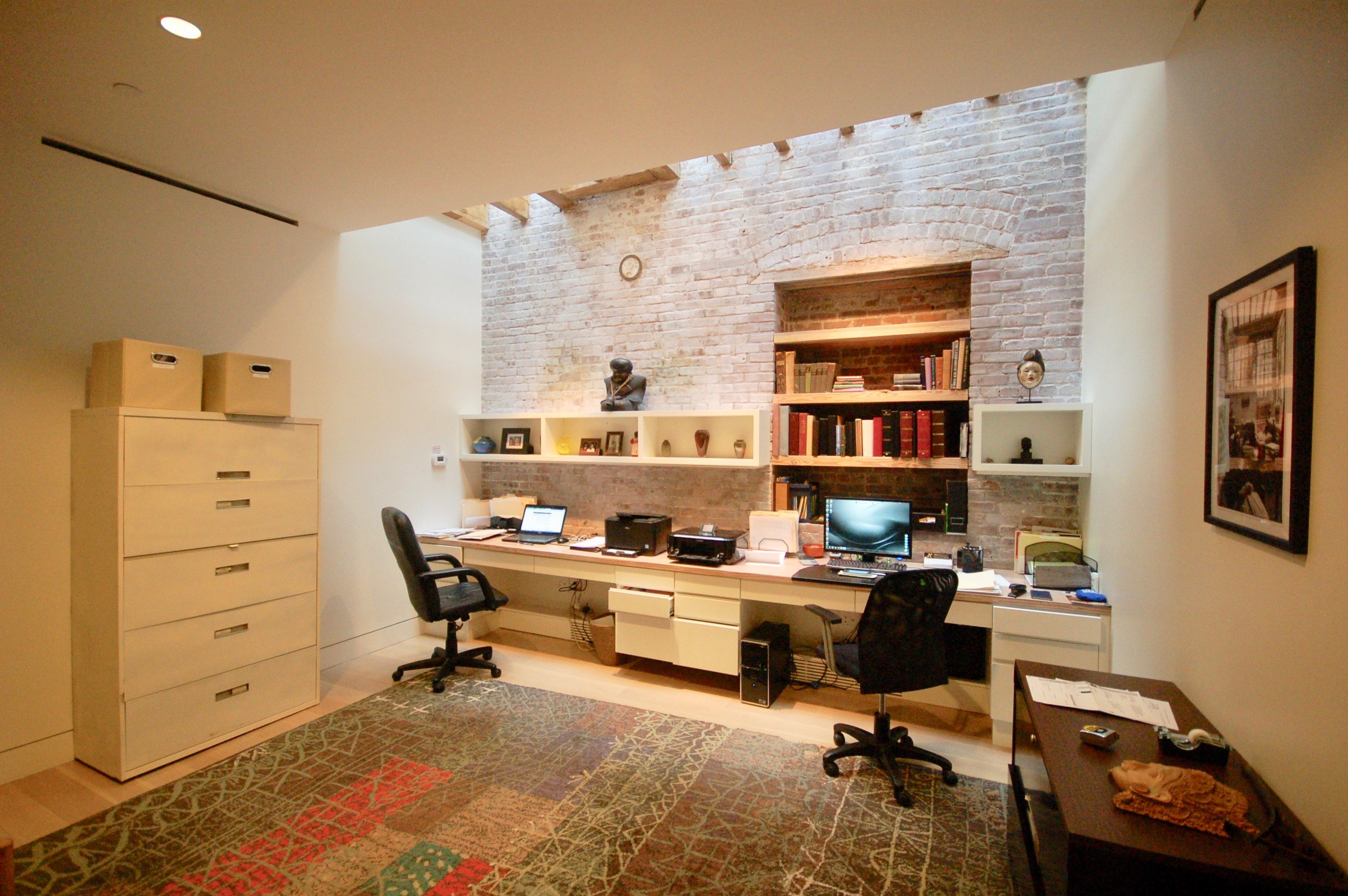 1. Home offices as multi-functional spaces
"I don't think anyone will be surprised to hear that creating or improving home offices is high on people's wish lists these days," says Peter Holtzman, principal of Harlem-based Bespoke Architecture. He created a home office for two in a top-floor Tribeca loft that is tucked away but gets flooded with natural light from above. 
Home offices topped the lists of others interviewed here as well—working from home is after all the new normal, even if you only do so one or two days a week. Plus it pays to be prepared for any future disruptions. 
That said, home "offices" are anything but. People want these hardworking spaces to seamlessly integrate into the overall design and even to disappear when not in use—or to morph into something else entirely. 
Sure enough, Michael J. Franco, a broker for Compass, has been seeing "built-in home-offices in clever spaces." Hint: Explore every nook and cranny for opportunities—closets, hallways, under-stair areas, and under-used corners are all fair game.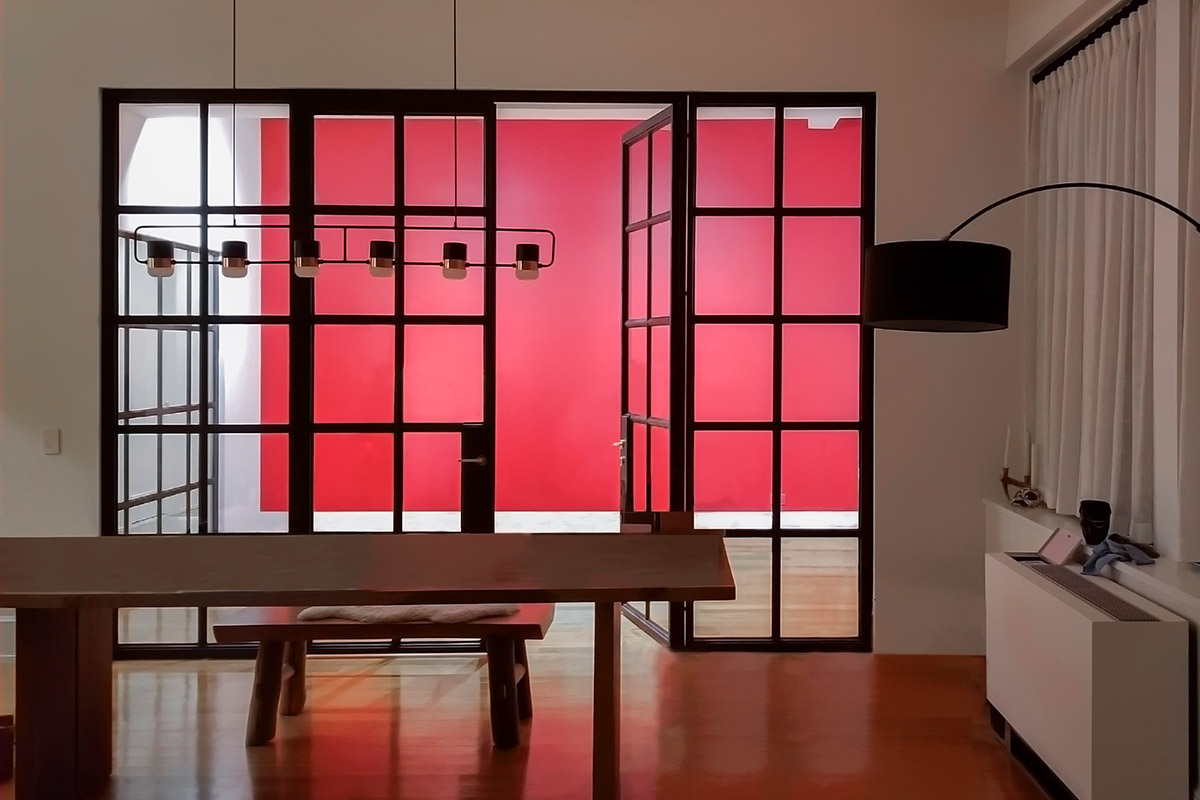 "Home offices are part of another big trend around opening up spaces and making multi-functional rooms," says Jorge Fontan, principal of Chelsea-based Fontan Architecture. 
For example, a home office can one day become a bedroom or you can have big doors that open up and make it part of the living room or perhaps a playroom area for kids. "Having a dedicated area for kids is a big deal too," he says. So rather than being stuck behind sheetrock or closed doors, Fontan has been installing black metal and glass doors for home offices (and playrooms), such as in the home office of the Chelsea loft shown above. 

In another project, Fontan installed translucent sliding panel doors that allow the two home offices on the mezzanine level of a spacious Tribeca loft to receive light from the large living room windows, while allowing for either privacy or openness depending on the need. (You could apply the same idea in a more humble, single-floor abode.)
The through-line seems to be that the functionality should be fluid. Farewell single-use spaces, hello multi-functional areas that make the most of every inch of square footage (even if yours has a high tally). 
And according to Sarah Patton, managing director of development at Compass, residential developments that are currently under construction are leaning into more defined spaces in a shift away from the open-plan concept that dominated the past decade.
"With more people using their homes as offices, schools, and daycare centers, having designated areas for privacy is key," she says.
For example, she points to NX at 215 North 10th St., a new boutique condo in Williamsburg that offers home office spaces that can also be used as flex spaces in the majority of the apartments.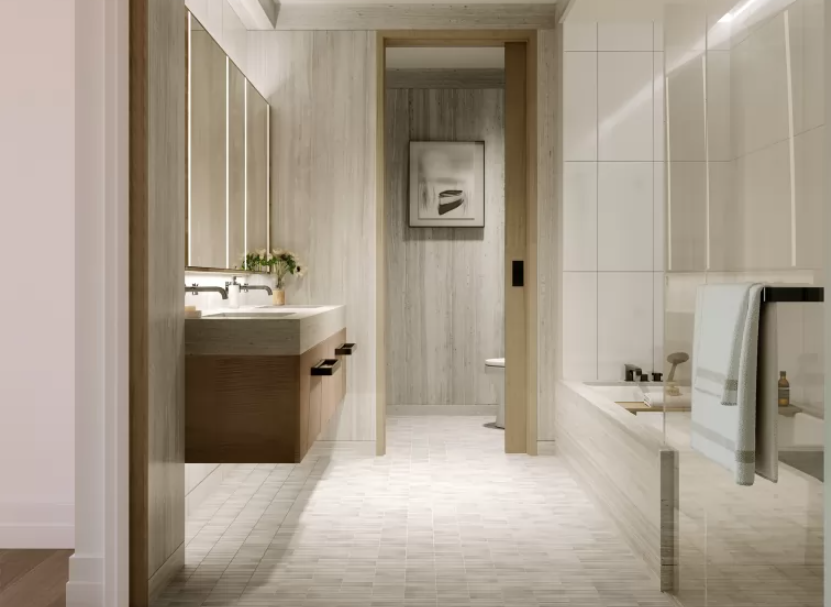 2. Spa bathrooms with soaking tubs
People aren't just working from home—they are indulging themselves there too. Replicating a favorite hotel or resort bathroom is a top priority now that folks aren't venturing out like they used to. 
According to Krista Nickols, a broker with SERHANT. and a lead sales rep for Jolie (77 Greenwich), "People seem to be captivated by massive bathrooms and beautiful bathtubs this year as they've spent more time than ever at home. It's all about the feeling of the at-home spa and luxurious baths." (She says another trend that is never going out of style is the walk-in closet: "I've never heard a client say 'there are too many closets in this home!'")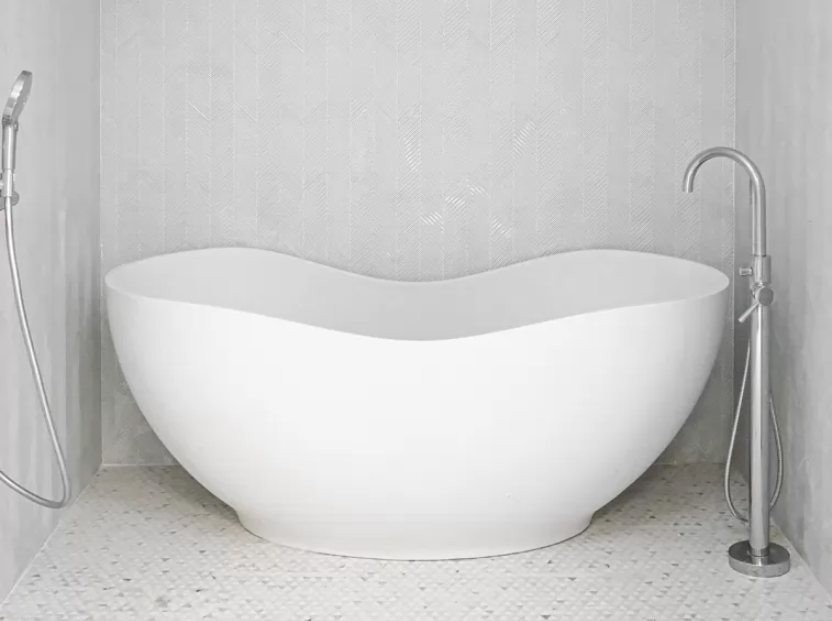 Fontan agrees that clients are prioritizing bathrooms and in particular bathtubs, including the doozy above (a nod to the curvy trend discussed below). Note too the use of chrome fittings—a notable departure from previous trends that featured brass, copper, and black metals. 
"This adds a 70s touch as designers continue to push clients into palettes that are more elevated and elegant," says Maryana Grinshpun, founder of Mammoth Projects, a Brooklyn-based architectural firm.
Steam showers and radiant floors are other spa touches, per Franco.
Sheila Trichter, a broker for Warburg Realty, has also seen "an unusually high focus" on having more bathrooms or powder rooms—including by a couple who is about to begin a renovation in which they are adding a half bath with a washer and dryer and an additional powder room.
"It's not like we are talking about mansions here. These are New York City apartments," she says.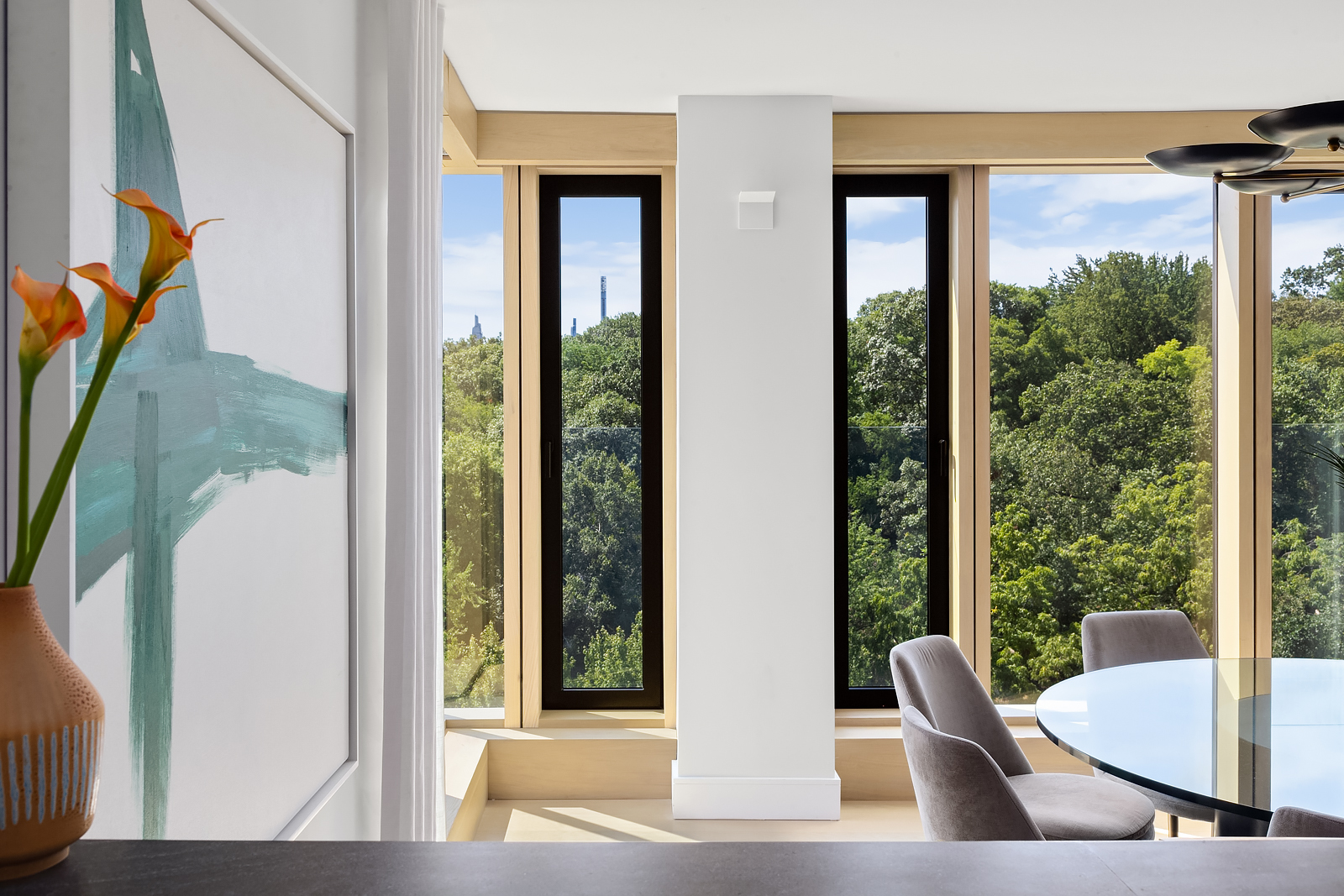 3. Preserving—or replicating—historic details
While preservation is nothing new, the pros Brick spoke to have seen a more intentional effort to salvage original materials in gut renovations and to restore at least some of the old-world character of their 1890s townhouses or prewar apartments. 
 "Lots of people bought brownstones last year and everyone wants to reuse the old features like original doors, which can be taken down, refinished, and put in a new location," Fontan says. "There is a lot of mixing old with new and keeping that which can be restored." That includes a 100-year-old wood lion's head that he is refinishing on the stair of one brownstone.   
If your brownstone or apartment was already stripped of these period details by a previous owner, you can always try to find reclaimed materials. (Check out Brick's article for
where to find architectural salvage.)
You can even replicate prewar details such as moldings and millwork in post-war or new developments.
"Buyers pay a premium for prewar architecture and design or they can recreate it themselves, such as with the stunning woodwork at 145 Central Park North," says Mike Fabbri, a broker with Nestseekers.

Historical accuracy aside, Franco has been noting a growing interest in having decorative wood installations on walls and throughout apartments. Certainly wood is a way to create visual interest and texture on walls, such as in the custom banquette (above) of a Clinton Hill brownstone gut renovation that is slated to get started in January of 2022 by Etelamaki Architecture.
Note too the use of arches, which are a nod to the rounded arches on neo-Italianate facades of brownstones—and serve as another visual element. (Founder Jeff Etelamaki is also using recessed arches in a Cobble Hill project that is presently underway. "ARCHES" was his initial one-word reply to 2022 trends.)
Wood also provides warm contrast to cooler surfaces. Fontan for instance used warm wood doors and accents throughout an apartment that was otherwise constructed of concrete. And wood has long played nicely with metal and stone in furniture and cabinetry. 
Grinshpun likes to pair both bleached ash and chocolate/warm woods to create various moods with the current creamy white palette. 
"The pandemic has brought with it a desire for a space that is warm and comforting, so we've been shifting away from long-popular stark, crisp whites," she says. Indeed, creamy shades have been featured all over design blogs and Instagram. Grinshpun likes to use those to create minimalist and simple spaces that are more inviting, and with wood flooring, ceiling joists, and millwork as key components.

4. Furniture with curves
The curvy furniture design trend seems to be gaining even more traction heading into the New Year—and is now extending beyond sofas to include shapely accent tables and chairs as well as mirrors, lighting, and storage units. Again, it's all about creating comfort without compromising on style. Softer edges, deep dimensions, and sumptuous fabrics are what you want to sink into when streaming your favorite shows or having friends over for drinks. 
Certainly this is veering away from the iconic squared profile of 1950s midcentury modern design to the more organic and playful furniture designs of the 1960s and 70s, which Ted Karagannis, a broker for Warburg Realty, says is a frequent online search request.  What's great about this trend is you can scour flea markets and vintage shops for these choice pieces—and sidestep the ongoing supply chain shortages and delays for brand new items.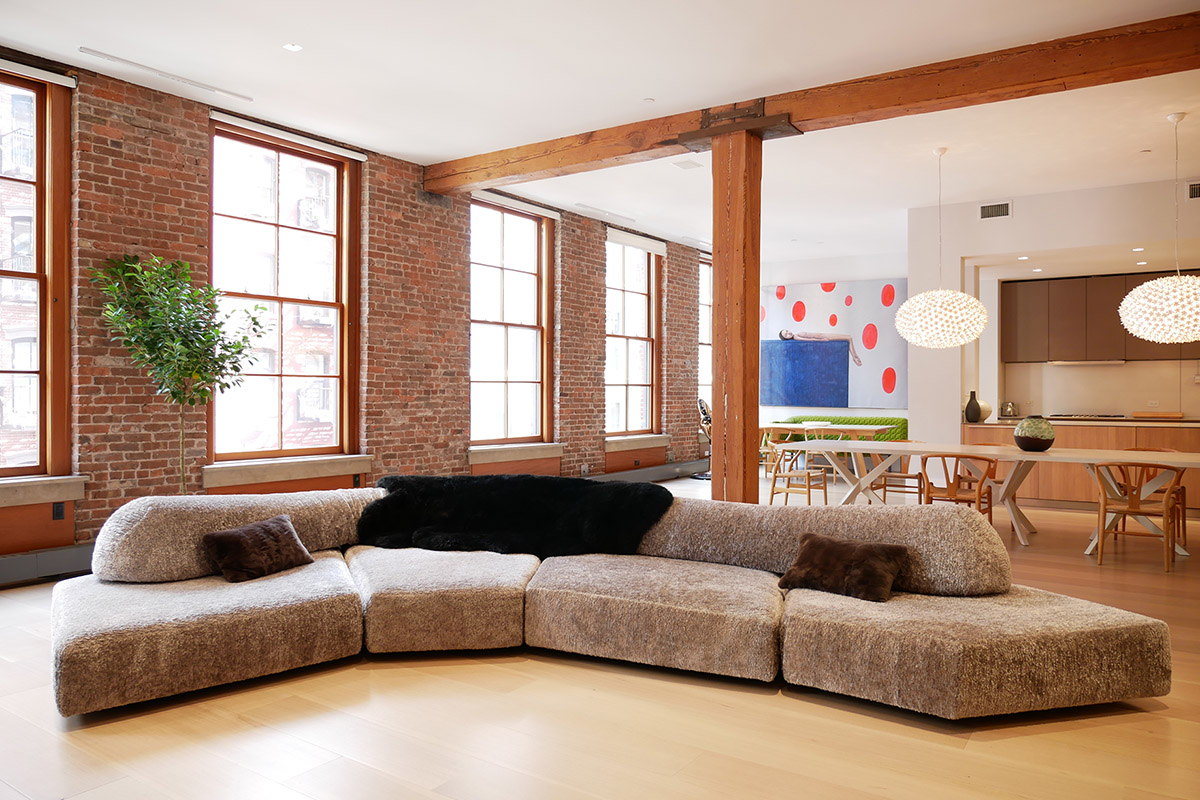 Multi-cornered sofas are another hot item, as are those that sort of flip direction midway through to face different parts of the room. Along those lines, modular furniture is in lockstep with the drive towards multi-functional spaces, since these can easily adapt to those evolving uses of the space. As for the palette, designers are punching up earthy (70s-inspired) rusts, tans, and umbers with jewel tones and pastels, as in the Soho loft above and the Tribeca loft at top. 
5. Smart technology
One overarching idea in any conversation around future renovations is creating a connected home.
"We're incorporating lots of tech into our projects—blinds, speakers, smart TVs and/or projectors, and entries that are all controlled by a single app on your phone," Grinshpun says. (Check out Brick's roundup of smart hubs.)
There are more and more products with integrated technology, such as accent tables with built-in charging stations or speakers that double as decor. You could even install remote-controlled shelving to reveal (and conceal) the TV. 
And what could be more zen than being able to raise and lower the window shades from the cozy comfort of your bed? Yes, technology is your ticket to nirvana in 2022 and beyond. Cheers to that!
Brick Underground articles occasionally include the expertise of, or information about, advertising partners when relevant to the story. We will never promote an advertiser's product without making the relationship clear to our readers.