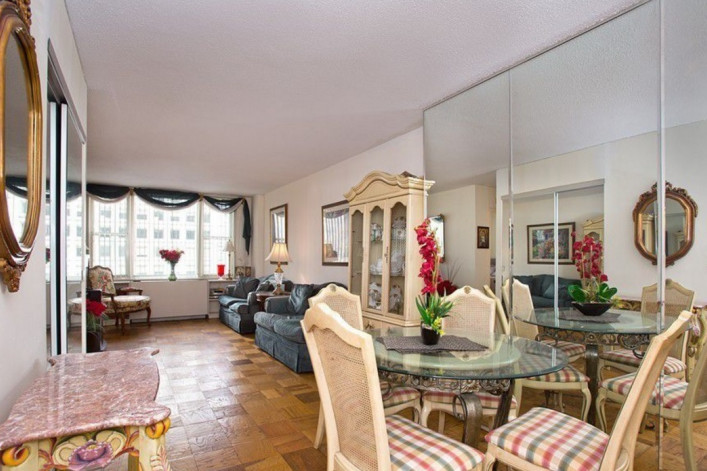 This $660,000 one-bedroom at 245 East 54th Street in Sutton Place has lots of things going for it, according to Brooklyn-based architect Eric Safyan. "The rooms have really nice proportions. There's lots of storage space. There's a large open foyer that can be used as a dining space or an office," he says. And, most importantly, "the windows look amazing. There's so much light in the apartment."
Despite this profusion of positives, there are still a number of undesirable features that Safyan would love to alter. "The Sicilian grandma décor" throughout the unit would be on its way out, he says, and the kitchen and bathroom slated for a complete overhaul.
Here are Safyan's recommendations: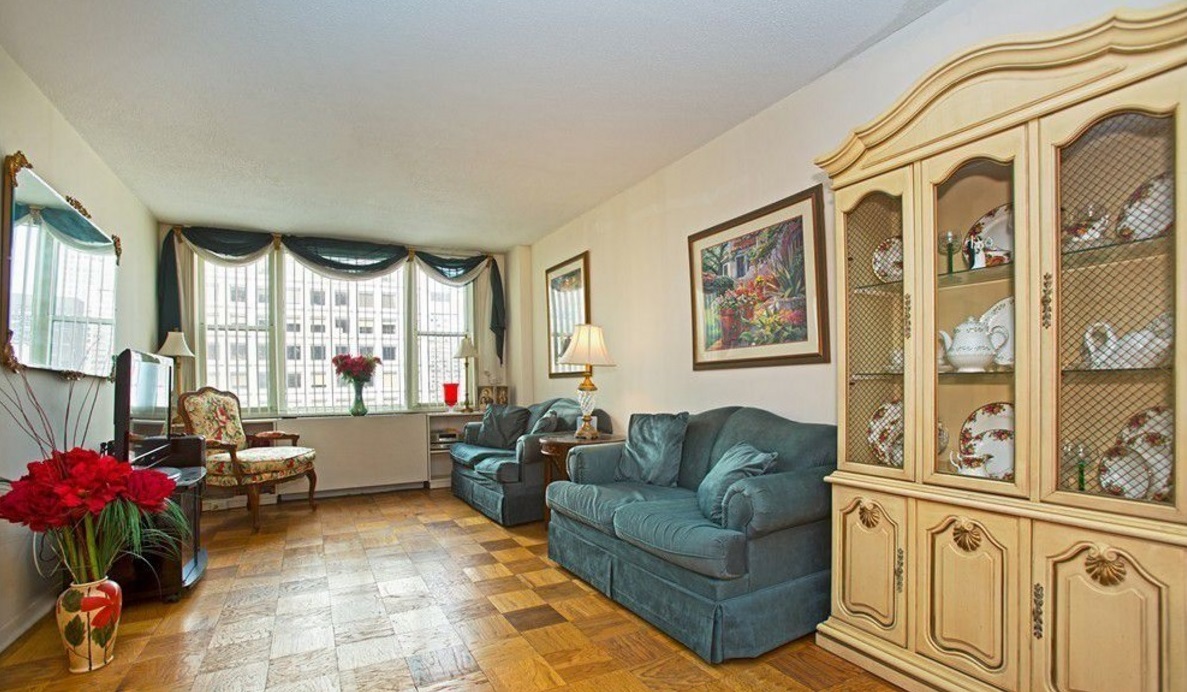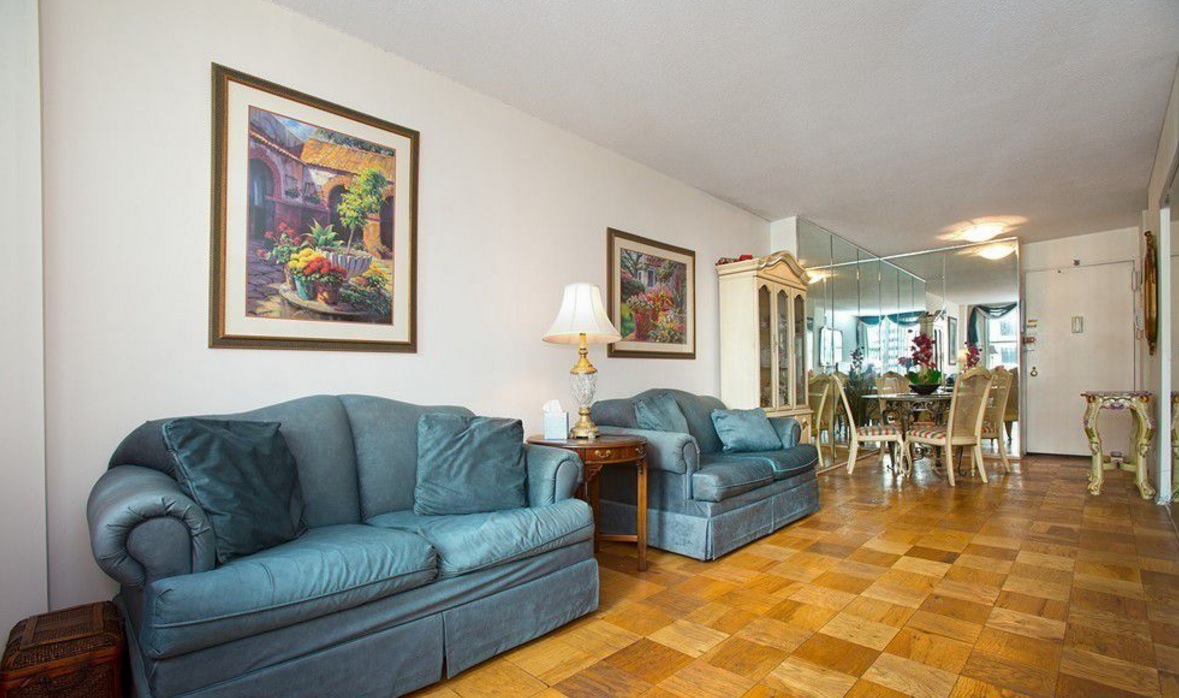 The living room
The first thing Safyan would do is take care of the old parquet floors. If the client wants to completely gut-renovate the place—and has the budget to—Safyan suggests replacing it completely, along with adding a new soundproofing membrane and a new sub-floor underneath it (the better to get along with neighbors and not argue over noise). He'd pick wide oak planks to "keep things light and airy in the apartment, along with the light from the windows," he says. If the new owner lacks the funds for such an undertaking, Safyan recommends simply giving the existing floor a light sanding and some finish.
Next, the dated mirrored wall near the front door has to go. He does, however, like that that space is currently being used as a dining area. He'd keep it as is, but add some shelving on the wall for additional storage needs.
You can never have too much storage space in Manhattan, so Safyan advises constructing a wooden wall unit for a TV, books and assorted tchotchkes. "A good place for it would be the wall opposite the bedroom where there's already a recess due to a column," he says. "It'll add quite a lot of functionality to this space."
He might also consider extending the kitchen into the closet area at the left-hand side of the foyer (more on this below). If the new tenant chooses to do this, new closets would be necessary. As such, Safyan says additional ones could be built in one of two places—either opposite the bathroom or near the right-hand foyer wall.
For the walls, he recommends a light hue, specifically a warm gray (like Benjamin Moore's Alaskan Husky). "I think a darker color would make the room look smaller," he says. He'd paint the wall unit and base moldings white "so they can pop more." The ceiling currently has an unappealing popcorn texture, which he advises "evening out." He'd then paint it white, as well, since it tends to make ceilings look higher than they actually are.
Since there don't appear to be any lights in the ceiling, he assumes it's made of concrete and cannot be drilled into. The new owner could "go with furniture elements like floor or table lamps."
For the windows, Safyan proposes a Roman blind to add a little elegance to the room. It's a little hard to tell the condition of the shelving on either side of the radiator beneath the windows from the photos. He'd repaint and reface it if it just needs a little pick-me-up. If it's totally shot, new ones should be built since storage is always lacking in NYC apartments.
Prices: Safyan estimates the new oak flooring will cost around $5 to $15 per square foot. Adding the new soundproofing membrane and the sub-floor should be about $5 to 15 a foot (including labor and installation). Sanding and finishing the existing parquet will be around $5 a foot. Safyan estimates between $10,000 and $15,000 for reframing a closet or two. A large wall unit should cost anywhere between $12,000 and $24,000, depending on whether or not it's custom-made. A gallon of paint for the walls is $69.99. A gallon of white for the ceiling, wall unit and baseboards is $39.99. Safyan believes it should cost around $3 to $4 a foot to even out the popcorn ceiling. This George Kovacs floor lamp from Lighting by Gregory is $577.50. These Levolor Roman shades are $197.90 at The Home Depot. Safyan thinks repainting and refacing the shelving near the radiator should cost around $1,500. Rebuilding the shelves entirely should cost about $6,000. Labor will be more.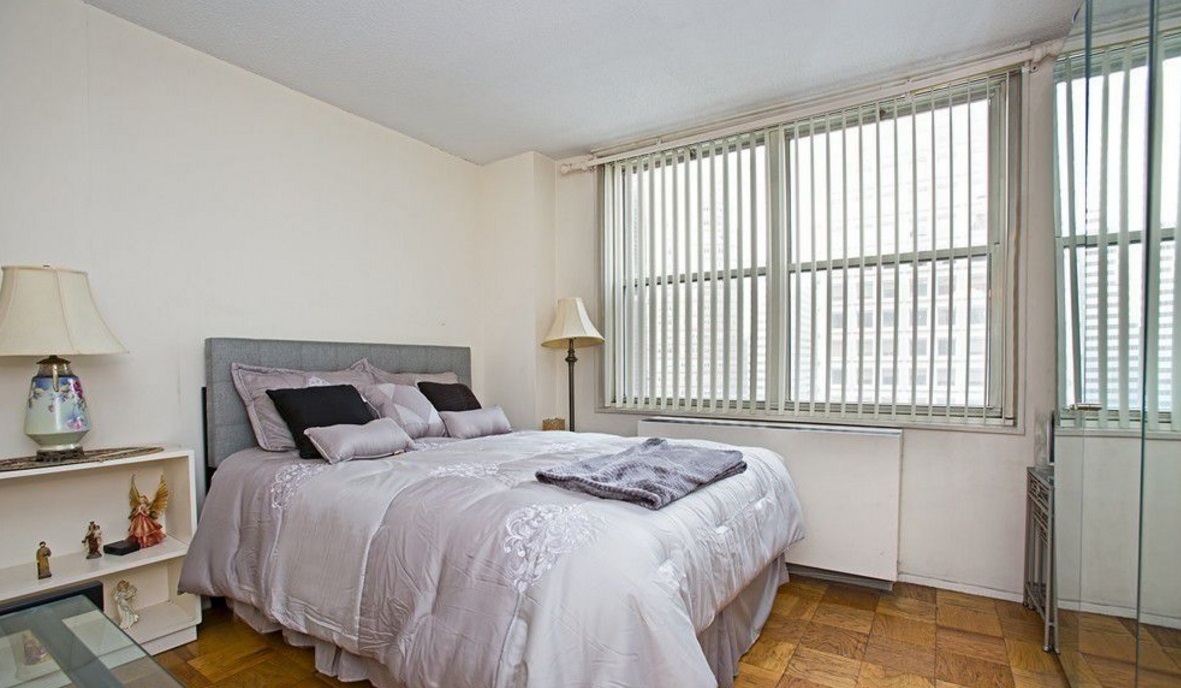 The bedroom
Since this space has the same flooring as the living room, simply do the same thing here that you choose to do there—either replace it entirely with a new oak floor, or sand and refinish it. It'll help with continuity throughout the apartment.
Next, he'd turn his attention to the closets. "Standard closet depth is about two feet," he says. "These look like three feet." So if the unit's owner wants to gain a little space in the bedroom, he can simply take it away from the closets. "There's a large window in here and a lot of natural light," he says. "It might be nice to get an extra foot or so for a desk or a larger dresser."
He'd also get rid of the mirrors on the closet doors. "I don't think you need a whole wall of them," he says, noting that some clients might not like a mirror facing their bed. (Of course, others might love it.) Safyan says he'd add a full-length mirror to the wall between the two closets so you can still see yourself from all angles whenever you so desire.
There aren't any light fixtures in the ceiling here, either—again, probably because it's concrete—so Safyan suggests putting wall sconces on either side of the bed, perhaps with adjustable arms so one could more easily read a book underneath them. "But that also fixes your bed to a location," says Safyan. So if you're the type to move your furniture around regularly, you might opt for floor or table lamps, instead.
He'd lose the dusty old vertical blinds on the windows in favor of two layers of shades—a blackout shade and a translucent solar shade "so you can regulate your light," he says. If you can only sleep in total darkness, the blackout shade can help. And if you want to take advantage of some of that great light during the day, but filter out some of the brightness, then try the solar shade.
For the wall color, Safyan says you can go a little darker because "a bedroom is more personal so it's a great place to get creative with furniture, books, personal items, photos and prints, etc. A darker wall paint color can be part of that composition." He likes Benjamin Moore's Sea Life, a faded blue-gray, or Charlotte Slate, a blue with pale gray tones. He would paint the ceiling, closet doors, and base molding white.
Prices: The new oak flooring will cost around $5 to $15 per square foot, according to Safyan. Adding the new soundproofing membrane and the sub-floor should be about $5 to 15 a foot (including labor and installation). Sanding and finishing the existing parquet should be around $5 a foot. This mirror is $150.99 at Bed, Bath & Beyond. This adjustable arm wall sconce is $225 at YLighting.com. This solar shade is $59.99 at Bed, Bath & Beyond. Prices for this blackout shade vary between $37.99 and $134.99, depending on size. A gallon of paint for the walls is $69.99. . A gallon of white for the ceiling is $39.99. Labor, including changing up the closets, will add on to these prices.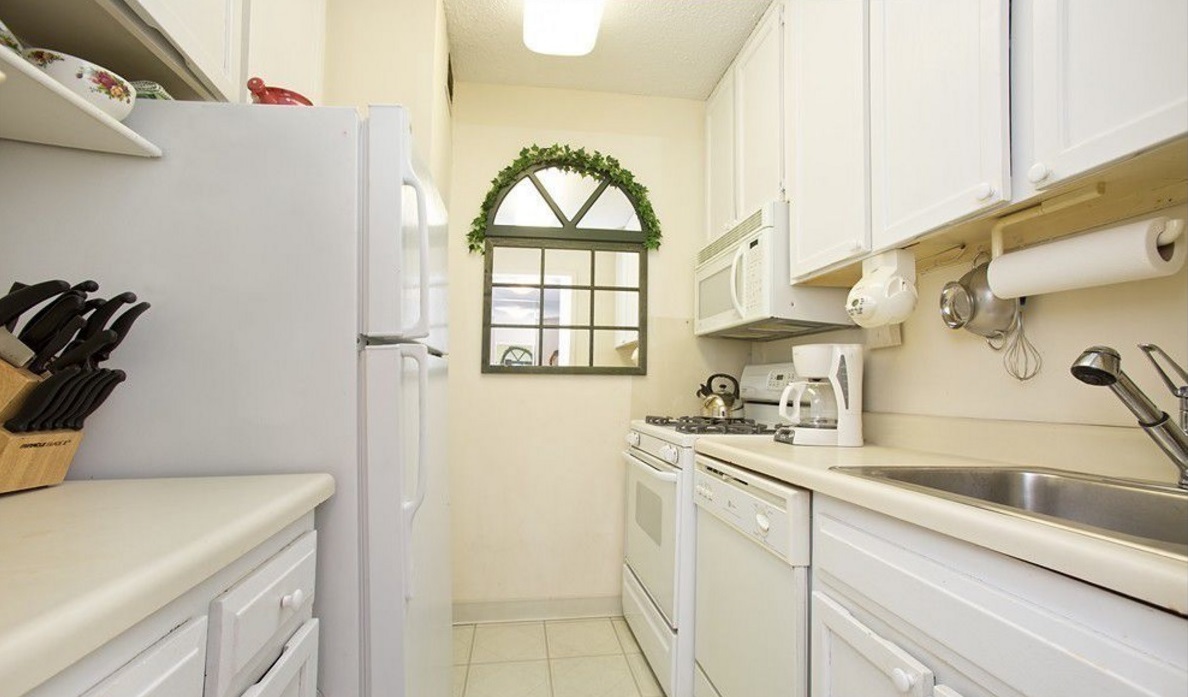 The kitchen
"I'd rip this thing out completely," says Safyan of the tired-looking kitchen. He'd start by upgrading to modern appliances—a new fridge, range, dishwasher, and microwave, and installing a new undermount sink (one that's under the counter) so the countertop can extend all the way to the sink. In a kitchen this small, it'll be especially useful since you'll need every inch of counter space you can get.
Speaking of countertops, Safyan recommends Caesarstone, a composite stone that's extremely durable and doesn't require a lot of upkeep. "I'd keep it light because the space is quite small," he says. "Going darker would make it feel claustrophobic." He'd continue the Caesarstone up the wall to serve as a backsplash. "It'll give it a more streamlined, seamless look," he says.
For the floors, Safyan likes cement tiles, like these patterned ones. They're sturdy and strong and will feel good under your feet while you're standing and preparing a meal.
As for cabinetry, he recommends Shaker cabinets. "Maybe a painted white or an off-white," he says. They're clean and simple and will look good in such a small space. The ceiling will once again be white.
On the back wall, he'd get rid of the mirror and build a thin ledge. "It'll read as an extension of the counter, but only be eight inches deep," he says. "It'll add some usable space back there near the range. You can store your spices or condiments there." He'd paint the wall behind it something light, like an off-white. It's a tiny space without any windows; a darker color would make it feel smaller.
As for the lighting, Safyan says he'd replace the ceiling-mounted fixture with "a more elegant" option like this one. He'd also get under-cabinet lights to make tasks like chopping and cooking easier.
"Another approach might be to extend the kitchen," says Safyan. Currently, it's flanked by two large closets near the entry foyer. "You have to go through a storage area to get to the kitchen, which makes [the room] seem darker and deeper than it actually is," he says. He proposes demolishing the closets and extending the kitchen into that space, instead.
Of course, whether or not you can actually do so depends on a given building's rules. Some have very firm "no wet over dry" rules, meaning that all of the plumbing must be in line with the other apartments' plumbing in the building in order to avoid leaks. "Some buildings are very casual about this, but others are extremely strict," says Safyan. If you aren't permitted to move any pipes, Safyan says that you can at least build some extra cabinets in that closet space and create more kitchen storage that way.
Prices: This stainless steel Samsung fridge is $989.99 at Best Buy. This Electrolux gas convection range is $1,449.99 at Best Buy. This Samsung dishwasher is $539.99 at Best Buy. This over-the-range Samsung stainless steel microwave is $249.99, also at Best Buy. This stainless steel Kohler undermount sink is $591.75 at The Home Depot. Safyan says that Caesarstone countertops should cost around $60-$70 per square foot installed. These cement tiles are $7.65 per piece. Safyan thinks the cabinets will cost between $8,000 and $20,000, depending on if they're pre-fab or custom-built. A gallon of paint for the walls is $69.99. A gallon of white for the ceiling is $39.99.  This flush-mount LED ceiling fixture is $168 at build.com. Labor, including possibly extending the kitchen, will, of course, be more.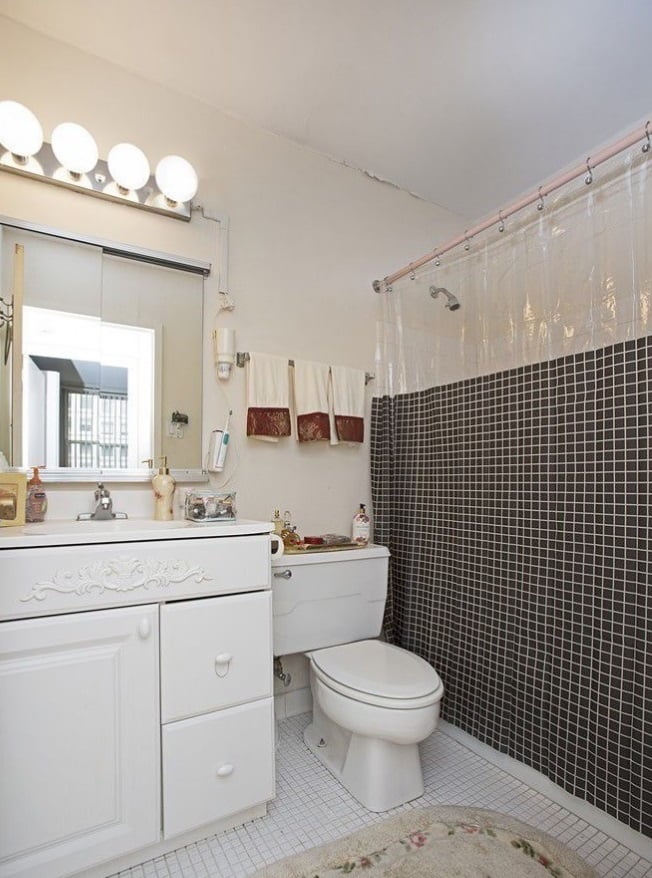 The bathroom
Safyan would begin here by tiling the wall by the shower area all the way up to the ceiling "for water-proofing purposes and also because I like the look," he says. "When you only go up to six feet or so you look like you're cutting corners." He suggests regular subway tiles or even marble subway tiles. "It's a classic look."
He'd also tile four feet high up the remaining walls. "It'll give a more finished look to the bathroom and it can act as a backsplash," he says. For the visible wall that remains, he recommends Benjamin Moore's Quiet Moments, "a faded blue-green that kind of matches its name and lets you be at peace." The ceiling ought to be painted in white.
For the floors, he'd "go with some sort of marble in a herringbone or chevron pattern," says Safyan, to contrast with the tiles on the wall.
Finally, he'd get a new toilet, a new vanity, and a more modern, recessed medicine cabinet for more storage space. He'd also get "new sconces on either side of the medicine cabinet rather than above," he says. "You get more even lighting that way."
Prices: Safyan says regular subway tiles are around $1.50 a foot. Marble subway tiles will be more, around $6 or $7 a foot. A gallon of paint for the walls is $69.99. A gallon of white for the ceiling is $39.99. He thinks that prices for the floor tiles should begin at $15 a foot. This two-piece Duravit toilet is $272.89 at build.com. This Duravit vanity is $3,299.99 at wayfair.com. This Robern medicine cabinet is $1,249. These LED bathroom sconces are $126 a piece at build.com. Labor will be more.
Brick Underground articles occasionally include the expertise of, or information about, advertising partners when relevant to the story. We will never promote an advertiser's product without making the relationship clear to our readers.