This Hell's Kitchen one bedroom, 467 West 46th St., #3N, is set up railroad-style, so there's very little you can do about the layout. It is asking $445,000. But not being able to do major work is a plus, especially here.
"There won't be a lot of expenses spent on altering any real infrastructure," says architect Joseph Eisner of Eisner Design, noting that this unit is an HDFC co-op, which means it comes with income restrictions—a single buyer can't make more than $95,030 a year, and a couple can't earn more than $108,820 a year.
---
[Editor's Note: In Brick Underground's Reno Ready column, an architect looks at a listing for a NYC fixer-upper currently on the market and suggests how to improve it.]
---
That said, some real cosmetic work is going to need to take place. It looks as though the apartment hasn't been updated in some time. "The floors will have to be redone," Eisner says. "And there aren't even any pictures of the bathroom," which is usually bad news.
In this week's Reno Ready, Eisner explains what he'd do to revamp this unit on the cheap, including salvaging the flooring, keeping the bathtub, and installing IKEA cabinets in the kitchen.
Fix the floor in the living room
Flooring: Eisner thinks the floor looks pretty beat-up, but would try to sand and refinish it rather than replace it completely to keep costs down. Some repair or replacement work will probably be needed in certain places, such as the badly patched areas in front of the bumped-out area on the right-hand side, where the original fireplace was likely located.
"I might try to test a gray stain to mute out some of the wood's imperfections," he adds. This should all cost between $4,000 and $6,000.
Baseboards: He'd replace the baseboards—which are just as shabby as the floors—throughout the unit. He'd go with simple 1/2-inch by 3-inch ones that would also wrap around the doors to keep a continuous line. These should cost around $4,000 for the whole apartment.
Paint: He'd paint the walls a light gray, such as Benjamin Moore's Feather Gray, $80 a gallon. He'd paint the ceiling and baseboards white. If the new occupant wants something a little more interesting, Eisner might suggest earmarking one wall as a feature wall—probably the one with the bump-out. He'd either paint that wall gray and keep the rest of the walls white or find a wall covering that the client likes and only put it on that wall. Repainting the entire apartment should cost between $4,000 and $6,000.
Radiators: On the window walls in both the living room and bedroom, Eisner would "encapsulate the radiator and have a continuous built-in bookcase across the length of the wall to create nice bookends for the apartment." The finish would be a sprayed-on paint finish—probably white to match the trim and ceiling. These should cost around $4,000 each.
Window treatments: Eisner would put up simple gray roller or Roman shades to cover all the windows in the apartment. These should cost around $100 each installed.
Lighting: Since you probably can't install recessed lighting in the living room and bedroom, Eisner would put up sconces on the wall opposite the wall with the bump-out. These Artemide Melete sconces are $435 each at Lumens.
Or, if the new occupant doesn't mind the track lights that are up at the moment, Eisner might hang onto them. To make it more attractive, he'd get a couple more matching tracks and connect them to make a rectangle. You can probably get the new tracks for around $200 each. New cans would be around $75 each. With this new configuration, you'd have "more opportunities to wash the walls with light," Eisner says. "So you wouldn't need sconces."
New fixtures will also be in order for the two hallway lights. This George Kovacs Knock Out LED flush-mount is $182 at Lumens.
Electrical: He'd move the light switches that are currently on the kitchen wall (which will be removed) to the next wall down (closer to the fridge). This should cost around $400.
He'd also have a couple of outlets added to the living room area as they seem to be lacking. This should cost around $250 to $300 per outlet.
Closets: Eisner would have a closet company come in and update the unit's only walk-in closet. It should cost around $1,500 to $2,000 to redo it completely, adding hanging bars, drawers, and shelves. The smaller closets won't need a closet company. New poles and a shelf or two should probably be a few hundred dollars at most.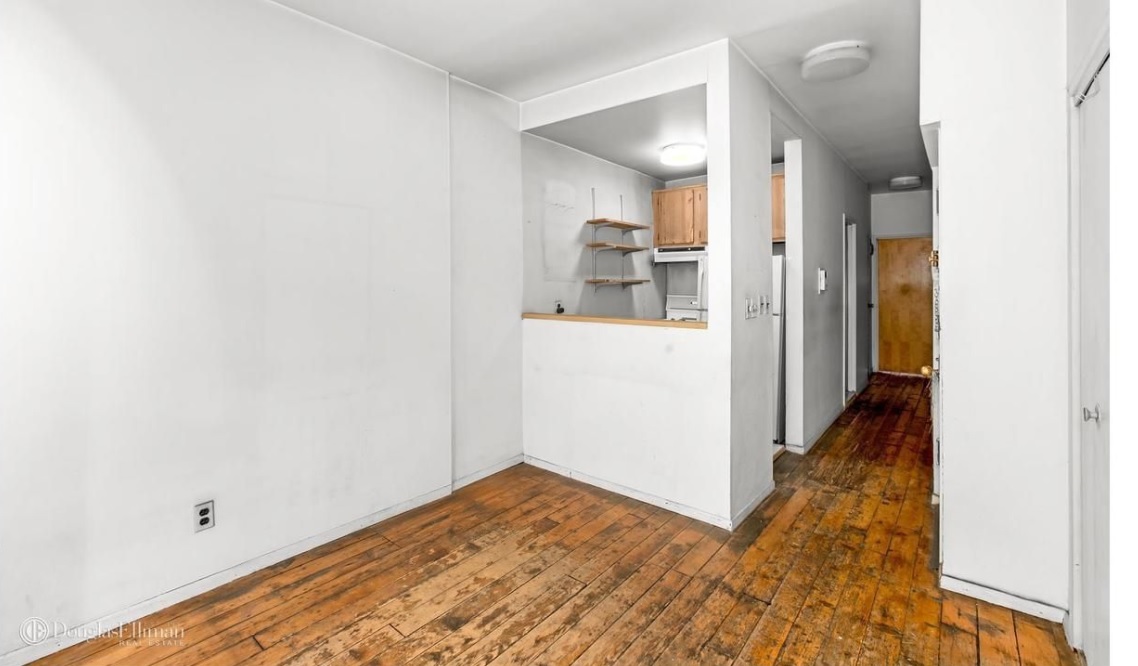 Remove the partition in the kitchen
Partition: "The main move I'd make here would be to take down the small partition wall at the peninsula end and create an eat-in counter by extending the countertop out 12 inches into the living space for stool space," he says, explaining that the overall living space will feel bigger if there is less of a barrier and more openness to the kitchen. "In a one-bedroom apartment, the kitchen needs to be part of the living space."
He'd keep the new counter at 36 inches high—typical counter height—to keep the proportions of the eat-in counter lower. "I feel such a small peninsula will look stocky if it's too tall," he says. "Keeping the counter at the same level will also provide more usable kitchen counter space for a small kitchen." Plus, he doesn't think the kitchen needs to be screened from the living space by a high bar counter. Knocking down the partition will be a fraction of your contractor's overall demo expense.
Countertops: He'd go with gray-toned Caesarstone like Cloudburst Concrete or Airy Concrete. These should cost around $3,000.
"A nice effect would be having the countertop edge waterfall down the right vertical side of the peninsula, which would be a nice, finished edge facing the hallway and entry door area," Eisner says. The waterfall might add another $600 to $700.
Cabinets: Eisner would swap out the current cabinets for simple white lacquer flat-panel cabinets from IKEA, like these Voxtorp. He'd go with an integral pull so you wouldn't see any exposed hardware. "It'll keep things clean," he says. "These should cost between $2,000 and $3,000.
Appliances: He'd replace all the appliances in the kitchen with newer, stainless steel pieces. This 30-inch counter-depth bottom-freezer fridge from Liebherr is $1,999 at AJMadison.com. This 24-inch free-standing gas range from Whirlpool is $1,164, also at AJMadison.com. He'd also get a ductless vent hood, like this one from Bosch, $377 at The Home Depot, as he feels that the current one is "probably old and filled with grease."
Sink/faucet: Eisner would also replace the sink and faucet. This stainless steel single-bowl sink is $99 at MR direct. This pull-down kitchen faucet is $129, also at MR direct.
Lighting: Over the new peninsula, Eisner would install a linear pendant suspended by cables from the ceiling, like these from Pure Edge. "The fixture is a little expensive—over $1,000—but would only require one electrical point connection vs. having multiple electrical points if going with multiple pendants," he says. "It makes a nice, elegant statement. It might be the most important lighting element in the space."  
He'd also replace the central ceiling mounted fixture in the kitchen. This Elan Incus white and chrome fixture is $272 at Lamps Plus.
Finally, he'd add under-cabinet strip lighting beneath the kitchen cabinets, and possibly under the extended eat-in cabinet overhang. These flexible LED strip lights are $50 each at AspectLED.
Flooring: Eisner assumes that the current flooring is "vinyl tile that someone might've slapped on top the wood floor." If that's in fact the case, he advises simply pulling off the tiles and refinishing the wood that'll be exposed.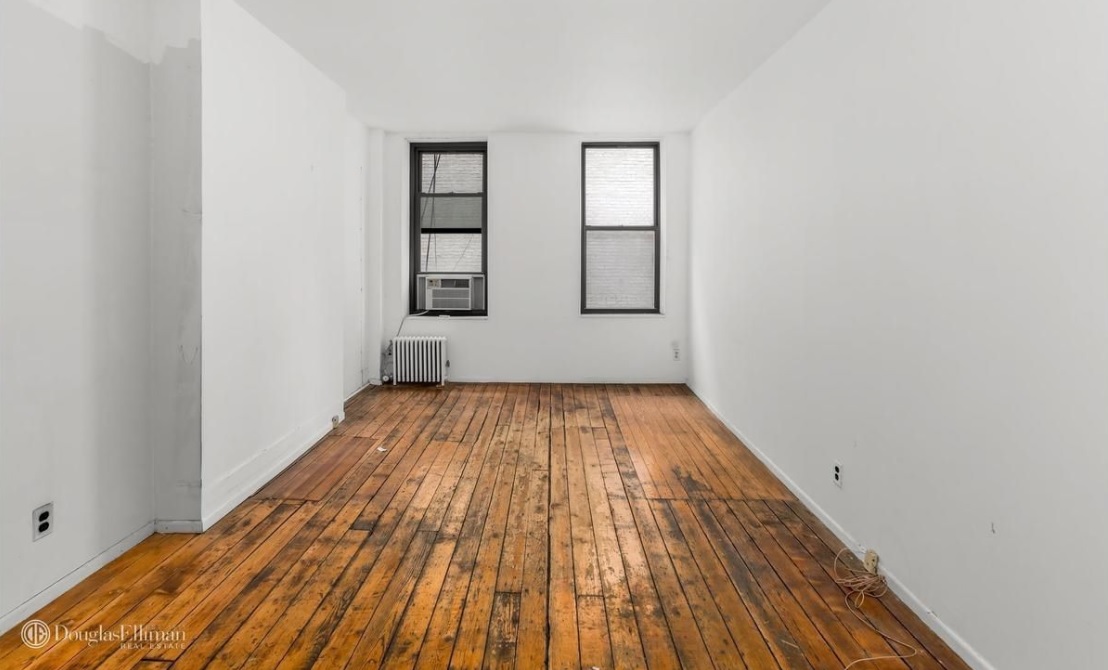 Add window treatments to the bedroom
Eisner would sand and refinish the flooring in here, too, put in a new radiator cover that would serve as a bookcase, install new baseboards, and put sconces up over the bed.
Window treatments: Just like in the living room, Eisner would put up a simple gray roller or Roman shades atop the window. He'd add in a blackout liner in the bedroom to keep the sun at bay for as long as the unit's occupant would like. These should cost around $100 each installed.
Lighting: In addition to the sconces, Eisner would add bedside reading lamps, so you don't have to get out of your cozy cocoon to turn off the light at night. This Goodnight Light from Andrew Neyer is $99 at Lumens.
The mystery bathroom
There aren't any pictures of the bathroom, so it's hard to say what is needed. But if you can salvage the bathtub, Eisner says that you could probably be able to do the rest of the bathroom for around $15,000.
Brick Underground articles occasionally include the expertise of, or information about, advertising partners when relevant to the story. We will never promote an advertiser's product without making the relationship clear to our readers.