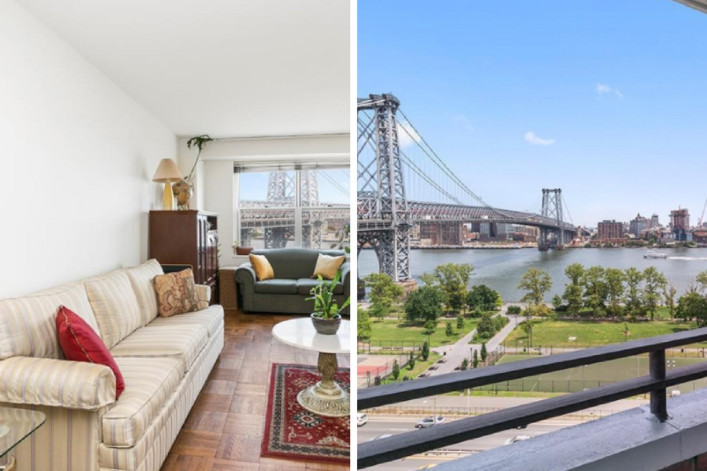 The best aspect of this 800-square-foot $699,000 Lower East Side one-bedroom at 475 FDR Drive is "no doubt the views and the balcony," says Esther Sperber of Manhattan-based Studio ST Architects. "They give a sense of spaciousness and light that the apartment itself doesn't really have."
Another plus is that it "looks like the building has some nice amenities," she says, including a fitness center, a children's playroom, a community room, two private parks and a full-time doorman.
"It isn't outrageously terrible," she says. "It just feels dated and impersonal, and a little bit generic."
Sperber has lots of ideas as to how to bring the apartment up to date, as well as ways to add a little bit of character to the space. Her recommendations:
Living room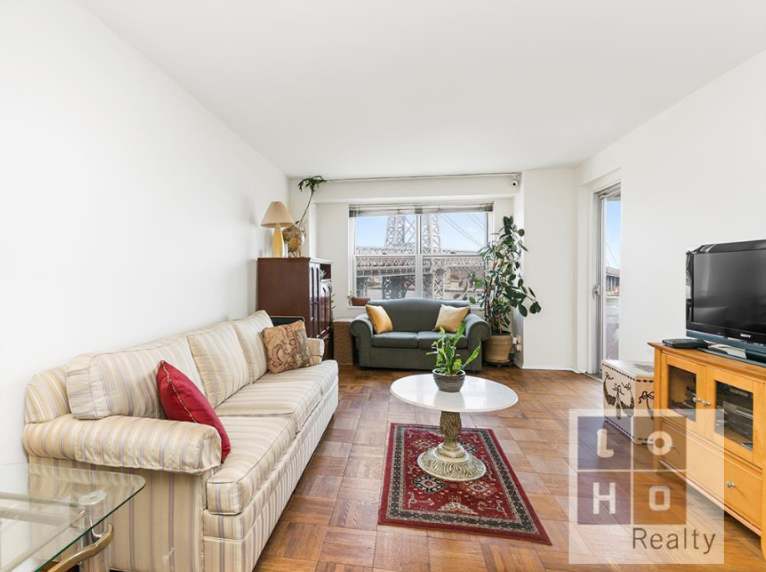 "The apartment feels very boxed in," says Sperber, so the first thing she'd like to do is try to open it up a little. She notes that there are four closets near the front door—three by the bathroom and one closer to the kitchen—and while she's reluctant to decrease storage space in a small Manhattan apartment, in this instance, she thinks it will be warranted if it make the unit as a whole feel larger.
She would reconfigure the closet adjacent to the kitchen "to be a narrower coat closet, so that you can have a bigger eat-in area in the kitchen," she says. She'd do something similar to the three closets by the bathroom in order to make that area feel larger, too. Sperber says she thinks that demo and construction of the closets should be about $2,000-$3,000. She'd also outfit each of the closets with hanging shelving systems "to make them as efficient as possible," she says. She believes that such systems should cost "about $500-$1,000 per system."
Turning her attention downward, Sperber says that "the floor doesn't look like it's in bad shape, but there's nothing really appealing about it either." As such, she'd suggest staining the floor in a "really light gray," like the example in the photo below. "It gives it a really contemporary look without having to replace the entire floor. It's very relaxing, very Zen-like. It's also a little different. It gives the apartment some personality." A can of Minwax stain is $29 at Lowe's.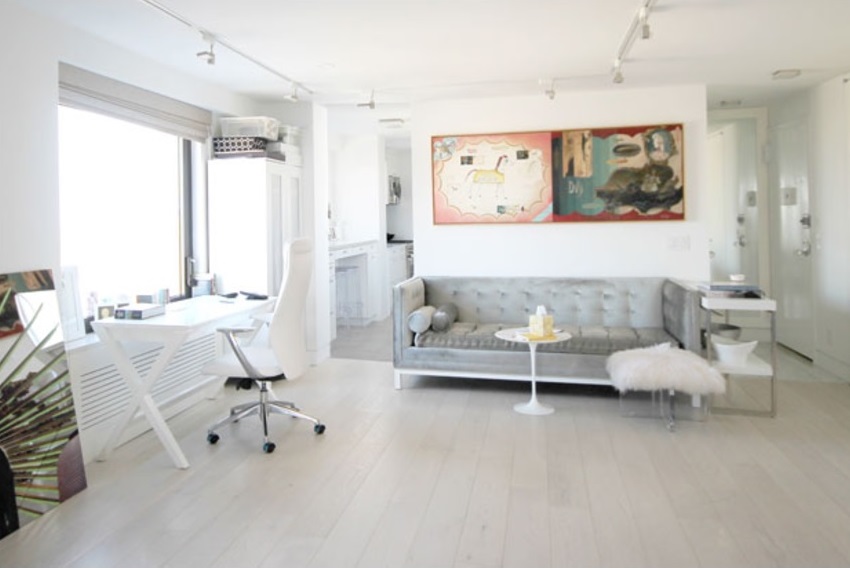 Moving on to lighting, Sperber says that since there aren't any hook-ups visible in the photos, that probably means that the ceiling is a concrete slab you can't drill into. Some folks would probably be able to make do with floor lamps here, but she'd prefer some overhead illumination. She'd add a layer of sheetrock beneath the ceiling (this should cost around $1,000, she says) and recess track lights (like these from WAC Lighting, $90 per light) into the space. "The track itself is very minimal," she says, and it'll likely blend in with the ceiling. "It'll look a bit like art gallery lighting."
For the walls, she'd like to go minimalist, sticking with white. She prefers to add a little oomph to a space with art and furnishings rather than wall color, she says. Here, she'd opt for a "white with a warm glow," like Benjamin Moore's Chantilly Lace ($70 per gallon). She'd use the same color for the ceiling, as well, just in a different finish—flat for the ceiling, to hide imperfections, and matte for the walls, because it's easier to clean, which is especially important for anyone with kids or pets.
Finally, she'd pick out a window treatment to best highlight the large picture window. She likes solar shades since they can reduce glare, yet let in some light at the same time. Sperber thinks a solar shade from somewhere like The Shade Store should run around $700. A similar shade for the terrace door should be around $400.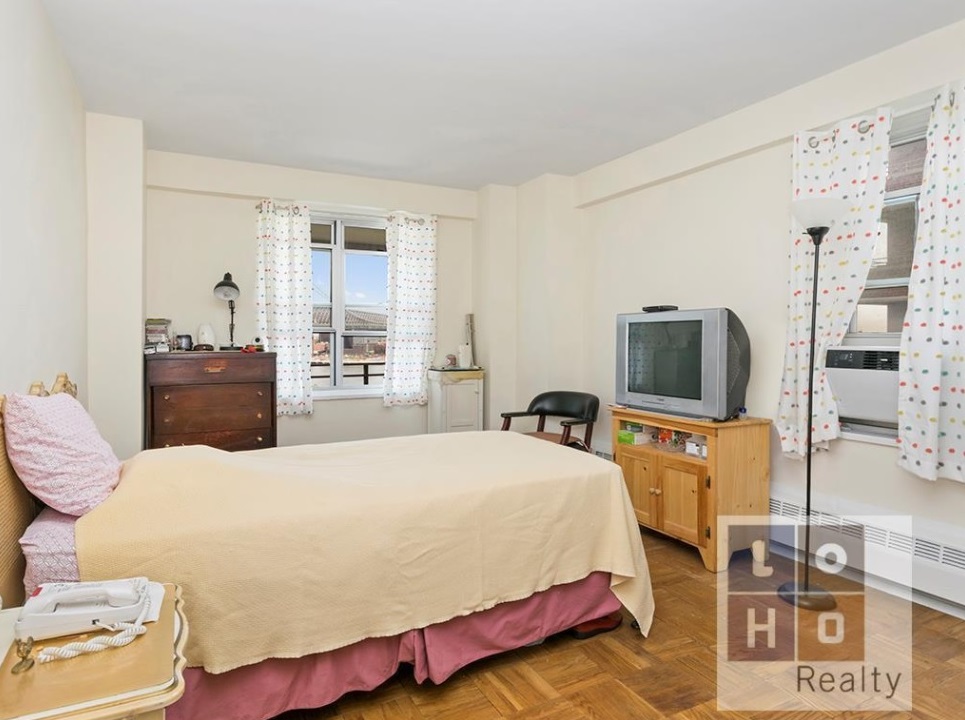 Bedroom
To begin, Sperber would stain the floors the same light gray as in the living room and paint the walls the same color, Chantilly Lace. "It's a small apartment, so continuity is especially important here," she says.
Next, she'd choose a pair of goose-necked wall-mounted reading lights—one on either side of the bed (like these LED wall sconces, $19 each on Amazon.com). She'd also drop the ceiling an inch or so—which she thinks should run you around $1,000—to install a combined light/ceiling fan (like this one from YLighting.com, $300). "I really love ceiling fans," she says. "On summer days when it's not really too hot, it's so nice to turn off the A/C and put a fan on."
She'd also lose the polka-dot drapes and put in a combo of room-darkening solar shades, like these, $75 at The Home Depot, and a light curtain over it that's "less busy than the current one." This sheer floral one, $20 at Wayfair, might do. 
"Another thing I especially like in bedrooms is to have a built-in chest of drawers, because then it kind of blends into the architecture and you don't have all these dressers and TV stands cluttering up the space," she says. As such, she'd have custom piece of millwork built along the back wall between the two columns at window height, with drawers for clothes and open shelving for books. Sperber believes that prices for this sort of piece should start around $3,000. She'd paint it white, as well, to match the walls.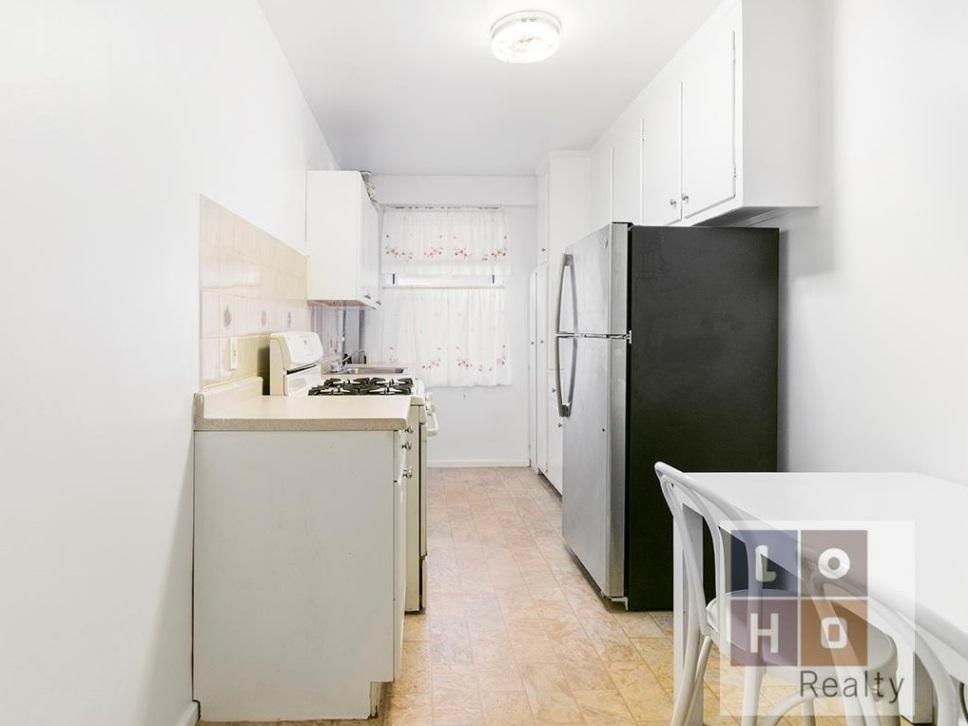 Kitchen
Sperber would first replace the floors with simple porcelain tiles in a shade of gray that matches the living room floor. "Porcelain's indestructible," she says. She'd select a fairly big tile, "something almost out of scale with the space like 24 by 24 or 30 by 30," like these from Stone Source. Sperber thinks they should cost around $10-$15 per square foot. "It'll give the room a certain uniformity and a sense of calm," she says, explaining that the large tiles "make the space seem larger by creating a continuous floor surface."
If money's an issue, she'd be inclined to keep the cabinets. If, however, the occupant wants something shiny and new, but still budget-friendly, she'd opt for IKEA cupboards, which she says are of surprisingly good quality. She'd get new ones in white wood to keep up the overall white/gray theme of the apartment. She estimates that IKEA cabinets for the entire kitchen should cost between $1,500 and $2,000.
After saving money on the cabinets, Sperber says she would then splurge on the backsplash, and get mini-bricks made of mother-of-pearl like these made by Studium for around $40 per square foot. "It shimmers, but it isn't glitzy," she says. "It has a sense of richness to it."
For the countertops, she'd choose Caesarstone—it's durable and easy-to-clean and costs around $1,500, says Sperber. "They have a number of white options with gray veining," she says. "It'll really pull everything together." Another possibility, she says, if the apartment's owner wants to keep things simple here, is to use the same Caesarstone for both the countertops and the backsplash, skipping the mother-of-pearl tiles.
Next, she'd swap out the ancient-looking appliances for new ones. She also hates that the black side of the stainless fridge is so noticeable, saying it sticks out like a sore thumb. She'd get a new, counter-depth refrigerator, one that won't poke out quite as much and steal precious inches from the space. She likes this 25-inch Fisher & Paykel fridge, $1,699 at AJ Madison. She'd also prefer this stainless steel Fisher & Paykel gas range, $2,999 at AJ Madison.
And while the sink isn't visible in the photo, she says she assumes it'll also probably need replacing. She likes a Julian sink, an under-mount sink with square corners that costs around $400-$500. "It can be a little harder to clean," she says, noting that gunk can get stuck in the edges, but she really likes the look. She'd also have a new faucet installed, like this pull-down sprayer from Hansgrohe, $192 at The Home Depot.
To light up the room, Sperber says she'd simply swap out the ceiling-mounted fixture that's in there in favor of "something that'll catch your eye, something with a splash of design," like this pendant light, $249 at YLighting.
For the walls, she'd once again choose white—in this case Benjamin Moore's Super White, which she thinks will play nicely off the cabinets ($70 a gallon)
Lastly, she'd rip those floral shades off the window at the back. "I don't know if you need anything here, since there isn't much light coming through," she says. If you really want something for privacy, though, she'd recommend another solar shade.
Bathroom

"This bathroom definitely needs an update," says Sperber. The first thing she'd do is re-tile the walls, but only the bathtub area, since she thinks putting tiles on all the walls throughout the room makes the already small space appear even smaller. She'd choose large-panel, glossy white porcelain tiles, like these, which she estimates will cost around $20-$30 per square foot. 
For the remaining walls, she'd lose the coral tiles and paint them instead. To keep the unit's continuity going, she'd opt for the same color as in the kitchen, Benjamin Moore's Super White ($70 per gallon).
Sperber thinks the tub seems fine, so she'd keep it, but she'd recommend getting a new shower head, like this Moen handheld one ($70 at Bed, Bath & Beyond). "It's easier to clean a tub with a handheld shower head," she says. She'd also get a new shower curtain. "Something pretty and elegant," she says. She likes this white one, $99-$105 at Restoration Hardware.
She would trash the too-big vanity and get one that's a bit shallower, like this one from Legion Furniture, $433 on overstock.com, then install three tall medicine cabinets, like these from Robern, $2,499 each, recessed into the wall. "There'll be less clutter that way," she says.
From the photos, it's impossible to tell if there's a light point in the ceiling, but if there is, Sperber says she'd put up an unfussy one like this Boxie ceiling light, $105-$325 at YLighting. She would also add a vanity light like this slim LED one, $139-$219 at YLighting.
The photos also don't depict the floors, but Sperber says she'd probably want to install new penny round tiles (tiny circular tiles like these from Nemo Tile that Sperber thinks should cost around $8 per square foot). Sperber says these "feel really good on your feet." She'd go with light gray again to keep everything matching. She'd also install a radiant heat mat underneath, which she thinks should run you around $500 or so. "It adds such a nice, homey feeling," she says. "It just makes you feel special."
Brick Underground articles occasionally include the expertise of, or information about, advertising partners when relevant to the story. We will never promote an advertiser's product without making the relationship clear to our readers.