Renovation
One-wall, galley, and Pullman kitchens: What's the difference, and is one more preferable than another?
New York City apartments aren't known for their generous kitchens. Often appliances take up most of the space, leaving little room for a countertop. Of course, the upper end of the market looks a bit different but for many New Yorkers, maximizing your countertop to accommodate more than a toaster and knife block is an achievement. (Luckily NYC has no shortage of food-delivery options.)
Still, regardless of price point, having a functional kitchen will making cooking more efficient and help draw buyers or renters when it's time to put your apartment on the market.
You've probably heard of the kitchen work triangle. It's a principle used by designers and architects for the most efficient and practical residential kitchens, and it dictates where the sink, oven, and refrigerator should be in relation to one another.
The triangle of kitchen efficiency is something you can achieve in a galley kitchen, which is a narrow space with appliances on both sides and is closed at one end. It takes its name from the cooking quarters on a ship. A traditional Pullman kitchen can have appliances on one or two sides but is open at both ends, hence the train analogy. Brokers sometimes use the term Pullman to refer to kitchens along one-wall or tucked into an alcove (and are also called kitchenettes). These are better defined as one-wall or linear kitchens. Even though it's impossible to achieve the kitchen work triangle on a single wall, that doesn't mean you can't aim for some efficiency.   
One-wall kitchens are for the budget conscious
A one-wall kitchen is going to be cheaper to install than a galley, says Stephan Jaklitsch, principal of Jaklitsch/Gardner Architects. "If everything is on one side, you're not running electrics or plumbing to an island, so installation is simpler," he says.
The general rule of thumb is that custom cabinetry runs at around $1,000 per linear foot. With one-wall kitchens, you'll likely end up with less linear cabinetry and a lower price tag. For the most cost-efficient installation, Jaklitsch says getting an IKEA kitchen base cabinet and adding a stone countertop is an "effective" workaround.
Linear kitchens certainly work if there are constraints on space, and Meret Lenzlinger, principal at architecture firm LOCALbrooklyn, says they are also popular with "the super minimalist." She says she sees them in loft spaces where people don't want the kitchen to dominate. There are plenty of manufacturers of "super high-end linear kitchens with pneumatic doors that close like a garage," she says.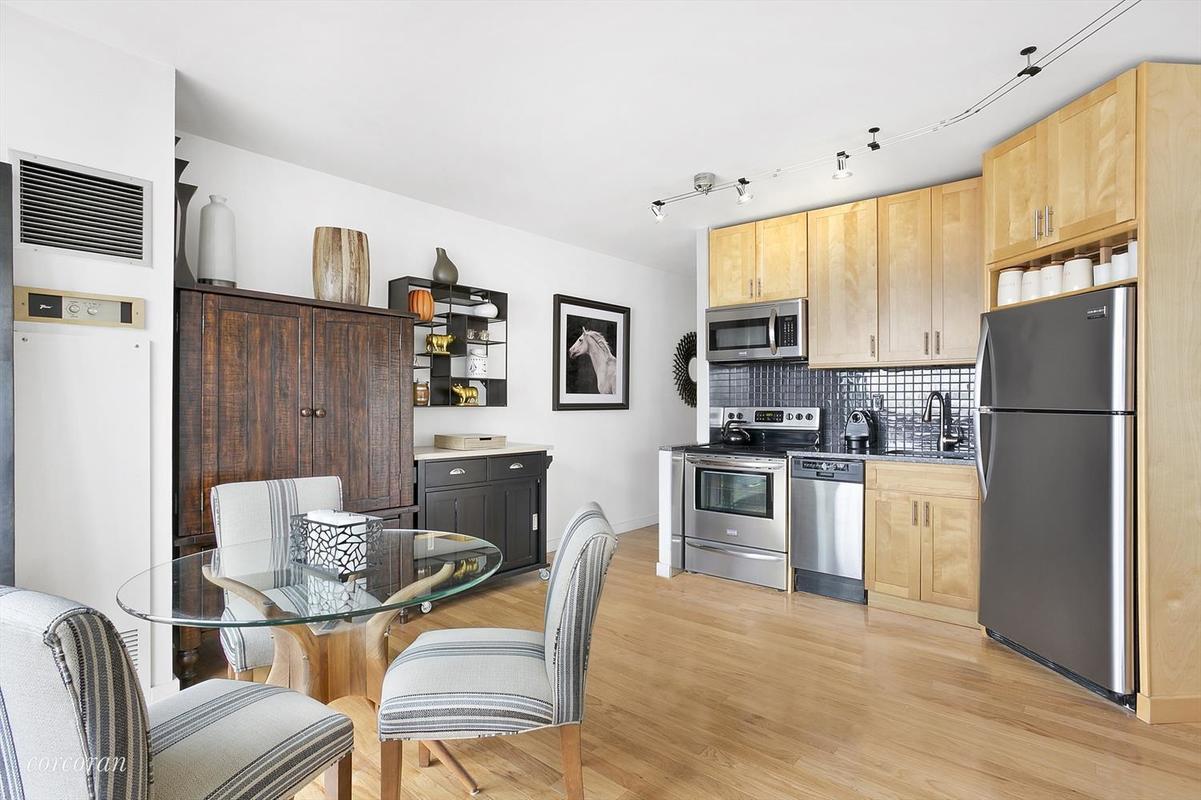 A Pullman is space-efficient but needs width
If the kitchen is doubling as a corridor, as it is in a traditional Pullman, it is making use of every available space but isn't the most practical design. Increasing the width of the kitchen is going to make it more functional, especially if you have roommates, family, or pets trying to pass through. When you're navigating all that, Jaklitsch says, "circulation is hard to achieve." His team is currently working on a kitchen that is a pass-through between a dining room and a breakfast area.
"You need four to five feet between the counters to be able to work, plus have circulation go through, but if you have more than four or five feet, your counters are too far apart to really work efficiently," he says.
Lenzlinger also just finished a Pullman-style kitchen in an Upper West Side studio that she says her team "had to treat like a Chinese puzzle." The kitchen is on one wall and residents need to walk through it to the bathroom.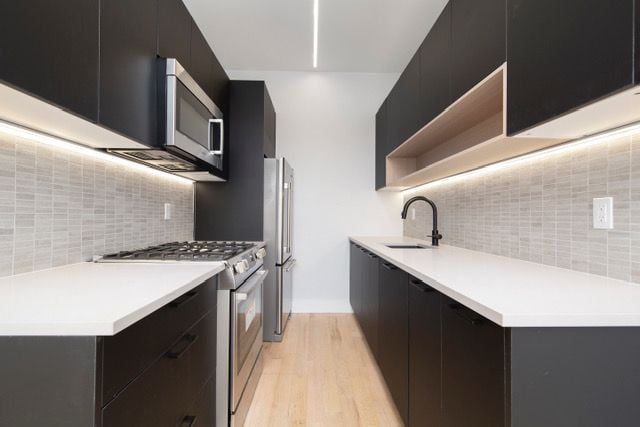 The galley wins points for functionality
In an open plan kitchen/living area, a one wall kitchen can become a galley by adding a parallel island that provides extra countertop space, may include the sink or dishwasher and can double as a breakfast bar. A galley kitchen works best, says Jaklitsch, because you can maximize the amount of counter space in a small area, and unlike a traditional Pullman, it's not going to get crowded with traffic.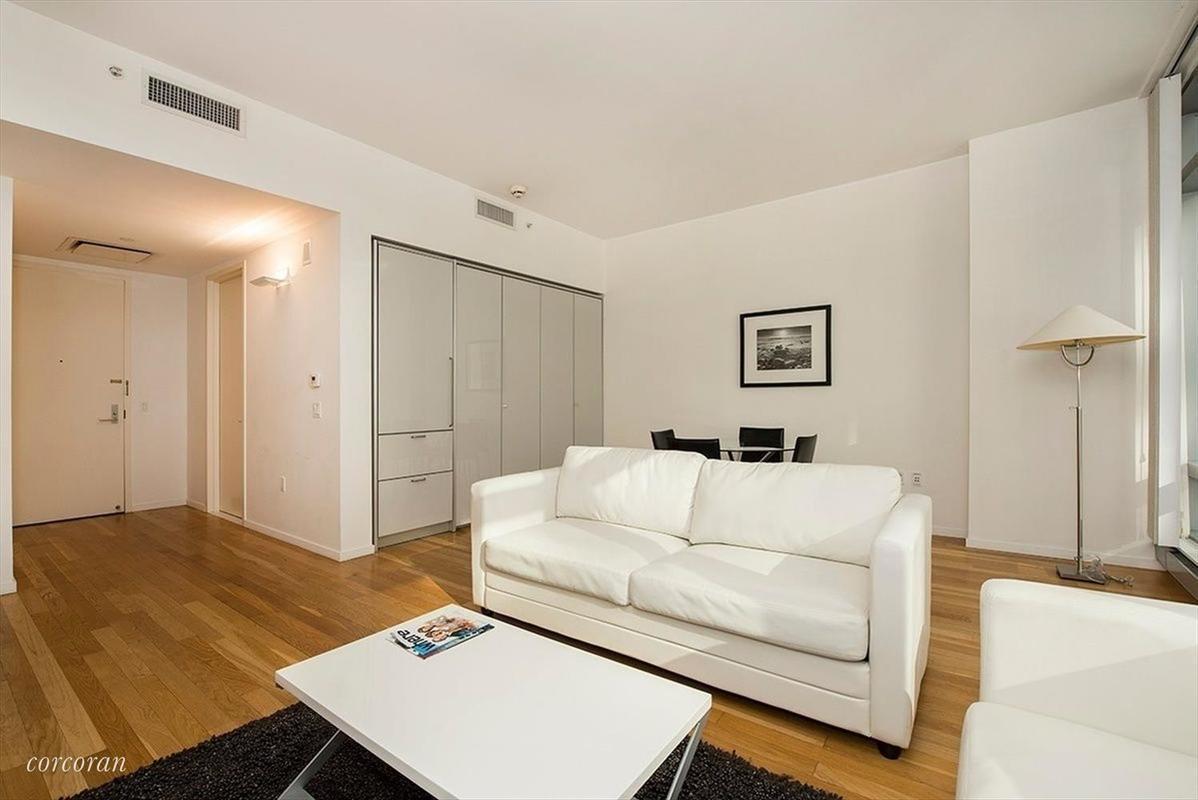 There's an optimal length to a Pullman or one-wall kitchen (or kitchenette)
The one-wall design can solve problems for some apartments, but a wall of cabinetry that's more than 10 feet in length isn't very helpful. "You want to be able to stand in one place and reach everything with a quick sidestep," Jaklitsch says. 
Lenzlinger agrees, saying "a 15-feet run of linear kitchen means you are doing a lot of running around."
Ideally, a kitchen will have a window to provide daylight, it will have good ventilation, and plenty of countertop space. Whatever your design, current trends are seeing a white aesthetic give way to pops of color, Jaklitsch says.
Tim Fryatt, director of Marvel Architects, recently explained to Brick a general rule about kitchens and ventilation. "When you have a kitchen more than 30 feet from a window, it must be open to the living/dining area," he says. The result is an open-plan layout, usually with the kitchen along one wall, seen in a lot of new construction and renovated apartments today. And if the kitchen area is under 80 square feet, it is called a "kitchenette."
Brick Underground articles occasionally include the expertise of, or information about, advertising partners when relevant to the story. We will never promote an advertiser's product without making the relationship clear to our readers.