Brick Underground supports our readers with product recommendations specifically curated for New Yorkers. If you buy something through our links, we may earn an affiliate commission.
A good location and a good price are the most appealing things about this $399,000 Murray Hill studio at 305 East 40th Street, according to Frank Pizzurro of Frank Pizzurro Architects, a 15-year-old New York City firm. "It's under $500,000, so it's a good way to get your foot in the door if you're looking to get into Manhattan real estate, but don't have a ton of money," he says.
However, there are some features that Pizzurro would rather redo, particularly the kitchen's placement. "I don't know why it's off in the corner like that," he says. "I'd prefer that to be a bed area." But since it isn't always easy to relocate a kitchen—many buildings prohibit you from building a wet area (aka a kitchen) over a dry area (aka a foyer or bedroom) for fear of potential leaks and subsequent property damage—he'd probably leave it as is.
There are plenty of other changes he suggets—read on for a full rundown:
Living room/bedroom
Pizzurro would prefer that this main room (pictured above) position itself as a living room. It'll make guests feel more at ease than if they were to walk directly into a bedroom. As such, he'd propose getting a Murphy bed that can be hidden in a cabinet in the wall. "You can get one that looks like an armoire or that has shelves and cabinets on the sides that can be used for storage," he says. He'd either put it against the left-hand wall next to the window or on the right side just before the kitchen. He'd put a couch and coffee table along the opposite wall. (Our editor recently wrote up the findings of her Murphy bed investigations—see what she found.) 
"The parquet floors are a bit dated," he notes, so a modern replacement is advisable, such as a wide-plank hardwood that'll both be durable and look good in the space. In addition, he says most buildings these days require you to add a layer of soundproofing beneath the floor.
If, however, the client is trying to save money, they may want to keep the parquet but refinish it with a coat of shellac to refresh the space. An area rug or two will also enliven it.
He said he'd rather have the tenant's personality shine through with furnishings, and would keep the paint neutral—off-white for the walls and white for the ceiling. "White makes the ceiling appear taller," he says.
Since the ceiling appears to be a concrete slab, drilling into it is likely a no-go, so you'd have to rely on floor lamps for lighting.
Finally, he'd cover up the windows with "something simple like horizontal blinds or a solar shade," he says. Something that "blocks out the light while at the same time allowing you to see out a little bit."  
Prices: This Queen-sized wall bed with side storage cabinets is $2,899.99 at Costco. A wide-plank hardwood floor should cost around $10-$20 per square foot. Soundproofing should add a few more dollars a square foot. This can of Minwax finishing stain is $7.48 at Amazon.com. Prices for this area rug begin at $1,595 at Restoration Hardware. A gallon of paint for the walls is $69.99. A gallon of white for the ceiling costs $39.99. This floor lamp is $545, also at Restoration Hardware. Prices for this cordless solar shade start at $30.94 at The Home Depot. Labor will add on to these costs.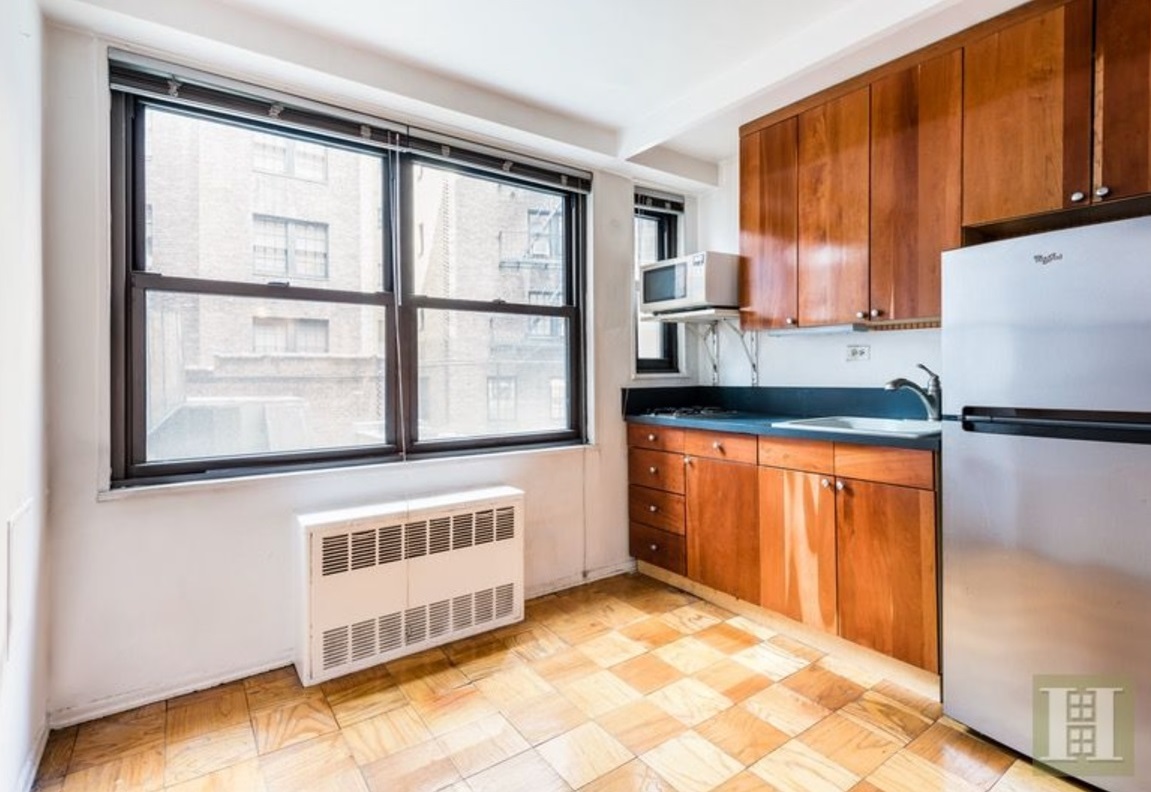 Kitchen                                                               
The first thing Pizzurro would do here is create a distinct space for the kitchen even though it's practically in the living room. Therefore, he'd build a smoke baffle—a 12-inch wall built from the ceiling down that can retain smoke in a given area—along the wall behind the fridge and extend it all the way across to the side window in the living room. "It'll separate the spaces a little better," he says. He might even add more storage into the new wall.  Beneath it, he'd build a bar area or island, as well as place a few bar stools. He also suggests adding a few hanging light fixtures above the island—one for each bar stool.

If the buyer chooses to replace the flooring in the living room, he ought to do it in here, as well, to lend a consistent feel to the rather diminutive apartment. 
Then onto the cabinets, which need tearing out. "I wouldn't go custom for a space this small," he says. Instead, he recommends ready-made one from a place like IKEA or Lowe's. They'll do the job and they're relatively affordable. He'd also add under-cabinet lights.
Plus, he'd go for a new countertop, perhaps granite, which is tough and requires little maintenance. Although it can be pricey, "you're not dealing with a lot of space here, so you won't break the bank," he says. As for the backsplash, he recommends porcelain tiles that match the countertops. They clean easily and will look fresh in the room.
Next, the wall by the window. "I'd paint it a light pastel color because it gets a lot of light and your viewpoint goes right to that window when you walk in," he says. He'd recommend something a light yellow and paint the radiator the same color so as not to draw attention to it. He'd again paint the ceiling white.
As for appliances, Pizzurro says, they "look fine" in the pictures, so he'd be inclined to keep them if the buyer is on a tight budget budget. However, he adds, if the new tenant can swing it, he'd recommend a new refrigerator and microwave.
Strangely, the kitchen appears to be lacking a stove, and there doesn't seem to be room for one. It's hard to tell from the photos, but the floorplan shows two burners on the left-hand side of the countertop. That seems to be the only place to do any actual cooking in this kitchen. "I've seen apartments like these where people just order in all the time," he says, noting that units like these are often used as pieds-à-terre, and since occupants rarely spend much time there, having a space to cook is not viewed as a priority.
Prices: Pizzurro believes that prices for the smoke baffle should be $1,000 and up. The bar should be about the same. These bar stools are $35.85 at Overstock.com. Prices for this pendant light start at $149 at Restoration Hardware. Again, a wide-plank hardwood floor should cost around $10-$20 per square foot. Soundproofing should add a few more dollars a square foot. This can of Minwax finishing stain is $7.48 at Amazon.com. Pizzurro believes the cabinets, backsplash and countertop can probably be purchased for between $10,000 and $12,000. These under-cabinet lights from The Home Depot are $59.97. A gallon of paint for the walls is $69.99. A gallon of white for the ceiling costs $39.99. This Whirlpool stainless steel refrigerator is $499.99 at Best Buy. This GE midsize microwave is $99.99, also at Best Buy. Labor will be more.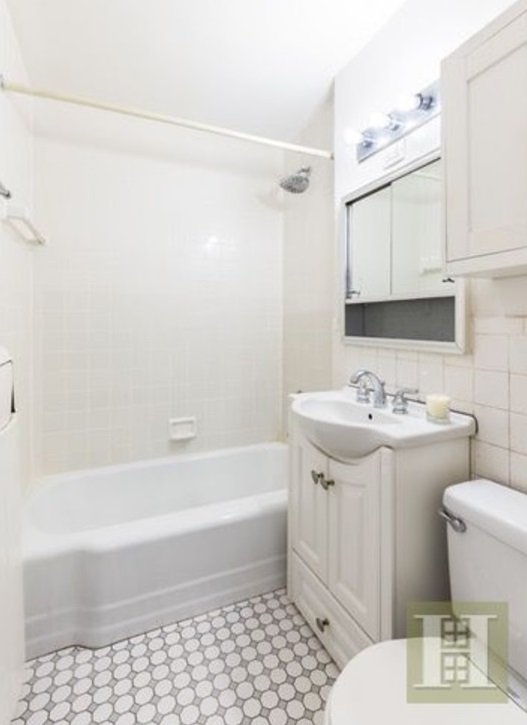 Bathroom
"It looks fairly nice in here," says Pizzurro of the bathroom's overall aesthetic. Since you'd have to change out the plumbing and have permits to replace the tub, it's probably best left as it is. Pizzurro is also a fan of what he thinks might be the unit's original mosaic floor.
Everything else, however, he'd replace. "I'd change out the sink, vanity, medicine cabinet and toilet since they look dated," he says. "This is where you brush your teeth. You want it looking clean and fresh." He'd prefer a recessed medicine cabinet so it's flush with the wall and has a neater appearance. "You can get one with lighting so you don't need separate overhead lighting," he says. "They also make ones with outlets inside them so you don't need a plug hanging over the sink."
He'd also trash the storage cabinet over the toilet. "You don't want to hit your head when you're standing up," he says.
He'd change out the old wall tiles in favor of new ones, possibly porcelain, as the material is dense, hard and stain-resistant. He suggests running it all the way up the walls to help waterproof the room. He'd like something off-white to play off the mosaic floor.
Pizzurro would select a new showerhead, possibly something luxurious like a rainshower. He'd also lose the curtain rod and instead opt for a single glass panel. "It's a cleaner, more modern look," he says. "And it's easier to clean."
Price: This Robern medicine cabinet with built-in dimmable LED lighting and electrical outlet is $1,799. This single vanity is $2,795 at Restoration Hardware. This Toto toilet is $438.16 at The Home Depot. Pizzurro thinks the tiles for the wall should be around $5 to $10 per tile. This Grohe rainshower showerhead is $321.13 at The Home Depot. This single-panel shower door is $494.86 at Houzz.com. Labor will tack on to these prices.