Reno Ready
Whether you want to make big or small updates, this $525,000 Gramercy Park studio has lots of potential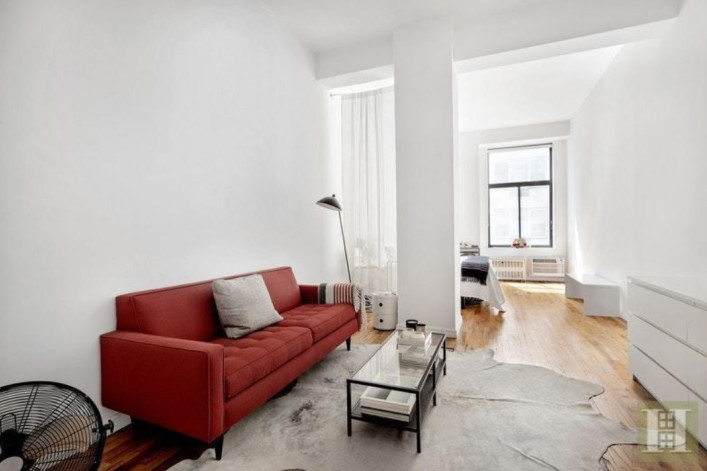 Eleven-foot ceilings and a southern exposure are the two things that most recommend this $525,000 condop studio at 310 East 23rd St., according to architect Gordon Kahn of Gordon Kahn & Associates, a Midtown firm that specializes in residential projects.
"Light comes in from the south more readily than any other direction," he says.
However, there's only a single narrow window at the end—the worst thing about the space, says Kahn—so it may not get quite as sunny as you'd like.
Kahn has a lot of ideas as to how he'd shake things up in here. His recommendations: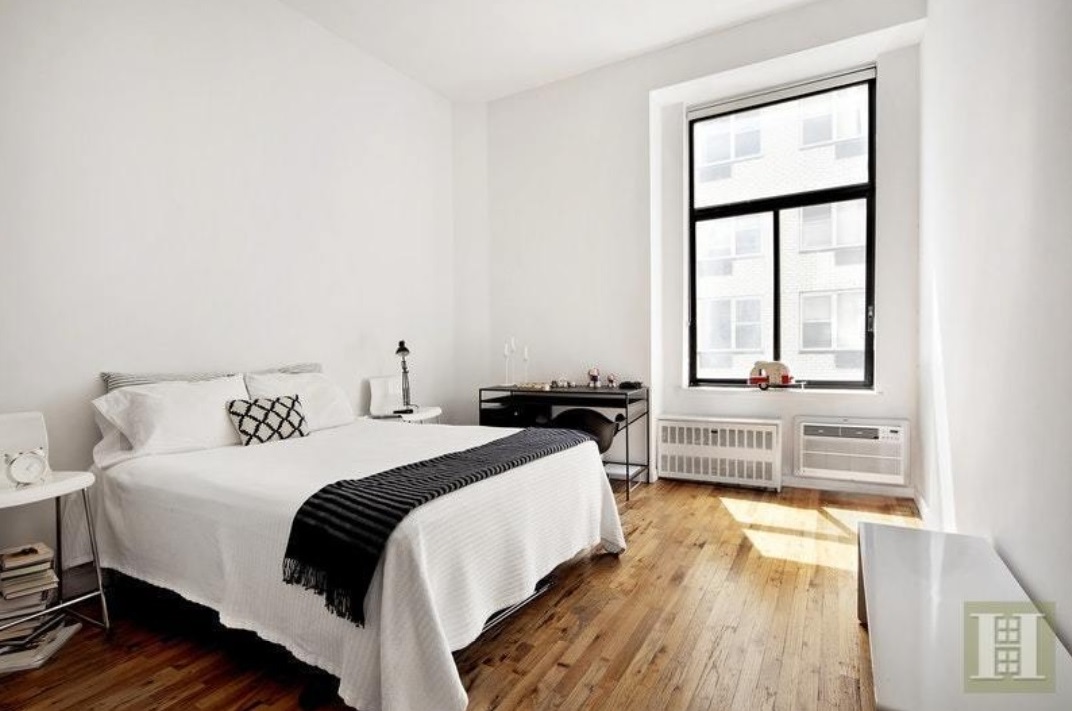 Living area/bedroom
What stands out the most in here is probably that big white column smack in the middle of the room. But Kahn actually doesn't mind it all that much.
"It breaks up the overall length of the space and creates two distinct areas," a sitting room and a bedroom, he says. "I'd just let the column be."
Nonetheless, he doesn't like the way the room is currently set up with the bed by the window and the couch further in.
"It feels like it'd be nicer to use the space between the column and the window for the seating/living area, because you have the window right there," he says.
And on the other side of the column where the red couch is at the moment? Kahn suggests putting in a series of custom built-ins that would contain a Murphy bed. He estimates this would cost $30,000 or more.
"It's not so great to have to walk past the bed to get to the living area," he says. The Murphy bed will allow you to hide it from prying eyes.  
He'd also add a table and some chairs on this side of the column where you can sit and eat. This dining table and four chairs from IKEA is $219.
The floors look to be in good condition, he said, but he'd stain them a dark walnut.
"The dark color hides imperfections in the grain," he says. "It also grounds the space more." (A quart of wood stain is $16 at The Home Depot.)
He'd keep the walls white.
"I like it when things are white and open and light, especially in such a small space," he says.
He advises using Benjamin Moore's Simply White ($70 a gallon) in a semi-gloss on the walls and column so that light will bounce around the room. For the ceiling, he'd use the same color, but tone it down to an eggshell finish "so it's not quite as glare-y," he says.
As to how he'd illuminate the space, Kahn proposes using narrow tube lights like these from Modulightor.com, which he calls, "an updated, nicer version of track lighting." He'd run the line of lights from the window all the way across to the back wall of the kitchen. He thinks they should cost around $10,000.
To cover up the window and protect your privacy, Kahn proposes adding some flowing drapes, "maybe silk, something with light reflectance." But he'd run them across the entire wall—not just on the window itself.
"It'll give the illusion of there being more window there," he says. Prices for these silk drapes start at $119 at Pottery Barn.
The last thing he'd do in here is have a custom wooden enclosure with a grille built around the "not quite attractive" air conditioner and heater so that they can be concealed. Kahn thinks it should cost around $4,000. He'd paint the enclosure white to match the walls.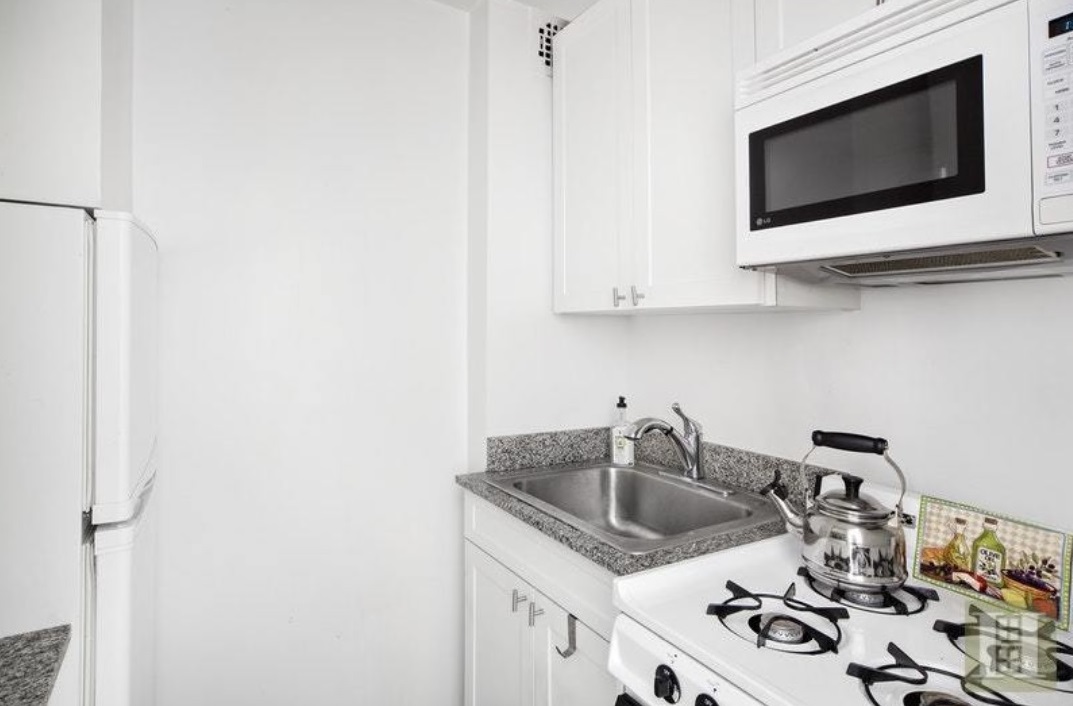 Kitchen
"It'd paint it all—walls, ceiling, cabinets—a color you like," Kahn says. "Maybe a deep blue. I'll make it into a really cool-looking jewel box of a room." (A gallon of Benjamin Moore's Southern Belle is $70.)
The countertops look like they're in good shape, so Kahn says he'd be inclined to keep them if you're trying to keep to a budget. But if money is no object, he'd recommend replacing them with stone ones that complement the blue walls and cabinets. (White Italian marble countertops should cost around $8,000, he says.)
He doesn't like the 4-inch backsplash either, so he'd recommend either continuing the countertop all the way up the wall to the cabinets or adding a subway tile or mirrored glass backsplash, instead. 
He'd also replace the ancient white range, noting that he isn't a fan of the way it breaks up the line of the countertop. He'd prefer an induction cooktop like this 30-inch Thermador cooktop, $2,499 at AJMadison.com that fits into the countertop.
"It'll look completely smooth and very neat," he says. Beneath that, he'd get an electric wall oven like this 30-inch Thermador convection oven, $3,999 at AJMadison.com. And on top, he'd get rid of the microwave, saying that many of his clients are opting to go without them, of late. Instead, he'd get a recirculating hood like this Bertazzoni one, $999 at AJMadison.com.
He also thinks that a counter-depth refrigerator that doesn't stick out into the middle of the room, like this Fisher & Paykel French Door fridge, $2,399 at AJMadison.com, would do a world of good in here, making the space feel a lot larger.
He thinks the sink seems usable, so he'd hang onto it, but he'd get a new faucet. He likes the Dornbracht Tara Ultra with a separate side spray, $1,392 at qualitybath.com.
The flooring isn't visible in the photo, but Kahn thinks that if the wood from the living area extends in here, he'd simply add a layer of dark stain so that it'll all match up.
"If not, you can use cork flooring," he says, adding that it tends to cost around $16 per square foot. "It has a more resilient surface, so things won't break if you drop them. Plus it's very comfortable to stand on."
As for lighting, he proposes a combination of under-cabinet lights like these from The Home Depot, $60, and ceiling lights (more of those Modulightor.com lights like those in the living room, which he thinks should cost about $3,000).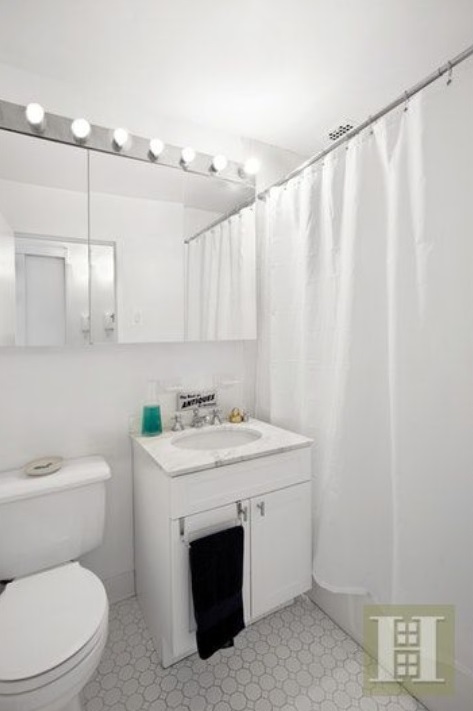 Bathroom
"Do you really need a tub?" Kahn asks. "Most people only take showers."
If the client is one of those people, he'd lose the tub and get a big shower with glass doors, instead, like this one, $483 at build.com.
"It'll make the room feel bigger and make the shower feel more comfortable," he says.
For the walls, he recommends installing white subway tiles from the floor to the ceiling ($2.50 per square foot) and using dark grout ($39 for an eight-pound bag of Laticrete raven at Amazon) between them, "so that it doesn't show dirt as much."
On the floor, he'd go with a white marble mosaic (around $5 to $25 per square foot, he estimates), also with dark grout.
He'd replace the toilet with a more modern one-piece with a lower back like this Toto Ultramax, $485 at houzz.com.
"It's just nicer-looking," he says.
Next, he'd swap out the current vanity for a newer one.
"Maybe a wall-hung one," he says. "It sits slightly off the floor and makes the room feel bigger." This Robern wall-hung vanity with pull-out drawers is $4,196 at robern.com. He'd get a new medicine cabinet like this $1,799 one from Robern, too.
He'd also get a wall-mounted faucet like this Kohler one, $413 at wayfair.com, as another space-saving measure.
Finally, he suggests a "really cool-looking light fixture above the medicine cabinet" like this George Kovacs tube from YLighting, $176. "It'll look much cleaner than the series of bulbs that are there now," he says.
Brick Underground articles occasionally include the expertise of, or information about, advertising partners when relevant to the story. We will never promote an advertiser's product without making the relationship clear to our readers.