Renovation
Can I have an Accessory Dwelling Unit (ADU) in my NYC backyard?
Local zoning ordinances dictate whether owners can have a backyard ADU
A state bill that would allow owners to add ADUs regardless of zoning failed to pass
The Plus One ADU Program is for income-eligible owners in designated areas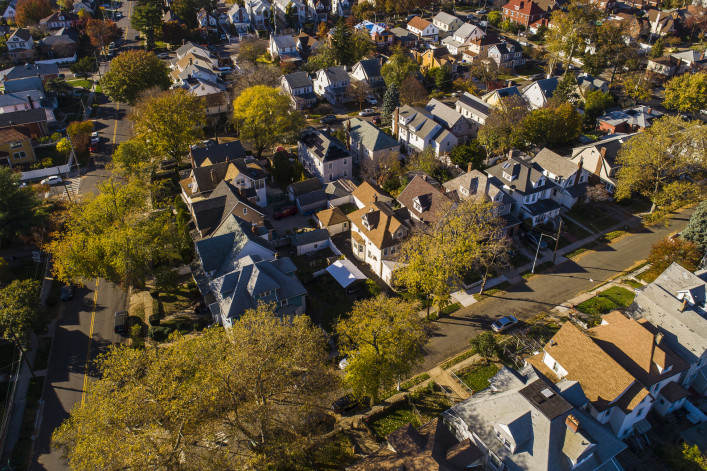 Can I have an Accessory Dwelling Unit (ADU) in my NYC backyard?
The answer depends on where in the city you live because zoning ordinances that designate setbacks, parking, and other requirements dictate what you can and can't do with an ADU. And zoning laws are hyper-local, as in down to a multi-block radius. If you are in a historic district, you'll also need to layer in Landmark Preservation Commission approvals (mainly by showing the backyard ADU will not be visible to the public). 
What is an ADU? Does NYC allow them?
First, a definition: In simple terms, an ADU (once known as a granny flat or mother-in-law suite) is a secondary residence on the same lot as a primary dwelling and can be created by building from the ground up or converting (or adding to) a garage. In NYC, ADUs are also created by turning a basement or attic into a legal apartment or converting a single-family home into two or three separate units. 
Alas, nothing in real estate is ever simple. Andrew Rudansky, press secretary at NYC's Department of Buildings, confirms it is possible to add an ADU to a backyard (or basement) by submitting plans to the DOB and applying for a new Certificate of Occupancy.
"However, existing zoning regulations in the five boroughs can make that difficult for property owners," he says, adding that the application will only be approved if the ADU is found to be code and zoning compliant. (Note that unlike backyard sheds or home offices, ADUs require all the elements of habitability—kitchen, bathroom, bedroom(s) with windows.)
Lessons learned from basement conversion efforts
Take for example the city's efforts to convert basements into ADUs to ensure these often illegal residences are safe for tenants—especially given concerns about deaths from flooding. 
"There was a lot of excitement around the 2019 pilot program to do basement conversions in East New York, but trying to do that within the confines of the existing regulations became prohibitive, and very few conversions took place," says Emily Goldstein, director of organizing and advocacy at the Association for Neighborhood & Housing Development (ANHD). Namely, parts of the zoning code are archaic and have no bearing on safety, while those that do can be addressed by programs to bring spaces up to code. "But that can't happen until state law changes, which is where we are stuck right now," she says. 
A recent report from the Citizens Housing Planning Council (CHPC), which has evaluated the program since its inception, also points to "outdated zoning laws" as preventing ADU conversions. "The primary lesson of the pilot is that regulatory constraints make the legalization of basement and cellar apartments physically impractical or prohibitively expensive because of regulations that add little if anything to safety," the report says.
According to William Fowler, press secretary at NYC Housing Preservation & Development, one-third of interested homeowners were excluded from the pilot program because of parking requirements. "We can ease some of these burdensome requirements through changes to city zoning, but what would take us months and only partially solve the problem when it could be done completely with the stroke of a pen in Albany," he says.
He's referring to (most recently) Senate Bill S5172A, which was introduced in the 2023-24 legislative session but failed to pass. It would have essentially allowed owners to build ADUs on their property regardless of local zoning laws. The only exception is if the ADU is considered to be unsafe. This bill followed on the heels of others introduced over the past few years. So it's the status quo for another year at least.
ADUs are seen as a solution to the affordable housing crisis
Because the cost of building brand-new housing doesn't often pencil out for developers, allowing individual homeowners to create ADUs is seen as a more feasible and scalable way to add housing stock and bring rental costs down. Plus being able to have a backyard ADU is a way for owners to create multi-generational arrangements, whether for aging parents or adult children just starting out—or to generate extra income. (Important note: ADUs are for long-term rentals only, not short-term rentals, those are covered under a whole different set of rules.)
The ability to add ADUs is a particularly big issue in the suburbs, where the lots are large enough to build a new backyard structure or have garages that could be converted to apartments. (Similar legislation was passed in New Jersey and Connecticut, so those out-of-state burbs are already able to add ADUs.)
But ADUs promise to impact the outer boroughs, too. According to the Regional Planning Association, some 141,000 ADUs have already been built (representing a 4 percent growth in total housing stock) in the past decade, and another 114,000 new ADUs are projected by 2040. So the mechanism already exists—and without prohibitive zoning laws, there could be a boom in ADUs.
At the city level, Mayor Eric Adams has included ADUs in his "Get Stuff Built" campaign to address the affordable housing crunch. And grassroots organizations like ANHD and CHPC have been advocating for these changes for years. 
Plus Governor Kathy Hochul's 2022-23 state budget earmarked $85,000,000 toward creating and upgrading ADUs across New York State as part of a five-year Housing Plan. Working through a public-private partnership, the Plus One ADU Program is meant to support low- and middle-income homeowners who wish to build a new ADU (or make existing ADUs code compliant). The program is for select municipalities (including in Long Island, Brooklyn, and Westchester), with more municipalities expected to be onboarded in the next few years and only for eligible homeowners. Of course, this program is also subject to the zoning rules and regs in the designated towns. 
Pros and cons of ADUs
Opponents of ADUs cite the need for local ordinances to preserve the character of different neighborhoods—and claim that stripping zoning boards' authority will lead to overpopulation. "There's a lot of misconception around ADUs, but they are not as scary as they sound," Goldstein says.
For example, in many neighborhoods, current zoning allows houses to be knocked down and replaced with single-family McMansions. And owners have been building additions to their Brooklyn brownstone for decades. "You can't do the equivalent to create a multi-family home or simply convert what's there into a two- or three-family residence. People tend to think in terms of single families or high rises, but in reality, the majority falls in between," she says. 
What's more, community organizations like ANHD see changing the regulations to allow for a wider variety of ADUs as (per Goldstein) "providing more pathways and tools to allow folks to remain in their communities and for others to be able to move into those communities."
"I get this all the time where people grew up in the neighborhood and can no longer afford to live there, or whose parents are on a fixed income and can't afford to maintain their family home," she says. "These challenges disproportionately impact Black and Brown homeowners in NYC and block their routes to financial stability."  
State legislation could make it easier to have ADUs 
All eyes were on the current legislative session to see whether the bill to enable the city to expand and legalize ADUs would pass. It was one of several housing initiatives, including the Good Cause eviction bill, that failed. 
"For ADUs, much of the research and mapping has already been happening for many years, so our city administration and community groups are well positioned to make use of any new laws," she says, already looking ahead to the 2024-25 legislative session that starts in January 2024. "Meanwhile, we'll continue pushing for these important changes."
Stay tuned. 
Brick Underground articles occasionally include the expertise of, or information about, advertising partners when relevant to the story. We will never promote an advertiser's product without making the relationship clear to our readers.