The Market
Want to list your place on Airbnb or other short-term rental sites? Read this FAQ for New Yorkers first
Enforcement of the city's newest rules for short-term rentals begins in September
Two lawsuits challenge the requirement to register your short-term rental with the city
It is illegal to rent out your apartment for fewer than 30 days unless you are present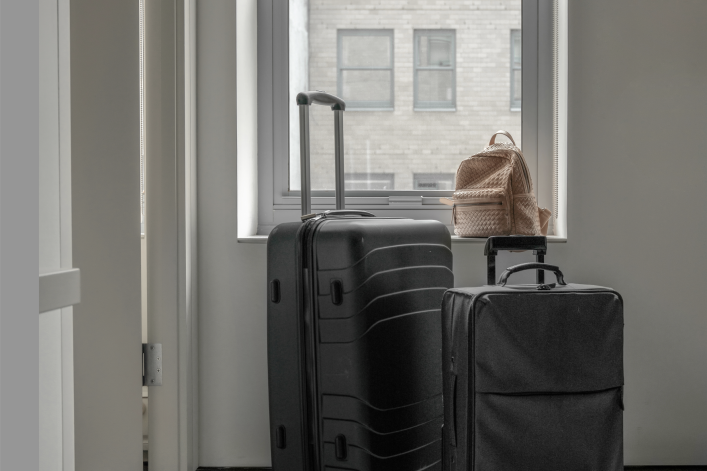 From September, New York City hosts who fail to register their short-term rental with the city can face fines of $1,000 or more. Two new lawsuits—one brought by Airbnb and another by three Airbnb hosts—are challenging the recently implemented registration requirements as excessive government control but the law remains in effect: If you're a host you need to register your rental with the Mayor's Office of Special Enforcement (OSE) to avoid penalties under Local Law 18. 
[Editor's note: We have updated this article to reflect a two-month delay from July to September for enforcement of Local Law 18. This was confirmed by City Hall on June 7th and came to light through court filings.] 
This is just the latest twist in NYC's complicated relationship with short-term rental platforms like Airbnb. On one side are those who think short-term rentals drive up rents and remove much-needed apartments from circulation. On the other are owners and renters who think they should be able to earn money from their valuable real estate to pay their bills.
If you're interested in renting out your place to earn some extra cash, you'll want to stay on the right side of the law. For that, read this first. 
Are short-term rentals illegal in NYC?
The law is very clear on this: You cannot rent out your NYC apartment for fewer than 30 days unless you are present during the stay.
This applies to apartments and houses, even one- or two-family homes; you can't rent them out for fewer than 30 days, even if you own or live in the building, unless you are also sharing the apartment with the guest. The only way to rent out your space legally is to rent out a place for more than 30 days or rent out a room in the apartment while you are there at the same time. One other catch: No more than two guests are allowed.
Rent stabilization adds another twist because even if you are in the apartment with the guest, you risk eviction if you are profiting from the arrangement. This means you probably can't charge a competitive rate. The rent must be divided equally between the number of occupants in a rent-stabilized apartment—for example splitting the rent 50/50 if there are two of you, regardless of the size of the rooms. 
What is the banned building list for short-term rentals?
Another component of Local Law 18 is the Prohibited Building List, a database of buildings that ban short-term rentals, to which owners, managers, building agents and co-op, and condo board members can add their properties. If your building is on the list of banned buildings, you won't be able to get a registration number, without which you can't legally advertise your apartment. 
Co-ops typically don't allow short-term leases anyway and although condos can't prohibit leasing, the bylaws will require minimum and maximum lease terms and might also have rules against vacation rentals. Landlords as well as co-op or condo boards can add their buildings to the banned list to prevent residents from listing their places on short-term rental platforms. 
Can I rent out the lower-floor apartment in my duplex?
Can I lock certain rooms in the apartment?
Guests paying to stay in your apartment must have access to every room and each exit in the apartment. A locked closet is allowed but internal doors can't have key locks so you or your guest can lock a room and leave the apartment for the day.
A privacy lock on a bathroom—or the equivalent on your bedroom at night—is within the law, but if locks create barriers to escaping in an emergency the city can issue a temporary vacate order.
What are the penalties for breaking the law?
Fines for breaking the law on short-term rentals have been issued for tens of thousands of dollars. These fines have been imposed for New Yorkers who have rented out their places for less than 30 days while they have not been in the apartment. 
Illegally advertising an apartment for rent for less than 30 days in a building with three or more apartments can result in fines from $1,000 to $7,500.
From September fines related to non-registration are expected to be as much as $5,000 for a host. Listing sites also face penalties of $1,500 for non-compliance.
How does the registration system work?
Registration of your apartment as a short-term rental requires you to provide lots of personal information, including your identity and the names of people you live with. If there are any changes to the people you share the apartment with, you need to promptly submit a request to amend your registration.
You must confirm you are the owner or tenant through bank statements or utility bills and acknowledge you understand any short-term rental plans are not in violation of the lease or the laws governing short-term rentals. You'd also need to certify you understand and agree to comply with NYC administrative codes and the city's zoning rules.
Registration requires paying a non-refundable fee of $145. For more information, read: "To combat illegal short-term rentals, NYC tries a new registration system for hosts. Here's how it works."
Can I install a camera in the apartment?
The city does not have rules about surveillance but Airbnb acknowledges security cameras and noise monitoring devices can give hosts peace of mind. The platform allows cameras but only if they are fully disclosed in the listing description and don't infringe on privacy. There should never be a camera in a bathroom or bedroom. 
Brick Underground articles occasionally include the expertise of, or information about, advertising partners when relevant to the story. We will never promote an advertiser's product without making the relationship clear to our readers.