Mark and Susan lived in Park Slope for more than a decade and loved it—so much so that they decided to put down roots and buy a condo in their prime neighborhood. But when their family outgrew their condo, which they owned outright, they decided it was time to start fresh with more space.
When Mark and Susan began house-hunting for an upgrade in their neighborhood, they had two very specific types of homes in mind.
"Our criteria was either move-in ready, or something that was in such disrepair that we would have to do a gut renovation and wouldn't feel guilty about tearing it up," Mark said. 
To their surprise, a home came up for sale on their block. It had sat vacant for many years and would require a full gut renovation. 
The value seemed right, so they decided to purchase the 3,000-square-foot townhouse. Susan, who initially preferred a turnkey property but quickly came around to the idea of a fully-customized home, set the ground rules for the renovation. Rule no. 1: The couple didn't want to have to "babysit or haggle with" contractors, or manage the whole renovation themselves. 
Pro Tip:
Whether you're renovating a two-bedroom prewar co-op or a 4,000-square-foot brownstone, Bolster guarantees a beautifully designed home renovation risk-free and on-budget. "Expect flawless communication, white-glove service, and absolutely no surprise costs," says Bolster's CEO and co-founder Anna Karp. Ready to start your renovation? Learn more >>
Deciding on Design-Build with Bolster
Mark and Susan had already made one of the most important decisions of their renovation: Which type of renovation method to use. From the start, the couple agreed to look for a full-service Design-Build firm who would help them manage the entire renovation process from beginning to end.
"Part of that decision came from talking to friends," said Mark. "We heard horror stories. They were stressed out all the time and so frazzled by the whole process. Managing a renovation is practically a full-time job." 
When a single team works under a contract with the homeowner in order to provide both design and construction services, the process is known as Design-Build.
In this collaborative arrangement, design and construction experts are contractually obligated to work together in the best interest of the project. Bolster's design and build model benefits from a unique "Design-Price-Design-Price-Build" structure, which integrates pricing at key design milestones to ensure projects remain on budget as they progress.
Design-Build is a good option for homeowners like Mark and Susan who don't have the desire or bandwidth to micromanage their renovation project, or who want a defined, predictable budget. Design-Build is also a good option for homeowners who wish to reduce risk and ensure a quality end product with reduced re-work, or homeowners who live remotely and need their renovation done professionally and with no headaches. (For more information on Bolster's other renovation method offerings, check out this article.) 
As part of Bolster's Design-Build process, Mark and Susan had access to Bolster's full suite of services and professionals. Their architect, Paul Capece, has worked on a number of other Bolster renovations in Brooklyn, including a landmarked brownstone in Park Slope and a landmarked townhouse in Clinton Hill. 
"This home is not landmarked, so the homeowners didn't face any hurdles with the DOB," said Paul. "But we took care to renovate the home in a way that if it was eventually landmark-certified, it would meet the criteria. We wanted to approach the renovation as if it were a historic, landmarked building."  
The Bolster promise 
Mark and Susan cited the Bolster Promise as one of the main factors that cemented their decision to work with Bolster. The Bolster Promise guarantees homeowners that renovate with Bolster a fixed price.
"Towards the end of the first phase of our project, we realized that the costs were approaching the higher end of our budget," Mark said. "Bolster's fixed-price offer sealed the deal. Going to any other renovation company, we would have had so much risk because we didn't know the level of their transparency."
During the design phase, Bolster asks homeowners to make all layout, systems, product, and finish decisions. During the build phase, Bolster agrees to absorb the cost of any mistakes or surprises (even the ones traditional contractors list as exclusions). That's how Bolster can keep a fixed price. (The caveat to this, of course, is homeowner-led change orders and any unpredictable third-parties as required by law.)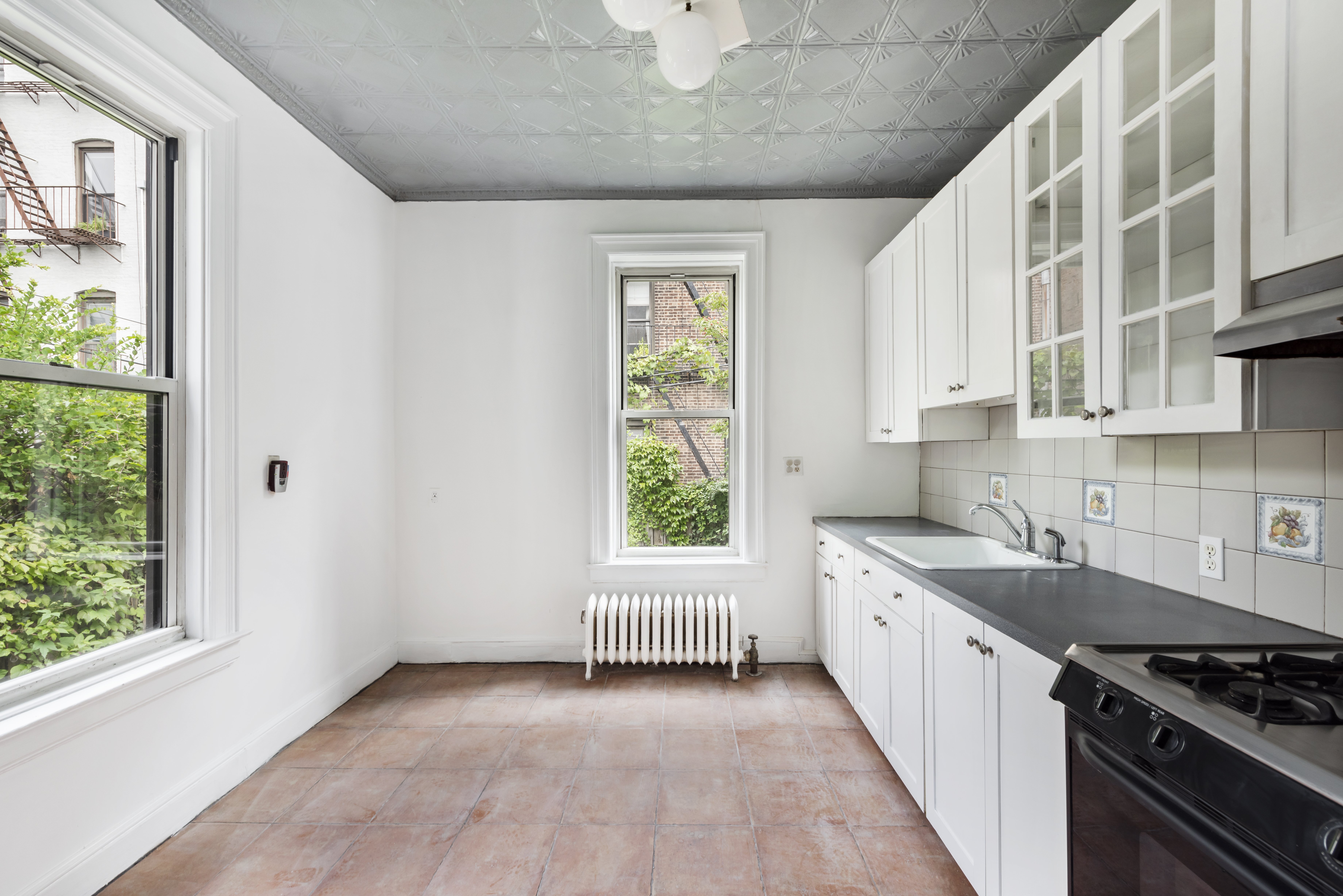 Defining the scope and priorities
Mark and Susan were very methodical about prioritizing their renovation. Taking this approach helps both the homeowner and Bolster work together, and it paid off.
"We split it into two lists: must-haves, and nice-to-haves," said Mark. "In the end, I think we ended up with 90 percent of our list."   
Because the home had sat vacant for so long, the Bolster team faced a few key challenges that needed to be addressed immediately. The first was asbestos, a common issue with older homes in NYC, which was found in the floors, basement, and roof. There was also significant sag in the center of the home because at nearly 20 feet, it is fairly wide. Mark and Susan prioritized these structural items when defining their scope, and also made the decision to fully level their floors and add a new HVAC system. 
"On Bolster townhouse projects, the first strategic, big-picture question is, 'is this a gut renovation, or are we trying to maintain the interior?" said Paul. "On this project, it was an easy question to answer because the house hadn't been occupied for the past couple of years. It wasn't heated or cooled. The millwork was warped beyond recognition. It wasn't in the type of shape that you could bring it back without incurring incredible expense."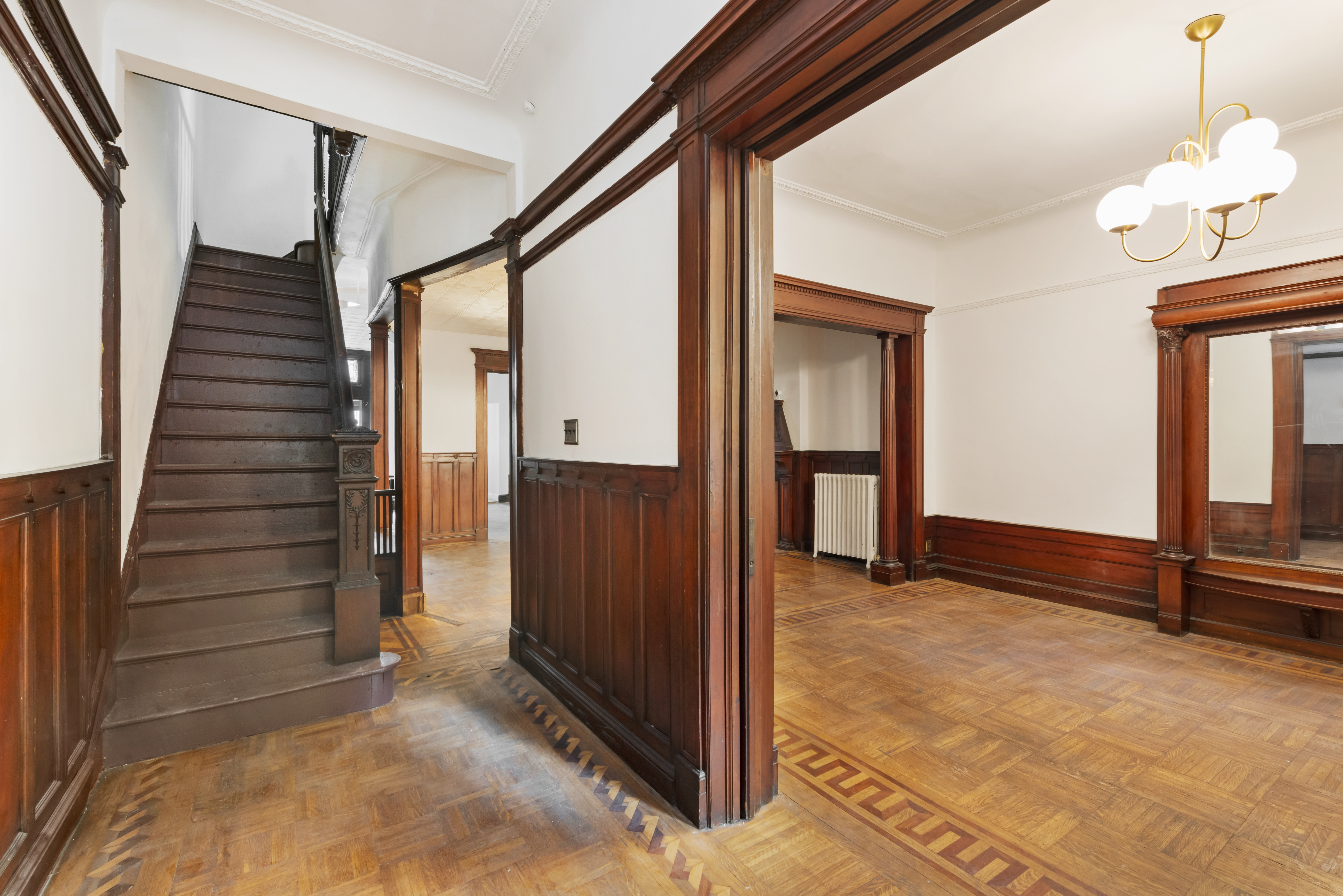 Unique opportunities 
Since the townhouse had sat vacant for so long, Mark and Susan's townhouse had many structural issues to address—but it also meant they were in a unique position to fully customize their new home. 
They decided to add a media room by digging out the cellar, enabling them to increase the ceiling height to eight feet. They also decided to install a motorized dumbwaiter that runs from the cellar to the third floor, making it easier to transport laundry, food, and the like throughout the four-story home. 
Another unique aspect of Mark and Susan's townhouse is that it will have elements of a passive home, such as high-quality insulation, new windows, and an energy recovery ventilator. ERVs are systems designed to be connected to an HVAC system and draw in fresh, clean air while removing stale air. 
Though the home won't be passive-certified, these elements will help create a healthier interior, and have the added benefit of long-term energy savings. This is an especially unique opportunity, as adding passive elements to a larger single-family home in NYC tends to be complicated. 
"It's difficult to retrofit a brownstone or townhouse as a passive home if you're only doing a partial renovation," said Paul. "To add passive elements in a townhouse automatically means you have to do a gut renovation. Because this home was down to the studs, it meant the homeowners could build it back up as a passive home." 
How it's going
As with any type of renovation, there are tradeoffs—but for Mark and Susan, The Bolster Promise and the white-glove service of Design-Build were worth the investment. 
"In our case, it was the right decision," said Mark. "Every aspect of the design-build process has been amazing, and the level of transparency that Bolster provided was great."
---
The Bolster Smart Renovation Zero-Risk Guarantee
How can a design-build firm guarantee a Zero-Risk renovation?

Bolster has pioneered Smart Renovation. We apply quantitative analysis along with our proprietary technology solution to identify and quantify the performance risk on every renovation project. The result is a personalized strategic approach to each renovation that allows us to absorb 100 percent of the homeowner's risk. Your home will be beautifully designed, and delivered on-time and on-budget. That is our guarantee.

Smart Renovation & Zero-Risk means that Homeowners are now free to dream.

To start your major home renovation project visit bolster.us
Brick Underground articles occasionally include the expertise of, or information about, advertising partners when relevant to the story. We will never promote an advertiser's product without making the relationship clear to our readers.