Renovation
Need a lot of design for your renovation project or just a little? Bolster gives you a choice of plans
Homeowners want their renovations to be done with lower costs, shorter project timelines, and better quality—in essence, done the right way. But since every project—and every owner's needs—are different, there's no one-size-fits-all solution.
Enter Bolster, a New York City-based renovation company that offers a suite of project delivery methods to meet homeowners' needs, including Agile, Build Only, and Design-Build. So how should homeowners determine which method is best for them?
Making a decision is highly personal to each homeowner and unique to their needs. When embarking on a renovation, homeowners should evaluate individual project requirements as well as other key factors such as time, willingness to closely manage the process, sensitivity to cost and timeline, and level of comfort with risk.
What is Agile? 
Agile offers in-house designers who can bridge a homeowner's vision from design to build in order to maximize the homeowner's construction budget and move into the build phase quickly and efficiently. A relative newcomer to the construction game, Agile is the newest product offered by Bolster, providing a solution for homeowners who don't need to spend as much time or money on design.
Who is Agile good for? 
Agile is a good option for homeowners who are:
Embarking on a partial renovation (for example, redoing a kitchen and doing cosmetic work in the rest of the apartment).

Have existing plans in place already that only require a few tweaks.

Wish to prioritize their schedule and invest mostly in construction rather than design fees.

Do not desire to spend time on design on the front-end, and feel like major design is overkill. 

Are trained as an architect or designer and need support with the NYC Department of Buildings and/or their co-op board.

Have a clear vision of what they want and do not need an architect to help them achieve their vision—just the right professionals to piece the project together.
What are the benefits of Agile? 
Agile is designed to help the homeowner jump through hoops quickly and efficiently. It is a great service because not only is the design process more cost-effective, the homeowner also receives the benefits of working directly with Bolster's in-house design team, who provides homeowners with renderings, mood boards, and a customized pricing presentation to achieve a viable vision for the renovation. The bonus of Agile is that all of this is done accurately and in a matter of days—instead of months.
Pro Tip:
With more than 50,000 square feet renovated in NYC, Bolster understands how to guide New Yorkers through any renovation challenge, from navigating Landmarks to recreating pre-war details, and gives them full visibility into project milestones. "Bolster is the only renovation firm to offer a fixed-price cost up-front. Once we perform due diligence and verify the existing conditions of your property, we absorb unforeseen project costs," says Bolster's CEO and co-founder Anna Karp. Ready to start your renovation? Learn more >>
Real homeowners who used Agile
Bolster's Agile process helped Flatiron homeowners Mack and Emily out of a tough spot when Homepolish, the designer they had been working with, abruptly went out of business, leaving them scrambling to find another company that could wrap up the design phase of their project and deliver on the build phase. 
Mack and Emily already had some plans but were missing approvals and permits. Using Agile, Bolster quickly wrapped up the remaining design work on Mack and Emily's project. Within a month, they had signed a Build contract with Bolster and were ready to break ground.
Mack and Emily had a specific vision, prioritized key items, and had no major structural or layout changes. The renovation encountered one major issue: Covid-19, which unexpectedly shut down their project temporarily—but it was back up and running during NYC's Phase I reopening, thanks to Bolster's due diligence.
"On the day Governor Cuomo lifted restrictions, we were back in the apartment and made sure our co-op was prepared and had signed off on Bolster's plan—we didn't lose any time!" Emily said. "It was great to work with Jeronimo and the team at Bolster. They expedited the process and kept things moving." (Learn more about Mack and Emily's renovation journey here.)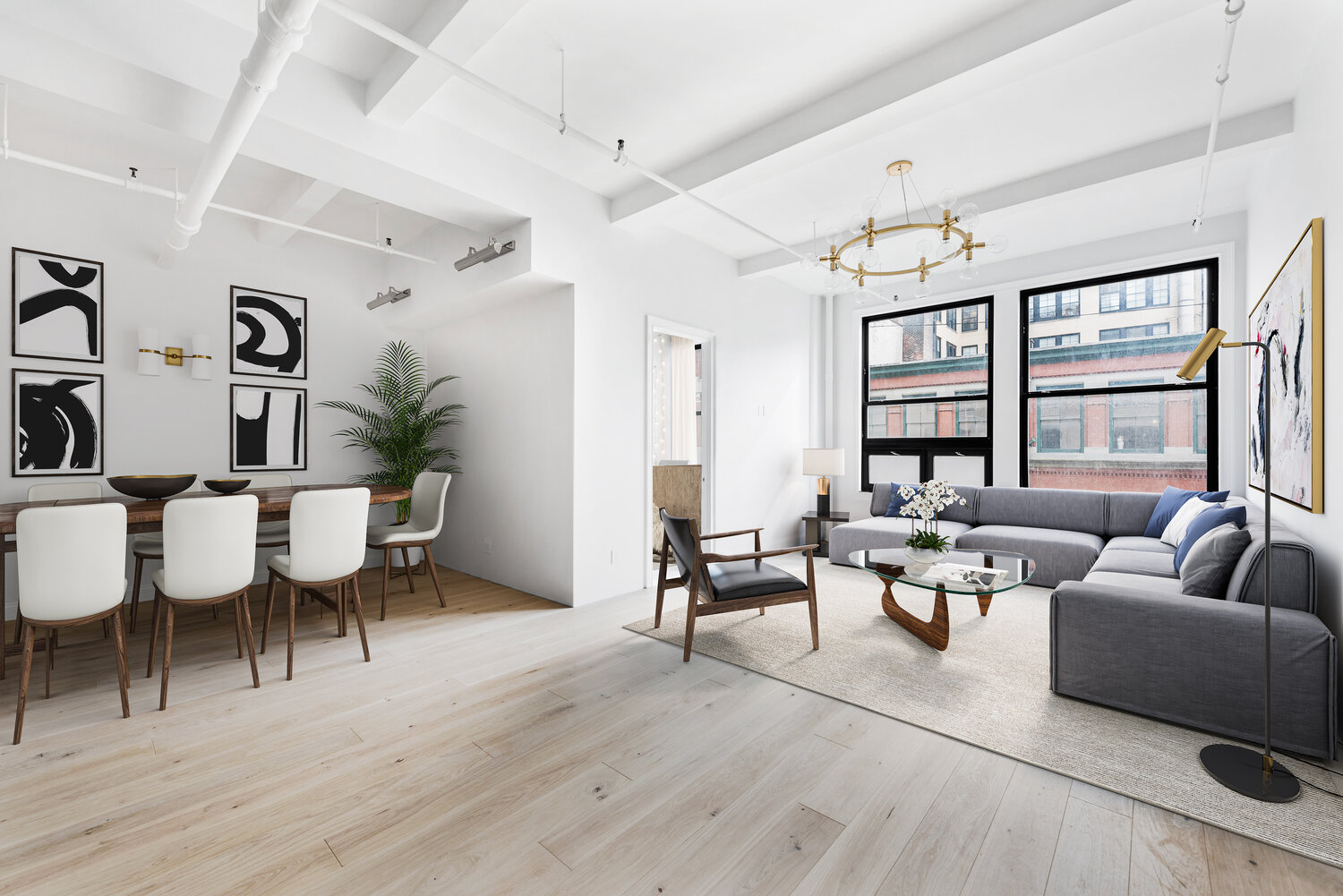 What is Build Only?
Build Only (known traditionally as Design-Bid-Build) is the most traditional process in the industry, where the homeowner contracts separately with an architect and a contractor. The design firm or architect is first hired by the homeowner to deliver design documents. Once these are complete, the homeowner then solicits bids from contractors to perform the construction work.
Who is Build Only good for?
Build Only is a good option for homeowners who:
Have already completed the design phase of their project with an architect.

Don't mind being hands-on with different aspects of the project.

Want to learn every aspect of construction.
What are the benefits of Build Only?
Build Only affords homeowners who possess a desire to more closely manage the design and construction process the ability to do so. Homeowners that embark on this plan should vet their architect and/or designer carefully. In Bolster's experience as a general contractor, the main pain point seems to be the lack of standardized and detailed pricing provided by contractors. Bolster's Build Only process is designed to audit architect documents, and provide granularity to empower the architect and homeowner to understand their project from a cost perspective.  
Real homeowners who used Build Only
Chelsea homeowner Jim reached out to Bolster for a quote on the Build portion of his renovation. As is standard, Bolster produced a detailed estimate and offered to do a side-by-side comparison of any other bids he received. Jim took them up on the offer, and found the comparison "illuminating, polished, and thoughtful."
"Bolster broke down aspects of both bids first, identifying gaps in the competing bid that were not addressed," Jim said. "Then they identified ambiguous areas in the second bid that were not fleshed out and estimated the possible hidden cost associated with those omissions."
After the bid comparison meeting, Bolster conducted a deep dive into the cost structure of the proposed renovation with Jim, laying out each functional component broken out into sections.
"The process was fascinating," Jim said. "To see the individual costs—down to the specific light bulbs used—and to watch those costs roll up into a total project cost matrix helped me appreciate the total project cost."
In the end, Jim's confidence in Bolster's attention to detail and cost transparency persuaded him to move forward, and Bolster won the project. (Learn more about Jim's journey on the Bolster blog.)
What is Design-Build?
In Design-Build, a single team works under a contract with the homeowner in order to provide both design and construction services.
In this collaborative arrangement, design and construction experts are contractually obligated to work together in the best interest of the project.
Bolster's design and build model benefits from a unique 'Design-Price-Design-Price-Build' structure, which integrates pricing at key design milestones to ensure projects remain on budget as they progress.
Who is Design-Build good for?
Design-Build is a good option for homeowners who:
Don't have the desire or bandwidth to micromanage their renovation project.

Want a defined, predictable budget and timeline.

Wish to reduce risk and ensure a quality end product with reduced re-work.

Live remotely and need their renovation done professionally and with no headaches.
What are the benefits of Design-Build?
Because Design-Build involves one team and one unified flow of work from sketches to certificate of completion, these types of renovations typically outperform others in terms of cost and schedule performance. An experienced Design-Build team has the best opportunity of succeeding in schedule maintenance and build efficiency goals, as well as achieving lower cost growth from change orders (which can derail both budget and schedule).
Design-Build also reduces project risk, as the design-build firm bears the risk for the design completion. In Bolster's case, renovation budgets are largely decided upon upfront, and all renovations come with the Bolster Promise (a risk-free guarantee) as well as a quality warranty.
Real homeowners who used Design-Build
Lawrence and Patricia, Upper East Side homeowners, completed a renovation on their former Tribeca apartment in the early aughts using a traditional Design-Bid-Build (or Build-Only) process. Although the renovation was a success, they didn't want to go through the process again—too much work; too many unknowns—until they fell in love with another apartment on the Upper East Side that hadn't been touched in 60 years.
Design-Build was a new concept to Lawrence and Patricia. In the end, having one team aligned from project start to finish, as well as transparency and reduced risk, is what solidified their decision to work with Bolster.
"The Bolster estimate lists every aspect of construction and allowed us to really see how our money would be spent," Lawrence said. (Curious how much your renovation may cost? Try Bolster's major renovation calculator, which gives you a customized estimate in seconds.)
Design-Build also enables Lawrence and Patricia to be more hands-off: They can check in on their renovation from their home upstate, and feel confident that their project is in good hands. (Read more of Lawrence and Patricia's renovation journey on the Bolster blog.)
---
The Bolster Smart Renovation Zero-Risk Guarantee
How can a design-build firm guarantee a Zero-Risk renovation?

Bolster has pioneered Smart Renovation. We apply quantitative analysis along with our proprietary technology solution to identify and quantify the performance risk on every renovation project. The result is a personalized strategic approach to each renovation that allows us to absorb 100 percent of the homeowner's risk. Your home will be beautifully designed, and delivered on-time and on-budget. That is our guarantee.

Smart Renovation & Zero-Risk means that Homeowners are now free to dream.

To start your major home renovation project visit bolster.us
The Bolster Promise video
Brick Underground articles occasionally include the expertise of, or information about, advertising partners when relevant to the story. We will never promote an advertiser's product without making the relationship clear to our readers.